Gaelic and the Hebrides are Valuable – Let's Strengthen Them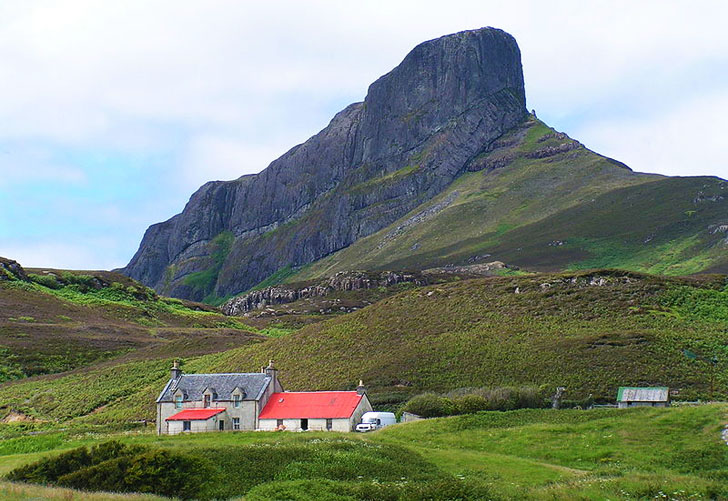 Charles (Teàrlach) Wilson argues that the Hebrides are not a remote archipelago with nice views and old-fashioned ways of life: they are a crucial and important part of Scottish society, identity, history. If we reconceive the problems of Gaelic as not a crisis of language but a crisis of how we see rural and Highland Scotland we can re-frame the whole issue.
Over the past 24 hours, we've seen media outlets across Scotland, UK, and the world publish details about the death of Gaelic within 10 years. I think it's time to change the tone of the conversation. Here, I express my views on the negativity, the potential of positive, and what I think we need to do to save Gaelic.
I know that, in these dark times, it's not just easy to catastrophise – it seems natural to. With COVID-19 and Brexit, Black Lives Matter and #MeToo, Trump and Bolsonaro, climate change and the threat to animals, plants, and humans alike, it is all too easy to be attracted to the dark negativity in our news sources. Apart from the fact that it can't be good for our mental health, I don't think it's helpful in finding solutions, either. So, when I saw the headlines that said 'Gaelic to die within 10 years', my first thought was not, "Oh no! We must save it!". It was, "How does this inspire our confidence in anyone?!!"
The media – on both sides of the political spectrum – were all too eager to pounce on the overall message in the recently released book, which suggests that Gaelic will no longer be a community language in the Hebrides in about 10 years' time, if nothing is done to help it. Unfortunately, the message was lost in translation, with cries that the language will die, as the media either inadvertently or deliberately misrepresented the research findings. At best, this is due to the reporters' own misunderstandings – at worst, it's a form of story manipulation to make the research more sensationalist and doomsaying. Given that the Guardian reporter said that Gaelic was spoken in Wales, I will be charitable, and suggest that it's the former: incompetent journalism. The message in the media seems to be that Gaelic will die, when many of us hope to live on for more than another 10 years(!), and when 48% of Gaelic speakers live in the Lowlands (National Census 2011). The conversation, then, is really about the Hebrides.
This negativity is concerning for two reasons.
(1) It feeds the Gaelic-hating trolls, who already think that bilingual signs are costing millions and depriving NHS hospitals of beds (even though bilingual signs are not made of gold and diamonds, and hospitals don't have beds because of public underfunding).
(2) How is it supposed to galvanise Gaelic-speakers? Imagine being told over and over again that your language is dying. Gosh, why would you even try? I think the linguist, David Crystal, in his fascinating book (hypocritically or ironically titled 'Language Death' [2006: 86]):
"It is difficult to instill enthusiasm for preservation among community members if they are continually being told that their language is 'dying' or even already 'dead'"
In fact, the reports coming out over the past 24 hours are nothing new for Gaelic-speakers. I have been a speaker of Gaelic for the past 5 years or so, and I have heard it so often – imagine how often a Gaelic-speaker of 60 or 70 has heard it. Yes, yes, we're aware that Gaelic is dying. Next! It's old news for us.
I have no doubt that the book on which the media are reporting is full of interesting statistics, reported experiences, ideas, and solutions. So, my beef is really with the media, and the tone of the articles. We should be more enthusiastic about the value of the language and what can be done, if we act now. And, as Crystal says, community members must be engaged – even leading those conversations and initiatives. Some of the good ideas for initiatives are coming out from the campaign group, Misneachd.
Misneachd and others, including the many islanders I interviewed as part of my PhD fieldwork, point to a more important revitalisation campaign that will provide certainty for Gaelic: the economics and community vitality of the Hebrides. Once a seafaring community, islanders were connected to each other and Scotland by the sea. In our land-based society, the sea has transformed from connector to barrier, and successive governments have done little to help the Hebrides keep up with modern developments. (Does the Islands Plan go far enough?) I'd go so far as to say that successive governments have done little to support rural communities in general, on whom so many of us urbanites depend for food and energy. This means that the Hebrides are not viewed as a dynamic and important community for Scotland's identity and well-being. In the near-empty corner of every map lies the "remote" islands: more of a pretty jewel than a land- and seascape of potential.
The result of this is the depressingly-apparent-during-COVID-19-lockdown reliance on tourism. All the AirBnBs (also an issue in urban areas), campervans, and second homes point to a fundamental concern of preserving the Gaelic heartland: preserving the Hebrides. Gaelic cannot survive in an AirBnB and campervan wasteland. We want rural communities to thrive. I've always viewed diversity as a strength in every context, and this is certainly true of community economics! Diverse industries, different ages, access to resources, services, education… And Gaelic has so much to offer in terms of cultural and agricultural knowledge, and I'm sure a lot more than I am missing out. 'Death' dismisses and overshadows the benefits Gaelic can bring: how to irrigate fields, where to get the good langoustine, how to bring people together, what to do in a storm, where are there good, clean energy sources. In sum: sustainability. Sustainability is the key to all these discussions. Environmental sustainability, energy sustainability, community sustainability… language sustainability. If we think of Gaelic-speaking islanders as a marginalised minority, who are custodians of the Hebrides, we can think of their contribution and importance to Scotland and the world in terms of postcolonial concerns over biodiversity and how we treat the planet:
Humans are not "the virus."

Indigenous people have shown that it is possible to live in balance with nature.

Colonialism and extraction for profit, those are the virus. https://t.co/WUucf9DySt

— Lakota Law Project (@lakotalaw) March 18, 2020
6703686768230
I would, personally, love to move to the islands. But the cost of housing, the dependency on a car, the huge costs and travel times to get back and fore to Edinburgh, and the fear over job security makes me very hesitant. Then, I speak to my Gaelic granny who grew up in her village in Lewis surrounded by an almost entirely Gaelic-speaking community, full of different generations with diverse roles, and vibrant cultural activities, including a dance hall. And she tells me about how hardly anyone now speaks Gaelic, and how so many of the houses in the village are empty for much of the year (second homes or AirBnB). And don't get me started on land ownership in the Hebrides! It's also depressing looking at funding application forms, which are like the bureaucratic versions of James Joyce's most inaccessible writing. How are islanders supposed to get anything done when funding, policy, and bureaucracy in a foreign language (English) are a talent you learn in middle-class schools and families? There is something uncomfortably patriarchal about funding applications and their inaccessibility to the people who need funding (which goes for many people in such circumstances).
So, this is what I'm trying to persuade you and the reporters for future reference: We need to change the tone of the conversation. We need to celebrate Gaelic and we need to be talking about diversifying the economy and strengthening the community in the Hebrides. We need to excite everyone about Gaelic and the Hebrides, not depress them or pit islanders against other communities for scraps of funding. The Hebrides are not a remote archipelago with nice views and old-fashioned ways of life: they are a crucial and important part of Scottish society, identity, history, and food and energy sources. They are a potential leader in environmental and rural community sustainability, a potential leader in the combat against capitalism and climate change. It's time to invest in the Hebrides for their survival and for ours.