Both Votes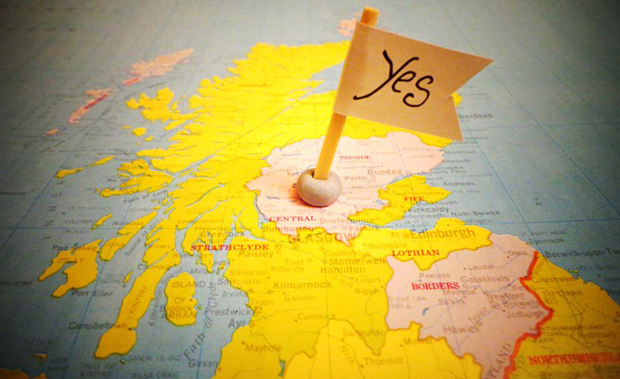 As part of a new series 'Routes to independence' #RouteMap we explore the competing ideas and options for gaining self-determination, looking at parliamentary, extra-parliamentary, conventional and unconventional ways forward. Here Lloyd Melville writes in defence of the both votes strategy as a means to achieve a pro-indy majority at Holyrood.

We are ten months from the most important Holyrood election in the history of devolution. The result will not only determine who governs – but when and how the question of independence will be put to the people of Scotland again. I have no doubt that the constitution will be front and centre in this election, indeed we can be quite sure of it. So that imposes a special responsibility on those advocating for independence, to articulate a message and vision that will deliver a parliament capable of actually achieving independence. There has been a lot of debate around which method of voting is the best way to achieve that – so I'd like to add my thoughts on the issue.
I've seen quite a few people on social media (admittedly, social media and the real world are poles apart) suggesting that the Both Votes SNP strategy, which was used in 2011, 2016 and undoubtedly will be used in 2021, was a failure. They suggest this because in 2016, it delivered the SNP 4 regional seats – due to the SNP's success on the constituency front. Now, this is partly true – however it is important to recognise that the gap between the SNP's constituency and regional votes increased from 1% in 2011, to 4% in 2016. No doubt this was also a contributing factor in the SNP missing out on regional seats. Pointing to the polls, advocates suggest that 'because the SNP will win a majority on constituencies alone, the reginal vote should go to another pro-independence party'. Indeed, two former SNP regional MSPs have signalled this too (Kenny MacAskill, MSP for Lothians region from 1999-2007, and David Thompson, MSP for the Highlands and Islands from 2007-2011). MacAskill stated in a newspaper article that "Both Votes SNP doesn't work." – which is ironic, given that both of these gentlemen were elected on the Both Votes SNP strategy.
The theory behind this, is that the SNP are polling above 50% on the constituency ballot, and therefore will win a majority on purely constituencies. Now, this might sound plausible, however the same was said in the run up to the 2016 election… and the SNP did not win a majority on constituencies alone. Further, I must state that polls don't win elections – votes do. While polling showing the SNP potentially winning a majority next year is fantastic, it is a snapshot of where the country is right now. Anything could change in the months ahead – and that is why throwing our eggs in an untested basket, based purely on polling 10 months from the election is dangerous. The SNP could just as easily lose seats on the constituency level as gain them – and would therefore need regional votes to maintain that pro-independence bloc of parliamentarians. Do not forget – in 2011, without the SNP's 16 regional MSPs, there would have been no independence referendum. Indeed – had more people who voted SNP on the first ballot in 2016 voted SNP on the second, the party would have a majority at Holyrood now.
We need look no further than the 2016 election to see the kind of 'max the pro-independence majority' parties in action. RISE, which was mooted as the "challenge" to other pro-independence parties, was launched in order to maximise the pro-independence representation in parliament. Indeed, they presented themselves as the option to hold the SNP's feet to the fire on the independence question; "Fielding candidates on all eight regional lists across Scotland, the party presented itself as a natural fit for members of the broader Yes movement who fear that the SNP is backsliding on its commitment to independence." (Libby Brooks, Guardian, 19 April 2016). This is rhetoric I have seen used by individuals and organisations recently, however in 2016, it did not translate into reality. RISE won just shy of 11,000 votes – and if you combine that with Solidarity, who also ran a similar campaign, the two get just over 1% of the vote. It was a catastrophic failure.
Now, if individuals want to start their own parties and campaign for election – that is their own right, and part of the democratic process. Four new pro-independence parties have popped up recently, which will undoubtedly result in splitting a small percentage of the vote four ways. However, I for one will not be gambling with my regional vote. I'll be giving it to the party that got us a referendum in 2011 – the Scottish National Party. Yes, I'll be giving both of my votes to the SNP – and you should too, because by uniting around the SNP, we can deliver a referendum, and secure our independence. Why? A few reasons. First, because a majority SNP government got us a referendum in 2011, and even the most ardent unionists know that a majority government in 2021 would shatter opposition to a referendum. Second, because I trust the First Minister – who has campaigned for independence her whole adult life – to deliver that referendum, as well as good government for Scotland. Third, because polls don't win elections – votes do, and the SNP can win regional seats, even in areas they win lots of, or all the constituencies. I want to delve a little deeper on that point.
In 2011, the SNP was elected as the first ever majority government in the history of Scotland's parliament. Romping home with 69 of the 129 seats in Parliament, it paved the way for the first referendum on Scottish independence. How did it happen? Well, the SNP won 53 constituencies, and 16 regional seats – even winning a regional MSP in the North East of Scotland, where the party won every single constituency. The SNP would not have been able to secure a referendum on independence without those 16 regional MSPs, and indeed in 2007, could not have formed a government without the regional MSPs won in that election. The party has elected regional MSPs at every election – and when people followed the advice to cast both votes for the SNP in 2011, we won a majority. Those who are keen for a referendum – and I certainly am – should recognise that. Indeed, if we take current polling purely at face value (which we shouldn't because we are ten months from the election), the SNP is set to win regional seats in Glasgow, and Central Scotland, where we won every constituency in 2016 (and where polling suggests we will win every constituency in 2021).
Finally, I believe we must stand with First Minister Nicola Sturgeon, who has shown exemplary leadership throughout the Coronavirus crisis, and indeed who enjoys a personal rating that dwarfs that of the other leaders. Nicola Sturgeon has fought for independence when the tide has been against it, and indeed when support has increased. She has not compromised her beliefs. She has not given up, even when there looked no hope of achieving our aim. I believe in that determination, that willingness to keep going no matter if you know you might lose. Recent polling has support for independence on 54%, which means the country is now embracing the idea of independence. The First Minister will deliver it – and its incumbent on all of us who believe in independence to help her do that – and it starts with Both Votes SNP.