Scotland's Economic Recovery Can't Be About Growth when it Needs to be About Life through a New Economics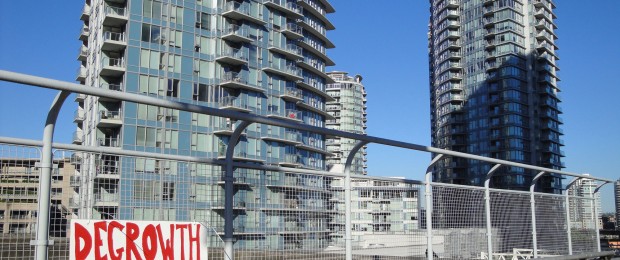 On 28th June, the Herald newspaper published an article by Iain Macwhirter that made a series of observations about our currently growth-dependent economy and post-covid recovery plans that warrant some clarification, not least as they come alongside other misreadings of new economic thinking 'Sturgeon's economic recovery won't be about degrowth but jobs, jobs jobs'.
Macwhirter challenged George Monbiot's ideas about post-Covid economic policy writing:
"DO not resuscitate. That was newspaper columnist George Monbiot's answer to the question of post-Covid economic policy. Just let old fossil industries – aviation, petrochemicals, big pharma, mass tourism – die out like the dinosaurs. That would mean hundreds of thousands of jobs going south, of course. But his solution to that is de-consumerism and de-growth. Buying things is bad, so people should just accept a lower standard of living. No foreign travel, no motorised transport. Who needs all this stuff? Well, quite a lot of people, actually."
Yet Monbiot is drawing on a significant body of scholarship in post-growth, de-growth and wellbeing economics that sets out the possibility of an economy designed and delivered according to different metrics and with a different metabolism.
Macwhirter writes: "The priority for the First Minister in the short term will be jobs, jobs, jobs. The return of mass unemployment to Scotland, currently disguised by the furlough scheme, is going to determine government policy for the foreseeable future. And she's not going to be too worried about what those jobs are."
Well except the First Minister really should worry about what jobs they are. Not only are high-carbon jobs harmful to people's health, but maintaining gaps between the social value and the pay of a job has been revealed by covid-19 as counter to people's perceptions of fairness. Further, (re) investing in aviation, the car industry and other sectors difficult or impossible to decarbonise is madness, as is running to bolster an industry we should be planning a rapid and just transition away from – fossil fuels. Not taking action now is simply making things harder for the future.
The choice is not between "jobs" and "ecology": think of the green jobs that can come with renewables, with energy efficiency, with care, craft and creative work that are lighter on the environment. Think about better sharing the available work amongst ourselves through shorter working weeks. The true choice facing Scotland today is whether we create a new economy that's future-focused and plays a constructive role in moving away from a looming climate breakdown.
Wellbeing and post-growth economics (which stand on the shoulders of decades of research and practice) offer the possibility of an economic system geared up to deliver what people and planet most need, directly. They are not about waiting for the crumbs to fall from the table of the wealthy while crossing our fingers that the planet can handle the pressure we're putting on her. Such an economy is about investing in the new zero-carbon future, creating sustainable cities with improved air quality, reduced emissions and new thinking about the type and distribution of work.
As the economist anthropologist Jason Hickel puts it: "As the Arctic burns under a record heatwave, economists are lining up to call for more growth. The discipline is increasingly unhinged from reality. The key lesson for post-covid economics is that you do not need growth to solve a crisis of unemployment. Shorten the working week, distribute income and wealth more fairly, and introduce a Green New Deal job guarantee."
In the face of so much evidence of the failure of the economic model we had going into covid-19 to deliver for people and planet, to persist with outdated and inadequate recipes and to ignore the evidence of a better course already being built in communities around the world is to deny Scotland the possibility of an economy that is better than growth and better at meeting the needs of people and planet.
Signed by:
Enough Scotland: Luke Devlin, Bronagh Gallagher, Dr Mairi McFadyen, Gehan McLeod, Dr Svenja Meyerricks, Mike Small
Wellbeing Economy Alliance; Dr Katherine Trebeck

Friends of the Earth Scotland: Caroline Rance, Climate & Energy Campaigner

Poverty Alliance Scotland
: Peter Kelly, Director 
SANE Glasgow

The People's Bank of Govanhill
 and Feminist Exchange Network: Ailie Rutherford
Centre for Human Ecology: Dr Anne Winther
Propagate, Abi Mordin
Remade Network, Sophie Unwin
Secure Scotland, David Mackenzie
Janet Fenton
Ann Morgan
Christie Williamson
Paula Larkin
Sapna Agarwal
Katie Lambert
Kristina Weaver
Prof Alison Phipps
Maria Suarez-Alvarez
Danny Alderslowe
Alex Wilde
Chris Ballance
Michael Roy
Fraser Stewart
Go Vegan Scotland
Barbara Bolton
Greum Maol Stevenson
Brian Gibb
Nadine Gorency