Orphaned Centrism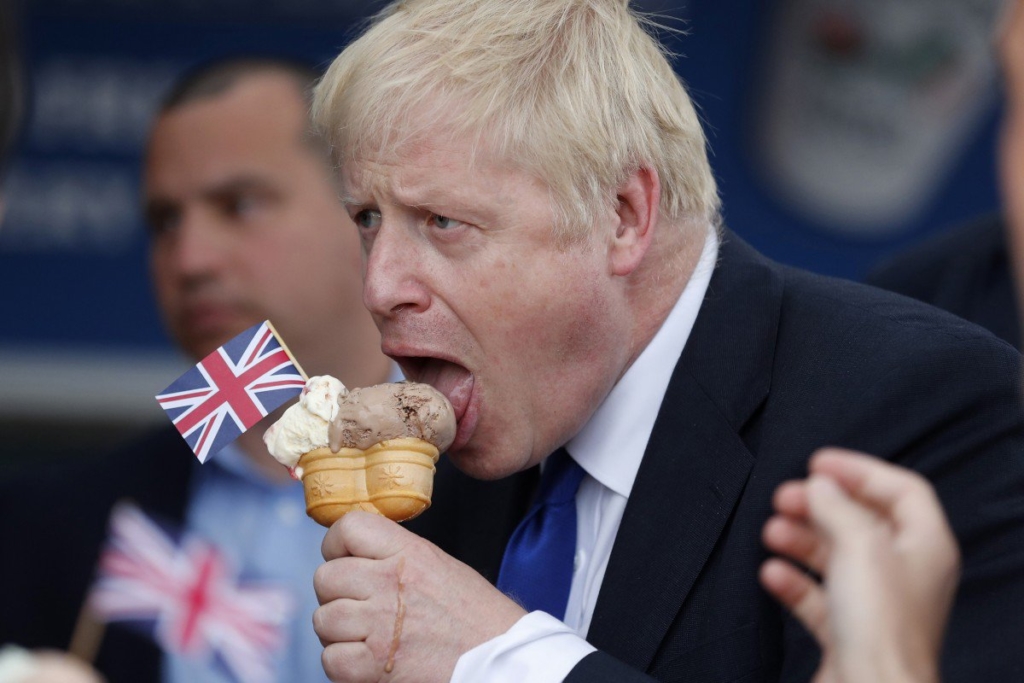 As we wait for the Prime Minister's choreographed trip to Scotland – and the panic continues amongst right-thinking politicians and their commentariat – the faithful scribes and gatekeepers are struggling. A number of political comfort blankets have gone leaving key writers and players toiling. The comfortable space of a Devolution That Does Very Little has gone, as has the sort of shiney New Labour world that so many adored. Gone too is the threat of independence as an abstract notion – or a past event. Also vanished now is the much-loved pet project of Ruth Davidson. Many are left bereft and confused.
Alex Massie writes in the Times ("Captain Britannia is no hero north of border"): "The team that restored the fortunes of the Scottish Conservative and Unionist party no longer exists. One by one, many of the key players are departing the stage. Ruth Davidson is going. Eddie Barnes, the party's former communications director, has already gone. So has Marek Zemanik, formerly the Scottish Tories' head of policy development. Adam Tomkins is returning to the University of Glasgow, bored of intramural party skirmishes and, I think, bored of Holyrood too. An era has ended, to be replaced by, well, what exactly? A reversion to the mean or to type, perhaps. Mr Carlaw and Murdo Fraser and Liz Smith and Liam Kerr and all the other loyal Tories have their qualities but this is not a team to excite the country or one liable to present a fresh, confident version of either Tory or Unionist thought."
It's a nostalgic vision. How many will mourn the Golden Era of Davidson, Barnes and Tomkins? How will history remember this great period? What flagship policies and great speeches will this Dream Team be remembered for?
One can only wonder.
Without a trace of irony Massie continues: "Constitutional politics gave the Scottish Tories a song to sing and a ditch to fight in. Deprive them of this and you deprive them of almost everything. In truth, their fate is not in their own control. There is little the party can do about Brexit, little it can do about Covid-19 and little it can do about the prime minister. Individually, these are each debilitating weaknesses; put them together and you risk something crippling. They might wish it otherwise but that's the way it is."
Also looking for ditches to die in is Kenny Farquharson (also at The Times) where he is developing the truly barrel-scraping notion of 'Ambivalent Unionism': "Labour voters are not going to die in a ditch for the Union. That is not why they feel an affinity with Labour. And if Labour is prepared to die in that ditch it might need to do so in far fewer numbers."
Ambivalent Unionism is the extraordinary new proposition that Richard Leonard should strike out his own position of being a bit vague. Farquharson sets out his stall for this winning idea with some dodgy framing, arguing: "The closeness of the polls obscures substantial transfers of votes between Yes and No over the past six years, in both directions."
Er, I think more recent polls are a little clearer on momentum and direction?
Next up comes the F Bomb, Farquharson's Go To constitutional misdirection: "UK Labour policy is that power structures within the UK will be reformed by a constitutional convention which will consider the question of federalism."
Finally – in the Constitutional Land that Time Forgot he adds: "Scottish Labour should follow the precedent in its own history. It should decide what it wants for Scotland and persuade its UK colleagues — challenge them if need be — to legislate at Westminster to make it happen."
This is magical thinking. Kenny – like his fellow Orphaned Centrists – are still living in a time when Labour and Scottish Labour were a powerful political force capable of forming governments and exercising constitutional muscle. Now they can barely form an opposition.
The high priest of Orphaned Centrism – who provides a third node to this triumvirate of scribes is Chris Deerin, inexplicably the "New Statesman's contributing editor (Scotland)."
Back in 2018 Deerin fantasised that the Scottish Tories were about to back a Peoples Vote Referendum. Except they weren't, at all, ever. But one of the running themes of the enthusiastic orphans is a complete misjudgement of the autonomy – or desire for autonomy – of the Scottish Labour or Conservative parties. In order to nurture their own fantasy about the Union as a functioning viable political project they have to indulge themselves with the idea that these parties are brimming-over with ideas and action, policies and a fervent desire for independent thinking. In the absence of any evidence at all of these traits they just manufacture them.
At the time Deerin was penning his nonsense about the Scottish Tories backing a a Peoples Vote Referendum he went further.
With un-named sources Deerin claimed that the Scottish party would back a second referendum and this, in turn, "could lead to a formal breach, with the Scottish party choosing to break the link with the UK party and become independent."
Deerin wrote, in a fit of premature hagiography:
"If Ruth Davidson weren't on maternity leave, it's tempting to believe the former Territorial Army Signaller would by now have commandeered a tank and be rumbling down the M6 with the gun pointed firmly in the direction of the ERG. Davidson's contempt for Boris Johnson and his cohorts is absolute and withering. Her no-nonsense, pragmatic Conservatism does not allow for the preening self-indulgence of the Tory far-right."
But Deerin's wildly imaginative take is part of a pattern.
Deerin (former political editor of the Daily Record and head of comment for The Daily Telegraph) and previous Director of External Relations at the Blavatnik School of Government, (founded following a £75 million donation from Leo Blavatnik, a Russian oligarch being investigated in the Mueller inquiry), has a track record of cultivating a distinct political "centrism".
Over a period of six months Deerin wrote and re-wrote the same article making the case for a new political party. Who knows if he did this independently? It seems unlikely.
Deerin has described himself as an 'orphaned centrist' and seems to have difficulty adjusting to changing political realities. His relentless cause was a new party based on Macron's success in France.
Here he is in the Herald arguing:
Dec 2017: "We in Britain desperately need a new political party in the Emmanuel Macron mould".
"When you think about it, there will be a new party. Its lack is unsustainable. If you're not sure whether it's for you, here are the sort of people it should include: David Miliband, John Major, Ruth Davidson, Tony Blair, David Cameron, Yvette Cooper, Nick Clegg, Anna Soubry, George Osborne, Nicky Morgan, Ken Clarke, Peter Mandelson, Paddy Ashdown, Chuka Umunna, Jack McConnell, Alistair Darling, David Willetts, Dominic Grieve, Amber Rudd. If you look at this list, appreciate the connections, share the sensibility and the desire to pull our politics back from the edge, you're in."
I don't think I'm in.
Here he is Unherd arguing for a new political party:
October 2017: "Is it time to break up the old political parties?"
"Anyone who's dug around a little knows that the money is there to fund a new muscular, liberal, centrist movement. We know a large proportion of the electorate sits somewhere in the middle of politics, and that the younger generation tends towards a more liberal, internationalist outlook than its predecessors."
Here he is in the New Statesman arguing for a new political party:
February 2018: "Andrew Adonis should ditch the pessimism and start a centrist party".
"For all the naysaying, there are several untested arguments for a new party. Nature abhors a vacuum, and the centre must, one way or another, be represented. For all the votes cast last year for Labour and the Tories, voters may not behave in the same way if presented with different options (let's set the Lib Dems aside as having little more than junk value). Meanwhile, 2018 is not 1981, and this Britain is not that Britain: our lives and our expectations are different now, the political tensions fresh, the demographics changed, the world of communication transformed. The possibility of the new is all around us at all times – so why not in politics?"
"And then there's the SDP's success, rather than its failure. New Labour emerged in its intellectual wake to become an extraordinary election-winning machine and a government that was given the space to modernise the country. A new centrist party might fail to displace the big two, but it would probably ensure that John McDonnell and Seumas Milne never get their grubby hands on the levers of power, and it would probably drag the debate back from the centre. It's worth doing for those reasons alone. But who knows what might happen?"
"The thing is, the money's there."
These imaginary worlds created and sustained by the Scottish editors of big flagship media outlets like The Times, The Spectator and the New Statesman are mostly harmless, but they are becoming more ridiculous. As a majority in favour of independence becomes the "new normal" (or the "settled will" if you'd prefer), as Britain glides towards a No Deal economic catastrophe, as the venal character of Johnson's reign replaces the crushing incompetence of May's the gap between reality and fantasy widens. As Westminster executes a Brexit power grab Kenny Farquharson talks about Scottish Labour "… having a view on what new powers should be put in Holyrood's hands".  As Massie wistfully reminisces over the Golden Era of Davidson, Barnes and Tomkins and Kenny Farquharson talks bafflingly about "Asymmetrical federalism" and "Ambivalent Unionism"  Dominic Cummings' plans to fundamentally change Whitehall.
These key titles act as a filter to Middle Scotland, a soothing balm that tells a tale to itself that everything is well and nothing is changing. These editors act to provide some "Scottish" content for UK titles – but they also seem increasingly detached and a little desperate as the world they are so heavily invested in disappears.