Paper Cave Anti-Rave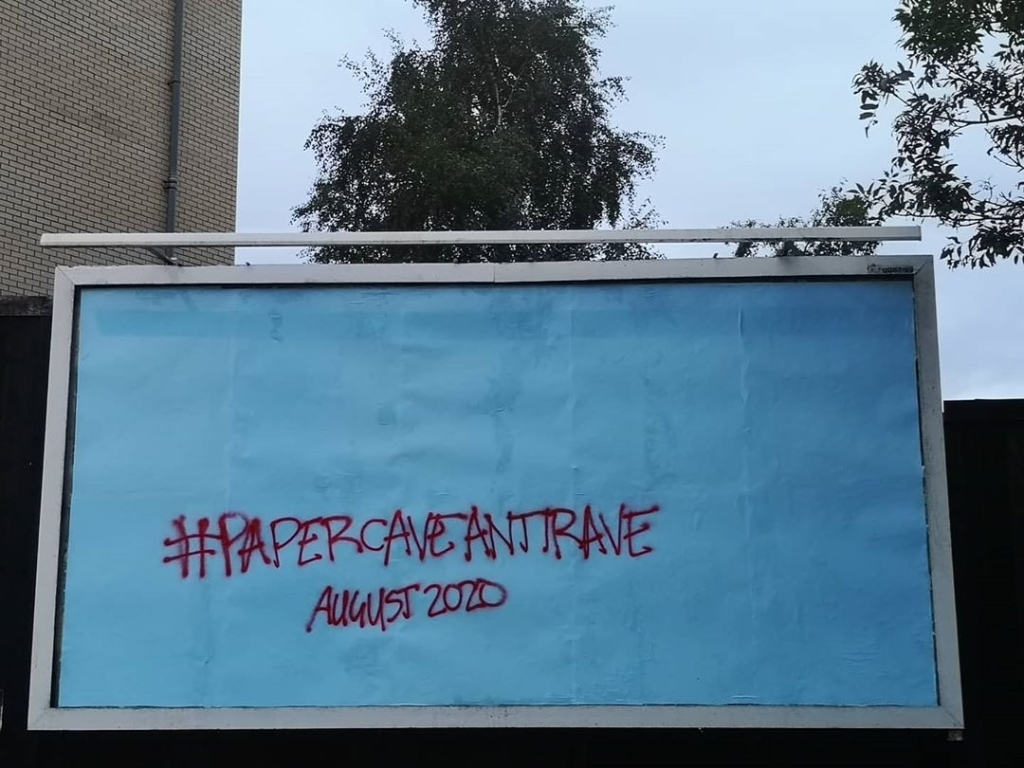 Of all of the books I have purchased in the last eight months, my 2020 diary has proved to be by far the most disappointing read.
This year is a sandcastle. Our carefully constructed calendars and Hogmanay visions for the year ahead were washed away. We have had a summer desolate of festivals. August in Edinburgh is eerie quiet. Television shows have ceased filming. I walk through town and am surrounded by the posters of gigs that didn't happen, the plays whose runs were cut short, the naively smiling faces of comedians whose tours were put on hold.
Events are slowly returning, but this process will be a very slow one with as many ebbs as flows. A job in the arts is precarious at the best of times and people who work in the events industries, and artists of all mediums are having to figure out whether they can afford (both literally and figuratively) to continue with their careers, and how to adapt their work to these extraordinary circumstances.
One such artist is Laura McGlinchey, a painter from Ayrshire whose work blurs the boundaries between painting, sculpture, installation and performance. McGlinchey has a DIY ethic and uses whatever materials she can get her hands on: billboard paper, posters, cardboard, newspaper, discarded paint. As she says:
"A largely wasteful, consumer-driven society, leads to an abundance of free materials for resourceful makers."
McGlinchey was working towards the biggest solo exhibition of her work to date, which had been set to take place in Aberdeen in May. Alas, as with so many plans for 2020, it was not to be. Nevertheless, as they say, she persisted, and continued to create and make work throughout lockdown.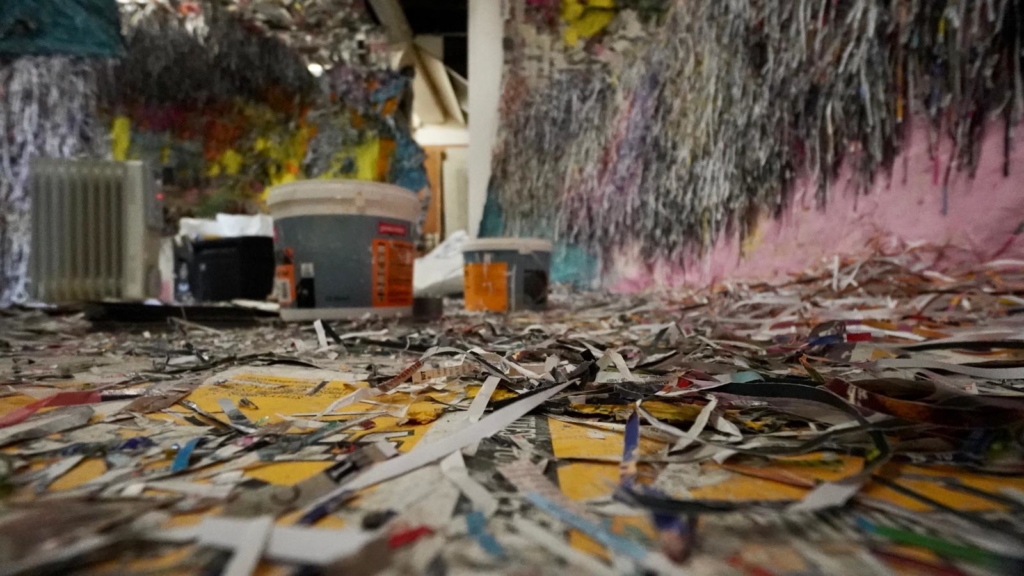 McGlinchey concocted a plan to create an installation in the ground floor of the Pipe Factory, near the Barras in Glasgow's east end. She says:
"I began with the idea that I could get a few musicians, poets, other artists and creatives together to come in to the space and do their thing, to eliminate the feeling that you have to be quiet when you are in a fine art space and looking at artwork, this allows people to occupy the space along with the artwork."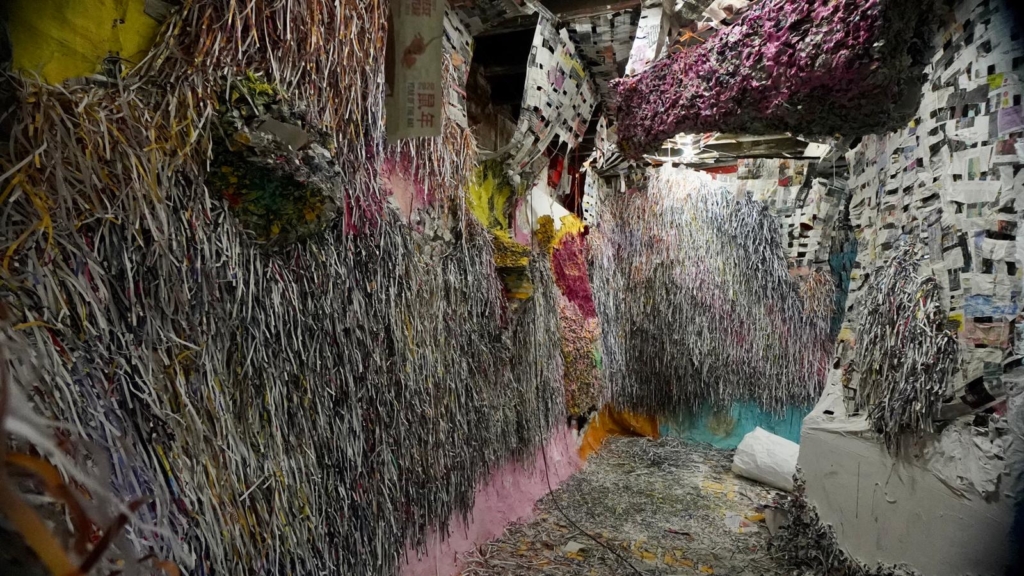 Thus, the Paper Cave Anti-Rave was born. It is an incredible space, with the feel of an alien forest – constructed from the shredded posters of gigs that didn't happen (in some way then, these lost nights did not go to waste and were themselves recycled). The Paper Cave Anti-Rave is an exhibition for a time when galleries are closed, it is a party that no one is invited to. McGlinchey says:
"Being locked away in a world of my own is somewhat normal for me while completing a project or working to a deadline. It has been a big struggle though in terms of the bars and venues being shut. Most of my friends are involved in music or other creative industries and it has been a massive blow, worry and strain for everyone affected."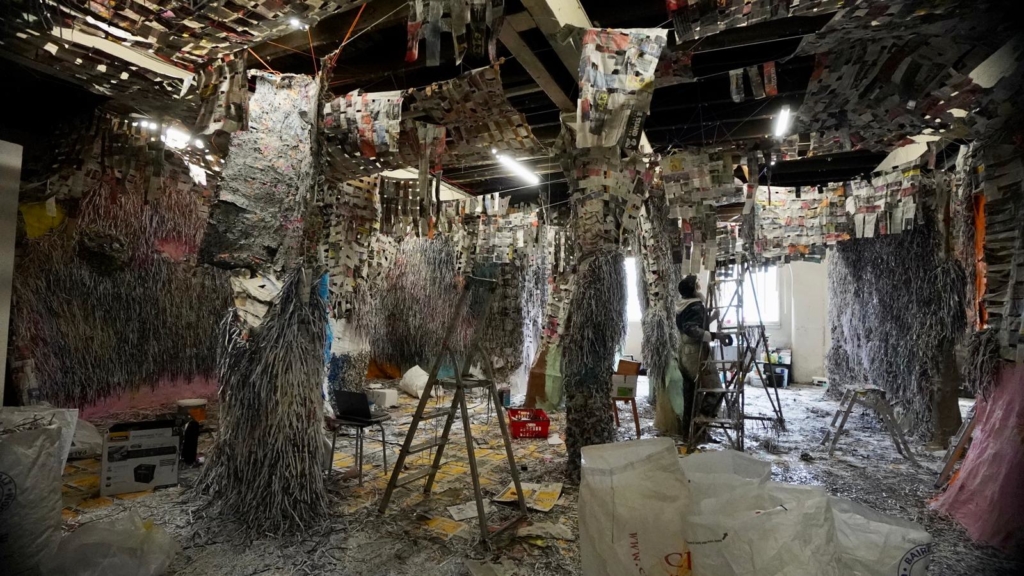 On the 8th and 9th of August, the Paper Cave Anti-Rave was host to something of a mini and socially-distanced festival. Gig-starved musicians, poets, DJs and performance artists came one by one to perform beneath its disposable boughs. Acts included the rock n roll soul sister of international acclaim, Emme Woods; Glaswegian singer/songwriter extraordinaire Kitti; soaring star of Scottish comedy Amelia Bayler; award winning poet and performer Leyla Josephine; DJ Nightwave; pianist Michael Peacock and more, all filmed by Jamie Logie of Tenement TV fame.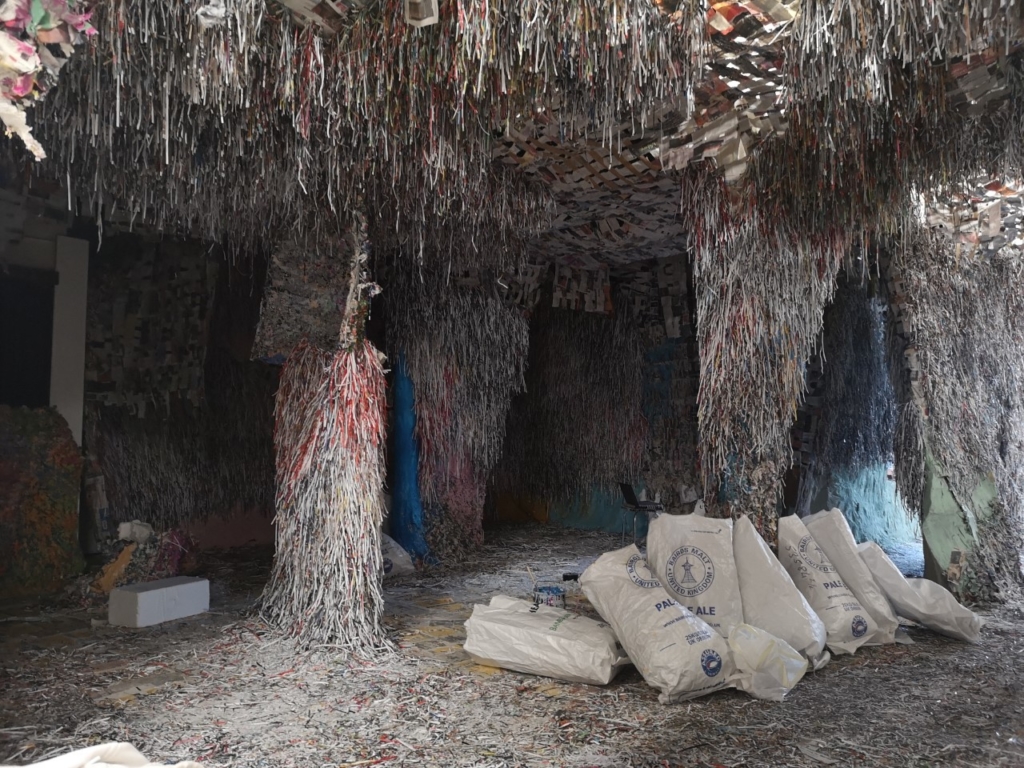 These gorgeous videos, showcasing the strange beauty of the installation and the talent of all of the performers involved, are to be released once a day starting TODAY. To paraphrase McGlinchey, extraordinary circumstances lead to an abundance of potential projects for resourceful makers.
The Paper Cave Anti-Rave itself however is another sandcastle, having all already been washed away.