The Yes Vote for Scottish independence takes its biggest ever Lead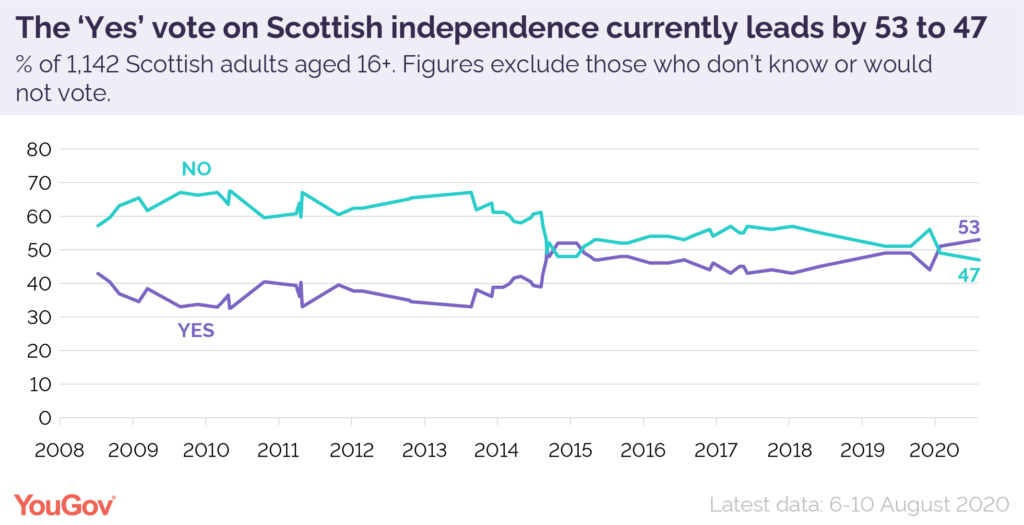 The headline "The Yes Vote for Scottish independence takes its biggest ever Lead" would surely be good news for supporters of Scottish independence?
No.
Follow this.
Colin Dunn explains: "Much justifiable concern at the apparent belief that higher Yes support will somehow force Johnson to change his mind about an S30. The opposite seems probable: the higher support goes the *less* likely he is to agree to that, as he won't want to be seen as the last PM of the UK."
This has become mainstream thinking in some of the fringes of the Yes movement.
It's a bit like Ian Murray's notion that the more Scottish Labour are rejected by voters the more right they are.
So follow this stream of logic …
The primary obstacle to independence is the SNP.
Alex Salmond and Craig Murray have been the subject of Deep State conspiracy (which 'state' is unclear).
There are no circumstances by which the British government will EVER give a Section 30 Order.
Anyone who suggests otherwise is a traitor/Yoon.
There is no reason to persuade others to support independence.
Having a specific commitment to independence in the 2021 manifesto is worthless & useless.
ALL of the MPs are traitorous backstabbers *insert reason here*.
Therefore … any sign of increased support is actually a hindrance to the 'movement.'
And yet polling tells us …
23% of those who voted No in 2014 are now Yes.
Nearly half of Labour voters back independence.
79% of voters under the age of 25 back independence.
30% of remaining Labour supporters back Indy (+ 10% don't know).
Only 68% of 2014 No voters would do so again.
Only *17%* of those aged 18-24 oppose independence.
As of today's performance by Ruth Davidson the Unionist Fallback Heroine is a deeply flawed lame-duck leader.
And the increasingly desperate signs of the Unionist rump remain with Stephen Daisley's bizarre column about 'The case for a new Act of Union' which proposes:
The UK is a unitary state in which sovereignty rests exclusively with the Crown-in-Parliament at Westminster.
The convention that the UK parliament does not legislate in devolved areas without Holyrood's permission should come to an end.
The permanence of the Scottish parliament (one of the many acts of violence committed against the Union by Cameron) should also cease.
The balance of powers between Holyrood and Westminster should be recalibrated and the principle adopted that any power not specifically devolved is reserved. Reserved matters should include elections, referendums and local government.
Prohibit the expending of taxpayers' money or parliamentary resources on reserved matters.
This is untenable and a sure sign of desperation and disarray.
The Times managed to shoehorn in a bad-headline into the news that "The SNP is on course for an unprecedented majority at Holyrood" with the "SNP support soars despite U-turn over exam results".
This site has retained a critical eye and is deeply worried about key aspects of the SNP and Scottish Government's policies – both micro and macro – and has spent the best half of a decade being attacked for being critical. We have – and are – deeply critical of education policy, of failure on environmental policy and more widely on the complete inability to create or structure the building blocks for independence in terms of currency, a National Bank, a national energy company and many of the other institutions that have been advocated by Commonweal (and others) for a very long time. This is all indefensible, and the corporate takeover that George Kerevan in his weekly economics columns and others have outlined in painful detail is all too real.
But – if you are absorbing the growing reality that – whether you like it or not – that Sturgeon's caw canny approach during the pandemic has won over hordes of recalcitrant and unconvinced No voters – and still want to create another vehicle then it's time to wake up. Politics is complex and movement building is difficult. My imagined process in which everyone agrees with my Left-Green analysis may not be what wins it.
None of the multiple 'new parties' seem credible in terms of strategy, funding, policies or clear-sighted politics, and none of the alternative routes forward seem to have 'lift-off' to make any discernible impact.
There are multiple ways that the movement can add to and disrupt politics – including radicalising the AUOB rallies, creating mass civil disobedience and NVDA – and there are multiple ways in which the SNP at Westminster can and should cause mayhem. The binary is not between blind-faith in the SNP and kookiedom. It is finding a path forward when EVERY indicator is that we are on the brink of a breakthrough.
Many of our apparent differences within the movement are resolvable and many of the Unionists problems are chronic and institutional.
Have faith in each other, be positive, be united in diversity, broaden and radicalise the movement, look to new ways of protest that engage people and keep the heid – our time will come.
Take heart from the shifts that are happening as Britain struggles through multiple crises and don't destroy the opportunity that presents itself. This DOESN'T mean unquestioning of the SNP, it DOESN'T mean being an uncritical ally but it DOES mean going with the good energy and the good outcomes that are unraveling before us. The lockdown has taken its toll on all of us, but as we tentatively recover we can find new ways to deepen and widen the movement and move towards an invincible and unstoppable majority for radical change.