Festival of Democracy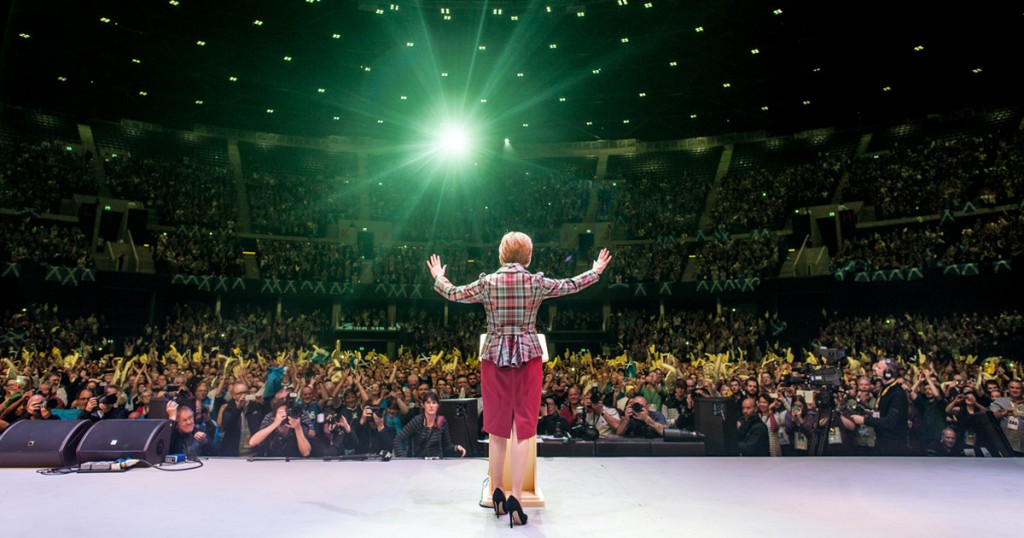 Malcolm Kerr outlines some issues and opportunities for SNP members and activists in the brief season of the Holyrood 2021 candidate selection process.
The soundtrack for this year's candidate selection process is the chopping of membership cards. It is a hard time to be an SNP activist, watching long-time local stalwarts become disenchanted, trying to persuade friends to remain in the Party, running out of excuses and defences. It doesn't need to be this way.
Following the December 2019 General Election, we were fairly certain that the next national election would be the Scottish Parliament in May 2021. We had well over a year to prepare. The plan was to undertake vetting and selection of candidates during the spring of 2020. For three and a half months, HQ left text dated 30th March on the SNP website outlining a candidate assessment process which was clearly not taking place. Now that Covid lockdown has been eased, the process is to take place – on line! Presumably with Zoom interviews. Sadly, Keith Brown was not intending irony when he sent out his May email to members entitled "Use this time wisely!". This process could have been finished months ago. Approved potential candidates (i.e those who have concluded vetting successfully) need to express their interest in a constituency to the National Secretary by 14th September.
There is a plus side (let's remember). 'Yes' is now the preferred Independence option (at 54%), our First Minister has an unprecedented level of personal approval across the country for her handling of the pandemic crisis, and we have an opposition in complete disarray. As a nation, however, we have a reputation for snatching defeat from the jaws of victory.
For observers of the SNP's HQ and NEC performance over recent years, we have come to expect very little. The slo-mo car crash around the 30th July NEC meeting was, even so, hard to watch, and not least because we have known for some time that it had to come. Any ordinary Party member can only glean small insights into what actually happened at the NEC. Minutes (if minutes are kept) are not available to us, but we can usually rely on individual NEC members leaking their account to the Press.
Two items of business stood out. First the decision to deny James Dornan MSP the right to put his name forward for selection in Cathcart, the Scottish Parliament seat he has held and served for years, and second, the decision to discourage Joanna Cherry from seeking the Edinburgh Central nomination by requiring MPs to give up their Westminster seat when selected rather than once elected. An anonymous NEC member duly released a detailed account of the proceedings, and it was not flattering to the Party hierarchy. The James Dornan decision was reversed the following day when it was found 'unconstitutional'. It isn't clear how the SNP's CEO, Business Convener and National Secretary had all failed to notice this flaw in the plan at an earlier stage! The salient features of this 'handbags at dawn' episode are that it was initiated by a faction very close to the Leadership, and that it failed.
There is also a credible view that the 'Dornan Affair' was only ever intended as a diversion to deflect from the core intent: pursuing an equally unconstitutional change to the candidate selection rules, effectively debarring Cherry from standing for Holyrood, as was her right. For some members this chicanery has been the last straw.
George Kerevan gives a helpful account of what has happened to the SNP after 13 years in office. The shift to the right in policy terms has been accompanied by the rise of a powerful Party bureaucracy. Policy is made by employed special advisers rather than members. Corporate lobbyists have easy access to ministers. With success in Westminster elections, a large number of MPs and their staff have become dependent on our opponents (the UK State) for salaries and pensions. There is a powerful system of patronage and a career ladder to keep aspiring high flyers in line, and ensure their loyalty. My own extensive experience over the years confirms that Party HQ and the Leadership now have a deeply ingrained disdain for members and especially for the volunteers who run the branch and constituency networks.
Associated with this is the large cohort of MPs and MSPs, their energy perhaps sapped by the routine work of representing individual constituents, whose focus and drive appears suppressed by a combination of healthy salaries and a position of relative impotence in relation to the tiny select Leadership group.
Bernadette McAliskey, MP for Mid Ulster in the early 1970s noted: "My function in life is not to be a politician in Parliament; it is to get something done". In 2015 she warned the SNP of the risks of 'settling in' in London, and becoming absorbed in the Westminster culture. (Historians may correct me here if I am wrong, but I doubt if there is any historical precedent for the achievement of its goals by an Independence movement dominated by a centralised bureaucracy and superannuated members of the colonial administration.)
People get quite worked up around candidate selection. The stakes are high, whether it is the power or the salary that is the attraction, and it is often seen as a 'sell your granny' time, when anything goes. Individuals can develop a sense of entitlement over a term or two in office, and tend to try to throw their weight around. Threats are made. Colleagues are denigrated. Established incumbents may start to regret an abrasive demeanour or that indiscrete affair with an activist. It is all a bit too much like Old Labour for me. Many MSPs have come, over the years, to regard the constituency they represent as 'theirs', and to see any challenge to their position as a disloyalty and an affront. This culture has to change.
Step back a little, though, and here is a more positive take. Julie Hepburn (@juliehepburnsnp. SNP Activist. SNP wing of the SNP. Eyes on the Prize.) tweeted on August 2nd: "I was 1 of 6 candidates in the SNP selection contest for Strathkelvin and Bearsden for the 2016 Scottish Parliament election, and frankly I think that was a great thing! It was friendly, productive and great for internal democracy. I say that as a candidate who lost. Despite my personal disappointment, I think the local members benefitted from the choice." She puts it well and goes on to heap praise on her successful opponent.
Referendum activists will recall the rhetoric around the power Scotland held on the 18th of September 2014. For a brief potentially transformative period, the people of Scotland held almost unlimited power. Of course, then, we gave it away again. For the Party and its members however, these short seasons of potential occur every few years around selection contests. The SNP Constitution is very clear about this: "Clause 4. Membership. The rights of membership include: (e) voting to elect the Party's candidates at public elections." As SNP members, we choose our elected members: they don't choose us.
If selecting our elected representatives is a right, it also has to be a duty. Opportunities to influence policy and the general direction of the Party have diminished progressively over the last decade, with the collapse of the old style National Assembly, the centralisation of power inherent in the 2016 constitutional review, the loss of National Council, the absence of Party discussion forums (why am I writing in Bella?), and the slow erosion of National Conference into a rally.
Here's some things we could ask of our potential candidates at selection hustings, though. These are concerns that are widely shared among members:
Independence. It is nice to think that the FM and her inner circle have a Plan B covered for when a Section 30 order is refused by Westminster. If so, or if not, why is it impossible to get a discussion about strategy at National Conference, the SNP's 'supreme decision making body'?
Currency. How would an 'independent' Scotland have fared economically through the pandemic without its own central bank to issue stimulus funds?
The GRA legislation. Can the devolved administration of a country where the opposition and Tory Press managed to 'ulsterise' the Baby Box afford to proceed with GRA legislation when England has ditched her equivalent? Or will the required expenditure of political capital be just too great?
UK Single Market. Yes, we need to control Covid, but the 'Single Market' train is on the track and approaching at speed, threatening to undermine all the advances of the devolution settlement. Is it possible any longer to be a 'gradualist'?
There's a need for a grassroots resurgence, with the wider membership assuming responsibility to take the Party back.
We need to encourage the NEC to focus on what is important, and create work-streams to deliver efficiency and best practice across Scotland including all our branches. We need to prepare the membership for campaigning, providing guidance, training and leadership. Above all, we need to examine and improve our values and behaviours, demanding the highest standards of integrity from ourselves and our elected representatives.
There is a lot to be done. We need new blood and this selection period is an opportunity to exert leverage. Ask candidates to demonstrate their commitment to a cooperative culture in the Party, to indicate how they plan to involve members, activists, local office-bearers and local councillors in progressing Independence. How will they relate to the wider Yes movement? How will they bring disillusioned ex-members back to the SNP?
Have a 'Festival of Democracy' in your constituency. See it as a failure if sitting members are not challenged. Use this time to get the Party back on track.
Malcolm Kerr is the SNP's Constituency Organiser in Cunninghame North, has familiarity with the Party's selection processes, but has no current personal ambitions within the SNP. Correspondence is welcomed at: [email protected]