An Independent Future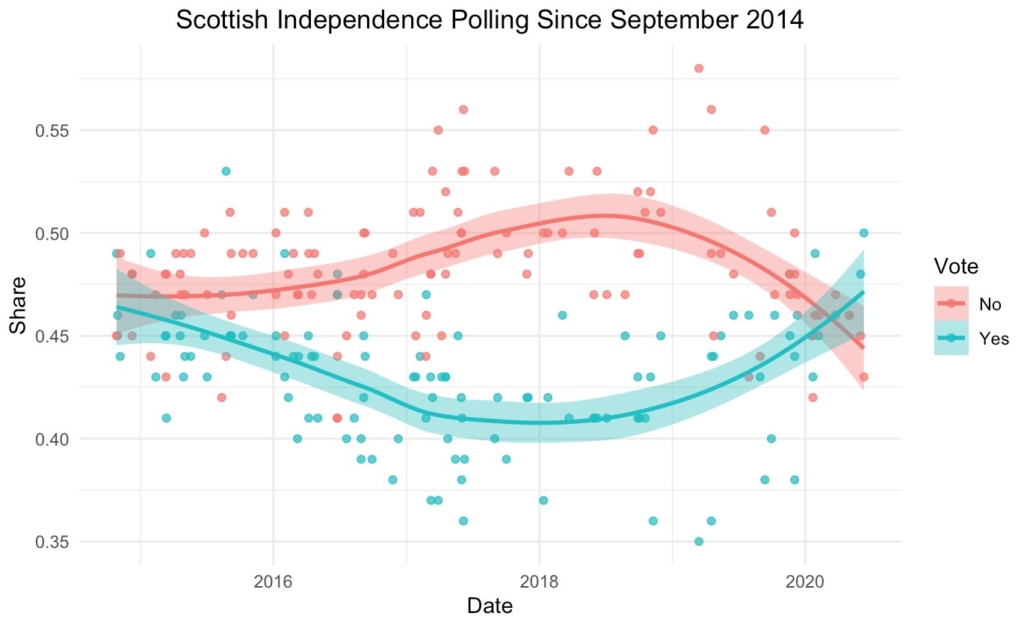 George Galloway is a Scottish Farage. He's a phenomenon constructed entirely from sound-bites and photo-calls employed solely as a Rent-a-Quote. Everyone knows he's a clown but in this world of Bored 24/7 Media and clickbait – what would previously make you unusable makes you essential. It's all part of the madness. We have Donald Trump cleaving to the QAnon cult as if it's an endorsement by a trusted public institution, Priti Patel acting-up as a sort of Boadicea-meets-Colonel Walter E. Kurtz, and Gavin Williamson and his whip. Among the panic and meta-psychosis the penny has apparently dropped.
Writing in the Financial Times Mure Dickie (in Arbroath) and George Parker (in London) spell out the moment this happened:
"The threat was spelt out by Michael Gove, UK cabinet office minister, on July 21 as he addressed the UK government's first face-to-face cabinet meeting in months. Mr Gove, the adopted son of an Aberdeen fish processor, gave his colleagues a passionate exposition on the risks facing the union and why they should care. He ran through the threat, as he saw it, posed by first minister Nicola Sturgeon's Scottish National party and mapped out a series of ideas for trying to counter the separatist trend. The address by Mr Gove, backed by polling evidence presented by Isaac Levido, a key adviser, was described by an onlooker as the "penny-dropped moment". "I think some ministers had, until that point, seen the issue as a bit of a distraction," says one person at the cabinet meeting. "Michael made it clear that while Covid and Brexit were huge issues, the government would be unlikely to survive the break-up of the union."
Rishi Sunak, we're told, was among the first to speak after Mr Gove's call to arms.
He intoned solemnly: "I now understand why this is so important".
There's so much that's beautiful about this picture.
You've got to love the mindset that understands "the government would be unlikely to survive the break-up of the union."  This goes to the heart of why this government in particular are in deeper doo-doo than they can possibly comprehend. Previous Conservative administrations were ideological, deeply reactionary, but at least committed to a politics and based on a worldview and a set of assumptions. Johnson's coterie is far more opportunistic and selfish. The idea that the reason you needed to save the union was to save the government is hilarious but revealing.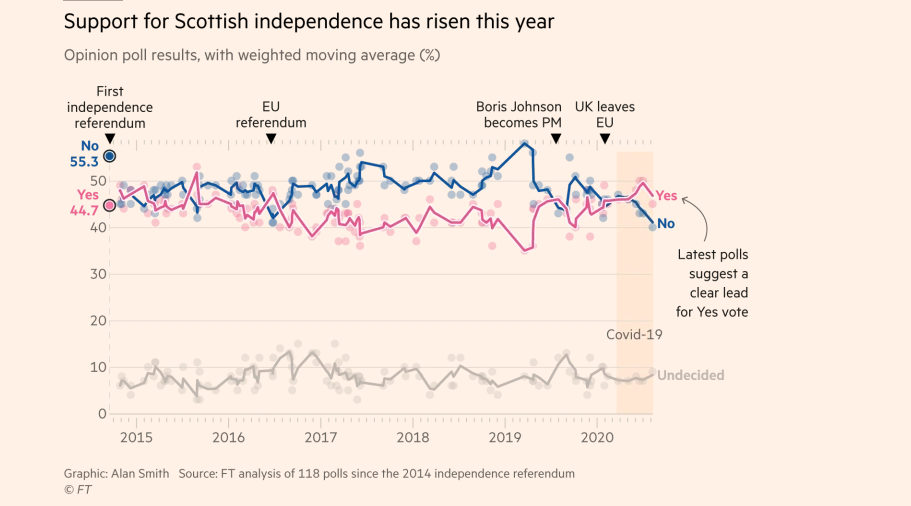 The Financial Times report explains the sudden rush of visits to Scotland by senior Tories. But the quaint idea that their staycations and media moments will relieve their predicament is a sweet one.
The default response to the collapsing belief in the Union is predictable. Galloway's call for the franchise to be altered to benefit the Unionist cause (and Gove's response) is a sure sign of desperation, but it's also interesting that it views the question as an ethnic issue rather than a civic and political one.  It's a mirror of what Ben Jackson, associate professor of modern history at Oxford university, explains:
"People who are opposed to Scottish independence think it is a nativist, ephemeral, emotional creed [but] it is actually more complicated than that." The idea that you can gerrymander the referendum has continuity with the idea that you can simply repress the vote eternally, a position that has recently been seen to be crumbling – Peter Duncan's position outlined in the Sunday Times – has the finger-prints of Isaac Levido all over it.

But if Galloway/Gove's tricks seem to be continuous with the idea of repressing democracy, it also represents a significant change. The Unionist camp are now talking about how to deal with a referendum vote they know is now inevitable.
This is a significant moment, but it presents problems for the Yes movement too. A door of opportunity has opened with a specific timeline.
For those who have been arguing relentlessly that a Section 30 Order is impossible – and will never ever happen under any circumstances (and that we are utterly powerless) and that anyone who suggests otherwise is a fool and a traitor – will today have to take stock. For those indulged in the wilder conspiracy theories and improbable alternative routes to independence, this is also a time to pause and think.
With a huge pro-indy majority predicted at Holyrood  the opportunity for a massively renewed mandate would put indefensible pressure on the UK government. Yesterday's ComRes poll for Holyrood converted into seat shows the SNP on 67 (+4), Conservative's on 26 (-5), Labour 18 (-6),  Green 10 (+4), Lib Dem 8 (+3).
That's a 27-seat pro-indy majority.
But another issue is to examine what is causing the surge for independence?
If the drivers are Brexit and disdain for the UK government's handling of it, then that is likely to be exacerbated in coming months, but presents issues and challenges on currency that need confronted.
If the drivers are the failure of Richard Leonard and Keir Starmer to articulate a Labour message then SLab voters are likely to decamp to a pro-indy and possibly a pro-SNP position cementing that ascendancy.
If the drivers are the Scottish Government's perceived competence through the covid period then that puts pressure on Sturgeon's own personal brand.
It is likely to be all these and more. Consensus builds over time as arguments fail and fade away against real life experience. To be honest the absolute travesty of the Tory governments of the past six years – the only real surprise is that these polls didn't emerge far far earlier. The sense of ending and failure is palpable in Britain today, a country governed with venal incompetence presiding over poverty and disease and witnessing unfolding economic catastrophe. Independence is emerging as the settled will of the Scottish people, but ironically, only the independence movement can grasp defeat from the jaws of victory now.