Land of Hope and Glory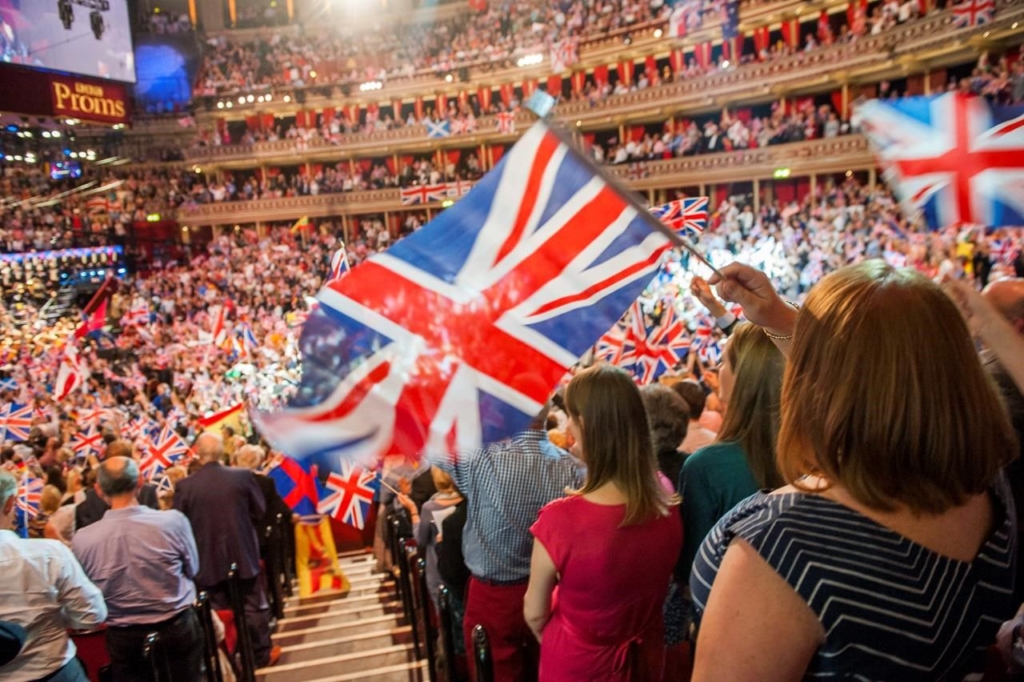 This week saw a perfect example of two bizarre phenomena: the super-quick cycle of a bogus media outrage at a non-existent Cancel Culture, and a deeply troubled Anglo-British society managing to mine grievance out of the ether. On Sunday The Sunday Times suggested that "Rule, Britannia!" and "Land of Hope and Glory" were to be left out of The Last Night of the Proms programme to placate the Black Lives Matter movement. Cue outrage and much gnashing of teeth.
The entire 'Rule Britannia' fiasco is a Perfect Storm of nationalism, jingoism and misplaced hurt super-boosted by the Mood Music of Brexit and social media. We had retired Tory John Redwood playing to type squealing: "Typical of the BBC to refuse to sing Britons never never never shall be slaves. They do not even agree with the rest of us that we can unite in a song condemning slavery and tyranny". Getting in on the act professional moron Piers Morgan pointing to a letter in The Times of the actual Commodore of the Royal Navy wailed: "THIS is why we sing Rule Britannia with such pride & gusto. Don't let the wokies cancel what made us Great Britain."
Marking a full-house, senior BBC broadcaster and far-right activist Andrew Neil barked:
"If Britannia had not ruled the waves there would never have been a Royal Navy strong enough to abolish the slave trade, intercepting 1,600 ships and freeing 150,000 Africans while sustaining major casualties."
As the writer and broadcaster Gavin Esler patiently explained : "Rule Britannia was written in 1740 at the peak of the slave trade when British vessels transported a total of 3 million Africans to the New World as slaves. To suggest it condemns "slavery and tyranny" is quite the stupidest comment in the stupidest row of 2020."
This morning Nigel Farage teamed up with Eamonn Holmes on national tv to explain to Femi Oluwole, a black man, why he can't possibly find the word 'slave' offensive. Predictably the former revolutionary, now Koch-funded shill Brendan O'Neill chipped in whining: "We have to stop being ashamed of British history. The BBC is censoring Rule Britannia. The British Museum is banging on about slavery. We're all expected to atone for the sins of Empire. It's pathetic. Let's celebrate what's good about Britain." Even the elusive Prime Minister broke cover to complain about the crisis  …
"I think it's time we stopped our cringing embarrassment about our history."

Boris Johnson says we need to "stop this general bout of self-recrimination and wetness" amid suggestions that songs like 'Rule, Britannia!' may be replaced with orchestral versions by the BBC. pic.twitter.com/2ylYGvmQjY

— Channel 4 News (@Channel4News) August 25, 2020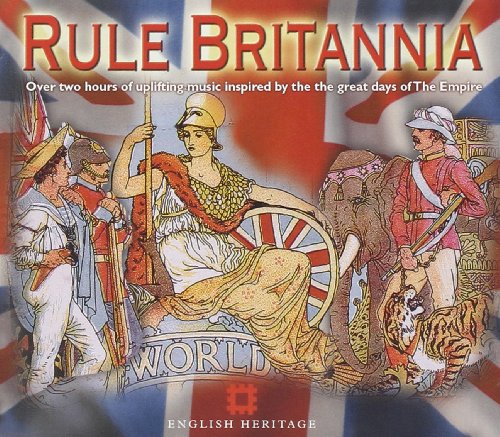 The Prime Minister – who has been AWOL for weeks – is enthusiastically turning the whole affair into a Trump-style culture war, feeding the bored tabloids with a flurry of headlines while England's favourite hate-blog Guido Fawkes leads a (successful) campaign to put Vera Lynn's rendition of "Land of Hope and Glory" at the top of the iTunes charts.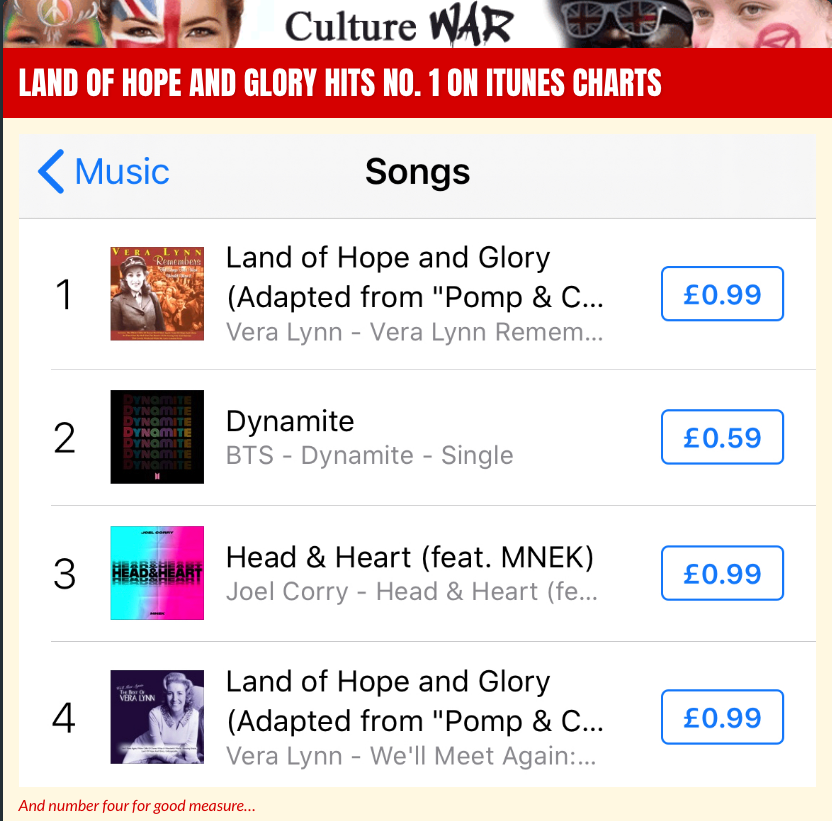 Britain is facing economic ruin and people are facing mass unemployment and daily destitution, yet the issue that really motivates outrage and energises the political and media class is the content of the Last Night of the Proms (an event at which there will be no ******* audience).
This is a further descent into a culture of sub-fascism and hyper-nationalism, it's a society steeped in nostalgia and drenched in exceptionalist grievance culture imagining itself under-attack from "woke culture" and something called the "Leftwaffe". It evokes a swirling mass of tropes and imagery from the idea of England being "under attack" to the "left wing BBC" and gives permission to a barrage of racism and re-writing of history.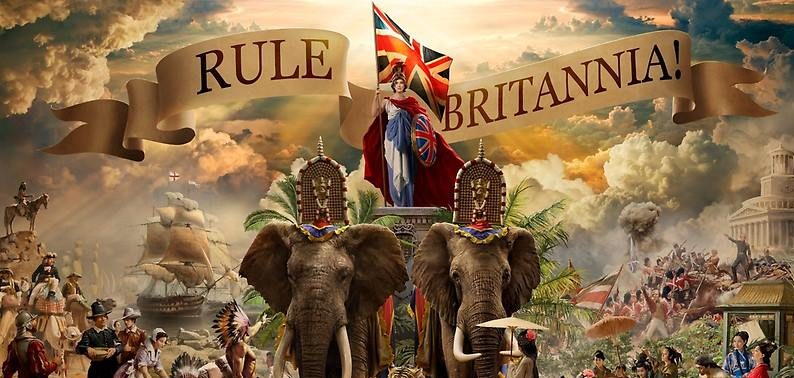 This inability to (in any way) confront the past (or adapt at all) is the hallmark of a nation in its End Days. Britain, by which I mean England, is obsessed by itself but is also seemingly incapable of having a conversation about itself. As Johnson's government spins out of control with u-turn after u-turn suggesting an administration lacking in basic ministerial competence there is also, as Peter Geoghegan writes; "less a whiff of corruption about this government and more a stench so powerful it can no longer be ignored." But ignored it must be and as the Union nears its end-point and England commits the greatest economic self-harm in its history we can expect much more of this.
The backdrop is of course Brexit and the re-writing of history is mirrored neatly with a projection forward to a mythical Independence Day, Johnson as a sort of inept Trump, a bumbling Perón. As 'Britain' descends into further chaos the need to go to more and more extremes to fabricate a glorious past will become more desperate to obliterate the grim reality of the present.