Outsourcing Unionism
The Scottish Tories are sending begging letters to people in Devon to stop another referendum saying – "bluntly we need the funds".
As a keen observer of politics, I am on the mailing list if a number of political parties. One of which, though I had not realised it until yesterday, is the Scottish Conservative Party.
This email, from Douglas Ross and Baroness Davidson, is a plea to Conservative supporters, in England and Wales as well as Scotland, to donate money to fight the SNP and Scottish independence. To my mind, outsourcing unionism in the form of a begging letter to English and Welsh voters goes against the principle that independence is a matter for the Scottish people. Furthermore, it undermines Douglas Ross' claim that the Scottish Tories are distinct from the UK Party. If you're distinct, then raise party funds from your own members.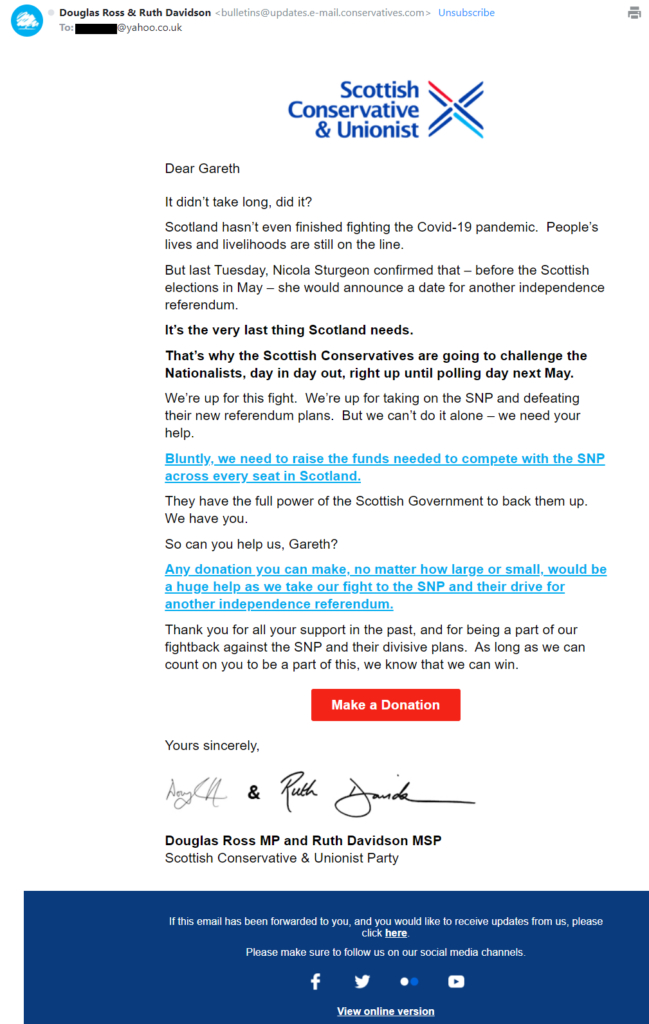 Having retrospectively examined the small print, I now realise that by signing up to the UK Conservative Party mailing list I consented to receive mail from 'the wider Conservative Party' which includes local associations, areas and regions of the Party, known as 'accounting units'. I would like to take this opportunity to wish Douglas Ross good luck in his tenure as the leader of the Scottish Conservatives' Accounting Unit, I have a feeling he'll need it. And as we're in a 'Union of Equals', might I suggest that he charges members £25 to join the Scottish Conservatives (making it equal to the UK Party's membership fee) rather than allowing people to join for a nominal fee? It'll help generate funds.