Photographer Hark1karan documents rural Punjab, offering a portrait of fast disappearing, secular India
Raman Mundair speaks to Hark1karan about his new collection of photographs, Pind – Portrait of a Village on Rural Punjab.
Under Narendra Modi, the BJP Prime Minister of India, Sikh people, culture and heritage along with Muslim, Christian, Buddhist and Dalit culture and heritage has been systematically erased and is under constant threat. The death of secular India has been a long and bloody affair and one that has been largely ignored by the West. Consecutive British Governments have been party to Indian state atrocities and the UK has licensed £550 million worth of arms to India since May 2015 and since 2017 has had a dedicated push towards supplying India with state surveillance technologies. The Indian army, whose roots and structures lie with the colonial British army, have worked with several British governments in oppressing and murdering its own people. Notable for Sikhs is Operation Blue Star in 1984 where alongside murder and the desecration of holy sites, Sikh culture was also attacked with book burnings of ancient texts and art that were kept within the Golden Temple archive and library.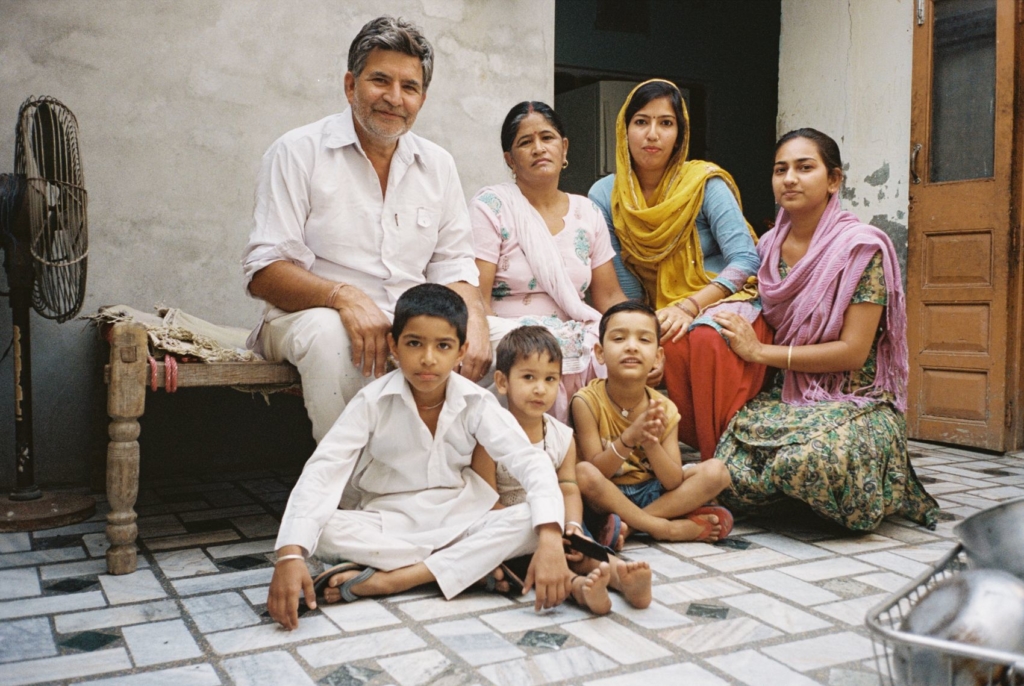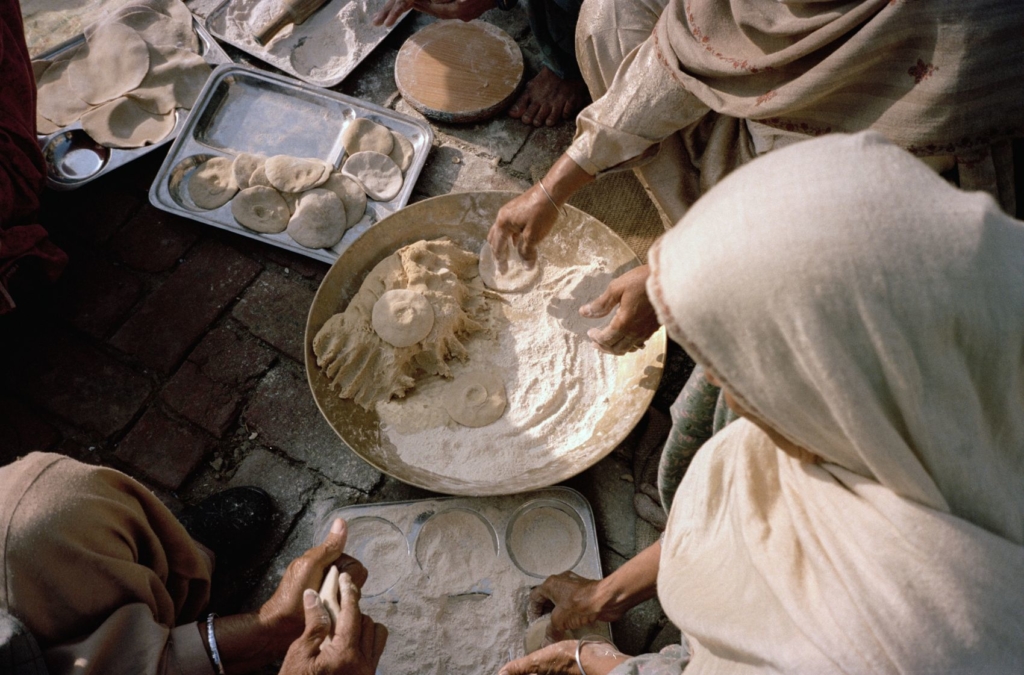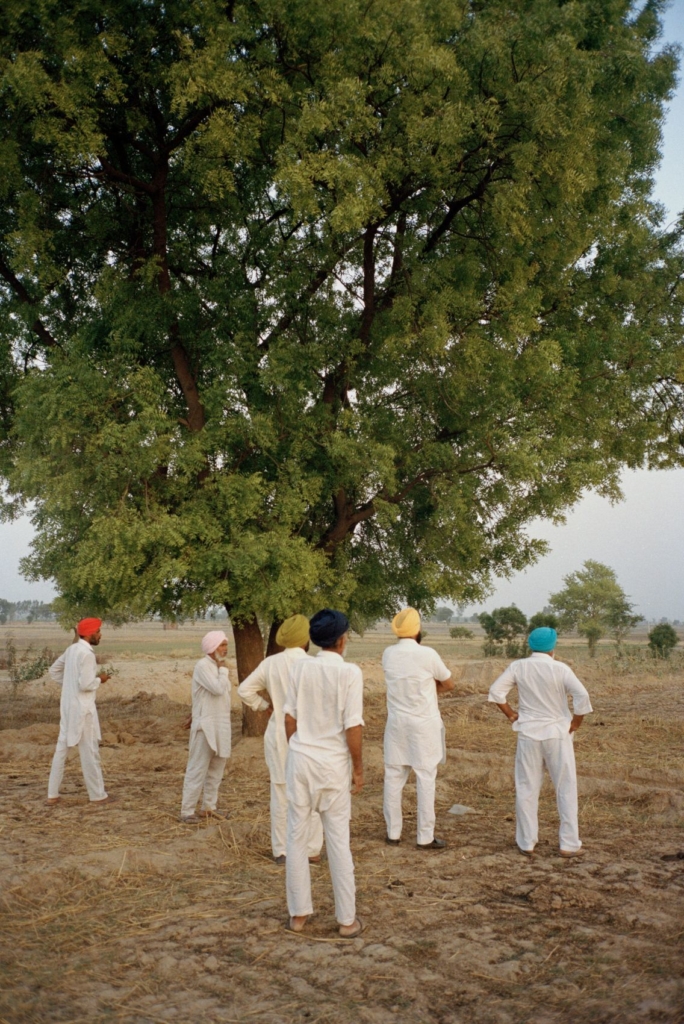 Sikhs are a significant and visible part of the South Asian presence in Britain and especially Scotland where there are long established Sikh communities. Sikh Gurdwaras play an essential role in local communities, most recently being part of the mutual aid movement and offering free, warm food to those in need throughout the lockdown. But the distinctive turban has also long made Sikh men and women a target in India, Europe and the US, especially post 9/11, where there have been an upsurge of attacks on Sikhs and police stop and searches in Europe as well as America. Turban wearing Sikhs are still singled out and continue to face harassment and violence.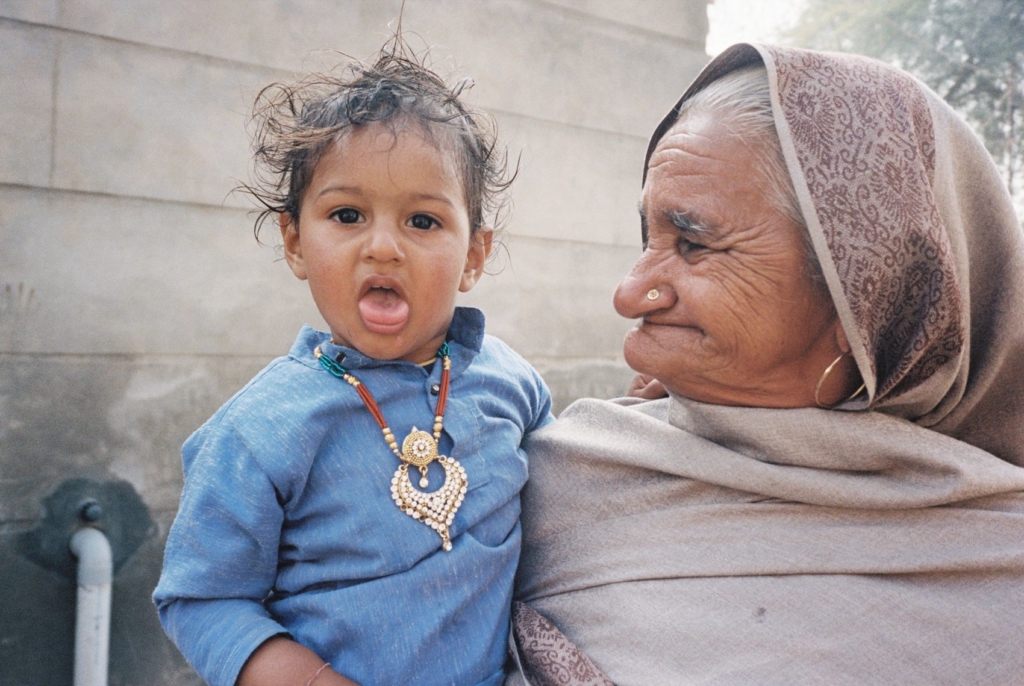 Young, British, up and coming, self trained photographer and instagrammer Hark1karan has recently created a book Pind – Portrait of a Village on Rural Punjab a collection of photographs that document rural, Punjabi life, the very heartlands where much of this state violence is happening. He has allocated sales of postcard images from the book to go to the human rights charity Ensaaf that monitor the murder and disappearance of Sikhs and try to hold the Indian government to account.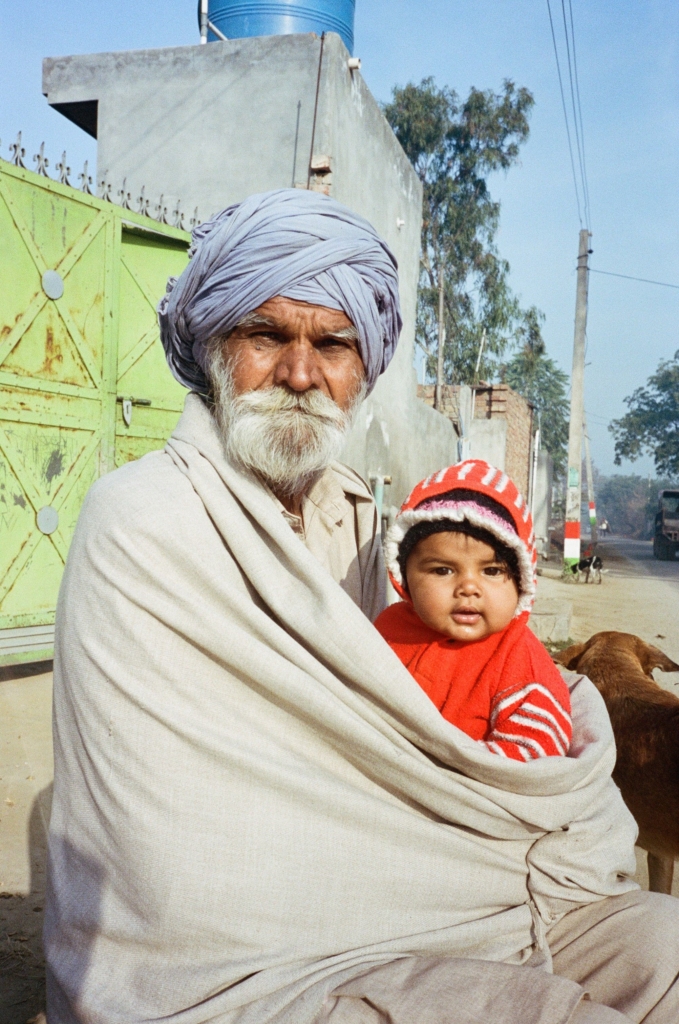 Hark1karan, who is Punjabi and Sikh, was inspired to undertake the Pind project by Charlie Phillips' documentation of the British Caribbean in West London, which feels very poignant in this age of the Windrush scandal. Hark1karan recalls appreciating Phillips' thoughtful, insider gaze and realising he had never seen similar images of Punjab, Punjabis and Sikhs. "I realised there was no documentation of our people and where we're from because I tried to look for these things and I didn't find them," he says. "It was full of stereotypes and there weren't any narratives of what we can be or could be or what we are. So I wanted to tell a story from a different perspective and challenge lots of narratives as well."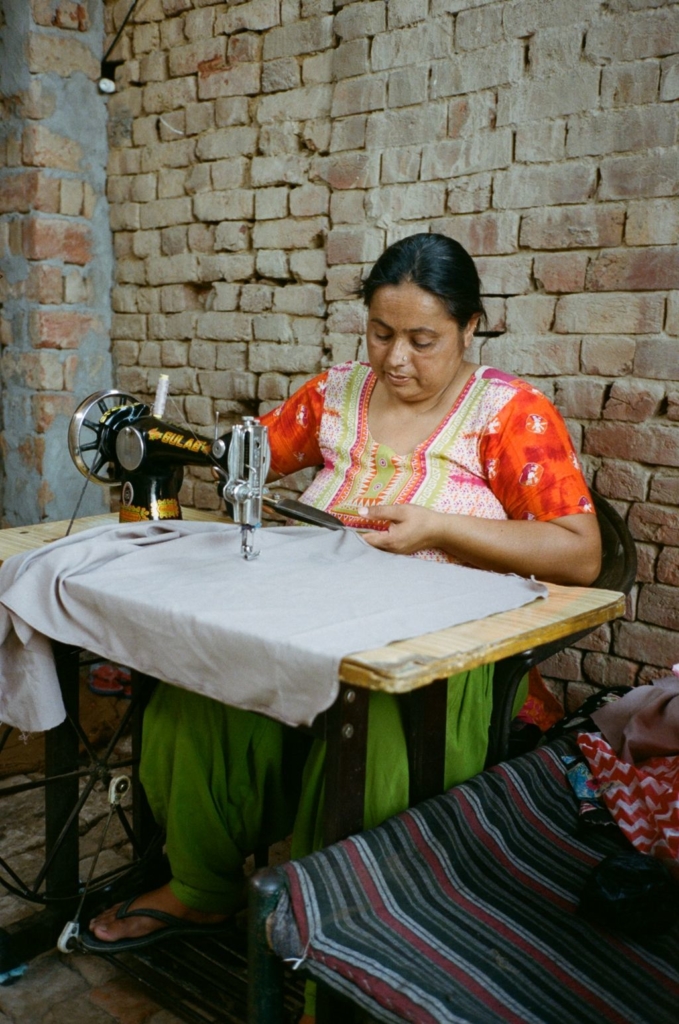 This led him to consider the politics of representation, coming to the conclusion that "I'm not going to rely on the person I'm complaining about to represent me." Hark1karan's emphasis on proaction, on self-authorship and self-representation is a powerful thread in his work. Pind is as much a love letter to the Punjab, Punjabis and Sikhs as it is a document of a disappearing world. Equally it is turning towards an aspect of shared history, both to those of us with familial and cultural connections to Punjab in the South Asian diaspora and to everyone who claims British and Britishness. What has played out in Punjab can be marked as a part of the lifeline of British history; a natural continuation of the consequences and legacies of empire, the thoughtless partitioning of Punjab by Mountbatten and his cronies.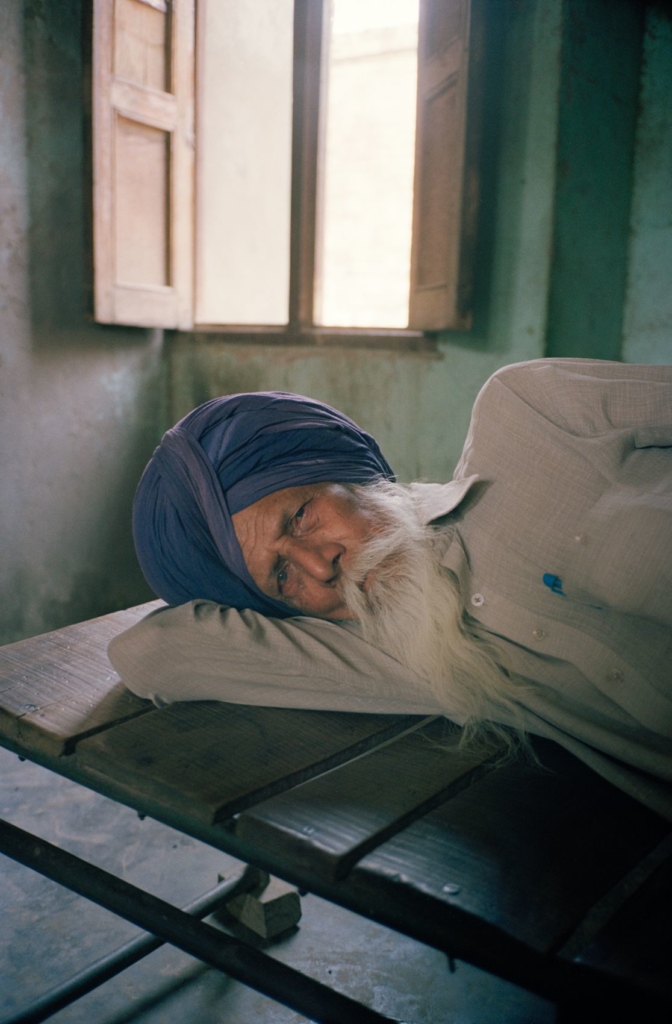 The subjects in Hark1karan's Pind are captured by a warm, thoughtful gaze. They are held and respected by the lens. These are not exposed bodies offered as anthropology but considered, tender, human beings at rest, work, repose, play and relaxation. They engage with the photographer as equals and share their life as part of a dialogue. Hark1karan is not an orientalist, he doesn't exoticise his work, instead he offers a perspective loaded with care and solidarity reminiscent of Sebastian Salgado's documentation of working brown bodies. When we spoke about his work, I mentioned that I saw a sense of 'ronnaq' – the punjabi word for joy, fun and upliftment. Hark1karan tells me that his early photographs were documenting grime and dub raves he would attend in South London. He wanted to capture the richness of the space, the variety and diversity of people who came to 'ronnaq'. He recalls; "the first rave I went to was probably a Punjabi wedding. I realised growing up that other South Asians [and other communities] don't do parties like we do." And he is absolutely right – a Punjabi wedding is a several day scenario with copious amounts of dancing, outfit changes, drinking and feasting.
Hark1karan comes from a British working-class Punjabi family who valued the arts. "My dad did a lot of manual work, but he would also paint so in our house we have paintings. There's a painting of my mother that my Dad did and we had Punjabi and Sikh art in the house too." He was actively encouraged by his parents to pursue his creative self-expression. He was raised as a Sikh and his Sikh heritage informs his artistic practice but he makes a distinction between being Sikh and Punjabi. He is clear that Sikhism has an impact on Punjabi, rather than the other way round and that there can be a tension between the two. He highlights alcohol as one of the areas of conflict. Alcohol is taboo in devout Sikhism yet alcoholism is rife in Sikh and Punjabi communities throughout the world, almost certainly due to the trauma that Punjab, and Sikhs in particular, have faced throughout the decades including the trauma of displacement, emotional exile and being part of a community in diaspora, a people who are frequently targeted for looking physically different.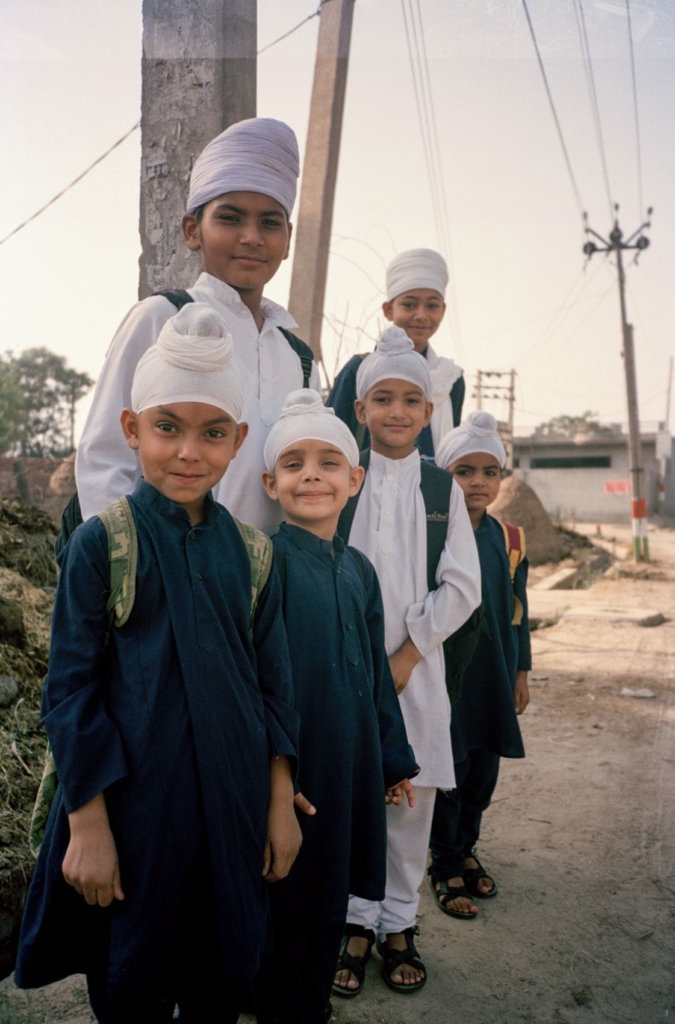 Aspects of Sikhism directly inform Hark1karan's work, he sees his creativity as an act of 'seva' – the Sikh act of contributing meaningfully and voluntarily to your community. He also has a spiritual, ephemeral approach to his photography. He used a basic point and shoot film camera to shoot Pind and notes that he rejected digital because he "didn't like how it looked…I just want to take the pictures and move on. I don't take loads of pictures, I take what I need. With most of the images in the book I've only taken that picture once, that's it. If I didn't get it, it's gone, the moment's gone. Whatever it is, the moment's gone, and I'm fine with that."
Pind is a powerful testament, a beautiful work that deserves a wide audience. Hark1karan is currently working on expanding his documentation of British South Asian youth and has begun work on a recent series of images, 'Girls Day Out,' which shows Sikh, female, Punjabi, youth culture. He was inspired by the style of the women in his friendship group and looking at family photographs from the 90s featuring his Mum looking hip in box-fresh trainers and shalwar kameez. He is passionate about showing sartorial creativity and self-expression, how it all works and as he stresses, "it isn't a costume, it's just us."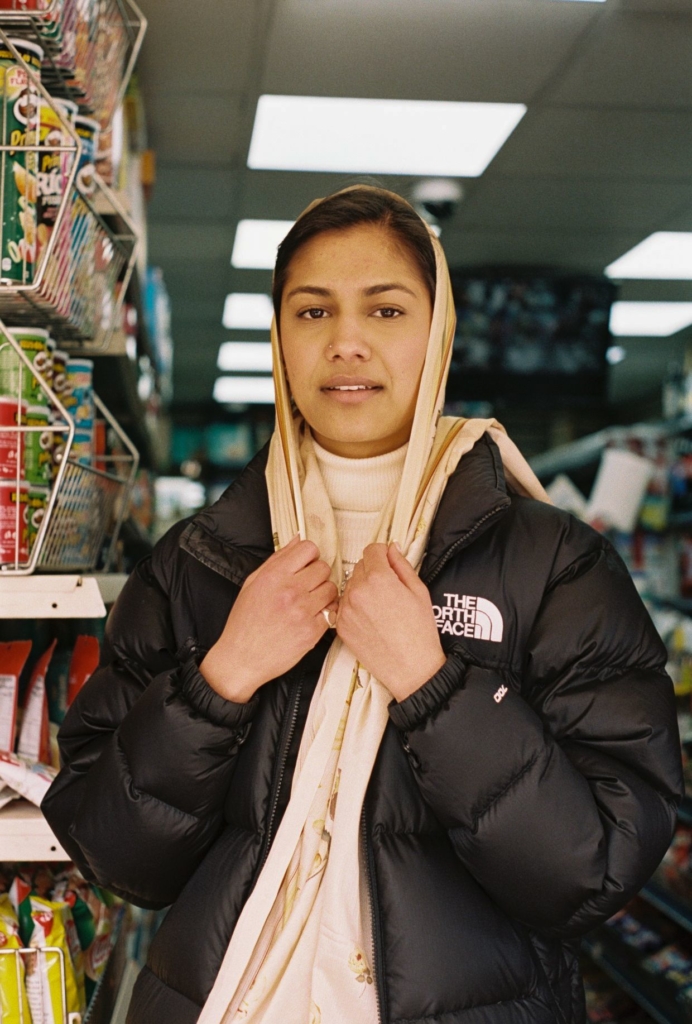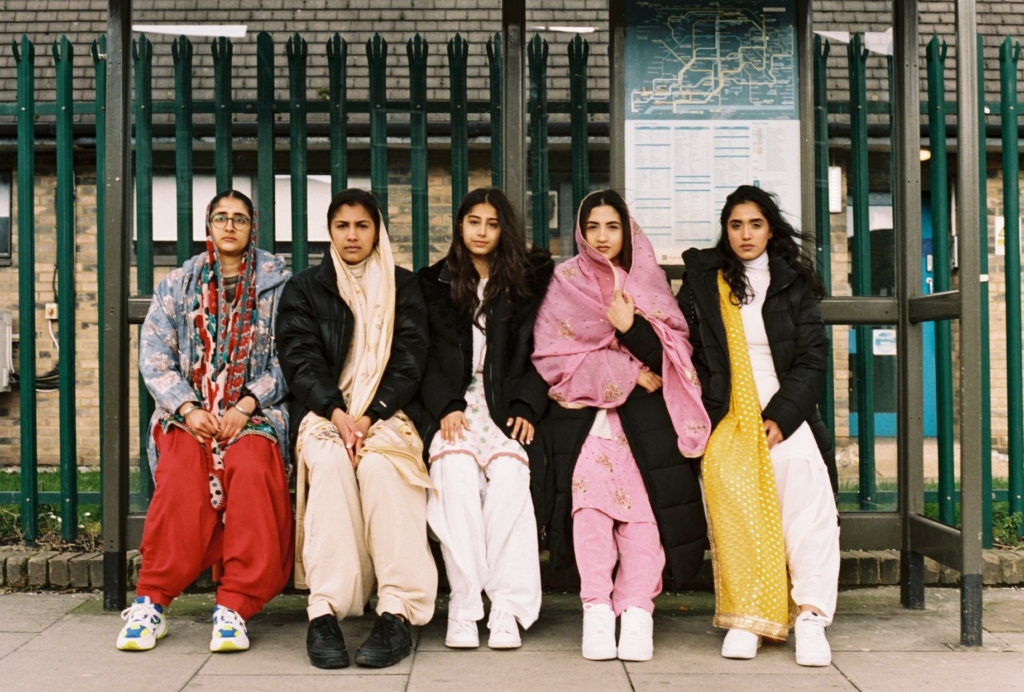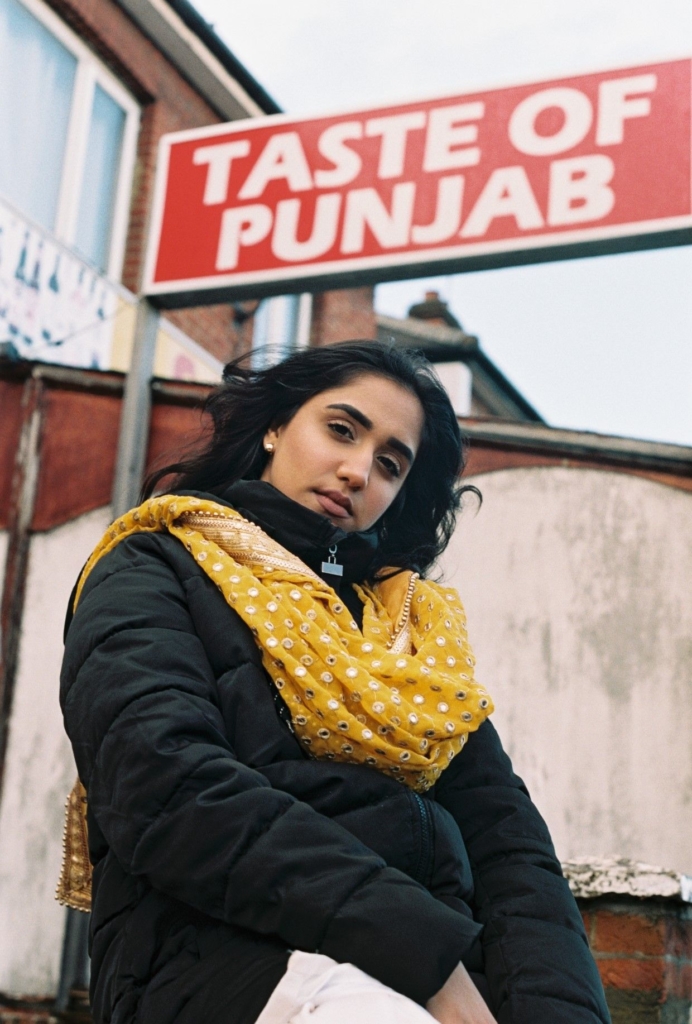 The photographs in Pind show Punjabi women, elders, youth and children with equal care and there is special attention paid to people working the land; people undertaking vital, paid pittance work. Hark1karan is aware that the book has the potential to be different things to different people. "I think with the book, what happens is, different people will see different things based on their experience. Some people have never been, so for them it's access. And other people, they'll see, oh yeah, we remember this." He considers his art as an act of 'seva' and carefully considers the need to bridge different spaces, and nurturing community via his photography as a process of creating what he calls a 'common unity.' The book itself is an archive of a disappearing place, culture and people.
Coincidently there has been a major mainstream breakthrough by another young Punjabi Sikh, Nigerian designer Priya Aluwahlia, whose eco-sustainable collection draws on both her British Punjabi Sikh culture and her African heritage. Her artbook Jalebi also reads as an ode to her mixed-heritage, and features dark skinned South Asians as models, which in itself is an act of self-love and a statement against the European beauty standards that pervade Asia and Africa and are a legacy of colonialism.
The idea of what India is and whose land she is, is being contested during these troubled times. Hark1karan's Pind is a reminder of the importance of Punjab and Punjabis. A people whose roots lie in the foothills of the Himalaya and along five sacred rivers. Whose branches and fruit stretch across oceans. These are histories and narratives we rarely see expressed by the people and from the people and communities it relates to. It is a treat to have not one but two gorgeous, complex representations of a community and culture that is under threat and being diminished in India but manifesting an act of resilience and self preservation in the diaspora.
Pind is available from hark1karan's website.