Unionist Realism
elide
verb (used with object), e·lid·ed, e·lid·ing.
1. to omit (a vowel, consonant, or syllable) in pronunciation.
2. to suppress; omit; ignore; pass over.
3. Law

.
to annul or quash.
Do You Exist?
It's the sort of infuriating question that's been bugging philosophers for centuries [TL:DR the only evidence you have that you exist as a self-aware being is your conscious experience of thinking about your existence]. Anyway let's drop the cod-existentialism and just look at the fact that Scottish and British politics has taken a strange turn. If devolution was an assertion of existence, independence is about stating that not only do we exist – but we want to have agency and purpose: we want to do something. In most parts of the world such claims aren't considered unusual. But having tolerated us for a few years the anglo-normative world of UKania has now grown weary. Having failed to counter claims that establishing a functioning democracy would be a good idea, the forces of Unionism and Conservatism are resorting to a different tactic altogether, which is basically to argue that we don't really exist.
This pops up everywhere, and has been a background noise for some time (about three hundred years or so).
You can hear it when you are told that Scots isn't a language, or that nobody speaks Gaelic. You can hear it when you are told that Shetland or Orkney or Dumfries might 'break-away' – because it implies that Scotland isn't really a thing. You can hear it when you are told by Jacob-Rees Mogg that 'there is no border' or that Britain is just 'one country'.  You can hear it in the disorienting reference to 'the North'(which means Newcastle not Golspie).  You can hear it on the radio every day with the 'voice' of our cultural and civic and business leaders. You can hear it in wry humour of James Robertson's The News Where You Are. You can hear it when you are told that matters of health or education, law or social policy can and indeed must be the same across the UK. You can see it when – such as in 2012 – the major Edinburgh Festival exhibition mounted by the National Galleries of Scotland Van Gogh to Kandinsky: Symbolist Landscape in Europe, 1880-1910 contained not a single Scottish artist, not a single Scottish work of art. You can see it when the Edinburgh International Festival is organised around the English school holidays.
You could see it when the National Museum of Scotland manages to put on a major exhibition about the Jacobite Rebellion  – the first for decades – without reference to gaelic language. Not only was gaelic language and culture central to the worldview of the Jacobites, their defeat led to the languages annihilation and the systematic destruction of a peoples culture. To exclude it from the narrative was both ahistorical it is also culturally ignorant and politically retributive. It is as some have described it: an act of "linguistic and cultural erasure."
It's a background thrum.
Occasionally it's hilarious, such as when Lord George Robertson made his famous claim that we (literally) don't have any language or culture.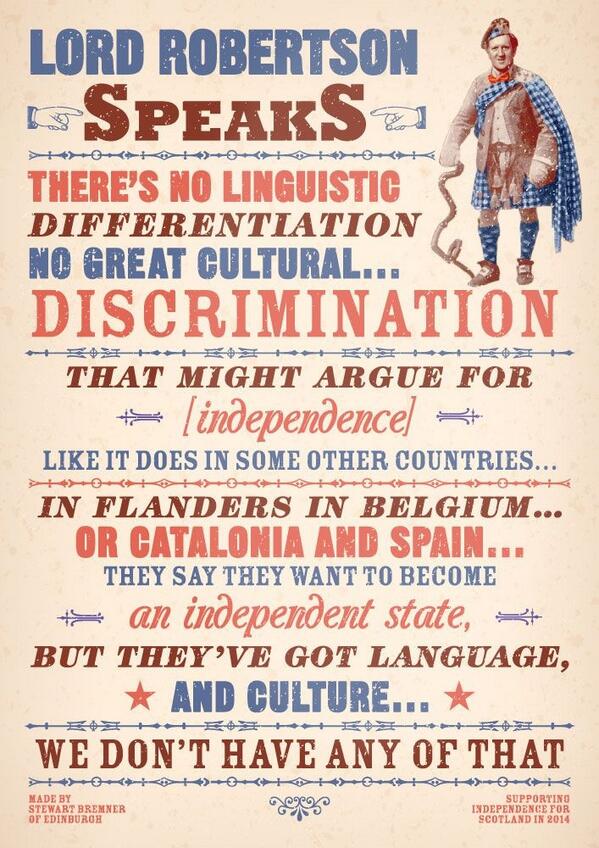 You can see it in the absurdist recent example of the state broadcaster cancelling the First Minister's daily briefings on the local (national) response to the global pandemic. This was intolerable for them.
It's not that the elected leader is from a particular party, it's not that she's using and abusing the platform (she clearly isn't) it's the fact that she is an elected leader; that's what's intolerable. Her existence suggests our existence and that's not okay. It may be that, as Lesley Riddoch suggests today that : "It seems less than a coincidence that plans to curb the FM's broadcasts were announced days after the first Scottish visit by the BBC's new director-general (and former deputy chairman of the Hammersmith and Fulham Conservative party), Tim Davie." I don't really know.
You can see it in poor Jackson Carlaw's covid-hysteria when he claimed (prior to his unseemly exit): "It is ridiculous to suggest Nicola Sturgeon could close the border. There is no border – we are one United Kingdom."
Without definition you don't exist. This is the point.
Some of this conscious deliberate and malicious. Some of it is unconscious. Some of it is generational. For some Scots this cultural cringe is endemic and saturated into their worldview.
For many politicians who tasted high office prior to devolution, London was the place of work. Scotland was the place you returned to at the weekend. London was the place of power, London was where things happened. London was where decisions were made, Scotland was where the wife and kids were. This was true for generations of politicians and surely informs Labour's strange attitude to Holyrood. It's only in that context that George Robertson's comments can be understood. Scotland exists, sure, but only as a sort of joke, only as a sort of non-space.
This phenomenon has taken a new turn but it's not exactly new. Way back in 1969 George Davie wrote of a writer betraying a point of view that takes for granted that modern Scotland does not bear thinking of at all. [1]

In 'Nationalism and the Philosophy of the Unthinkable' he wrote:
"It seems to me an evident proposition that one will not be able to think clearly about the prospects for Scotland within the Union unless one can at the same time imaginatively bear in mind the contrast with the prospects for Scotland outside the Union … When a writer, typical of the last generation – Professor J.Y.T. Greig in his Life of David Hume – proclaimed that modern Scotland was unthinkable apart from the Union, his words betrayed a point of view which takes it for granted that modern Scotland does not bear thinking about at all."

The problem with all of this You Don't Exist stuff is that it's exhausting and leads to a reaction which is reductive and repetitive. When all this shit is over I think we can expect a liberation from constantly having to reassert ourselves.
Imagining yourselves and imagining a better future isn't therefore an abstraction, it's essential. This isn't some ontological game its an effort to Manifest ourselves into existence.
The most important thing Thatcher ever did was to declare: "There is no alternative". The phrase was used to back up Thatcher's claim that the market economy was the only system that works, but more importantly it declared that the debate was over. Similarly the well-worn phrase "it is easier to imagine an end to the world than an end to capitalism" (attributed to both Fredric Jameson and Slavoj Žižek) encompasses the essence of capitalist realism: the idea not just that capitalism is the only viable economic system, but that it is the only imaginable one.
We are faced with the same challenge, just as we have Disaster Capitalism we now have Disaster Unionism in full operation, and just as we face Capitalist Realism we also face Unionist Realism in which the Union is presented as an immutable fact of life. It is presented as some kind of natural state of being and is resistant to challenge by the reality of thousands of examples from around the world. You can see this again and again through discussion of GERS through discussion of a post-oil economy or through any discussion about currency. For these people a future Scotland is not just unthinkable it is literally unimaginable. This is a thought that is core to most of the hardcore unionists now engaging in propaganda to defend the indefensible. The real question is not whether they believe it or not, the question is, will we?
[1] Davie's is a response written to a set of seminar papers published (under the title 'Discussion') on pages 204 to 205 of Wolfe, J. N., ed., 1969, Government and Nationalism in Scotland, Edinburgh: Edinburgh University Press. It was reprinted under the title of 'Nationalism and the Philosophy of the Unthinkable' in Edinburgh Review, no.83, 1990 and published in Nothing is Altogether Trivial (1995). My thanks to Murdo Macdonald for this reference.