Lost and Found
Whether it be at Derby ('45) or Cordoba ('78), Scotland has a knack of clutching failure from the jaws of victory and tilting irretrievably towards glorious failure. A cliche maybe, but one born formed from a history littered with such near-misses, terrible bad luck and unfortunate circumstances. Historically it's been a safety-net, a comfort zone allowing us to ruminate in dark recrimination rather than step up and out into the light of responsibility and self-determination.
We're past all that. Dire circumstances and a form of London rule that oscillates between Clown Car and Gangsterism are now pushing us on and up. This is the 10th poll in a row to show a majority for Yes in Scotland and now at the highest levels ever recorded.
Generationally the figures are stark: 'Latest Scottish independence support polling by age: 16-24: 79% | 25-34: 68% | 35-44: 70% | 45-54: 55% | 55-64: 57% | 65+: 40% Source: Ipsos Mori, 2-9 October; but there's something else at play, signs of a deeper collapse. Britain and Britishness is meaningless to anyone under 50 unless they are part of a very specific niche sub-culture. In the ignominy of the Brexit shambles it's hard to see that being reversed ever. But we also see emerging a pan-Scotland consensus, as Ballot Box Scotland predicts a 77 pro-Independence versus 52 pro-Union Holyrood result based on ComRes polling – with 66 SNP and 11 Scottish Green Party MSPs predicted.
There's a couple of other factors we see here. The first is the overwhelming consensus merging that the Holyrood election should be a litmus test for a second referendum. The second is the astonishing approval ratings for the First Minister recorded by Opinium: [Nicola Sturgeon (SNP): 49%, Douglas Ross (Cons): -17% , Richard Leonard (Lab): -25%, Willie Rennie (LibDem): -1%, Boris Johnson (Cons): -56%, Keri Starmer (Lab): 16%]. We also see that latest approval ratings show Nicola Sturgeon to be the highest approved leader in the UK [Sturgeon: +20% (+2) Starmer: +16% (-3) Davey: -8% (+1) Johnson: -12% (=) Farage: -25% (-3) Via @OpiniumResearch, 8-9 Oct. Changes w/ 23-25 Sep.] In what must be galling stat Sturgeon has a bigger positive rating among Labour voters than Richard Leonard does. She's on + 43 and he's on -18 with his OWN party voters. You could say that Richard Leonard's political career as Scottish leader is over, but in truth it never really started.Finally the gender gap from 2014 has disappeared. The gender gap seen at the 2014 referendum, when women were less likely to support independence, had closed with 60 per cent of female voters now saying they would back "yes" compared with 57 per cent of men.

So geographically, across most generations, across genders and across parties the support for independence is growing.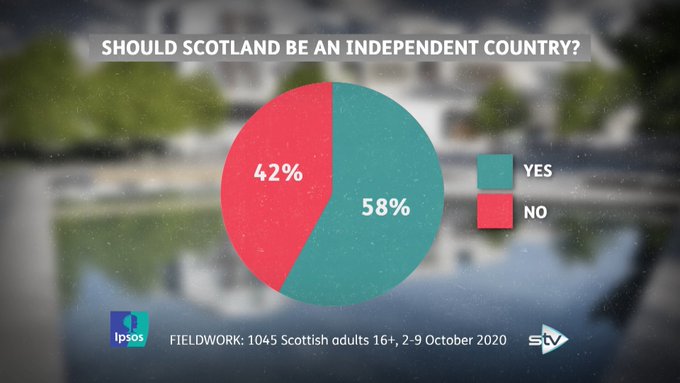 For some people this is all intolerable and the cause of an almost existential crisis. The ongoing and historic success of pro-indy parties at Holyrood and the surge of support for independence is obviously a crisis for Unionist politicians and their scribes in the media, but paradoxically it also is the cause of great consternation for a small element of the nationalist movement who have now dedicated themselves to either/or destroying the SNP running an alternative party in the regional list. Three things simultaneously are the cause of much anger: the continued popularity of their bête noire, the First Minister, the ongoing support for the Scottish Green Party, and the fact that 'Max the Yes' as an electoral strategy is a busted flush. We are now in the extraordinary position of these most loyal of party servants writhing in agony at the very electoral success they once craved, every new poll in favour of Yes is a blow to the heart of their convoluted and bitter world view.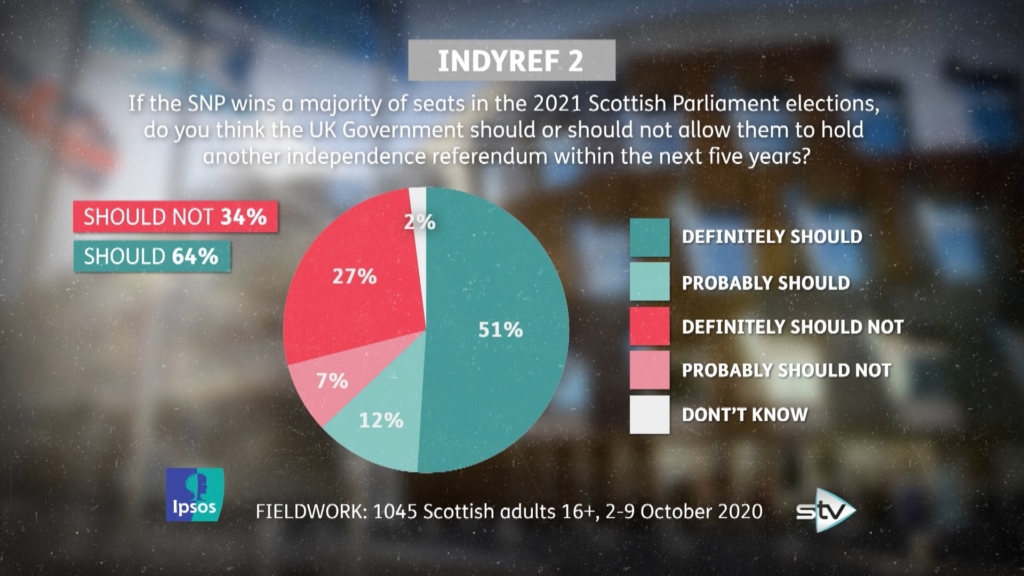 Outside of this group, response to the latest polls have varied. Kieran Andrews at The Times has reported that "Arts and charities to be wooed by UK government after poll puts support for independence among likely voters at 58 per cent" and that "Downing Street will ramp up its campaign to preserve the Union by wooing "Scottish civic society" after record support for independence emerged …No 10 is already nurturing business contacts but is now planning to cultivate closer ties with charities and organisations at the heart of Scottish arts and culture in an attempt to increase its visibility north of the border."
Kenny Farquharson also of that parish seemed to be blinded to the Internal Market Bill, the power grab and the blatant surge of centralisation outlined by his colleague and instead foresaw an entirely different trajectory:  "I hesitate to say the f-word, because it always brings a tsunami of incoherent rage from Yessers, but we are watching the foundations being laid for a federal Britain."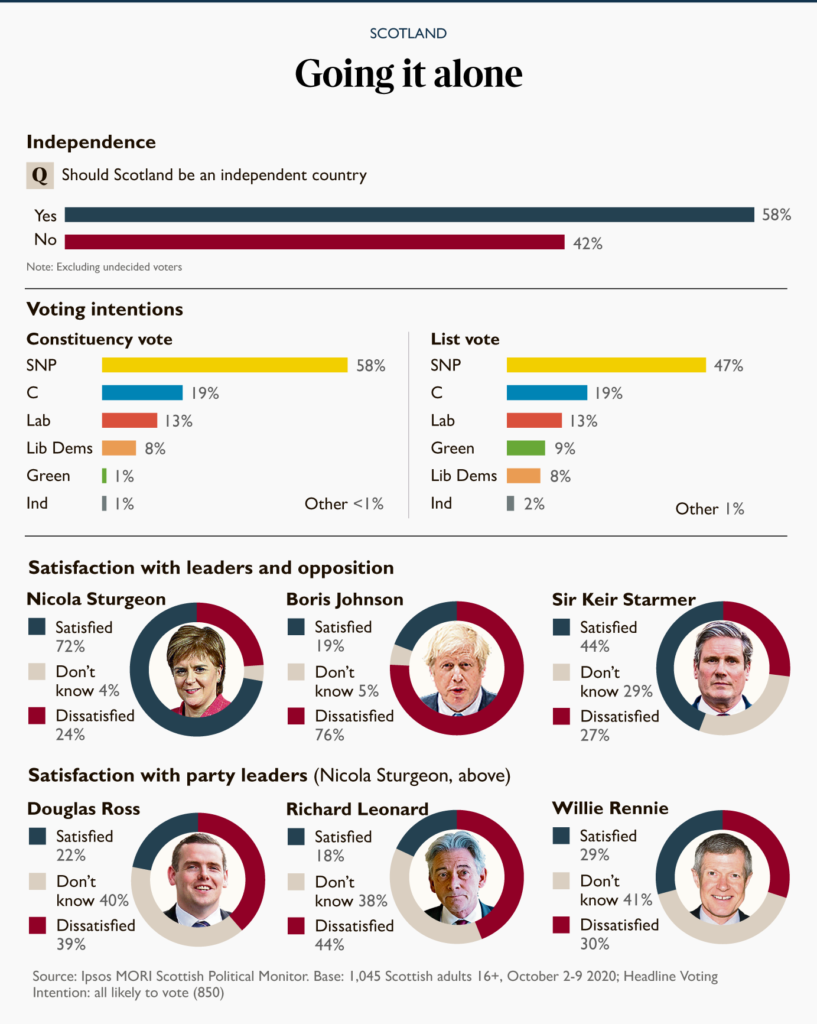 If Farquharson might have been alone in witnessing the dawn of a new federal Britain, others were also wildly optimistic. Lewis Goodall, Policy Editor for Newsnight has written: "Britain is a multi-national state with competing political preferences. As I've written many times, that requires very careful calibration. Theresa May was clearly very cognisant of this and once you understood that, you understood why she did many of the things she did."
Now this is a rose-tinted side-view of May's regime. Sharp-eyed readers will remember the much over-looked speech May made in May 2017 in which she compared those who argue for self-determination for Scotland with ISIS. See here.
The idea that she was somehow some clear-sighted and nuanced politician on the constitution is fanciful.
But Goodall is right on other matters. He writes: "The best hope for the Union would probably be its reinvention, rehousing it in a new constitutional framework (federal parliament and so on). That would require proper imagination and verve from Westminster elites in a way not shown towards constitutional matters."
The answers struck on by Goodall and Farquharson have been in plain sight for years, but it's clear as day that they are not going to happen. The entire impulse and trajectory of the British State is towards centralisation. This is amplified when it is under threat and has been double-boosted by its experience of the 2014 referendum (Cameron's immediate response being EVEL) and by the supreme hubris of Brexit.
It must be sobering for those Unionists clever enough to see what's going on to realise that none of this was actually necessary at all.
But the misty-eyed trope of federalism is a well that must be running dry for the commentariat.
Britain 2020 and beyond looks much more like Yevgeny Zamyatin's 'OneState' from the novel We than any fictional benevolent federation.
"Long live OneState! Long live the Numbers! Long live the Benefactor!"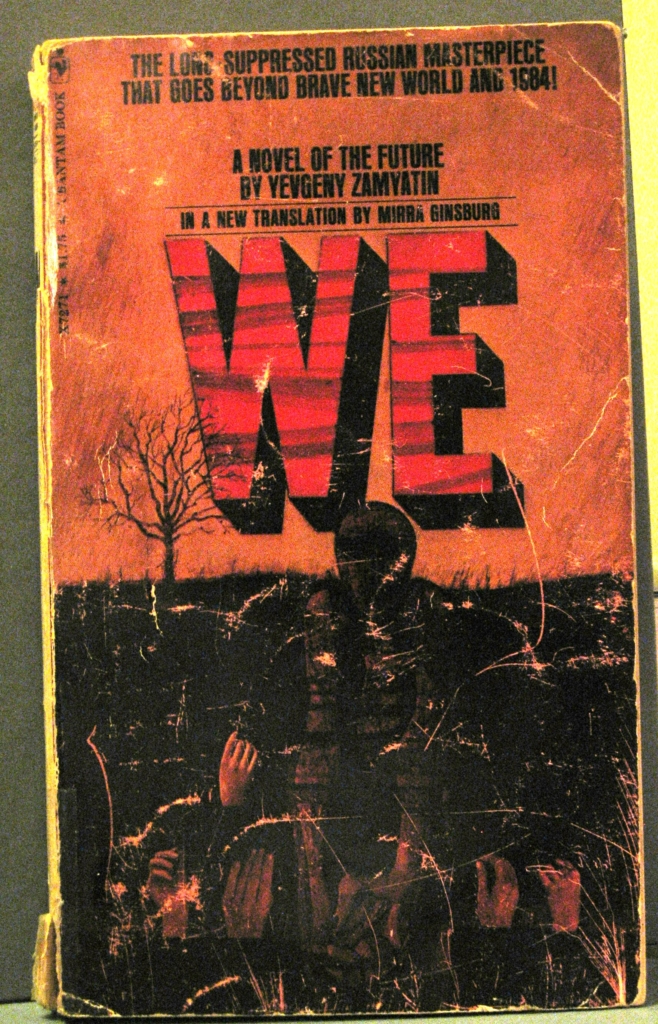 Outsider Insider
Britain's disintegration has not come quickly but it will now proceed with speed. The uniform response of Ed Davey, Willie Rennie, Richard Leonard and Boris 'the Benefactor' Johnson to repress democracy at all costs and in all situations is indefensible. The longer they hold that position the higher the political cost.
Much has changed since 2014. The insurgent Yes movement then was the outsider, the underdog and well behind in the polls. The movement was full of innocence and vision. Much of that has gone but it is replaced by battle-hardened troops and the energy of the newly-converted.
This movement – which has become a consensus – will now have to begin to speak for a whole country – and do so from an insider status not outsider status. That looks and feels very different. If Britain has been lost, Scotland  must now be found. This may mean healing divisions and finding common cause, lest we snatch defeat from the jaws of victory once again. This time that would be a tragedy and a historic source of deep shame.