Pariah Weapons – Hope in the Darkness for a Nuclear-free World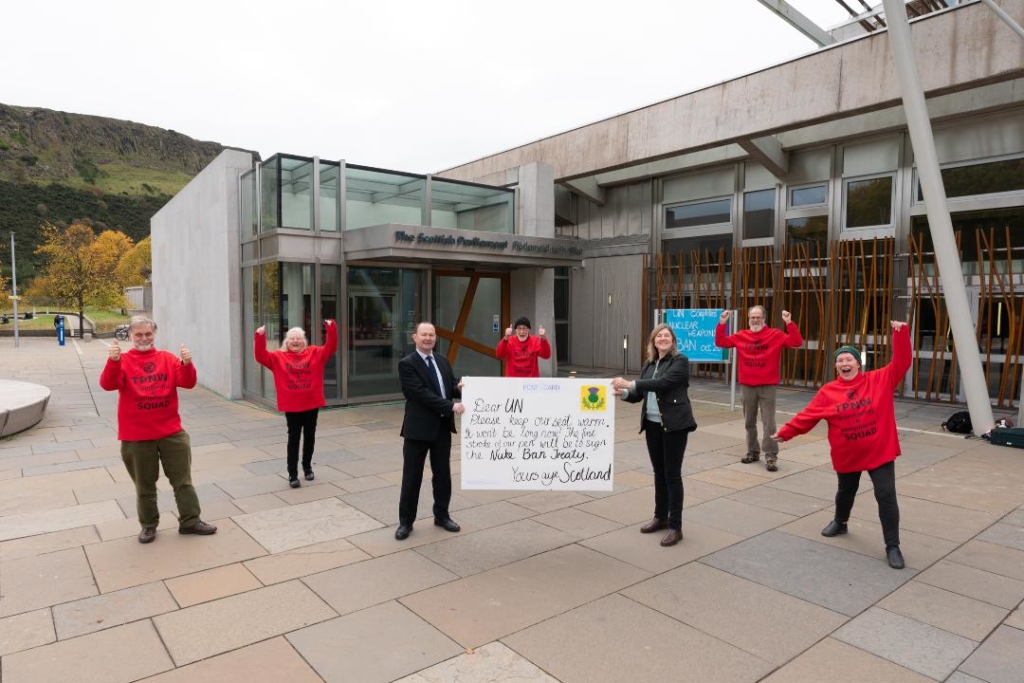 Want some good news in the darkness? There's some things Scotland is really good at. Unfortunately resisting and leading the movement against nuclear weapons is one of them, for well known reasons. In your life you will lose many and win few political battles.
Here's one we might win.
Yesterday, 24th October, the UN Treaty on the Prohibition of Nuclear Weapons (TPNW) reached the 50 ratifications needed for entry into force, giving fresh hope for complete global disarmament.
Honduras ratified the treaty one day after Jamaica and Nauru joined the 47 others including Ireland and New Zealand. In 90 days the Treaty on the Prohibition of Nuclear Weapons will become binding on all 50 ratifying states. The nuclear armed states are not signatories but the tide has turned against them.
The Treaty on the Prohibition of Nuclear Weapons (TPNW) prohibits the developing, testing, producing, manufacturing, otherwise acquiring, possessing, stockpiling, transferring, using or threatening to use nuclear weapons, assisting other states with these prohibited activities, stationing, deployment or installation of nuclear weapons belonging to other states on a state party's territory. It moves nuclear arsenals clearly into the category of inhumane, pariah weapons, as has happened with the conventions on chemical weapons and landmines. This norm shift is significant in a world in which even authoritarian states guard their global reputations as they attempt to expand or protect their spheres of influence.
Scottish CND chair Lynn Jamieson said: "A nuclear-weapons-free world is of obvious benefit to the whole planet. There is now a realistic mechanism for achieving it. It is no longer credible to claim that to threaten nuclear annihilation is a rational or moral act of self-defence. The sooner the nuclear states commit to the TPNW the better the chances are of international cooperation to moderate climate change, stop destroying all living species, address global inequalities and better manage the pandemic. The UK government should sign up now. If Scotland has to become an independent state before we can sign the treaty then let it be soon."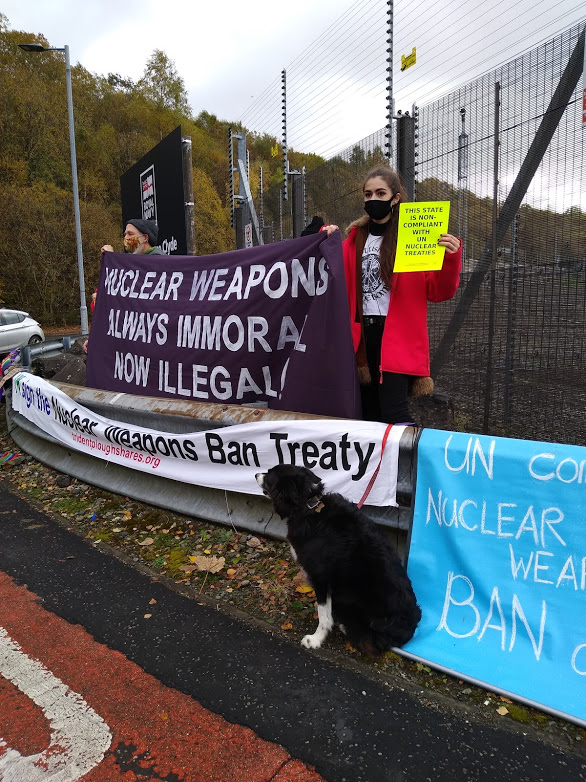 Vice Chair Scottish CND Janet Fenton added:
"So many people have worked for so long in so many places to have nuclear weapons banned. We were so happy when the Treaty on the Prohibition of Nuclear Weapons (TPNW) them was adopted at the UN.  Now we have the 50th ratification, and the TPNW is irreversibly completed, and after prohibition is the first step towards elimination. Each of the states that have ratified will now have 90 days to set their country in order,after which they are all bound by its beautiful positive obligations and compelled by its unambiguous prohibitions. The world is a slightly safer place tonight."
Image Credit: Ivon Barththolomew