Tory Show Trials by Christmas
Douglas Ross's emergence on the pages of the Daily Telegraph was a masterclass in bungled humility, a self-own of such wonderfully gigantic proportions it deserves a little attention of its own. As we head into deep dark winter we must cling to these moments and cherish them for all we can.
As the Covid-19 death toll passes 60,000 Douglas's government at Westminster have been under the kosh for their hostility to footballer Marcus Rashford's campaign for the government to provide free school meals to hungry children during the holidays. The Tories have been engaged in a sort of involuntary spasm of class-war, eugenics and social hatred – spewing out a wave of online vitriol and exposing the very real contempt they have for the poorest and most vulnerable in society. So far, so Dystopian. None of this is new.
But in the botched comms of Boris's Bulldogs there have been some gems.
Ben Bradley, MP for Mansfield, self-described as "the first blue brick in the red wall". He has been embroiled in a storm for saying that in one school in his constituency in which "75% of kids have a social worker" one "lives in a crack den, another in a brothel".
The Tories own difficulties in their own 'Northern Powerhouse' is dark comic irony.
Running through this tirade is a very clear re-emergence of the idea of the "deserving" and the "underserving" poor, though the former are now largely absent from much of the dialogue.
Bradley's colleague Brendan Clarke-Smith MP, who has denied a need for foodbanks, told the Commons: "We need to get back to the idea of taking responsibility."
Sharp-eyed readers might recall Bradley's own beliefs include the idea that there should be state-subsidised vasectomies for unemployed people.
Now more than 2,000 pediatricians and child health specialists have joined Rashford's call and condemned the government's refusal to fund meals for disadvantaged children.
"No child should be going hungry": you can sign the petition here.
All of this has got be a bit too much for Douglas Ross, the Scottish Tories beleaguered leader who is trying valiantly to de-toxify the Tory brand. Ross is a sort of King-Across-the-Water, an MP who has to be represented at Holyrood by his deputy as she waits to don the Ermine and join the Upper House.
Now in a surprise move Ross has moved against his own party and his own government, condemning them and presenting this as an act of principle: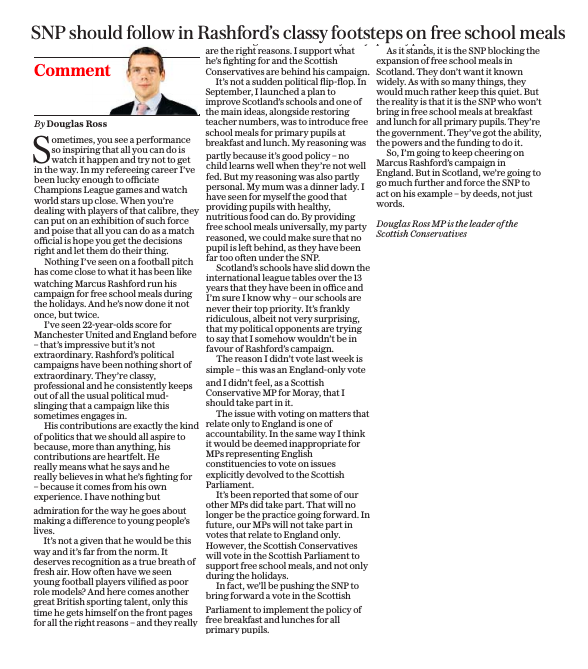 A lot of this is really weird (including the bizarre Angela Rayner case).
In the Liberal 'hurrah' for the latest celebrity feel-good campaign it's important not to ignore that fact that we live in a society where someone (Rashford) can earn £200,00 a week (!) – while children go hungry. That's not really his fault but it is a sign of a broken society disfigured by obscene levels of inequality. Furthermore, as Akwugo Emejulu, a Professor of Sociology, has pointed out: "What Rashford is doing is incredible. Nevertheless it's the Big Society (remember that?) working exactly as Cameron and Osborne planned. Welfare is transfigured into charity and the burden of care is shifted from the state to private individuals and the market."
We can also see the phenomenon of displaced and unemployed food and hospitality workers working voluntarily to provide food for children.
But the Scottish Tories response of disassociation is weirdest of all.
Where will this end?
Could this be the start of Tory Show Trials?
Could we see the return of Malcolm Rifkind to apologise for the Poll Tax and condemn whoever as behind it? Could Michael Forsyth emerge to condemn his own role in resisting devolution? Maybe Ross himself will start championing travellers rights and denounce anyone who would do otherwise. Maybe instead of just going against everything his own party and his own government do, he could start revolting against himself? "I utterly condemn everything I stand for all the repugnant views I hold" he could announce, just to be coherent.
Presumably Ross is mimicking his predecessor Baroness Davidson who enjoyed a fantasy world sustained by a pliant media North and South of the Border. Even this week Tory blogger Tim Montgomerie tweeted:
The best way the Tories could save the Union would be to establish a UK-wide Ministry of Social Justice, headquartered in Glasgow or Edinburgh, ran by @RuthDavidsonMSP https://t.co/1M9ltTxOMh

— Tim Montgomerie 🇬🇧 (@montie) October 25, 2020
Poor Tim is clutching at straws as much as Douglas is. The truth is that Tory Britain is a broken society and the Rashford affair only shines a light on that reality. The Scottish Tories can no more disassociate themselves for their repugnant world-view than they can disassociate themselves from the inevitable outcomes of their social policy. The Scottish Tories main reason for being is to tie Scotland to this Union which we can't escape and didn't vote for.
The idea that Britain is redeemable is laughable.