Trump Unmasked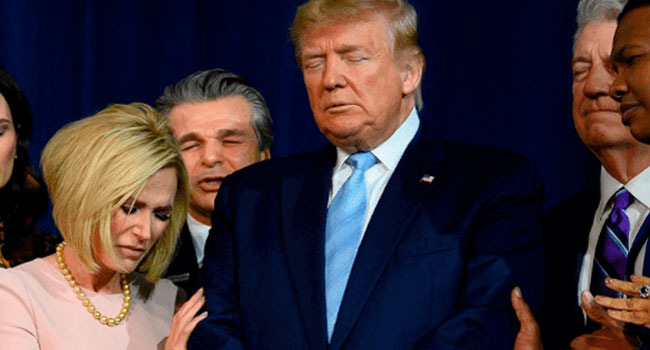 American politics is strewn with dynastic legacy, from the sprawling Kennedy clan to the Clintons and Bushes and now of course the Trumps.
But if Eric, Melania, Donald Trump Jr, Ivanka and Jared seem to be more akin to the Addams Family* or the (late-80s) Ceaușescu's – they are now appearing increasingly 'bunkered' (and more in a Führerbunker sort of way than a Mar-a-Lago sort of way).
"We were getting ready to win this election" pleaded Donald like a toddler whose balloons had been taken down and their party cancelled to the roar of his immediate family and employees "and frankly we did win this election" he added, a tad prematurely.
Amanda Carpenter, a Republican speechwriter claims that Trump "can't compete in everyone else's reality, so he creates his own". This certainly chimes with the families response to the harsh truth about election day. The Hill reported:
"Eric Trump, one of the president's two adult sons (LOLs, Ed) , at roughly 3:30 p.m. EST tweeted, "We have won Pennsylvania!" At that time, more than a million mail-in ballots remained uncounted in a contest where the president leads by just more than 300,000 votes. Democratic nominee Joe Biden has been winning mail-in votes in Pennsylvania by a nearly 4-to-1 margin, suggesting many of the remaining mail-in ballots would favor the former vice president."
But at some point reality impinges on even the most vivid imagination and even the most narcissist fantasy. For the Trump family this is embarrassingly public as the world watches in real-time their leaders humiliation. This is particularly difficult because part of the mythology of Great Men, tyrants and fascists must be that they are impervious, superhuman, endowed with machismo. It is also difficult for his extended family for more prosaic reasons ie. they will know that there are dire legal and financial implications for them in all of this.
Chants and Incantations
The political philosopher Timothy Snyder (author of On Tyranny) has pointed out that dictators often rely on slogans that get repeated until they become "incantations".
"Make America Great Again" – "Drain the Swap" – "Build that Wall" (and "Take Back Control" nearer to home) spring to mind. While the left intellectualise and produce manifestos and treatise the right creates the simplest slogans and spectacle.
Sometimes this shamanistic vibe is from the fringes of America's far-right christian movement like the wonderful Paula White:
Wow. This is Trumps spiritual adviser Paula White. Who is currently leading a prayer service in an effort to secure Trump's reelection. Not like we needed much confirmation, but Trumpism is has all the trappings of a full blown cult.

— Dr. Jennifer Cassidy (@OxfordDiplomat) November 5, 2020
At other times it's the call and response of the mob and the Trump rally with, most recently "Sack Fauci", and the old favourite "Lock Her Up". This has recently been added to with the "Stop the Count" chant.
Even Trump's tortured speech ("I have all the best words") and strange social media messages ("Cofveve") has echoes from a Ur-Fascist past. As Umberto Eco puts it in his essay "How to Spot a Fascist" (1997): "All the Nazi and Fascist scholastic texts were based on poor vocabulary and elementary syntax, the aim being to limit the instruments available to complex and critical reasoning."
In the sense that this is a battle of fact and against lies, science against mysticism, responsibility against victimhood, it is also a battle for the idea that actions have consequences. Timothy Synder has written ('Donald Trump borrows from the old tricks of fascism'):
"Trump and some of his supporters mount a strategy of deterrence by narcissism: if you note our debts to fascism, we will up the pitch of the whining. Thus Trump can base his rhetoric on the fascist idea of us and them, lead fascist chants at rallies, encourage his supporters to use violence, praise a politician who attacked a journalist, muse that Hillary Clinton should be assassinated, denigrate the intelligence of African Americans, associate migrants with criminality, run an antisemitic advertisement, spread the Nazi trope of Jews as "globalists", and endorse the antisemitic idea that the Jewish financier George Soros is responsible for political opposition – but he and his followers will puff chests and swell sinuses if anyone points this out. If Trump is not a fascist, this is only in the precise sense that he is not even a fascist. He strikes a fascist pose, and then issues generic palliative remarks and denies responsibility for his words and actions. But since total irresponsibility is a central part of the fascist tradition, it is perhaps best to give Trump his due credit as an innovator."
Biden In
If it's easy to get overwhelmed with schadenfreude in this moment, but its worth reflecting on a few home truths too.
After four years of the most appalling venal and unproductive time in office – when Trump reeked havoc and openly flirted with white supremacy – he increased his vote and almost won. After fours years of rampant failure, he's expanded his base. Huge huge swathes of the American public voted actively for a quasi-fascist candidate in full-knowledge of what he is. That's not cause for any celebration. These people, that phenomenon, and the forces that propel them aren't going anywhere soon.
The idea that Biden could be labelled as a "socialist" and part of "Antifa" is so ridiculous it offers an insight into the complete collapse of political meaning in American public discourse.
Joe Biden arrives in office in the midst of a global pandemic and with a Supreme Court stacked against him, and possibly without control of the Senate. Like Obama before him, who arrived in the wake of the great financial crash, he walks into the Oval Office surrounded by crisis.
Further, the criticism of Biden is that he is a product of Corporate Capture and a consummate Washington career politician – precisely the brand that the Trump rhetoric rails against. The very dead centralism that made him palatable will also make him useless. Under this argument electing a sort of policy void leads inevitably to Nothing at All. Now the political bar is so low (it's marked "I'm Not Trump") that success has no meaning. Added to this, the criticism goes, the depth of the problems that Biden inherits mean that a bold and radical platform will be essential to have any impact.
Counter to this is the argument that Biden has won more votes than ever candidate in history. He has delivered the Rust Belt seats that Hillary Clinton couldn't. He is described as a "bridge" to a new era and beneath and alongside him are Elizabeth Warren, Bernie Sanders, Alexandria Ocasio-Cortez, Ilhan Omar, Ayanna Pressley and Rashida Tlaib and other more radical and dynamic individuals. This more positive analysis points out that the Biden-Kamala transition programme is called "#BuildBackBetter" and that they are fully aware of the scale of the crisis they are faced with and the scale of the post-Trump reconstruction that is required.
Amid the chaos of this election you see an America that has a broken electoral system and is radically divided. It is witnessing a pandemic land in a country without proper healthcare and in which a rampant libertarianism undermines public health. In this desperate situation the removal of a grotesque figure may be the start of healing. And "healing" must not be a code for inertia ("No justice no peace") as the saying goes.  But all of this will only work if forces far beyond the Democratic Party are evoked and engaged in a mass movement for change.
Trump's incantations and voodoo have failed. It's time for some real magic.
* In this scenario
Rudy Giuliani, is of course Uncle Fester