Craigmillar Now – F UK* 2022, WTF?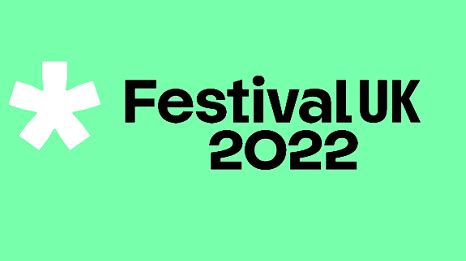 The launch this week of a major new grassroots arts initiative in Edinburgh comes at a very interesting moment. Craigmillar Now has announced a programme of local-based international arts that aims to rekindle the spirit of the old Craigmillar Festival Society. This has been brought to fruition as a labour of love by people living locally.
Entirely separately to this, the event once dubbed the 'Festival of Brexit' last week announced a shortlist of teams bidding to take part in the high profile multi-million pound initiative in 2022. With the event now branded Festival UK* 2022, teams feature several major institutions from Scotland. The announcement comes at a time when theatres and music venues are closed due to the ongoing Covid-19 pandemic. With many freelance workers struggling to survive, Festival UK* 2022 has been criticised by some, with questions asked over whether it should go ahead at all.
Craigmillar Now and Then
Away from all that, Craigmillar Now has begun operations in the former church that was previously the home of Craigmillar Community Arts. Drawing much of its inspiration from Craigmillar Festival Society, the organisation founded in 1962 by the late Helen Crummy and other local mothers after seeking some kind of arts provision for their children, Craigmillar Now aims to provide a year-round artistic programme as well as hosting an archive of its forebears.
Already announced is a six-month residency and exhibition by Craigmillar based Syrian artist, Nihad Al Turk, who will develop a new body of work set to be shown in Summer 2021. Al Turk's work has been seen all over the world, from Damascus to Venice to New York, as well as at the 2003 Latakia Biennale, where he was awarded the Golden Prize.
Alongside Al Turk's work, artist Shauna McMullen will be leading the creation of a new community artwork celebrating the women of Craigmillar. This is designed to replace a now missing Women of Achievement plaque dedicated to Crummy.
Craigmillar Now will also be developing a local archive of vital historical material about the area. This will see a team of trained volunteers collecting and preserving the Craigmillar Festival Society archives, featuring documentation of the organisation's 40-year history up until its closure in 2002.
In keeping with this emphasis on living history being passed down through generations, a series of community mapping walks will be led by local 5-11-year-olds. These will be run in collaboration with The Venchie, the Niddrie based children's activity centre run on the site of what is believed to be Scotland's first adventure playground, which is currently under threat of closure.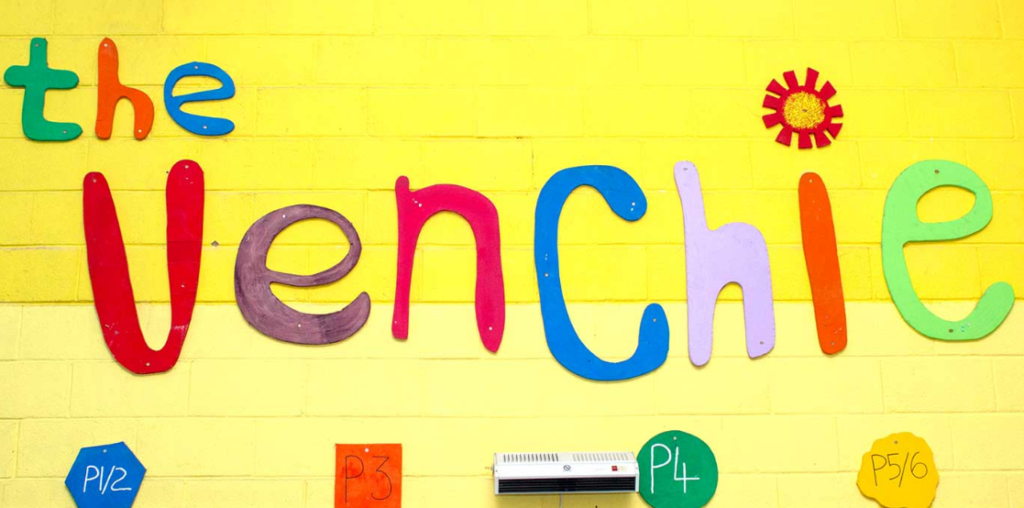 With other major events set to be announced in 2021, Craigmillar Now has already made quite an opening statement. Despite this, those behind the new initiative are more than aware of the tough act they have to follow. Craigmillar Festival Society, after all, was a boundary-pushing organisation that revitalised a marginalised area of Edinburgh that suffered institutional neglect and a welter of social problems that came in the wake of ill thought out planning decisions.
Despite this, during the 1970s and 1980s, CFS and the work it enabled was championed and supported by forward thinking individuals within a well-resourced local authority. The influence of CFS saw it used as a model for community arts around the world.
The full background to Craigmillar Festival Society can be found in Crummy's memoir,
Let the People Sing!
published in 1992. A short history of CFS appeared in 2017 in  Rachael Cloughton's essay,
Dangerous Mothers.
This formed part of Dangerous Women, a project initiated by the University of Edinburgh's Institute for Advanced Studies in the Humanities.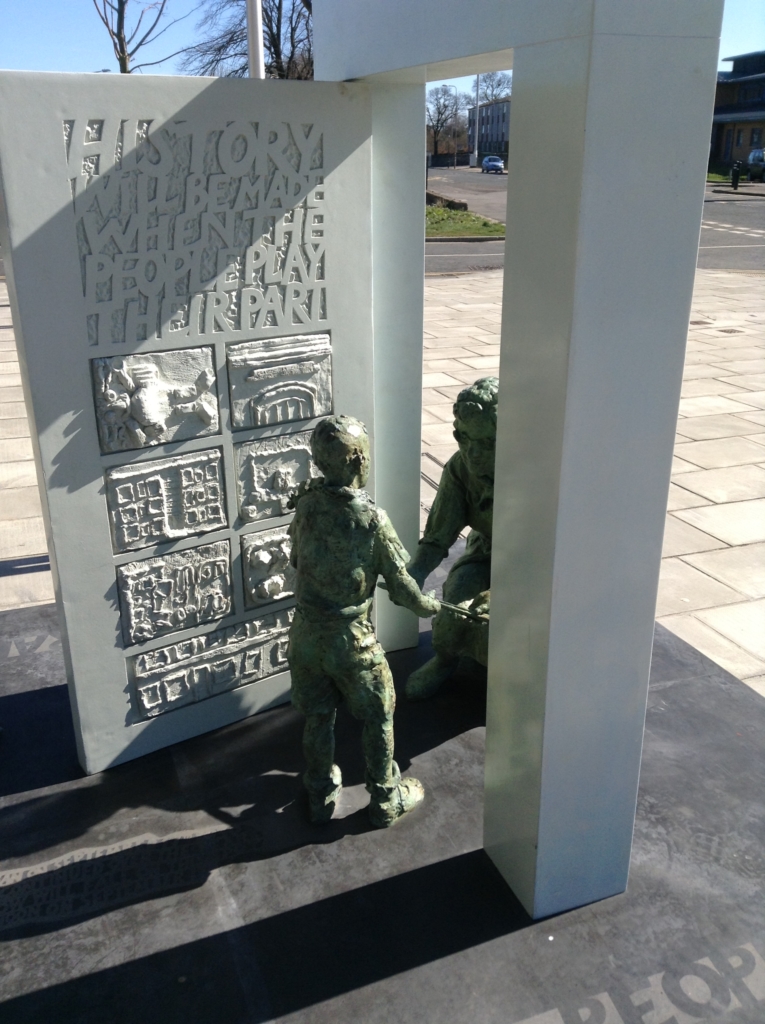 Since then, as newly appointed Project Manager, Cloughton has become one of the driving forces behind Craigmillar Now. With support from City of Edinburgh Council and others, Cloughton has worked alongside community councillor Maureen Child, artist Andrew Crummy, who is also Helen Crummy's son, veteran Craigmillar activist Johnni Stanton and others. Support has come too from Dr Sophia Marriage of Scottish Episcopal Church, owners of the building. With such a strong team in place, Craigmillar Now looks set to pick up from where CFS left off to create a brand new future for Craigmillar.
What the Actual…?
Meanwhile, just as Craigmillar Now introduces itself to the world, the event now known as Festival UK* 2022 last week announced a 30 team shortlist of teams from Scotland, England, Wales and Northern Ireland bidding to take part in the £120 million backed festival. Selected from 299 entrants, each team will be given £100,000 to hone their ideas during a period of research and development. From this, 10 teams will be selected to create a new work for Festival UK* 2022. This was greeted with criticism by some, with the grassroots Migrants in Culture group calling for the event to be scrapped entirely.
Festival UK* 2022 was originally known as The Festival of Great Britain and Northern Ireland, and was first announced under Theresa May's Westminster premiership in 2018. This is a period in history which in light of everything since, now looks rather quaint.
Back then, May's proposed shindig was described by Downing Street as a 'nationwide festival in celebration of the creativity and innovation of the United Kingdom'. The festival was also described as 'a unique event' with echoes of the 1851 Great Exhibition and the 1951 Festival of Britain. Unofficially, the 2022 event was derided as a Festival of Brexit. Perhaps with good reason.
"Just as millions of Britons celebrated their nation's great achievements in 1951," said May, "we want to showcase what makes our country great today". May also declared that The Festival of Great Britain and Northern Ireland would strengthen what she called "our precious union", conjuring up nightmare images of the last night of the Proms on an eternal brain mushing loop.
Both the world and the prospects for May's precious union have changed significantly since then. Brexit has shambled on, overshadowed only by the seemingly unforeseen disaster of Covid-19. Somewhere along the way, the triumphalism of The Festival of Great Britain and Northern Ireland morphed into the far buzzier sounding Festival UK* 2022.
With any mention of Brexit excised from its publicity material, Festival UK* 2022's website outlines its aim of presenting 'ten open, original, optimistic, large-scale and extraordinary acts of public engagement that will showcase the UK's creativity and innovation to the world.'
Festival UK* 2022's mission statement goes on to say how 'Bringing people together in astounding ways, the festival will platform the full range of our creative imaginations by combining Science, Technology, Engineering, Arts and Mathematics.'
Such a fizzily upbeat rebrand comes with its own problems, however shallow. As any terminal adolescent can't fail to notice, Festival UK* 2022 rather wonderfully abbreviates as F UK* 2022. With its knowingly placed asterisk embracing the spotlight like a runaway emoji doing a turn, such a headline grabbing banner is just a consonant away from potty-mouthed opprobrium.
Then again, perhaps such a guffaw-inducing acronym was deliberate. Perhaps its wording is a symbolic in-gag on a par with the apparent potential for subversion from within by those taking part. And perhaps that's the reason the louche looking asterisk seems to be winking at us, letting us in on a joke that might otherwise be lost in translation. Which is why, in the interests of both shorthand and cheap laughs, this article will henceforth exclusively refer to the latest incarnation of Theresa May's bastard offspring as F UK* 2022.
And who knows? Such calculated looking phrasing could be part of an even bigger wheeze. Perhaps F UK* 2022 was inspired by 2023: A Trilogy, the novelistic sprawl penned by Jimmy Cauty and Bill Drummond, writing as one of their former 1980s pop star names, The Justified Ancients of Mu Mu.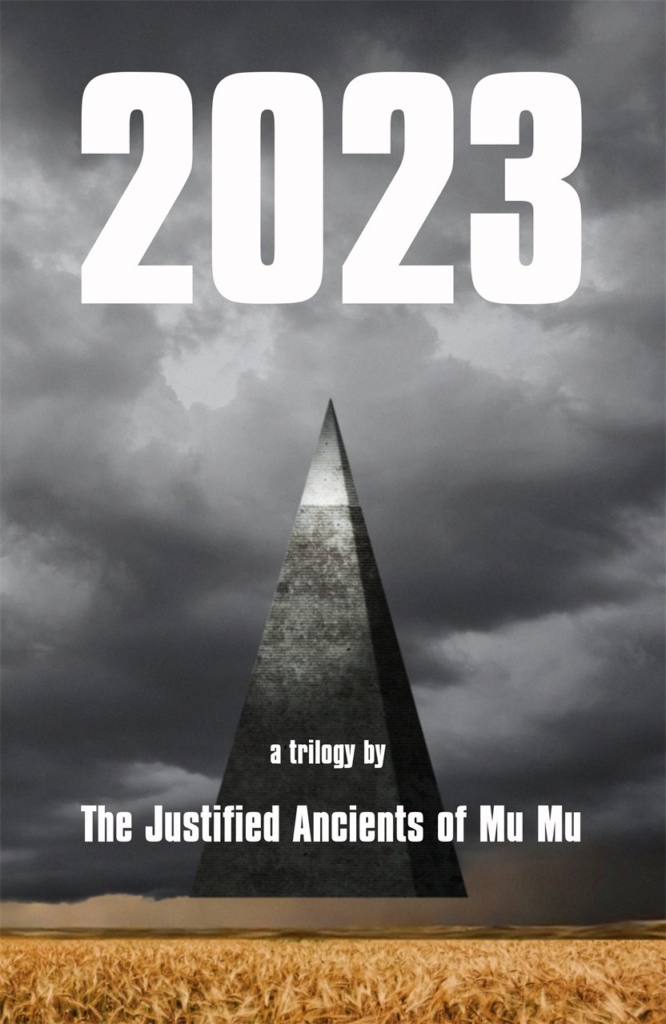 Published in 2017, this epic fantasia by the artists formerly known as The KLF, The K Foundation and many other names besides, was trailed by a poster that appeared in Hackney bearing the urgent inquiry, '2017: WHAT THE FUCK IS GOING ON?' This referenced 1997 (What the Fuck's Going On?), a 1997 performance by Cauty and Drummond as 2K. This in itself drew from 1987 (What the Fuck is Going On?), the debut album by The JAMS released a decade earlier.
Perhaps this was also the spirit being channeled by high street fashion emporium French Connection a few years back when it was reinvented as the infinitely more attention grabbing FCUK.
If no semantic shenanigans were even slightly intended, chances are that the Siobhan-Sharpe-from-Twenty Twelve think-alikey marketing types who brainstormed it up will be kept on their toes with how the phrase is used for some time. Either way, F UK* 2022, what is going on? And if The K Foundation isn't part of it, why not?
To Hull and Back
F UK* 2022 is headed up by its Chief Creative Officer, Martin Green. Green comes with a back catalogue that includes producing the opening ceremony for the London Olympics 2012. The ceremony was directed by Trainspotting director Danny Boyle, with musical direction by Rick Smith of Underworld. Amongst its many evocations of the subjectively selected best of British culture, the ceremony's showstopping extravaganza included a celebration of the NHS.
Green was also at the helm of Hull UK City of Culture 2017. This year-long series of events in the East Yorkshire located port of Kingston upon Hull included a weekend programme curated by Edinburgh spoken-word provocateurs Neu! Reekie! This included performances by Scottish Album of the Year winners, Young Fathers, plus Bill Drummond, Linton Kwesi Johnson, and a screening by film director Mark Cousins.
Green, then, is clearly no flag waving nostalgist on a mission to save some mythical empire. As his track record demonstrates, he is plugged in to pop culture that has mass appeal while remaining artistically provocative. This may have been why Green was hired as executive producer of Edinburgh's Hogmanay for a couple of years, seeing in 2020 with what might possibly be the last event of its kind for some time.
Such are the apparent contradictions at the heart of what has become the inherited baggage of the now independently run F UK* 2022. The list of Scotland based organisations amongst the teams bidding to take part serve up even more food for thought. Two Scotland-only entries have been selected for the R&D Project that will take place between now and February 2021, with further Scotland based organisations joining other creative teams.
Edinburgh International Festival and the National Theatre of Scotland join forces with V&A Dundee, Edinburgh Science Festival, Sky Arts, the University of Strathclyde and Dundee based video games company, 4J Studios, to make up one of Scotland's bids.
The other team sees Glasgow based music festival Celtic Connections collaborating with Aproxima Arts, the company formed by former driving force of NVA and Test Department, Angus Farquhar. Also on board with them are BEMIS Scotland – the umbrella body for empowering the country's ethnic and cultural minority communities – and Dingwall-based Gaelic participatory arts company, Feis Rois. They will be joined by environmental art and lighting company, getmade design, environmental research body, the James Hutton Institute, and the agriculture based Scotland's Rural College (SRUC)
Elsewhere, Dance Base Scotland is collaborating with partners that include the Royal Astronomical Society and the Institute of Engineering and Technology (IET); Edinburgh Napier University joins forces with a team that features celebrity chef Jamie Oliver's company; and arts development body Creative Dundee are collaborating with partners that include Liverpool based cultural organisation, Metal.
With proposals to open a new centre in Dundee, the Cornwall based Eden Project is working with the city based publisher DC Thompson to form an alliance with the Institute of Global Health Innovation and others. Royal Botanic Garden Edinburgh continues an ongoing partnership with Serpentine Galleries alongside progressive economists, Doughnut Economics Action Lab, and hi-tech design agency, Superflux. The Scottish Association for Marine Science, meanwhile, feature in a bid with a team that includes the Tyndall Centre for Climate Change Research.
In other teams, Pitlochry based conservationist charity, the John Muir Trust, are working with North of England Zoological Society and the University of Cumbria;
and internationally renowned audio visual auteurs 59 Productions, who have worked with the National Theatre of Scotland and the Traverse Theatre, Edinburgh, team up with The Poetry Society among others
Scottish associations among the 30 teams continue, with former Traverse Theatre associate director Lorne Campbell, now artistic director of National Theatre Wales, co-leading the company's collaboration with partners including the Centre for Alternative Technology, Youth Arts Network Cymru and Disability Arts Cymru. Long-time spoken word producers Apples and Snakes, meanwhile, are working with     Trigger Stuff, led by arts producer Angie Bual, who previously led the Govan-based Allotment project with the National Theatre of Scotland.
Turner Prize winning design collective, Assemble, partner with the Centre for the Study of Perceptual Experience and the Sackler Centre for Consciousness Science for their bid. Assemble won the Turner in 2015 for their work on reimagining a series of inner city houses in Liverpool. They were presented with their award at the ceremony held in Glasgow, where they exhibited at Tramway.
Biting the Hand
*
Given that both EIF and NTS are supported in various ways by the Scottish Government, the presence of both organisations among F UK* 2022's bidders shouldn't come as a surprise. Especially as F UK* 2022 is itself funded by the Scottish Government alongside those of the other devolved nations, and is partnered by Scotland's national tourism body,
EventScotland.
However cannily national arts institutions have to work within the prevailing political orthodoxies of the day, as long as Scotland, Wales and Northern Ireland remain tied to the UK, they are unlikely to ignore such high profile platforms as F UK* 2022. This is the case however glaring any political motivation to undermine the self determination of the devolved nations may or may not be.
In this sense, Scotland's national arts bodies are undoubtedly influenced by Holyrood's arguably enlightened agenda. By contrast, the National Theatre of Great Britain, for instance, has at times had a less harmonious relationship with Westminster. In the current climate, at least, neither approach are necessarily bad things. Whether artists biting the hand that feed them is even an option by the time we get to 2022, however, remains to be seen.
Welcome World?
Nevertheless, many of those bidding to take part in F UK* 2022 already have pretty strong track records in kicking against the pricks. While some might see Edinburgh International Festival as part of the cultural wing of the British state, internationalism has been at its heart since its foundation in 1947 to 'provide a platform for the flowering of the human spirit'. This was defined in an even simpler fashion in 2016 when the long planned festival slogan – 'Welcome World' – was revealed not long after the Brexit referendum result.
It is telling too that EIF and NTS have just collaborated on last weekend's online production of Hannah Lavery's play, Lament for Sheku Bayoh. Lavery's piece was inspired by 31-year-old Bayoh, who, as a child, fled the civil war in Sierra Leone, and who died in 2015 while being restrained by police in Kirkcaldy.
In this way, neither EIF or the NTS have shied away from tackling some of the civic and political ills going on outside their front door that reflect a big bad world beyond. The potential sleight of hand within F UK* 2022 looks even more pronounced with the presence of Angus Farquhar's Aproxima Arts company.
Out of all the artists in Scotland who form part of one F UK* 2022 bid or another, Farquhar has perhaps been the most vocal in his opposition to Brexit. Farquhar has been at the vanguard of cultural dissent for four decades. This stems back to his days battering out martial sturm-und-drang in abandoned factories with Test Department during the Thatcher era, to reconstituting the Beltane Fire on Calton Hill, and all the environmental interventions with NVA that followed.
More recently, Farquhar took part in Dear Europe, an NTS-run international cabaret held at SWG3 in Glasgow on what was supposed to have been the day of Britain's departure from Europe on March 31st 2019. As with pretty much everything else since 2016, the UK government made an almighty balls of things, and the grand exit was postponed. Dear Europe's compendium of bite-size plays and performances went ahead anyway, and became part lament, part show of international strength.
Performing at the event with marimba player Cameron Sinclair as Second Citizen, Farquhar gave an emotional testimony of what Europe meant to him after he wrote to every European nation asking them to adopt him as a citizen.
Farquhar and Second Citizen also saw in what then looked like a potentially bright 2020, performing at a Hogmanay End of the Decade party hosted by iconic Glasgow  club night, Optimo. With all involved waiving their fees, the night raised funds split between the Coalition for Racial Equality and Rights, anti-racist refugee and migrant homelessness charity, Positive Housing in Action, and Drumchapel Foodbank.
As Farquhar points out, "I campaigned on the streets against Brexit and made a passionately pro-European work for the National Theatre…. We decided openly to go for this bid because we are in a Scotland-only consortium, and the budget and content of the final work is controlled within Scotland, an avowedly and deeply pro-European country. We are confident that our project will not and cannot be hijacked by the Brexit Right in the UK government. It was only on this basis that we could bid."
While full details of all bids are currently under wraps, Farquhar says that his team's bid will focus on food poverty, youth unemployment, active travel and local arts activism "on a truly national level" with the aim of creating an adoptable framework for European and international partners. As Farquhar sees it, "It is a once in a moment chance to really try and do something for the whole country."
In terms of how F UK* 2022 might turn out overall, Farquhar points to 14-18 NOW, the five-year commemoration of the First World War centenary that took place between 2014 and 2018. While all events in 14-18 NOW's programme remained respectful in its tributes to those who took part in the war, much of the work presented took a less orthodox approach than one might expect.
Artist Jeremy Deller's contribution, We're here because we're here, was a particularly moving  highlight. Created to mark the anniversary of the Battle of the Somme, the event saw everyday public interventions by 1,400 volunteer participants dressed in First World War uniform, who appeared unexpectedly in public places on July 1st, 2016. If anything in F UK* 2022 comes even close to evoking something as poignant, its existence will arguably have been justified.
There is a sense that some of the teams bidding to be part of F UK* 2022 possibly see themselves as entryists working on the inside. Others might see such credible names being used as Trojan horses to give what was originally one of Theresa May's grand follies a patina of credibility in order to help make the current UK government appear – no, really, – enlightened.
Migrants in Culture
Whether any of this carries any weight with Migrants in Culture or any of F UK* 2022's other critics remains to be seen. Migrants in Culture is a network guided by 'a vision of culture without borders'. They have been particularly scathing about F UK* 2022, and, in calling for it to be scrapped, state that 'We reject the use of culture as nationalistic branding. Cultural workers are compelled to act as ambassadors for UK soft power in order to access this funding.'
An open letter from Migrants in Culture has been sent to Martin Green of F UK* 2022, UK Secretary of State for Digital, Culture, Media and Sport Oliver Dowden, and Neil Mendoza, who in May 2020 was appointed by the UK government as its Commissioner for Cultural Recovery and Renewal. The letter states that  F UK* 2022 'capitalises on the racist and xenophobic movements and discourse that have led to Brexit, the Windrush Scandal, the Home Office's Hostile Environment against migrants, the rise of far-right politics as well as Grenfell, and the endemic racism, societal divisions and inequality.'
Comedian Josie Long has already withdrawn from her involvement in F UK* 2022 after being made aware of what she called its "nationalistic agenda".
A Radical Road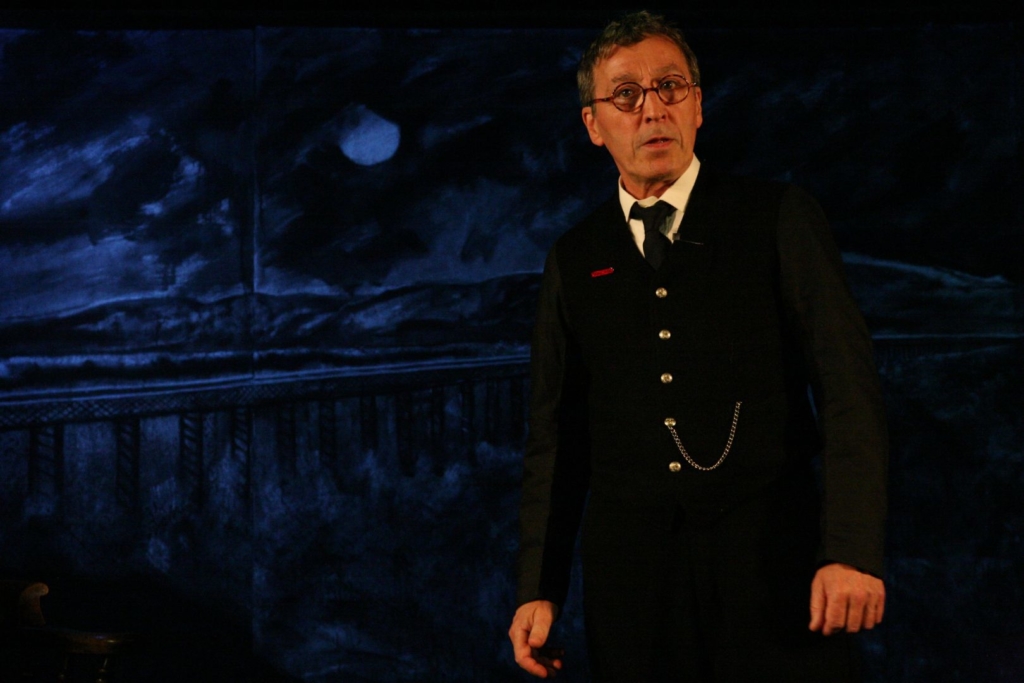 *
Migrants in Culture's call to arms in part echoes playwright Peter Arnott's words a couple of weeks ago accepting this year's Critics' Awards for Theatre in Scotland's Best New Play award. This was for The Signalman, presented as part of Oran Mor's A Play, a Pie and a Pint lunchtime theatre series in Glasgow back when visiting theatres was still possible.
Calling for a radical rethink about how arts and culture might be organised in a post Covid landscape, Arnott suggested that "I think we are going to have to think some pretty radical thoughts about how we organise what it is we do for a living if any of us expect to do anything like it again. I'm talking about upending the entire structure of governance we inherited from the reinvention of culture at the end of World War II… and reinventing it all over again."
Which brings us back to Craigmillar Now. In the yet to be defined new age of the post Brexit, post Covid era, organisations such as Craigmillar Now, Migrants in Culture and others advocating ideas as radical as those argued for by Arnott might point the way to where that new age begins. By contrast, and however it turns out, F UK* 2022 runs the risk of merely marking the end of everything that went before, and which is about to be lost.
Play to Win
Despite what the ancient Greeks thought when they invented the spoken word scene by putting poetry into the Olympics in a way that would now be branded as a Cultural Olympiad led by an epic opening ceremony, art probably shouldn't be treated as a competition. Of course, winning awards can inspire confidence, while infinitely more useful financial rewards help keep those creating work alive long enough to hopefully do something else beyond. But judging art shouldn't be based on who brings the best report to what might look to some as a grown-up version of show and tell.
Nor should the £120 million allocated to F UK* 2022 be used as a temporary salve to plug the artistic and economic chasm caused by Covid. Rather, as with every single other industry currently struggling for their collective and individual lives, and as Migrants in Culture point out, arts workers require a security only universal basic income can bring.
While the UK government continues to operate a sticking plaster approach that ultimately won't save anything except their own livelihoods, a more enlightened Ireland announced last week that a key recommendation of its Arts and Culture Recovery Taskforce report was a potential basic income for arts workers. Now, there's something for both F UK* 2022 and the Scottish Government to think about.
Playing the Joker
As far as what happens next with F UK* 2022, all of the above may turn out to be purely academic. Only one of the two Scotland teams competing directly against each other will make it through to the final. As for the rest, like an own goal in a Home International, an edition of It's a Knockout where you've already played your Joker, or a Big Brother Does Bake Off Brexit Special, it's perfectly possible that no other Scotland based organisation is left standing.
What we'll be left with then is anybody's guess, though at least massed choirs belting out Land of Hope and Glory on the hour every hour to define what F UK* 2022 ends up being all about will have been headed off at the pass.'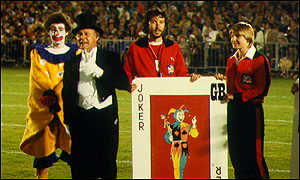 Nevertheless, one suspects that some or all of the projects that don't make the final cut of F UK 2022 may be enabled to happen anyway. This might then be an opportunity to bring other partners on board in a way that embraces those who might feel beyond F UK* 2022's reach. There seem to be plenty of them about.
The Global Village
In the forthcoming and possibly still far off post Brexit landscape, future generations' entire experience of Europe might well be gleaned from the likes of the glossy tourist brochure styled froth of hit Netflix show, Emily in Paris.
With this in mind, fiddling while Rome and everywhere else feels the Brexit burn might not necessarily be the best internationalist response.  If F UK* 2022 isn't scrapped as Migrants in Culture are arguing for, perhaps Green and co might do well to step outside their great big ginormous events bubble and take a look at what is already happening at a grassroots level.
Glasgow based charity Refuweegee, for instance, works with numerous organisations to work with forcibly displaced people arriving in the city. One of these organisations is grassroots live music promoters Sounds in the Suburbs, who are currently running Zoom based fundraising gigs for Refuweegee on the last Thursday of every month.
Similarly styled fundraisers for refugee charities have run in Edinburgh for several years under the name Solidarity with Displaced Humans, and continue do so online. These and many, many other similarly styled grassroots bodies fuse internationalism and artistic expression in ways that make a genuine if largely unsung difference. Despite having a much lower profile and little or no government support, such events are arguably equally as important as anything likely to happen at F UK* 2022.
Those behind F UK* 2022 should perhaps also take a look too at Craigmillar Now. Here is an organisation steeped in local history, founded on a grassroots model and building on both for a brand new future where the global and the local meet.
Beyond the Fringe
While it's probably fair to presume that none of the grassroots organisations mentioned here made their own bid to be part of F UK* 2022, it will be interesting to see how they and others respond. Perhaps they won't do anything, and will just keep on keeping on with the mighty work they do already. Or perhaps, as some wags have suggested, the high profile presence of F UK* 2022 will provoke dissenting voices to kickstart their own counter event. Such a move would inadvertently conjure up the spirit, not of the 1821 Great Exhibition or the 1951 Festival of Britain, as Theresa May's display of England's dreaming predicted, but that of an accidental consequence of Edinburgh International Festival.
That event took a sharp turn towards the future after a couple of student theatre companies not officially programmed turned up and decided to do their own thing anyway. From such small but dramatic acorns was eventually spawned the monster of today's Edinburgh Festival Fringe.
With this in mind, it has also been mooted that, rather than similarly brand any F UK* 2022 alternative event as a fringe, that it adopt the model of the  Avignon Festival, that other great European arts extravaganza founded in the post-World War Two rubble to promote a spirit of unity. In Avignon, as with Broadway, fringe events are referred to as 'off' the official programme. This would make for something that could be legitimately and magnificently referred to as F UK* 2022 Off. My, how that asterisk would wink.
Beyond such potential fun and games, the big idea these days for large-scale public events like F UK* 2022 is legacy. In fifty-years-time, for instance, how will F UK* 2022 have affected things, and how will future citizens of whatever country they're part of by then be keeping its spirit alive?
These days such things are more likely to be spun for potential artistic, civic and political capital. Then again, those behind F UK* 2022 might want to see for themselves how such long term side effects can happen organically, democratically and in a way that puts people first. If so, they could do worse than check out Craigmillar Now. Those making things happen there already look like a winning team.