Blessed People, Forever British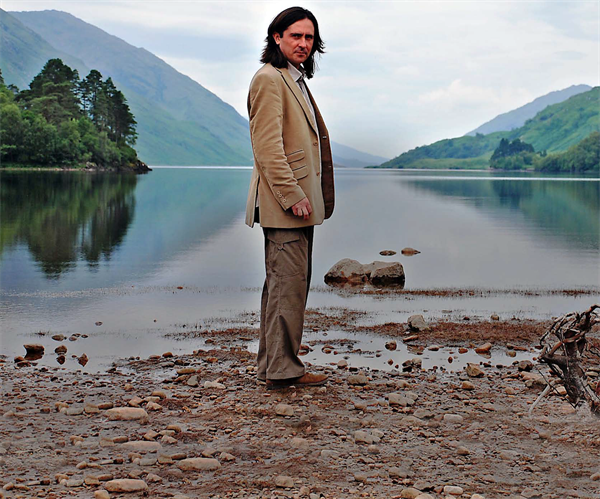 We've talked about These Islands before, but not for a while.
There's a caption competition vibe about Neil Oliver's pose by the side of the loch for his latest essay for These Islands. Does he need a pee? Is he going for a dip? The article, billed as "An emotional paean to Britain and to union, by Neil Oliver" is certainly that. The piece dribbles with emotional waffle: equal parts bogus-philosophy; sentimental ramblings and egotistical cant.
It's chock full of shit history and romantic mawkish nonsense. It's like someone talking to their granny in the Waltons:
"The union is more than 300 years old. The coming together of Scotland and England, on May Day 1707, was hardly a happy one and no one denies it. The bride was poor and the groom knew he was being married only for his money. Unhappy or not it was to prove the best thing that ever happened to either of them."
Oliver studiously avoids actual argument logic or analysis, instead he just resorts to heartfelt pleas:
"How to make the claim that we, the inhabitants of these islands, are one family? In the end I can only speak for myself and from my own heart. That much is all I truly know."
This tactic – to appeal to his heart and his own personal feelings – doesn't really wash. Partly because he reeks of the insincere and the inauthentic, and partly because he appears so arrogant.  Plus, you're meant to be a historian and you're meant to be engaging in political debate, so just saying "I can only speak for myself and from my own heart" doesn't come across as honest and soulful it comes across as shallow and stupid.
Oliver's ego is mirrored in his self-regard and his hilarious (ahistorical) exceptionalism for Britain. He writes:
"I have circumnavigated the coastline multiple times. I have criss-crossed the interior. I have seen the landscape from the sky, from the cockpit of fighter jets, vintage biplanes and microlights. I have been on its encircling waters in kayaks, battleships and just about anything in between that floats, and under its waters in scuba gear and a nuclear submarine."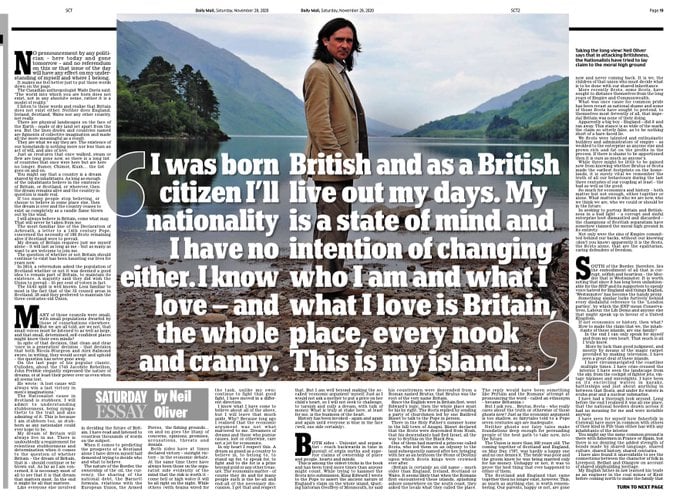 Now, really getting into his stride (in his khaki no-nonsense lightweight trousers):
"I have been around enough of the wider world to know that most places are not like Britain, not at all. Every time I hear the place being run down for some or other alleged failing I want to ask, "Compared to where?" That anyone at all would imagine it were possible to break this wonder into pieces and yet somehow retain its fragile, precious gifts in each of the tattered remnants is beyond me. A torn fragment of a work of art is not enough. Once its gone, it is forever and we will all be diminished by its passing."
If that bit made you chuckle this might make you boak:
"This Britain of ours has been and remains a bright light in a dark and darkening world, a magnet for humanity moving in hopes of somewhere better. When the EU was conjured into being it copied our union in hopes of having a fraction of its success. Whatever the intention, those builders fell short of the mark. There is no EU welfare state, and German taxes do not pay for healthcare in Greece or pensions in Spain. Most of the wider world would rather it were more like us, that it might have what we have had. When it comes to western liberal democracy, ours is the original marque."
This warm and fuzzy glow may you'll have noticed bypassed any of the bad bits of British history, and it's view of Anglo-European relations may prompt a giggle or two in Strasbourg, but it's at least consistent. Back in 2017 – writing for These Islands – Michael Jary (Senior Partner at OC&C Strategy Consultants) had much the same shtick. Jary wrote:
"Of course, any picture is complex and multivariate, but by and large Britain is viewed with warm respect for its vibrancy, culture, entrepreneurialism, and openness, and as an exemplar of liberty and democracy."
Yes sheeple, an "exemplar of liberty and democracy."
Back then Jary mirrored Oliver's nonsense:
He says: "It is natural to think of liberty being first an English, and then a British, invention: rooted in the Saxon past".
Wonderfully natural I'd say.
And:
"Britain now enjoys a continuity and stability of political and personal freedoms which is unparalleled elsewhere."
Having firmly established the UK's utopian status he explains:
"The UK's economy is twice the size of Russia's, and unlike Germany or Japan, it possesses nuclear weapons."
Jary and Oliver's rose-tinted Empire Loyalism is likely to be quietly embarrassing to the few actual Unionists trying to gather a response to the polls and trajectory of the Yes movement.
The reality is that we are more in preparation and anticipation now than anything else. In this state we can expect more drivel. I predict a binary between really hard nasty attacks and passionate if incoherent 'paens' like this. The second will be used to soften the blow of the first, like a constitutional shit-sandwich.
What's striking about Oliver's analysis is that there isn't any.
But also as a tv historian there isn't any history. Brexit isn't happening. Windrush didn't happen. Thatcher didn't happen. The Empire didn't happen. Nothing ever really happened. None of this matters.
For Oliver it is all about a Gushing Me:
"When I toured Britain with one of my books last year and the year before, going from theatre to theatre, I stepped out onstage one memorable night in Liverpool into a welcome of cheers that took me aback so much I almost burst into tears. I have no connection to that city on the Mersey and yet I was nearly knocked to the back wall of the stage by the wave. I know that might sound self indulgent [it really really does Neil] but I have to write about what I have experienced as a citizen of Britain, to make clear why it all matters to me the way it does."
It might be worth reminding him that in Britain you're not a Citizen you're a Subject, but by this point the reader is engulfed by the tremendous inanity of it all.
Finally Oliver writes in abject surrender: "I don't base my decision on politics or economics or even history."
We noticed.
Reaching a crescendo of incoherence he screams across the loch:
"I love Britain more than anywhere else in the world. With all my heart I declare that those of us born here, or who have made a home here by choice, are the luckiest, most blessed of all people. I am British. I will always be British."
You will Neil, you will.