Slavery Derived Wealth in Scotland Today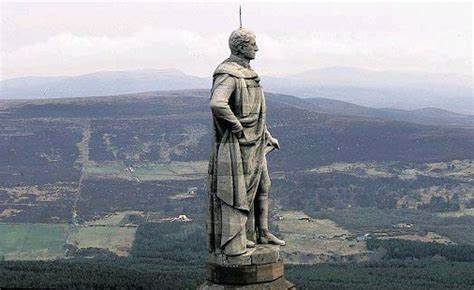 At the beginning of the 21st century at least 450,000 acres in the western and northern Highlands and Islands were owned by families with historical connections to transatlantic slavery. The revelations show the origins of landed power in Scotland's elite. Iain MacKinnon reports, with additional research by Andrew Mackillop.
Last month Andrew Mackillop and I published a report disclosing connections between landownership in the west Highlands and Islands of Scotland and the profits of plantation slavery. The full report, published as part of Community Land Scotland's discussion paper series on 'Land and the Common Good', is available here ("New research reveals extent of historical links between plantation slavery and landownership in the west Highlands and Islands".)
"Scores of estates in the West Highlands and Islands were acquired by people using the equivalent of well over £100m worth of riches connected to slavery in the Caribbean and North America. Many would go on to be leading figures in the Highland Clearances, evicting thousands of people whose families had lived on their newly procured land for generations. These are amongst the conclusions of a research paper titled 'Plantation slavery and landownership in the west Highlands and Islands: legacies and lessons' published today, by two university academics – both from Hebridean backgrounds."
The report detailed research that discovered at least 63 estate purchases made by direct or indirect beneficiaries of slavery in the years between 1726 and 1939. These purchases covered more than 1.1 million acres of the west Highlands and Islands and the majority took place during the main period of the Highland clearances, with a peak occurring in the years immediately following the award of £20 million – £16 billion in today's terms – compensation for slave-owners for loss of their slaves as 'property' when slavery was abolished.
Including traditional families who already owned land in the area, slavery beneficiaries have owned a total of around 1.8 million acres in the west Highlands and Islands – amounting to more than 50 per cent of the area's land-mass, and approaching 10 per cent of the entire landmass of Scotland.
Our report was a historical account, although it referred to some of the consequences of these historical developments on the area today. During an interview that Andrew and I gave to the BBC Radio Scotland Out of Doors programme about our report we argued that our findings have the potential to be the beginning of an important, if at times uncomfortable, discussion involving landed proprietors about the importance of slavery derived wealth on the nature of landownership and use in the Highlands today, of which private estates are still a major part.
The Out of Doors team took us at our word and approached Scottish Land and Estates, a representative body for large landowners and country businesses, to get their views. Their chief executive told the programme that 'it is a bit of a stretch to leap from a review of social history and ancient connections to slavery as being a reason why communities should own land today.'
What follows is a response not only to the factual aspects of the statement from Scottish Land and Estate but a questioning of its underlying assumptions. Beginning with the latter: strictly speaking, the ancient period is that time in history before the medieval, and its end is generally dated at around 600AD. Our account of slavery beneficiaries buying land in Scotland is almost entirely late modern history. In the wider historical understanding, this is as close to contemporary history as it gets.
Over and above the statement's telling attempt to put chronological distance between current landholding structures in the west Highlands and Islands and British slavery, there is the one-dimensional understanding of history. Landlords consistently seek to benefit from the historical traditions and stories associated with their land and with their houses and castles. Past connections are readily, and understandably, utilized by Scottish Land and Estates to enable heritage tourism and generate a particular version of the Highlands and indeed Scotland in general. Dismissing one element of the past as irrelevant while promoting and deploying another version as key to the contemporary economic and revenue basis of many landed estates is not conducive to a fully informed and effective discussion of land, land use and community in the Highlands.
Then there are matters of accuracy. In the statement SLE's chief executive added: 'Indeed the authors of this paper admit themselves there are few if any families in the area who are major landowners today and who have any past connection to slavery.'
For the record, we didn't say this and it is not true.
Our report did not detail contemporary ownership by families with historical slavery links. However, in response to SLE's inaccurate representation of our work, and drawing on Andy Wightman's research published in 1996, we estimate that at the beginning of the 21st century at least 450,000 acres in the western and northern Highlands and Islands were owned by families with historical connections to slavery. For the avoidance of doubt, here is a list of landowners and acreages:
House of Sutherland 83,239
Cameron of Lochiel 76,000
Wills in Applecross 62,000
Duke of Argyll 60,800
Mackenzie of Gairloch 57,600
Burton of Dochfour 48,000
Macleod of Macleod (Dunvegan and Glenbrittle on Skye) 30,600
Schroder (Dunlossit on Islay) 16,500
Ellice (Invergarry & Aberchalder) 15,000
Martin of Husabost 5,200
Maclean of Duart 300
The only landholding in this list that is not taken from Andy Wightman's work is the Maclean of Duart estate on Mull which includes the clan seat of Duart Castle but which is too small a holding to feature in Wightman's analysis. The landowners given here don't map directly onto 'the west Highlands and Islands' as defined in the report, as we have added the Duke of Argyll whose main landholdings today are in mainland Argyll and the House of Sutherland whose holdings are today all in Sutherland. However, both families owned land in the nineteenth century in the west Highlands and Islands as we defined it in the report, and the Argyll family still hold some land there today. Further research may well confirm indicative evidence that the descendants of other families currently holding land in the Highlands were connected to the economy of enslavement.
We have not closely studied recent land transfers in the area, but understand that there has been relatively little movement of land among families connected with slavery since Andy Wightman's book was published. The late Lord Burton (who was actually a member of the Baillie of Dochfour family whose eighteenth and nineteenth century history is saturated by slavery) sold substantial west coast estates early in the twenty-first century, although the family are still major landowners elsewhere in the Highlands. It is understood that the although the representative of Martin of Husabost family died in recent years, the estate is still in family hands. However, the wider point remains. It's likely that somewhere between 400,000 and 500,000 acres of the western and northern Highlands today are in the hands of families which have benefitted from the profits of slavery.
That is not an insignificant amount. Indeed, it is that not much less than the acreage owned by the entire community land sector across Scotland at present. This comparison is one of many reasons why these important if uncomfortable discussions about the ways in which slavery derived wealth has shaped the current structure and patterns of landownership, and use, in Scotland need to take place. Contributions from landed proprietors are not only welcome but are an important element in such debates. But this input should be based on a holistic rather than selective understanding of the past and needs to be based on the facts.
Iain MacKinnon is a researcher at the Centre for Agroecology, Water and Resilience at Coventry University. This article does not reflect the views of Coventry University.
Andrew MacKillop is a senior lecturer in Scottish History in the School of Humanities at the University of Glasgow. This article does not reflect the views of the University of Glasgow.