The Beautiful Resistance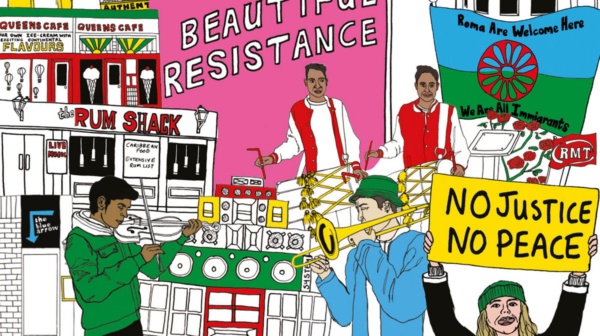 This dark and seemingly centuries-long year is drawing to a close. The days are vignetted, and on the first day of 2020's finally final month, The Beautiful Resistance was released: a wee torch, shining some of the lights of what we have learned to tunnel us through to a new year.
The continuing fight against racism has been dominant in the collective consciousness and in our conversations. Protests, and what feels like a new chapter in an actually centuries-long movement, have been taking place; all in a year which has seen music venues, so often the hub of grassroots political and cultural movements, lay dormant and silent. Music is a wordless, universal language that unites us in joy and communication. As a result, historically, it has been an integral rhythm of civil rights and antiracist struggles. Music's collaborative nature is the perfect defence against racist ideals, which seek to divide and weaken communities. The title of The Beautiful Resistance, a compilation album created by the Glasgow branch of Love Music Hate Racism (LMHR), feels entirely apt.
Love Music Hate Racism was created in 2002 in response to the far-right British National Party's electoral successes. Opening with a music festival in Manchester's Platt Fields Park, LMHR operates in the tradition of the Rock Against Racism movement of the late 1970s – organising campaigns, gigs, club nights and tours, and bringing together a diverse range of musical genres in order to celebrate the strength, beauty and richness innate in a multicultural society. The Glasgow contingent enjoyed a productive 2019, which saw them gaining new members, organising a mini-tour for the politically profound rapper Lowkey and running a stage at Doune the Rabbit Hole festival, among other things. Political partying at its best.
The partying may have been on hold in 2020, but The Beautiful Resistance succeeds in being a reflection of LMHR's ethos and energy, showcasing a range of musical styles and mixing in spoken-word poetry and excerpts from speeches. Politics remains at the album's core, with themes of identity, defiance and unity radiating throughout.
Chris Bainbridge, of Man of Moon and member of LMHR, told me about the process of creating the album. "The summer of 2020 was a defining moment in our world's history in the fight against racism. Although our plans for the album and all song recording was done before, we all felt strongly that what happened needed to be woven in through the fabric. The speeches all come from the 'Glasgow Says No To Racism' demonstration that took place on World Refugee Day. The demo was called because just a week before, George Square had been overrun with racists, who had verbally and physically attacked a demo standing up for refugees and asylum seekers. It was a really scary, horrible moment and it was imperative that Glaswegians rose together against it, which they did. We needed to take the Square back from hatred and bare faced racism, and we did. It was an incredibly important day in our city's history, and we wanted to crystallise this spirit of defiance and togetherness in the album."
Joyful unity in the face of hatred was also important for genderpunk poet and MC Lady Incarnate, whose band The Positive Experience open the album with the lyrically intricate 'Coffin'. "Social change, unity through music, and cultural resistance are things that we as a group of people care about very deeply." There is an intersectionality of interlocking struggles to The Beautiful Resistance that is well expressed through 'Coffin'. "We chose 'Coffin' as it is a song of resistance written from a trans perspective. We felt it had within it an attitude and message relevant to anyone that faces prejudice. One of beautiful resistance (if you'll pardon the pun) and one of self-love in the face of oppression."
Self-love as an act of rebellion prevails in the one spoken-word poem of the album, Your Roots by Bee Asha Singh. "LMHR are doing fantastic work in the fight against racism. The piece that I wrote was a message to the young people I work with at Intercultural Youth Scotland, to those that need to reconnect with the parts of themselves that are often looked down on when you are part of a Western society." As she says in the poem: "Every step, our history, future, past, my family, always shall be part of me."
The Beautiful Resistance is a musical melting pot, with groovy bluesing from Tabby Detroit, the stompy rock of the Kidney Flowers, gentle and soulful balladry from Djana Gabrielle and moody snarling from Womensaid. (I especially like the anti-war song Molam Seh from Loznitsa, moniker of Bulgarian singer Vanya Semerdjieva. I am a sucker for women's voices in harmony.) "The whole process of making a compilation album is so collaborative from the get go, so one of our aims with it will always be to connect people together through music to our message of unity," says Bainbridge.
As this year slows and settles for the winter, The Beautiful Resistance by Love Music Hate Racism Glasgow, with its message of cultural, musical and jubilant collaboration brings activists and musicians together on vinyl, its speeches echoing the anger of the summer and reminding us to remain active and impassioned, and its diverse range of musical talent reminds us of a future where we can all come together again under the banner of music and community. "With this album we aim to bring people together in joy, music, song and dance. When people are united by these things, it is much more difficult for us to feel divided."
Artwork by Freya Skinner.