Brigadrone – the HyperNormalisation of Scottish Culture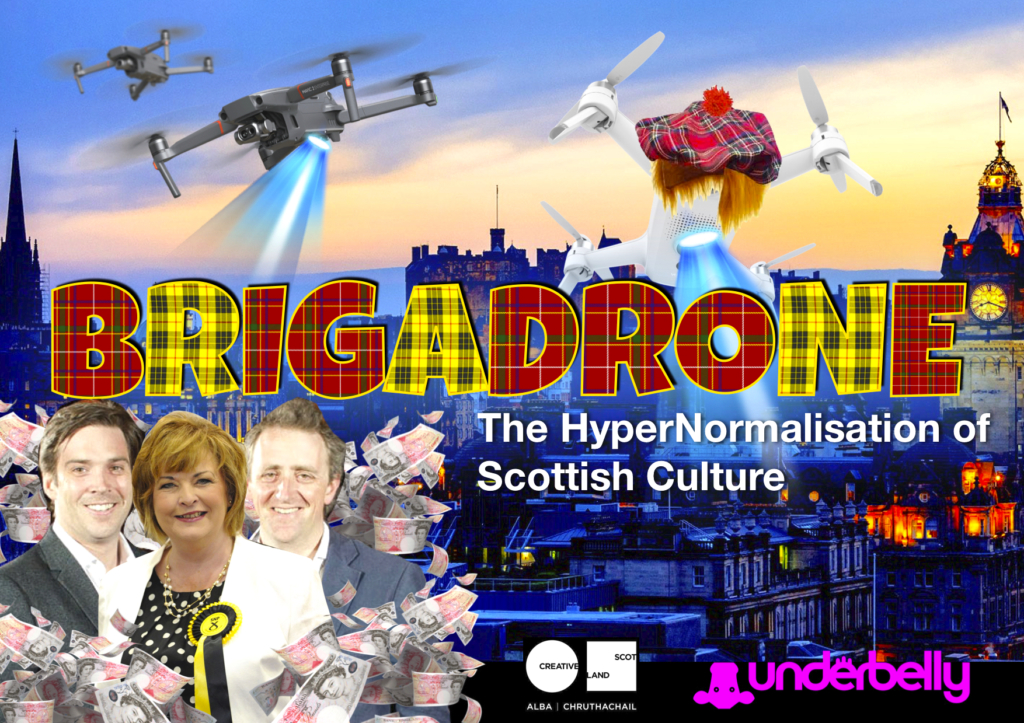 How Underbelly sold us Edinburgh Castle and put the hog back into Hogmanay by Hugo Fluendy & Bonnie Prince Bob.
Underbelly's hypnotic stranglehold on public arts funding is tightening after they pocketed a cool two million pounds for a faked Hogmanay drone display.
The money (from Edinburgh Council, the UK Govt Cultural Recovery Fund, the Pivotal Enterprise Resilience Fund, Event Scotland and Edinburgh Festivals Expo Fund) on top of another million or so in earlier handouts from Arts Council England and Creative Scotland for Covid relief – was funding for their Farewell project, which showed stags, selkies and various other tick-box tartanalia above Edinburgh landmarks, spectacularly picked out in lights created by what they claimed was the UK's biggest ever drone display.
Underbelly's public subsidy:
£800,000 Edinburgh Council
£584, 751 UK Govt Cultural Recovery Fund
£250,000 Pivotal Enterprise Resilience Fund
£200,000 Event Scotland
£175,000 Edinburgh Festivals Expo Fund
Total = £2,009,751
The three videos were met with celebratory rapture online including fulsome endorsements from such a roster of luminaries as Tim Peake, Adam McVey, Ewan Gunn and Brian Ferguson – and a supine mainstream news media which contented itself with regurgitating the press release verbatim.
All well and good, I hear you say, a welcome ray of New Year hope for our plague-stricken masses.
On the contrary, this nostrum must be rejected and its perpetrators consigned to the voluntary sector with the rest of us.
The whole impudent farrago was a cynical exercise in crude digital fakery and faintly desperate social engineering using totemic national symbols to elicit positive emotions and short circuit any critical response.
Adam Curtis must be rubbing his hands.
Indeed, the BBC was an either unwitting or complicit cheerleader of Plunderbelly's latest cash cow.
Both are culpable.
Of course, the videos blip-screened a disclaimer with the end credits, albeit rather opaquely worded after several moments of black.
Perhaps it seems petty to nit-pick technicalities in these benighted times, and most, but far from all media reports alluded to the post-production legerdemain, which was largely ignored in the self-congratulatory rush of Hogmanay bonhomie.
But even the most cursory investigation reveals the actual, quite modest shoot in the Highlands to be a digital Trojan Horse allowing the unscrupulous conspirators to concoct a clichéd but impressive Scot-lite phantasia over landmarks such as Edinburgh Castle, the Forth Bridges and even, incredibly, the Banana Flats.
For starters, the 150 drones that were alleged to have been used do not make the UK's largest ever drone display – that honour would go to London's New Year display the same night with some 300 aerial robots.
So more of a Trojan pony then.
More egregious still is the insult to our senses.
A rudimentary grasp of perspective and scale puts the lie to some of the more headline-grabbing images, such as this above the Castle.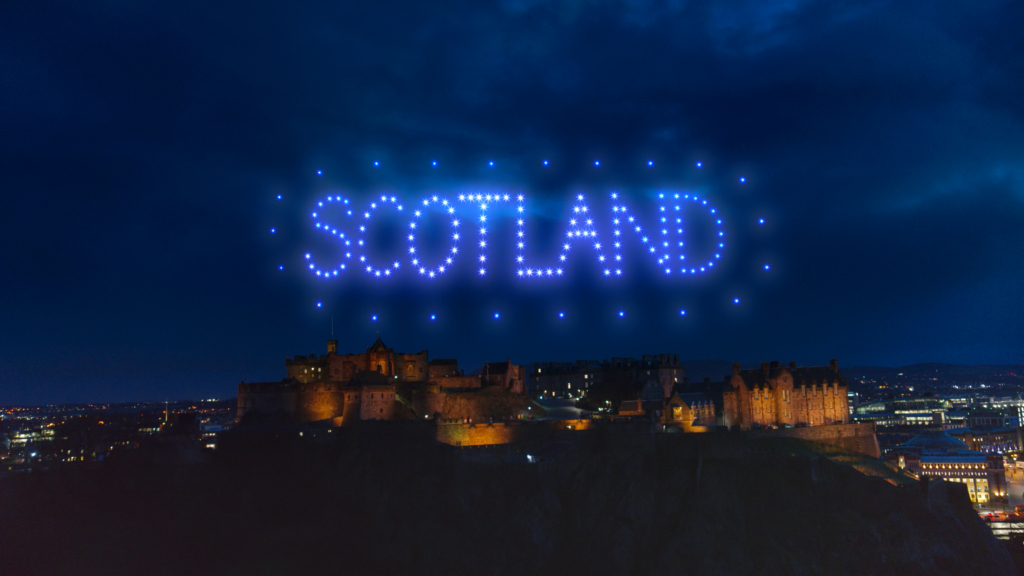 As the first question marks emerged, the denials and obviously scripted affirmations became shriller and any pretence at realistic simulation was jettisoned for increasingly grandiose fictions.
You can keep counting after 150, answers on a postcard please…
Weasel words aside, the overall intent to mislead is depressingly clear.
The contempt this cheap carny hucksterism shows for us, their benefactors – that's the tax-payer – is breath-taking.
Indeed, more established drone display companies in the States offer similar spectacles for less than $20,000.
So far, so Disney-add up.
For the aptly-named promoters at the heart of this sham – who have built their empire on unpaid labour and suspended their vampiric suckling of the public teat just long enough to foist this forgery on us – to use the Banana Flats as a backdrop for their fraudulent light show is tasteless.
But to focus on Underbelly's Etonian pantomime villains Ed Bartlem and Charlie Wood, risks missing yet more serious implications.
Colonial adventurers and opportunist profiteers they may be, but one should be more incensed by the corruption this pitiful sham reveals at the heart of our cultural institutions.
The usual suspects, led by the Beeb and The Scotsman, appeared to connive at the tawdry deception. Basic journalistic standards were abandoned in favour of an ominous circle-jerk of regimented flag-waving. Most concerning of all is the collusion at the heart of government Holyrood's own fake news advisory video reads like a checklist from a Farewell Hogmanay strategy meeting and ever eager to promote 'Scotland the brand', Scottish Minister of neoliberal culture, Fiona Hyslop, basked in the reflected glory of the event, irrespective of its authenticity.
Before you share anything online, ask yourself: is it definitely true? Fake news about coronavirus can cause real harm. You can help #StopTheSpread.

Watch our video for tips on recognising false information. ⬇️ pic.twitter.com/QSvrRpudPe

— Scottish Government (@scotgov) June 16, 2020
"It doesnae matter if the drones wurnae real, it doesnae matter that the post production images cost as much as a fish supper, it doesnae matter that a couple o London chancers stuffed their pockets and paid their mates tae serve us live-streamed pre recorded mawkish Jock kitsch, it doesnae matter because aw that matterz is that Scotland is braw, ken!"
… but such disregard for truth in the cradle of the Scottish Enlightenment risks opening a Pandora's Box.
You only need look to Washington in recent days to see the chaotic harvest of such a Faustian pact with the dark forces of irrationality.
Logical positivism and the scientific method have largely got us where we are now.
The world is melting but we can turn the lights on.
Just not these lights.
We deserve better.