Art For Sale – Student Uprising at the Glasgow School of Art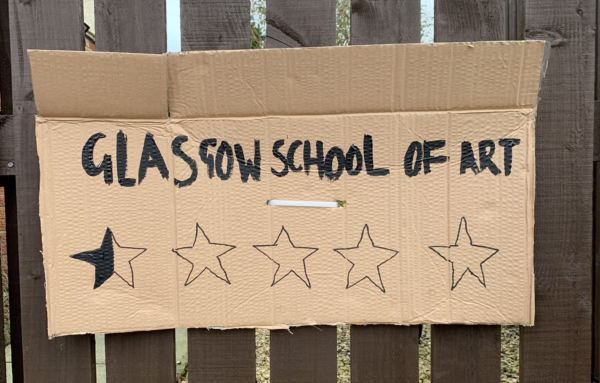 The commodification of education is a tragedy, but if that is the way that things stand, then should students not be afforded the same consumer rights as, say, someone buying a defective product?
The pandemic has made life problematic for everybody, but its impact has been more severe on some areas than others. The delivery of higher education has been fraught with difficulties, with practical courses perhaps suffering the most. Students around the UK are not happy, understandably so, with many feeling that they have become collateral damage.
This is especially true of art schools, whose students have need of access to spaces in which to be creative, specific facilities and the opportunity for creative cross-pollination and collaboration, in order for their arts education to be adequate. The inability of art schools properly to provide these in light of this year's events has prompted the establishment of Pause or Pay UK, an action group made up of students from four art schools who seek an amelioration of their current situations.
Their demands include protection of international students with regard to visas, guarantee of a physical degree show, and importantly, either a pause for students who desire one (without penalty) or a refund of fees to reflect the loss of the education that they might have expected.
The one Scottish participant in Pause or Pay UK is Glasgow School of Art. GSA, like all higher education institutions, is a victim of the commodification of education. Free education seems a distant memory, but it has been only ten years since the Liberal Democrats reneged on their campaign promises to abolish tuition fees by agreeing to triple them instead: betraying students as a cost of coalition and destroying their reputation for a generation.
Free higher education for Scottish students remains a flagship policy of the Scottish National Party, but English and international students are exempt from this and have to pay over £9k a year. (Perhaps it is for this reason that GSA upped their student body population by 25% between 2016 and 2018, whilst making no apparent efforts to increase studio space or per capita funding).
I am a recent graduate of the Glasgow School of Art myself (can you sense the underlying exasperation), and I have to say, I found a good deal of my experience pretty unsatisfactory. I made the most of it, but I was certainly not alone in my frustrations with the school; indeed it seemed that everyone around me had major complaints about the way that things were run. GSA boasts the lowest student satisfaction rate out of all universities in the UK. And that was before COVID-19 threw a giant spanner in the proverbial works.
"The answer to the question 'what has been lacking' is pretty loaded, it might be easier for me to list what it is students at GSA have had access to, to which the answer is an overused Zoom account and an array of empty promises. For any art or design course, studio and workshop access are imperative, and while some courses have transitioned to online learning better than others, we are all struggling just now," says Sculpture and Environmental Art student Kate Wilson Hilferty.
The extraordinary circumstances of 2020 could potentially have offered an opportunity for GSA to pull its socks up and find imaginative ways of supporting its students. I have spent the last month talking to a lot of them and the impression they have given me is that GSA, instead of entering into a helpful dialogue with its student body, has preferred to crawl under a rock and stick its fingers in its ears.
Hilferty continues: "Losing access to my spaces, and contact with my community, has hindered my ability to be creative and proactive no end. With the exception of some tutors working overtime, my classmates and I are feeling entirely unsupported. It's simple, if we don't have resources, we can't make work. No matter what promises are being made for discussions on 'future access' or 'future degree show planning', the problem still stands. We are now four months into the year and have received a maximum of six studio days each, alongside no workshop access. Where is the accountability for this?"
When I asked Penny Anderson, a disabled MLitt Sculpture student (whose disability support worker was furloughed without her being informed!), what restrictions had been placed on her study as a result of COVID, her response was telling. "Restrictions? Study? We had no teaching or proper contact, other than from marketing really, for three months. No workshop access."
One student kindly provided me with a table that they had gone to the trouble of collating, charting studio and workshop access at all art schools across the UK over the last term. It alleges that, for example, Goldsmiths in London was still offering studio access everyday. Closer to home, Duncan of Jordanstone College of Art & Design in Dundee was offering access all day Monday to Friday to its fourth year students. Even when in Tier 3, GSA appear to have been offering studio access only one day a week.
Students have done their best to protest their situation, including with a peaceful protest and an open letter with 629 signatures. The letter stresses that, while the pandemic and the resulting strains on higher education are the fault of nobody, the institution had over five months to confront the fact that students would be returning to campus in September.
It says, "Neither studios, nor workshops, nor library were prepared for a socially-distanced return to action at the start of the semester. This is unacceptable and symptomatic of an institution that is understaffed and lacking the integrity to deal with the situation while providing the necessary emotional and practical support to its students and staff. The notion that it is acceptable to continue charging full price for a practice-based fine art course that is no longer studio and workshop-based, and which provides no financial or physical alternative for students to access the aforementioned missing components, is immoral and indefensible." (As this is an official complaint that is currently being investigated, GSA were unable to comment on any specifics).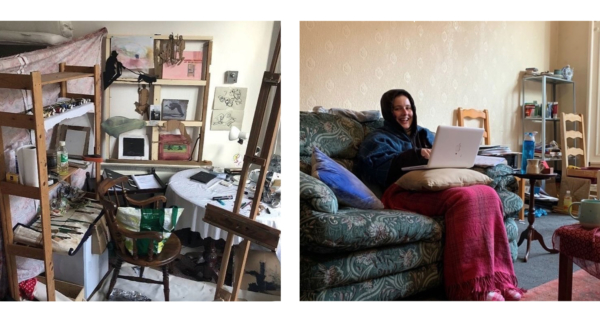 There is also @nostudiostories. No Studio Stories, an instagram account where students are invited to send in photographs of their current working spaces, was created in response to a series of films that GSA were bringing out with a weekly newsletter, called 'Studio Stories'. The instagram account's creator, who wishes to remain anonymous, said: "The trailer felt like propaganda – Penny MacBeth (GSA's director) sitting in the Reid (the design school) proclaiming how well things were going with the return to campus. It felt so alien to all of us – stuck at home. I wanted to create something that a) showed the reality of the situation and b) was an open, honest and free form of communication, rather than something curated by senior management."
The reality of the situation, from the look of it, is pretty dire for many. Photography students turning their bathrooms into makeshift dark rooms (complete with hazardous chemicals). DIY kilns setting kitchens on fire. Silversmithing students operating open flames two feet from bedding. Dissertations being written without adequate access to a library. Students working outside of locked studio windows, in the cold, in order to access the school's wifi. International photography students with no access to computers, scanners or indeed any vital facilities – and, may I remind you – being charged £16k for the privilege.
As one student plaintively mourns, "I have been able to paint here at the risk of turps-poisoning and on the river Kelvin when we take our easels out and work 'plein air' until our fingers freeze."
That might sound pleasingly Death of Chatterton-esque, stirring romantic visions of the impoverished art student suffering nobly for their craft. But, as Hilferty points out, "There's a weird form of fetishisation that is coming out of this situation, the glorification of struggle in seeking the challenge 'to work to the limits of your creative boundaries'. Suggesting we consider our situation as a new creative challenge is a way of refraining from the responsibility that the school should be supplying us with a creative realm to work in … It is nothing but perverse to suggest we use this situation to our advantage. How? With what resources? Our creativity requires our wellbeing and stability. That should come first."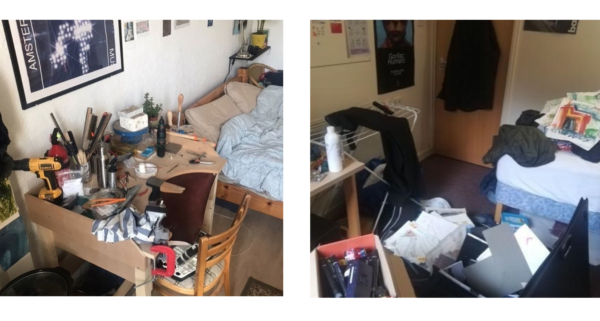 This might not be the place to rehearse the arguments about the financial discrimination inherent in charging tuition fees; what is undeniable, surely, is that the present situation for students at GSA has a graver impact on poorer members of the student body. Those from wealthier backgrounds might have the funds to purchase facilities that were promised as part of their education, such as scanners, software and cameras – some are even able to rent private studio space. Those from poorer backgrounds don't have that option, with their financial situation directly impacting the quality of the education they are receiving and the quality of the work that they are able to produce.
The pandemic will have caused frustration to students everywhere and it must have been difficult for university authorities to react to the ever-shifting situation. However, this last year has highlighted the extent to which universities are now dependent upon the money generated by the numbers of students they have, and the willingness of those students to go into debt, in a way which is prejudicial to the delivery of education.
Glasgow School of Art have kindly provided me with a response to allegations made in this article. They said  "It is important that you are aware that between June 2020 and the start of the first semester in September that GSA was in regular contact with both returning and new students providing up-to-date information on how our hybrid model of learning, (which reflects the practice-led, studio-based nature of our disciplines), would be delivered in the context of UK and, specifically, Scottish Government Covid-19 guidelines and instructions."
"Studios on our Glasgow campuses remained open until Glasgow was placed in Local Protection Level 4 restrictions by the Scottish Government on 20 November 2020. Clearly it was disappointing that the studios needed to be closed, but this was a requirement under the Level 4 restrictions. Whilst we had hoped to reopen studios and increase student access in Semester 2, the introduction of a UK-wide lockdown and stay at home order in January 2021 has, for the moment, meant that this is not possible … we are committed to facilitating access as soon as UK and Scottish Government policies allow it."
"Since the beginning of the 2020-21 academic year, staff have been working with students who have had many opportunities to raise any issues of concern, and there have also been dedicated meetings with Class Representatives. Further, Student Services have been offering a wide range of student support including mental health, financial support and support for digital inclusion."
GSA claim that they have kept open lines of communication with their students; I have spoken to dozens of their students, however, and dissatisfaction with communication has been a recurrent and constant theme. What has really stood out to me is the lack of morale. Correspondent after correspondent talks of despondency, demotivation, depression and pessimism about future prospects. Students have tried hard to achieve what they felt their courses owed them, but many have been left feeling defeated, uninspired and unsupported – surely the exact opposite kind of energy that art school should give you. 
As one international masters student said, "Imagine you sell all your things, you put all of your savings into coming here, then you receive only online "classes", for 60 people with 0 engaging methodologies, for almost £19,000. How would you feel? It is not just my creativity, it is that if I go out and try and find a professional opportunity I don't have the proper knowledge that I should have."
Architecture student Freya Bruce told me: "Last academic year I fought particularly hard to either receive equal quality of study OR a reduction in fees. I feel like this is a perfectly reasonable ask! After such a struggle, I lost my faith in the university system entirely. The main issue has been the absolutely dire communication." Freya has now moved to do a Masters elsewhere, she says: "In my new, small institution I feel heard, motivated and part of a symbiotic partnership, in my view, this is how education should be."
"To be completely honest, I don't think they care about our experience; I think they care about money. They have statements and justifications for everything, but none of these are designed with our wellbeing in mind – they are designed to keep them from getting into trouble. There has been no transparency and no dialogue," says one anonymous MLitt student.
Luke Andrew, a fourth year Sculpture student agrees: "Money is driving the Glasgow School of Art and in turn they have sacrificed their student's education. Tutors are doing their best under the current circumstances, but due to the incredibly short hours in their contract it seems the art school has also abandoned them and again the people trying to carry the art school's reputation are being thrust aside."
What is resoundingly clear to me is that the Glasgow School of Art has a lot of work to do if it is going to regain the trust of its student body. As previously stated, GSA has the lowest student satisfaction rate out of all universities in the UK – and yet they also often appear on lists of the world's best art schools. I am personally not sure exactly what causes this disparity, but, I am sure that when your reputation is so exalted, some of the world's best art students will be applying to your school.
It seemed to me when I was there that we were expected to be grateful, to feel ourselves fortunate to be students at such a prestigious school. Well, I think that GSA should feel grateful and fortunate to have the students that it has. The school's continuing reputation rests on their shoulders.
Most of GSA's students will be commencing their adult lives heavily indebted as a result of the fees incurred by attending the school – and as that is the case, surely these students deserve, at the very least, the practical and educational course that they were sold, along with the facilities promised. I think that the commodification of education is a tragedy, but if that is the way that things stand, then should students not be afforded the same consumer rights as, say, someone buying a defective product?
I concede that GSA are victims themselves of both policy and circumstance, but there should be mechanisms in place to compensate the dissatisfied, and these mechanisms should be transparent. If you are offering neither a pause until a time when full services can resume, nor any form of refund or compensation, then you are essentially holding your student's futures hostage.