The Slow, Gradual and Sudden Transformation of Scotland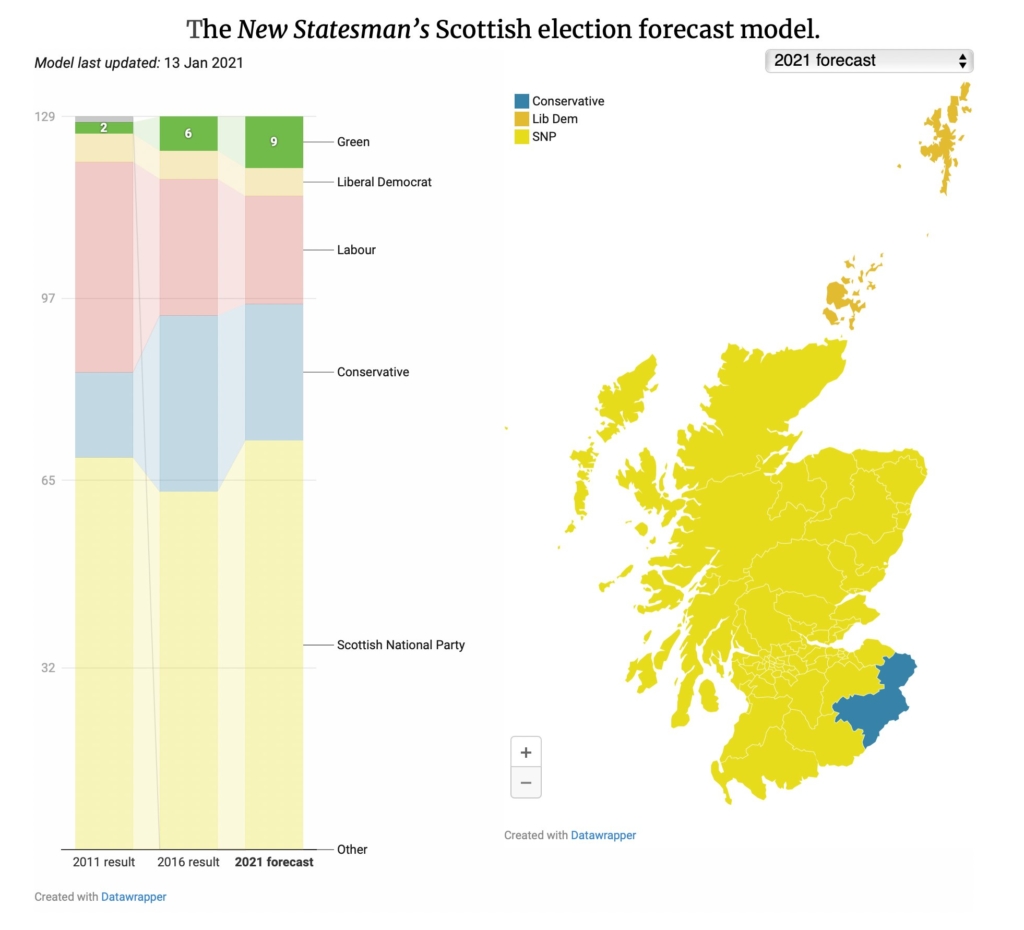 The forecast map shows a blue stain – like an accidental ink-spill from St Abb's to Langholm – and an odd orange mis-colouring in Orkney and Shetland – but apart from that it's an emphatic visual statement. The Conservative and Unionist parties will be obliterated in May.
How did this happen?
Change sometimes feels glacially slow. But then sometimes change happens so quickly it seems to all unravel before your eyes at a pace that seems completely out of control. Few could have predicted Brexit – until a few years ago anti-EU thinking was an extreme minority sport confined to the enragé tabloids and the ravings of the fringes of the Tory party. Now Brexit and the Johnson-Patel regime emerge and their chaos unspools before us. In the same way Scottish independence is emerging as a reality to be born out and its origins from a minority obsession to a majority reality is both slow and sudden.
Describing this 'dominant force' in the Irish Times Fintan O'Toole asks: "What happened? How did a hopeless cause make Nicola Sturgeon first minister of Scotland and her party by far the dominant force in the nation's politics? How did the idea of Scottish independence become viable enough to win 45 per cent of the vote in the referendum of 2014? Why, even after that apparently decisive defeat, does Sturgeon have every chance of winning a mandate for a second referendum in the parliamentary elections in May?" (Nicola Sturgeon's staunch ally in her push for independence – Boris Johnson).
His answer is in three parts:
The Slow reason is to do with empire and industry [TL:DR we used to benefit from the Union and post-Imperial Britain was in terminal decline culminating in Thatcherism which we experienced as an external imposition].
The Gradual factor is the very existence, after 1999, of the Scottish parliament.
The Sudden reason for the resurgence of Scottish independence as a realistic political project: 'the English nationalist revolution that channeled itself into the decision to take the UK as a whole out of the EU.'
Each on their own could not have brought us to the brink of independence but the synergy between these forces is overwhelming.
Slow
O'Toole charts the shift from a meeting in Renfrew in 1979 listening to the fiery and compelling rhetoric of Neil Kinnock (it's true he was a brilliant speaker, prior to his sellout of the Miners) where "Kinnock conjured a deeply moving fusion of Britishness and socialism."
"He didn't talk about the royal family or the union flag or the empire. He evoked the common struggles of the Welsh and Scottish miners, the shared history of battling for decent wages and conditions, the fight against fascism in the second World War, the building of the National Health Service, the expansion of free university education. This, Kinnock said, was Britishness. And they should oppose devolution because it would ultimately shatter the unity of the labour movement and weaken working people in every part of the UK."
This is the Britishness and the tropes of Britishness still trotted out by the remnant Unionist Left.
But it's all gone.
The idea of shared struggle, the folk-memory of the War has been turned into the Spitfire Nationalism of the Brexiteers and the Cath Kidston Toryism of the Keep Calm and Carry On meme, the National Health Service exists as a unifying concept (but it's devolved), and free university education has been commodified and was given away by the Liberal Democrats in their (highly successful) bid for political obscurity.
Gradual
The gradual process O'Toole outlines is more contemporary history: the past twenty years in which devolution, which was created by Labour in order to offset and displace the movement for sovereignty and instead consumed the Scottish Labour Party has evolved to create a distinct polity.
O' Toole has it:
"Devolution in Scotland didn't just respond to a sense of separateness; it created it. Scotland has always had its own legal system, but it has now evolved a distinctive electoral system, party structure and policy framework. It is to Sturgeon, not to Boris Johnson, that Scots look for leadership in the pandemic."
While it can be argued that this was the inevitable outcome of devolution – to create distinctive policies and respond to a backlog of cultural containment – there was nothing inevitable about the Unionists complete mishandling of the devolution process and energy.  Brighter Unionist politicians might have responded with reform and democracy and an updating of the creaking and semi-feudal relic of the British state. Instead we got more centralisation and festering cronyism and scandal after scandal after scandal: as the corruption and nepotism of the British political class rose to the surface timed precisely with the emergence of more democratic forms of media and the end of a culture of deference combined like a perfect storm.
Labour – having reluctantly created the Scottish parliament – failed to commit to it. The energy of the Labour Party was for Westminster rule, the focus of ambitious Labour politicians was power in London. Holyrood remained an afterthought, a backwater, something to be treated with mild disdain. As a result the candidates and policy development for Holyrood was second rate.
But Britain won't change because it can't change. That's the problem for the Left Unionists clinging on to the old notions of Britishness.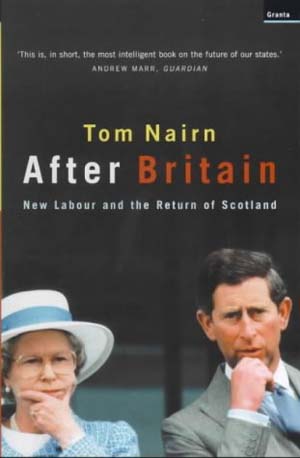 As Nairn wrote in After Britain:
"…this impersonation of old Britain should not be confused with real continuity. The country's rulers have now become a parody of themselves. "After-Britain" is simultaneously the heir to, and the absolute betrayer of, its past and traditions. Its real meaning is a "soft totalitarianism" under which society is ceaselessly convoked into whatever redemptive dream is projected by the governing elite and its media. The "revolutions" of 1979 and 1997 have continued to nourish the Unwritten Constitution, and to revere its retrospect of glamour and untouchable stability — a paralysing façade of reassurance, behind which a deeply divergent country has in truth emerged."
This is the new reality the map depicts.
When Nairn wrote of the UK as a "changeling Kingdom of Thatcher, Major and Blair — a parody of Britain which strives to rejuvenate itself by will-power, charisma, histrionics, cascades of "new ideas" and ingenious policies from cones to domes — anything except a new political constitution. Within this non-stop, non-revolution from above, what we see are features of revered tradition reinvented as farce, and sometimes transformed into their opposites."
What is Brexit if it's not a "non-stop, non-revolution from above"?
Sudden
O'Toole's 'sudden' event is of course Brexit, the process that some people think has just ended, but, ask a fisherman, is only just beginning. He writes:
"Brexit has reanimated both of these factors. It offends against the sense of being European held by most (though of course by no means all) Scots. And it turns one of the best arguments against independence (you'll be outside the EU) into one of the best arguments for it (you can apply to rejoin)."
"Above all, though, Brexit has rubbed the noses of the Scots in their status as junior partners in the union. They have been told repeatedly that their vote against it means nothing, and that their duty is just to suck it up."
Of course English nationalists will argue that English nationalism doesn't exist – and that any expression of it is an argument for it not existing – and that Brexit it is a manifestation of British nationalism.
It doesn't really matter either way – for Scotland the outcomes the same: economic chaos, restriction of workers rights, reduction of environmental regulations and a loss of basic freedoms. At a national level the result is also of course the power grab and the assault on devolution.
But now the slow the gradual and the sudden have combined, and the devolution settlement which not long ago seemed a 'settled will' now seems spectacular out of date and inadequate for the challenges we face.
Considering its 'origin story' can give us an insight into why devolution has failed for Labour. As Nairn was to write later: "As Donald Dewar knows (possibly better than anyone else alive), by 1997, devolving power to Edinburgh, Cardiff and Belfast had become a necessary condition of continuing that structure-let alone of "modernising" it."
In other words devolution was about continuity not change. That's one of the reasons it now seems past its sell by date.
And if we consider Dewar and the leaders that were to follow, we can see a slow but steady decline.
Nairn had genuine respect for Donald Dewar, as many did. He describes "Dewar's role in that process was always determined and honourable. It arose out of personal culture and thoughtful conviction, not-or not alone-from party necessity or a desire to dominate."
It's hard to imagine any of Dewar's predecessors being described in such words. The decline in Scottish Labour is not just a decline in personnel (and Anas Sarwar will offer no redemption from this inexorable process).
The Yellow Map is both exhilarating and depressing. It's exhilarating as a visual representation of imminent change, but it's depressing as we urgently need to get past this moment and into the next. We urgently need to get beyond this stasis – to 'After Britain' if you like – and begin the task of reconstructing Scotland as a country suitable for the 21st Century.