Reporting on the Union Policy Implementation Committee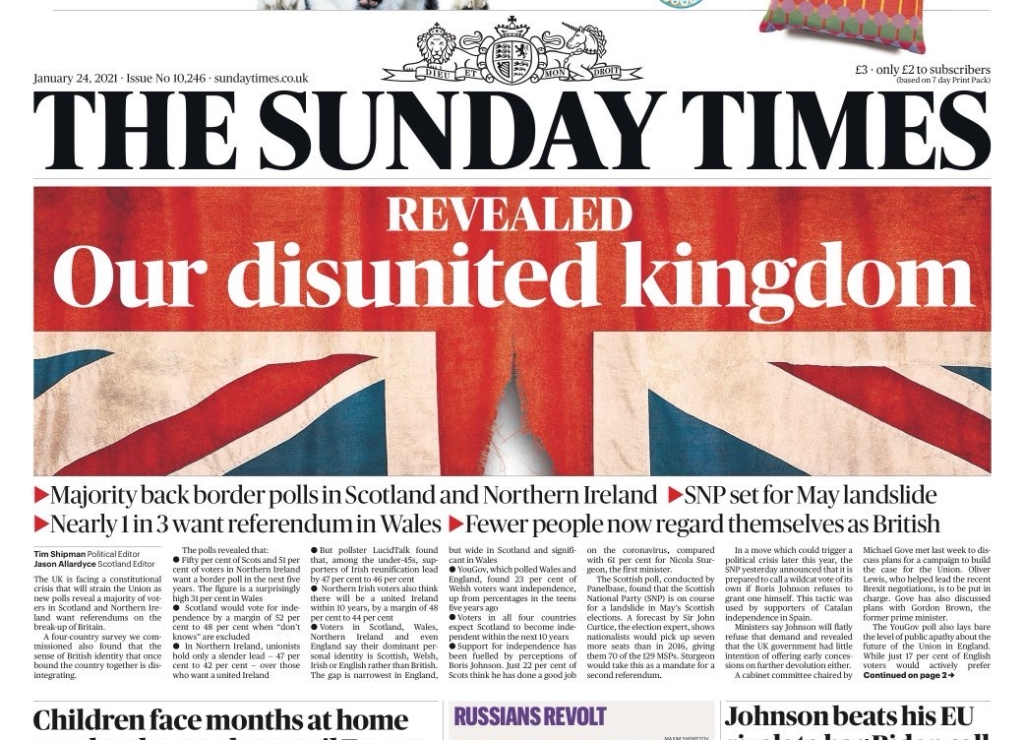 Looking at the big splash of the Sunday Times four-nation polling from yesterday ("Union in crisis as polls reveal voters want referendum on Scottish independence and united Ireland") many of us (mea culpa) focused on the numbers. But the surrounding analysis about the response to these 'revelations' was ignored. The analysis from Tim Shipman, John Boothman, Jason Allardyce and David Smith (Economics Editor) is extraordinary.
First, of course the polling is seen as a 'bombshell' and a 'revelation'. It's as if a whole editorial team has woken up from a deep slumber and suddenly realised that everything has changed. Where have they all been? Was their assumption really that Brexit could just be imposed and everything would be just fine? It reveals a pattern of hubris and entitlement that they are entirely unconscious of. Second, of course the default setting is that this is all terrible – the response is 'what can we do to stop all of this?' – 'how can we shut everything down?' Anything – even/especially profoundly anti-democratic measures are just assumed to be fine because the overall objective – stopping any change – is essential. Third the assumptions behind much of their analysis is breathtaking. David Smith writes "England's great river of cash keeps nations afloat".  The notion of England as benefactor to the mendicant Celtic fringe is taken as read. As always no-one is to question why such 'rivers of cash' are required within such a successful Union. Fourth, they are obsessed with identity. The assumption is that this is all about identity and nothing to do with values and hard politics. They are blind to the political failures of the British state over decades. Finally they seem completely unaware how Gordon Brown is perceived. He is exhumed as a Saviour, as is 'Devo-Max' which is understood unthinkingly as a clever ruse, the ultimate spoiler. Again, they appear entirely blind to how any of this is understood.
The actual responses to these polls is reported with excited glee ('Send for Sonic').  But the Conservative and Unionist responses are both pitiful and desperate.

"The first step will be to properly contest the election" Shipman, Allardyce and Boothman report, which, er, seems like a good idea. "The high-end argument advanced by ministers  and unionists is designed to engender more warmth towards the Union by overturning the "woke-left view" that it is somehow a residue of Empire" they write, apparently in all seriousness.


*

They continue: "Expect ministers to hail the London government – with two of the top four jobs in the hands of non-white ministers – as more multicultural than France or Germany." What? After Brexit they think that Britain can be re-packaged as an outward-looking progressive entity? They're going to sell us Priti Patel as a symbol of progressive multi-culturalism?


*

Next they argue: "More practically, the case will be made that the roll-out of the vaccine in Scotland using members of the British armed forces, and the UK Treasury's support for jobs as evidence of valuable co-operation." The underlying message is: "We vaccinated you! You ungrateful *******!"   They think this will win people over.


*

They think the power-grab of the Internal Market Bill is a winner: "London has kept control of money that used to go into EU structural funds to pay for better roads in the Highlands, rather than let the Scottish government get the money and the credit" they write, again, apparently in all seriousness.  There was no analysis or seeming understanding that undermining devolution through Brexit might not go down well. Instead it is framed as clever London stopping the Scottish government getting money. It seems to have been written in blissful ignorance.


*

If it's not ignorant its vague: "officials are looking at reforms to the way government is done in Britain, encompassing councils, mayors and the way the evolved administrations interact, which could involve greater devolution" we're told. I've re-read this a couple of times and I'm none the wiser. The funny thing is the sort of state of abject panic and fear in much of the reporting, followed by writing that assumes these vague mumbled nothing responses are somehow credible and adequate.


*

Next up, here comes Gordon. "Gove has been in talks with the former prime minister Gordon Brown, among others, on how to save the Union" we're told in hushed tones. "Brown is leading a constitutional review for Labour expected within 18 months (lols – Ed) to recommend a federal system, with sweeping powers for Holyrood. A devo-max model would devolve most functions, except defence and foreign affairs" they explain. Apart from the fact that Gordon Brown isn't in office and there are elections in May, this all sounds rather lovely. It's like a Brownhog Day of repeating the same weird constitutional slogans and expecting to summons some magical solution. This is politics as incantation. That it s reported solemnly by very senior journalists is mind-blowing. Everything is regressive. The purpose of everything proposed is just to stop independence. It has no other higher goal. The function or reason for federalism is never explained, nor is where the political energy for such a massive change will come from.


*

Lastly, and gloriously, Shipman, Allardyce and Boothman write: "If pressure did lead to a referendum London still has some cards. Alex Salmond was taken aback by how accommodating David Cameron was … letting 16 year-olds vote and agreeing to hold it around the 700th Anniversary of Bannockburn. If there is a next time, Johnson and Gove would be less so. Ministers would explore giving the vote to Scots living elsewhere in the UK." Sighs. I mean this is all just puerile and desperate. But what's interesting is the continuity. There's no real case being made for the Union, apart from "we let you have the vaccine", which was nice of them and all but it doesn't really draw you into the warm glow of a brilliant future together, does it?Anyway, as these chaps should know, the franchise of the referendum is not in the power of the PM to give.


*


If they really want to know about 16 year olds they should read their colleague Alex Massie who writes in the same spread: "The United Kingdom is, in a quite literal sense, dying."  … "As Angus Robertson, former deputy leader of the SNP recently put it: each year 'roughly 55,000 predominantly Yes-supporting 16 year-olds' are added to  the electoral roll while '55,000 predominantly no-supporting older voters' shuffle off the register."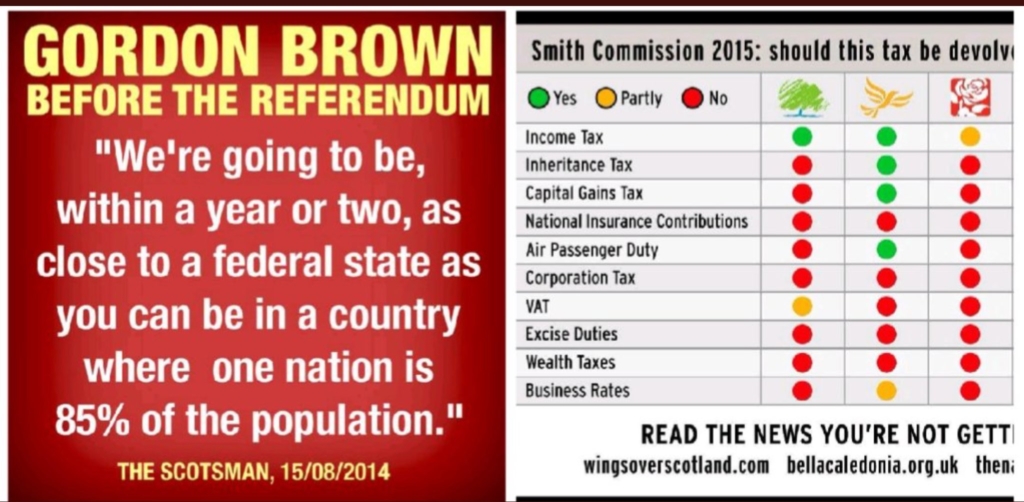 It's confusing why they think Gordon Brown has such appeal. Much of the media commentariat hated him when he was in office – a time where he endured open anti-Scottish bigotry – and his time in No 10 was short-lived and not particularly successful. Why do they think he'll be so wildly influential now? Presumably because they think he's more Scottish than Michael Gove and less-loathed because he's not a Tory. Everything about their analysis is so petty and one-dimensional. This stems from the fact that this is what they think is driving independence: personalities, identity, bigotry.
None of this really seems serious or credible at all, neither the political offerings by the Orwellian-sounding 'Union Policy Implementation Committee' nor the pliant and dosy analysis put out by the Sunday Times lead writers and their Political Editor. The disconnect between the panic and fear and sense of crisis ('UK faces becoming a 'failed state' without nationwide reforms') and the sort of abject banality of the response is really quite encouraging. They really don't know what to do.