Goodbye Scotland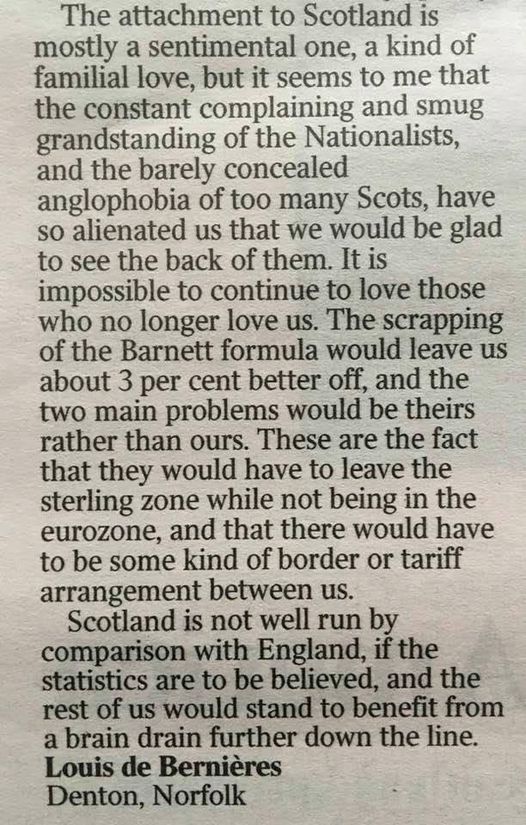 Lead letter in today's The Times and The Sunday Times reveals a huge gaping hole in Labour Unionism. It's from Louis de Berniéres, author of mid 1990s bestseller Captain Corelli's Mandolin. I've no idea of his politics but I suspect his letter reflects a pretty solidly middle England opinion. 'Oh those whining Scots, take our subsidies, hate us in return'.
And while stereotypes can be misleading I'll just float this thought, having been a traveling England fan, home and away 1996-2012, the one section of the English population absolutely solidly convinced Scotland is a separate country are England fans, so what might the 'Red Wall' think of waving goodbye to Scotland, p'raps not a lot, or sooner the better.
The Tories sacrifice next to nothing losing Scotland, in terms of seats, and everything to gain at Labour's expense. Oh that suffix 'and Unionist Party' read my lips, all Johnson care about is staying in power, just look how the DUP were dumped as soon as it was expedient to do so.
Which potentially leaves The Labour Party's unionism up somewhere without a paddle, lone defenders of a fast disappearing Union. And with the Tories 2014 Indy little helper Gordon Brown, delivering the 2010-2015 collapse from 41 Scots seats to 1 as Labour's go-to adviser on constitutional matters, yeah that will work.
Labour has one chance, in the window of opportunity after the SNP and Scots Greens secure a pro-indy referendum majority in the May Scots Parliament election with Labour way behind. At that moment Keir needs to make the speech of his life.
Recognise that the Union is over, commit to a referendum if the Scots parliament votes for it and Scots Labour to campaign for independence should they vote for it. A speech to welcome, a new era of our countries, Wales will follow shortly to work together. Labour as the party that can make three nations on one small island a reality. To commit that as in Scotland and Wales Westminster, for however it remains, thereafter an English parliament, Commons and new second chamber, elected by Proportional Representation. Labour as a modern, democratic reforming party with an economic reform programme to match, the two are indivisible. Will he? With the current Scottish Labour leadership campaign singularly ignoring every mistake they've made since 2014 , I'm not holding my breath.
If Keir doesn't tho' Johnson my well tear Labour apart with the smartest move of his career yet, goodbye Scotland.