Fear and Loathing at the Holyrood Committee Stage
A feature of this last year, despite the fact that many will remember it as the year of Black Lives Matter, is the kickback against change, the reaction to racism being high on the news agenda. Those of an "all lives matter" disposition were clearly enraged that society, the media, and the arts were reflecting on, and addressing issues related to racism, discrimination and privilege. Of course this isn't new or unique to this year. Every advance in rights for minorities, every move to combat bigotry and prejudice has been met with resistance. Against this backdrop, amid this atmosphere came the Scottish Governments Hate Crime Bill, now reaching the next stage of its progression through Parliament.
Essentially the Bill is an attempt to tidy up existing laws, to bring the current laws on hate crime up-to-date and fit for purpose.  The focus for some critics of the bill has been the "stirring up" element. This would equalise hate crime by applying the existing crime of 'stirring up racial hatred' to acts against other minorities and protected categories.
This criticism has ranged from legal contributions designed to tighten up wording of the initial draft of the bill, to alt-right "free speech" advocates objecting to limits on their offensive actions and words.
Now, nothing about this is unusual. This is how legislation develops, initial proposals move through the processes, being tightened and improved by consulting with experts in the field and those with lived experience of the issues. Compromises are made at each stage. While legal contributions have been considered and have already changed much of the phrasing and wording, other 'bad actors' have used the same stages of the bill for a familiar cry of free speech, a broad cape that has allowed the far right and alt-right into the debate. We would hear those people try to hitch a ride on genuine concerns from the legal profession on the practical implications and delivery of the bill as it was first proposed. Their motivations for disrupting the bill were and still are, I am no doubt, different.
From an arts perspective one theme that started to emerge was how this would restrict artistic freedom of expression. Scare stories emerged on social media, repeated on mainstream news and press, that this would be a draconian sledge hammer that would crush free speech. I watched an online "debate" by a radio station that had accepted this line. Expert opinions, from people with no legal or legislative background, suggested that writers and directors in theatre could be prosecuted if they had a racist character in their play, even actors could be guilty of a crime for playing that character. We were told, without challenge, by speaker after speaker, comment after comment, that literally anything we write could be deemed to be "stirring up hatred", our prisons would be full of poets and theatre-makers.
This was familiar to me, I had heard it before, many times in different forms. In fact artists were already subject to this perceived limitation. The possibility of being prosecuted for "acts intended or likely to stir up racial hatred" has been there since the Public Order Act of 1986. If extending this to other protected characteristics was going to lead to a watershed of new censorship then we would surely have had evidence of this being the case re Race Hate Crime for over 30 years. Where are these writers, artists, actors, prosecuted for "stirring up"? Of course, there are none. When the Act became law the same arguments were made at the time. And the arguments, from the right, were the same as now. "We won't be allowed to say this anymore" "It's an attack on free speech".
And, often, those writing or broadcasting about the threat to their freedom of speech are people with the most freedoms and biggest platforms for their speech and expression.
In recent years we have seen this re immigration, and islamophobia in particular. Populist propaganda that "you're not allowed to talk about immigration" was clearly countered by the fact that everyone was talking about it, on every TV show and every radio channel, in every newspaper and blog. "I'm not allowed to say this on TV" says the man, on TV, saying it again. Nigel Farage appeared on BBC's Question Time more often than any other panellist in the show's history. Question Time, famously, invited Nick Griffin, leader of the neo-Nazi BNP, to their panel, no doubt for a sense of balance.
We often hear about 'Cancel Culture' but when we do hear about it, it's often about a relatively small amount of cases worldwide involving a white academic or writer being uninvited or not being invited to an event. What we don't hear about are the minorities who don't get asked in the first place, who are cancelled before the invites are even posted. Free speech on University campuses is important. But the handful of high profile cases that capture the attention of the press are not where the very real problem lies. Research by SAOS University of London found that Muslim students were modifying their behaviour because of the Government's Prevent strategy, for fear of being stigmatised, labelled as extremist or subjected to discrimination.  The Office for Students reported that over 60,000 events and speakers were considered under Prevent restrictions in 2018, with more than 2,000 having conditions attached before going ahead.
Reaction to change, as I have said, isn't new. Each generation faces changes that they struggle to understand, that they relate to their own worldview and perception of some imagined 'better time', when things were clearer. One of the constant refrains from the free speech brigade is to look back at the past and state "you wouldn't get away with that now". Of course that's true, there are many things we watched on TV growing up that quite rightly would never be shown now. The Black and White Minstrel Show ran until 1978 amid a TV schedule riddled with racial stereotypes and blatantly racist sitcoms. Recently we have seen controversy over shows being "cancelled" when, in fact, it was simply a choice by broadcasters to no longer highlight historical shows that they now think are problematic. Not banned, not burned in woke cauldrons, just not broadcast. If you are a big fan of 'blackface' or stereotypical portrayals of "Johnny Foreigner" you can still go buy the DVD.
The imagined 'golden age' of freedom of expression was, in fact, only free to some. In 1977, moral campaigner Mary Whitehouse took the magazine Gay News to court under the blasphemy laws that existed at the time (blasphemous libel was abolished as an offence in 2008 – another change that caused the alt-right to lose it). The "offence" was a poem by James Kirkup "The Love That Dares to Speak His Name". Gay News and their publisher Denis Lemon were found guilty.  It would be 1994 before the first pre-watershed lesbian kiss, on Channel 4's Soap Brookside, was screened. Can you imagine a world where love between two women was deemed unacceptable and had never been represented on mainstream television?
These days, the content that reaches TV screens is far more challenging, far more controversial and expresses far more opinions and views than this imagined past. Would Frankie Boyle's New World Order or Black Mirror have been broadcast back then? Well, no they would have been deemed to be far beyond the acceptable limits. As would I May Destroy You and many of the current dramas that deal with real issues. No, the claim that there is increasing censorship, that "the woke" are policing our every word and every artists freedom to create, just doesn't stand up to any serious scrutiny.
The fact that the Justice Minister is a person of colour does mean that the extreme right and racists will be drawn to this debate, not something he is unused to – but it's not just usual suspects. Artists that I know, and would not have expected to join in with this faux free speech rally, have got onboard with it.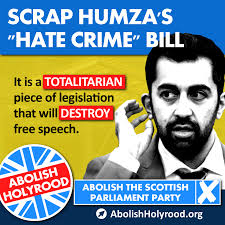 There is nothing to worry about for most artists in the Scottish Government's new bill. Of course, if your 'art' is a Nazi dog on Youtube or a transphobic poem then maybe it's your own perspective that is wrong and I can see why you would resist change.
The problem, to me, in much of this is what people see as their world now. Exacerbated by COVID lockdowns, Twitter is where many people think the world is played out. For any crime to be prosecuted, there is a procedure, there are checks and balances. It's not about whether someone calls you a racist on social media. A criminal offence would need evidence; would need the Crown Office to deem it in the public interest to bring it to court; would mean a trial and judgement by a jury of your peers. We have the evidence of the existing laws on "stirring up racial hatred", if these new laws led to your own art being prosecuted it would it mean that it passed through the scrutiny that no other play or book has managed to breach since "stirring up racial hatred" became an offence. It would mean that your TV script was more problematic than the most racist TV show in the last 35 years (which didn't make it to court or result in a prosecution). If you're not planning to write that script, then you should be fine.