A Corporate Media Takeover for the Brexitland Era
Despite the efforts of this parish and many others (Double Down News, Open Democracy, Byline Times, The Ferret) the attempt to democratise the media is under assault. Three recent examples spring to mind: the imminent launch of Andrew Neil's GB News, the appointment of Paul Dacre as the Chairman of Ofcom and the appointment of Richard Sharp – a man who has openly donated £400,000 to the Conservative party – as the new chair of the BBC.
For an example of Dacre's editorial qualities see the cartoon from 2015 published in the Daily Mail under Mr. Dacre's editorship.
These appointments have a synergy to them. Andrew Neil has assured us that GB News will be bound by Ofcom, but with Dacre at the helm that assurance holds little weight. It seems clear that Neil's model is a Fox-style highly-partisan news to give platform to himself and kindred spirits. Neil has declared it will serve the "vast number of British people who feel undeserved and unheard", arguing that "the direction of news debate in Britain is increasingly woke and out of touch with the majority of its people".
That's not my experience of broadcast news but I don't inhabit the same reality as the former UK Editor of the Economist, the Sunday Times, Executive Chairman of Sky Television, publisher of the Scotsman and supporter of the Adam Smith Institute, who somehow manages to frame himself as Edgelord Outsider and champion of the little people.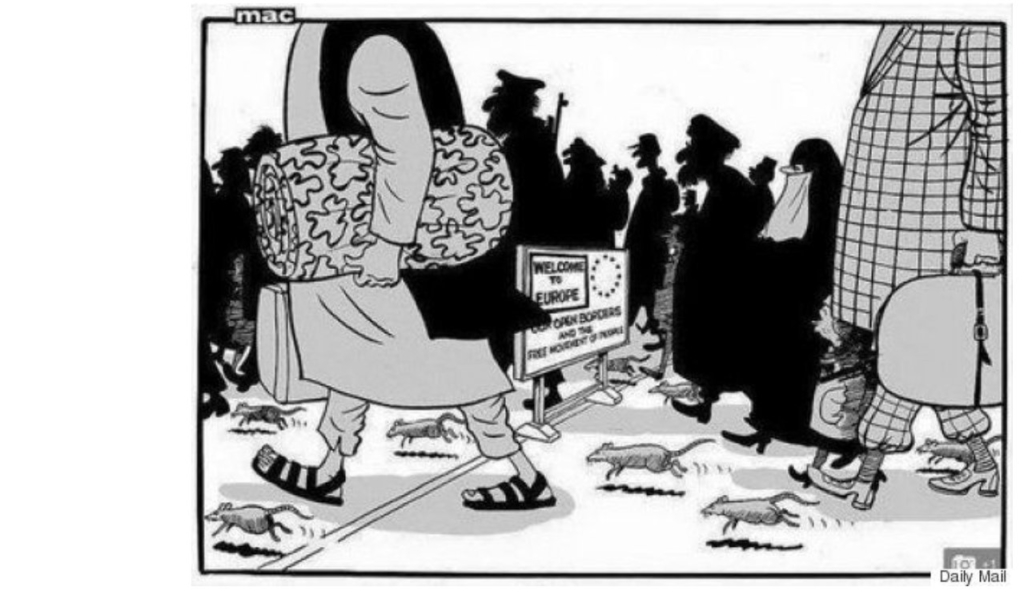 Neil's litany of media blunders and interventions is too long to cover, but here's a few gems from his back-cataologue.
In 2018 he claimed one in five Scottish children were illiterate. The BBC executive complaints unit said the figure had originally been put forward by a spokesperson for the Scottish Conservatives as being based on the 2009 Scottish Survey for Literacy and Numeracy. But the unit said the survey "contained no reference to 'functional illiteracy', and added that there was"no data which would have justified the claim in question". The unit said: "The Sunday Politics team has been reminded of the need to establish the evidential basis of claims that are quoted in its questions."
Not long after joining the BBC Neil made a speech praising the rightwing radical Friedrich Hayek. He called for a "radical programme to liberalise the British economy; a radical reduction in tax and public spending as a share of the economy" as well as a flat tax "and the injection of choice and competition into the public sector on a scale not yet contemplated". It was astonishing for expressing radical views and riding roughshod over BBC guidelines as he continued to do unrestrained over his time at the corporation.

Neil's entry to the Register of Journalists' Interests makes for interesting reading too.
Whilst most journalists have a simple one line, Neil has this:
"Chairman, Press Holdings Media Group (The Spectator, Spectator Health, Life, Money & Australia; and Apollo, the international arts magazine). Chairman, ITP Magazine Group (Dubai). Chairman, The Addison Club (London). Director, Glenburn Enterprises Limited (provides media and consultancy services). Fees for speaking at, hosting or chairing an event were received from the following organisations: Mergermarket (publication covering mergers); Investment Fund Managers (umbrella for investment managers); Standard Life Aberdeen (global asset managers); The British Security Industry Association (trade body representing the UK's private security industry); BNY Mellon (global bank); Brewin Dolphin (fund managers); IBC Amsterdam (annual trade fair for global broadcasters); Step (association of Financial Planners); Parliamentary Review (publication for business and politics); Weil, Gotshal (law firm); British Retail Consortium (association for retailers); Clyde & Co (law firm); Tudor Capital (hedge fund); Goodacre (financial services specialists); Retail Motor Industry association (vehicle dealers); London Metal Exchange; IIR (Association of senior investment managers); AON (professional services firm); HSBC (bank); EY (professional services); Construction News (publication for UK construction industry); National House Building Council; PARC (professional services); Lloyds Bank; Christie & Co (property advisory service); Premier (asset management advisers); Zurich Insurance (global insurance company); NBC News executives (US news network); ABI (association of insolvency experts); SES (European satellite providers); Publishers Association (of British book publishers); Stonehenge (property developers); Landmark (association of small retailers); RBS (bank); Belfast Chamber of Commerce; GAIM, Global Alternative Investment Managers Conference; Dairy UK (association of dairy producers) (registered July 2018)."
This is the apogee of corporate media.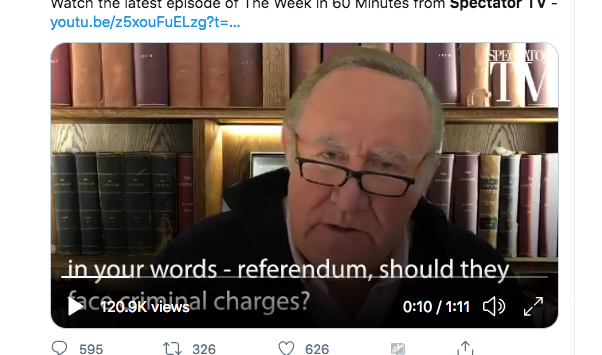 We got a glimpse of the tone of GB News this week when Andrew Neil and Douglas Ross discuss arresting Scottish Government ministers for enacting the will of the parliament and Neil interviewed his own employees about their rancid views:
'They have to be answerable for their actions' – Andrew Neil asks Douglas Ross whether SNP ministers should face criminal charges if they hold a 'wildcat' referendum.

Watch the latest episode of The Week in 60 Minutes from Spectator TV – https://t.co/nnOYtRZcKM pic.twitter.com/CWDkgB8iyZ

— The Spectator (@spectator) February 11, 2021
The narrative is a Trumpian 'Stop the Vote' one, with a smarter veneer.
GB news is the TV for our truthiness era, the ideal station for Brexitland Britain a safe-haven for Generation Gammon – appalled by everything they see in a world they rule over in selective outrage. We live in a world of middle-aged grievance fantasy, an orgy of paranoia which manifests itself in a splatter-ground of disastrous long-term consequences: the No Vote, Brexit and climate denialism.
The "problem" that Neil proposes is to create an alternative to a news culture in Britain from which he himself trousered a salary of more than £550,000 – more (he admitted) than the Prime Minister. In fact documents filed at Companies House show that shareholders' funds at Neil's company, Glenburn Enterprises, stood at £7.27 million ($9.45 million) from 2016.
As Owen Jones has written:
"Imagine this. The BBC appoints a prominent radical leftist, a lifelong Bennite, the chairman of the publisher of a prominent leftwing publication no less, as its flagship political presenter and interviewer. This person has made speeches in homage of Karl Marx calling for the establishment of full-blooded socialism in Britain, including a massive increase in public ownership, hiking taxes on the rich to fund a huge public investment programme, and reversing anti-union laws. They appear on our "impartial" Auntie Beeb wearing a tie emblazoned with the logo of a hardline leftist thinktank. Their BBC editor is a former Labour staffer who moves to become Jeremy Corbyn's communications chief. They use their Twitter feed – where they have amassed hundreds of thousands of followers thanks to a platform handed to them by the BBC – to promote radical leftist causes. This would never happen. It is unthinkable."
That's the media he is railing against. That's the problem he is fixing.
This is Gaslighting on a massive scale. This is a direct attack on democratic standards.
We've seen in the US the result of a media landscape that feeds disinformation and propaganda into the public consciousness, drip-feeding the message of the far-right and re-shaping the narrative into more and more extreme and previously unconscionable views. It's not that it couldn't happen here, it already has.
The grotesque media landscape is a mirror of corporate interests and a generational warzone. It magnifies what Mark Fisher called "the solitary urinal of male subjectivity" and will leave us more and more vulnerable to the predatory instincts of Britannia Unchained.