Stuart Campbell is a Disgrace that has Soiled Our Movement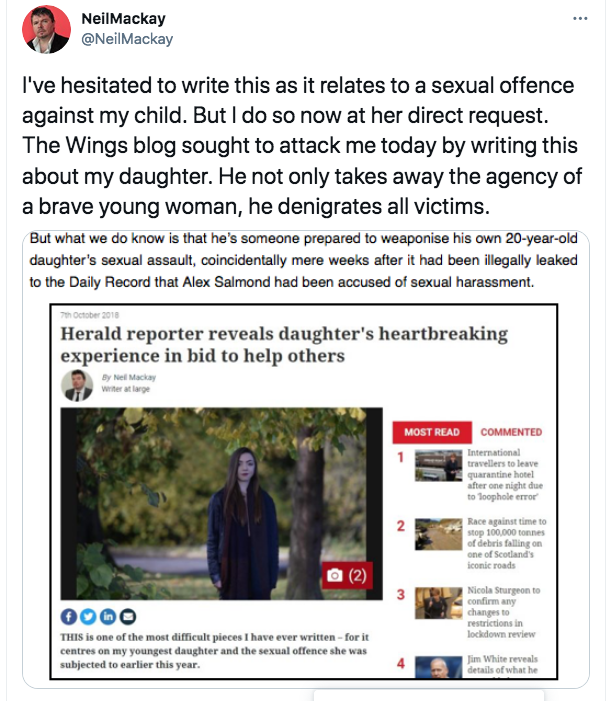 Whilst it's good to see lots of people now separating themselves from Stuart Campbell's disgraceful hate blog yesterday after his latest publications, it's also so overdue as to be it's own shame.
Apologists for Campbell have hidden behind the idea that his "analysis is great", none of which stands up to scrutiny. Here's some of his great analysis below.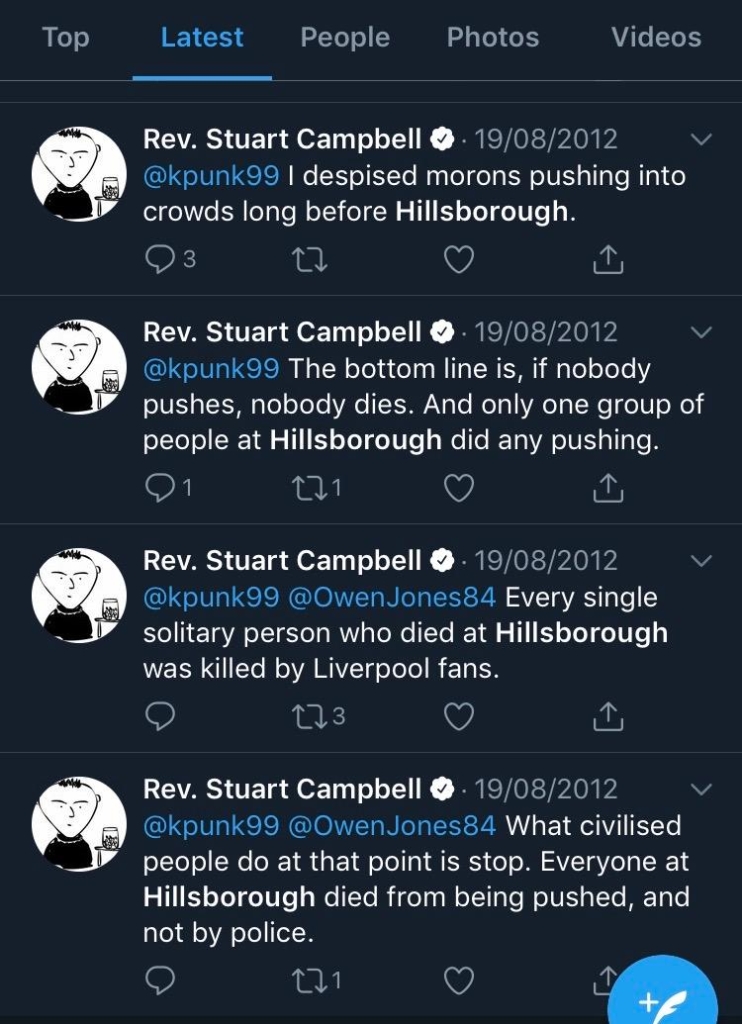 But this is 2021. None of it matters any more. The point is to dissociate a progressive movement from its most reactionary elements.
I understand the hesitancy to go here.
As the journalist Caitlin Logan has written: "Constantly debating over whether there is even a point in commenting on all of the infuriating awfulness of Scottish politics and associated media and social media, but I have, again, been pushed to the point where I feel the need to say something. With particular reference to the section of Stuart Campbell's blog which invoked Neil Mackay's daughter's sexual assault as a means of attacking him. Now deleted but with the opposite of an apology. Before that, it was already shared by Kenny McAskill and liked by Joanna Cherry."
So here we are in a space where someone focuses on a journalists religious background to discredit and smear them – and then focuses on his daughters sexual assault in order to bring down the wrath of his cult demons. Campbell, sensing he's strayed even beyond his own zone of outrage issued a non-apology saying:
"We've removed a paragraph from this piece that didn't add anything to the story and which Neil Mackay was using to whip up a lynch mob. We hadn't been asked to, but we can't be bothered with the distraction and we hadn't intended for any of the focus of this piece to land on anyone but Neil Mackay."
In the world of Campbell this is tactic acknowledgement that there's a legal or moral problem with spewing out such relentless bile.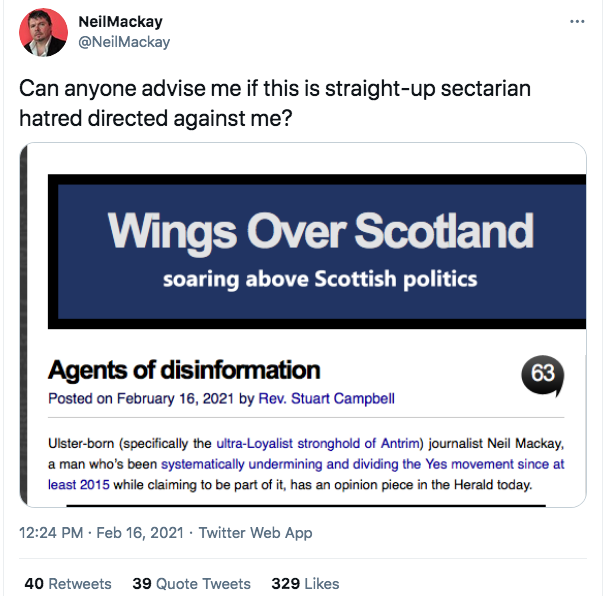 Why has this taken so long?
One of the reasons this has taken so long for people to move away from this is that its been (wrongly) assumed that the more vicious you are the more effective you are. Rage has been misunderstood as radicalism. In what has been assumed to be a 'war' the aim has been to 'destroy' the enemy. But if the 'enemy' is people you need to persuade to your cause this is a fatally flawed argument. Here the suave Peter Bell describes this approach as the artillery":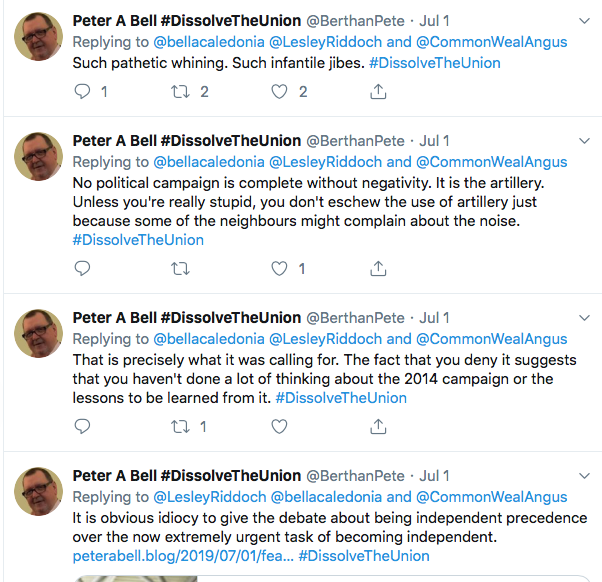 The second is the idea that Campbell's site is somehow a threat to the Unionists in Scotland. It's really not and never has been. It's such a spectacular own-goal to have such a vicious voice and such a divisive figure in your own ranks. The idea that someone who was a wavering No voter or Don't Know voter would be persuaded by reading Wings is deeply delusional. They would first have to wade through screeds of bizarre posts about trans people and then a further acres of text about why the SNP leadership is the devil incarnate before finding anything about independence. The litigious failure against Kezia Dugdale was – at the time – considered a massive success by Campbell's supporters – but what exactly did it achieve?
The third reason it's taken so long is the myth of unity. For years people have defended Campbell saying "don't attack your own" (ignoring the glaring double-standards of him doing just that with unprecedented viciousness). There's a real need for any political movement to have diversity within it and divergent views. In movement-building its known as 'unity in diversity'. But what you also need is a threshold. You need some parameters. Whatever the operational use of an attack-dog you need a threshold based on some common values.
The fourth reason it has taken so long for Campbell to be outcast is that his supporters operate in a subculture that is sealed from the outside world. The cult has language codes, logos, slogans and forums to congregate and blocking mechanisms to stop members experiencing views they don't agree with.
The political context of the Wings phenomenon
The political context for this bizarre phenomenon is worth noting. The first is the twist in the road from widespread discontent at the shape and standards of the media – into something which looks much more like pure hate: that all journalists are scum, that all media institutions are corrupt and that the media is the enemy. The attack on Neil Mackay couldn't have come outwith this context [I should say I have been published by Neil Mackay, I have publicly and privately disagreed with him and I think he's made grave editorial decisions, but it goes without saying that none of this means he is deserving of the abuse he received this week].
The second piece of political context for the Wings phenomenon is the backlash against women's rights. If his blog is now a focal point for the "trans debate" (sic), the bigotry and intolerance that pre-dates this is a hatred of feminist thinking – a worldview shared by Craig Murray (see for example Another Vicious Ugly-Souled Feminist – Thoughts on Feminism) and reiterated by the narrative of The Salmond Witches.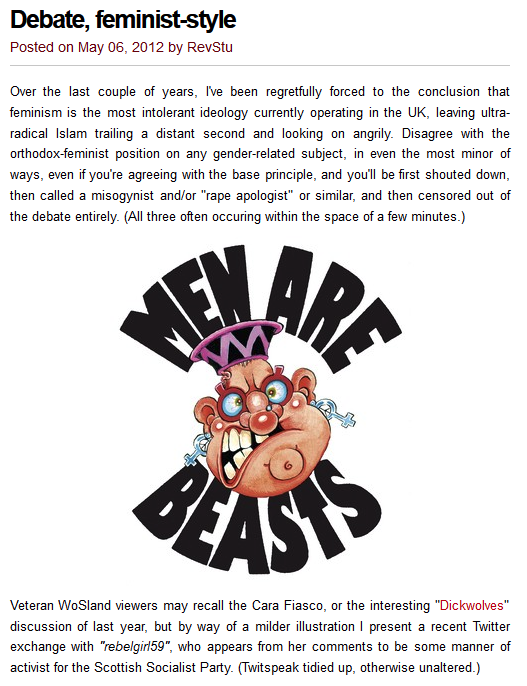 Examples of this are everywhere …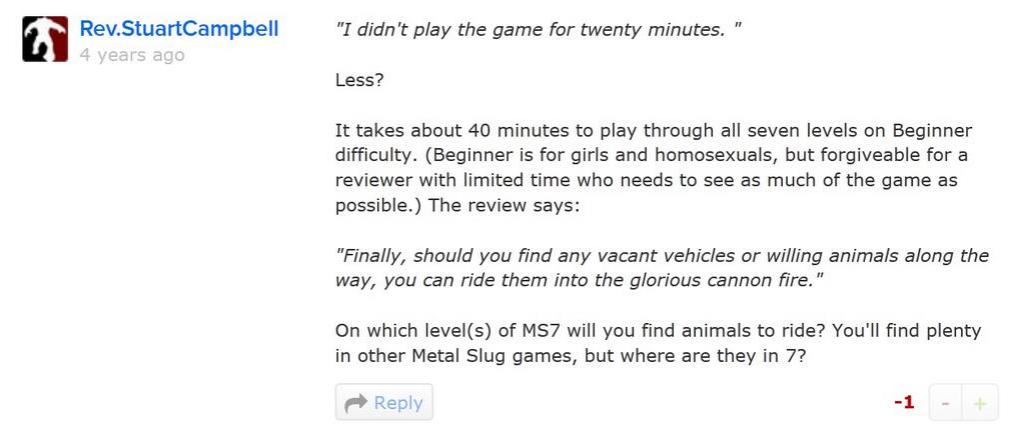 But if the site is laced with misogyny it is also laced with language and levels of vitriol that are off the chart. So none of this weeks attacks are new. This is from 2009:

Or this from 2015 …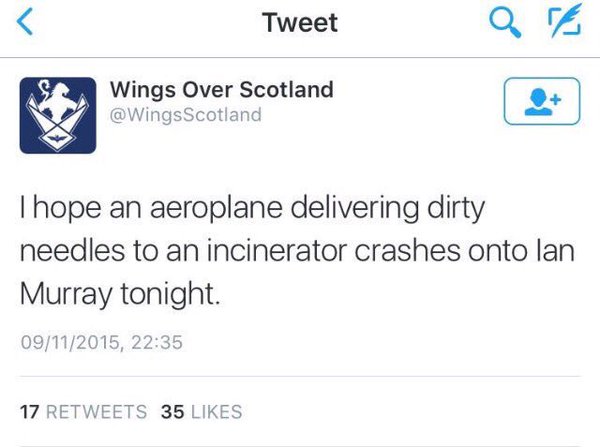 This level of hatred has been sustained over years and the misogyny has morphed neatly into attacks on the First Minister with obvious echoes of the "Lock her up" language of the Trump campaign against Hillary Clinton.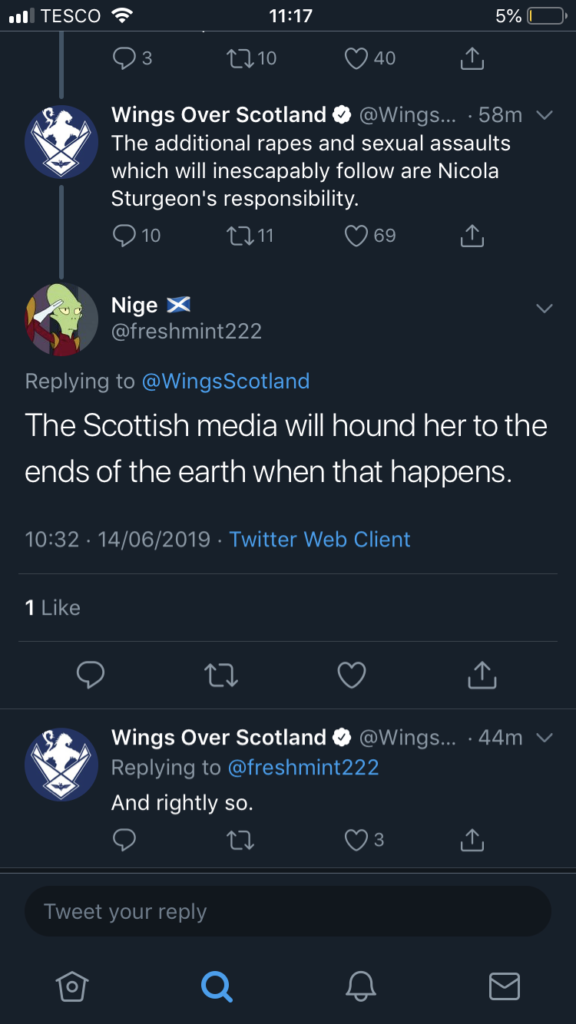 Many times the bigotry is indistinguishable and just becomes a stream of consciousness. Here he is mocking a women for using her Irish name …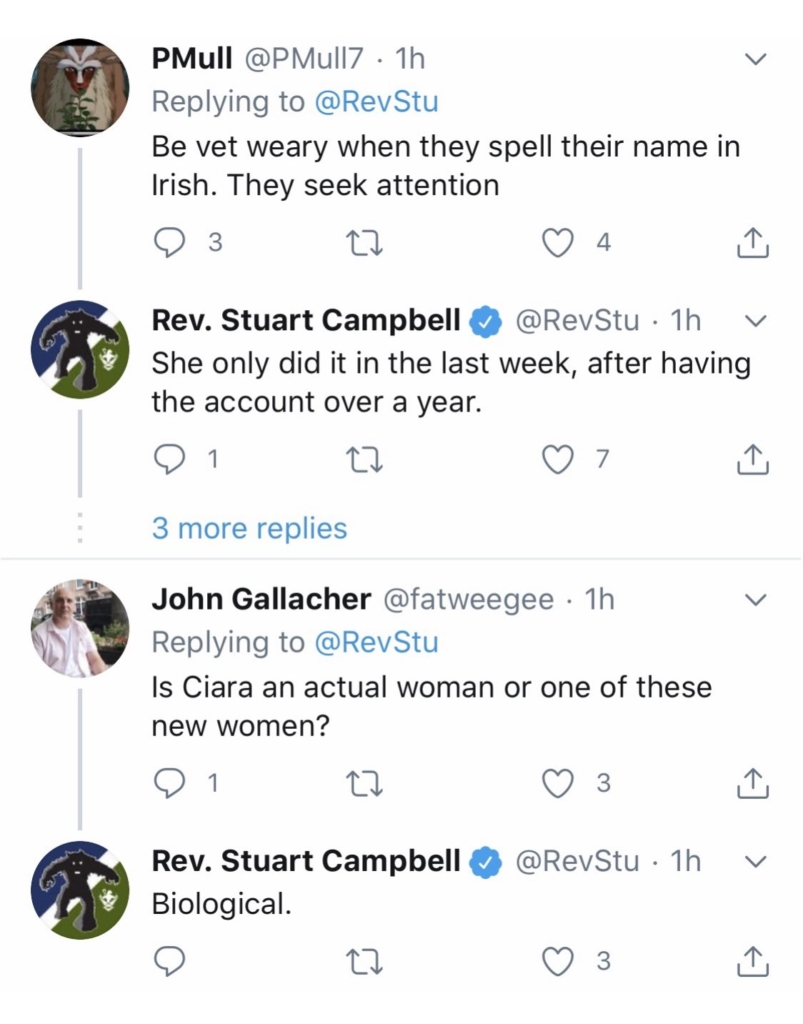 Here he is on Scottish Gaelic (I won't bother to point out the dark irony of such drivel):
"Non-primary native languages are a tool whose main utility in practice is at best the exclusion of outsiders, and at worst an expression of
dodgy blood-and-soil ethnic nationalism
. They're a barrier to communication and an irritation to the vast majority of the population, who are made to feel like uncultured aliens in their own land."
Recently the (quote) "war against the woke scumbags" has taken a turn against disabled people, here again its difficult to distinguish between casual racism, misogyny and assorted bigotry …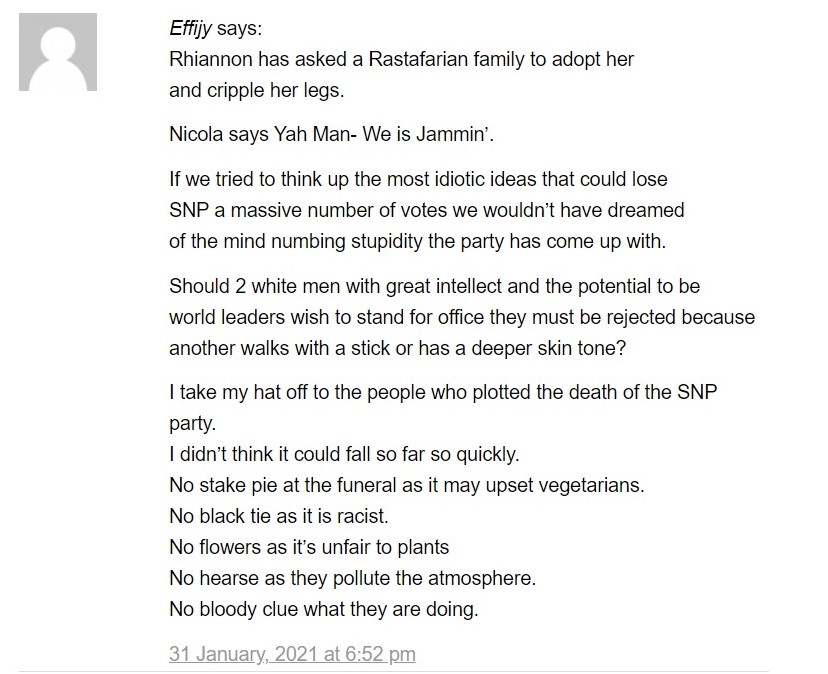 The comments section is a treat: "What makes you BAME?"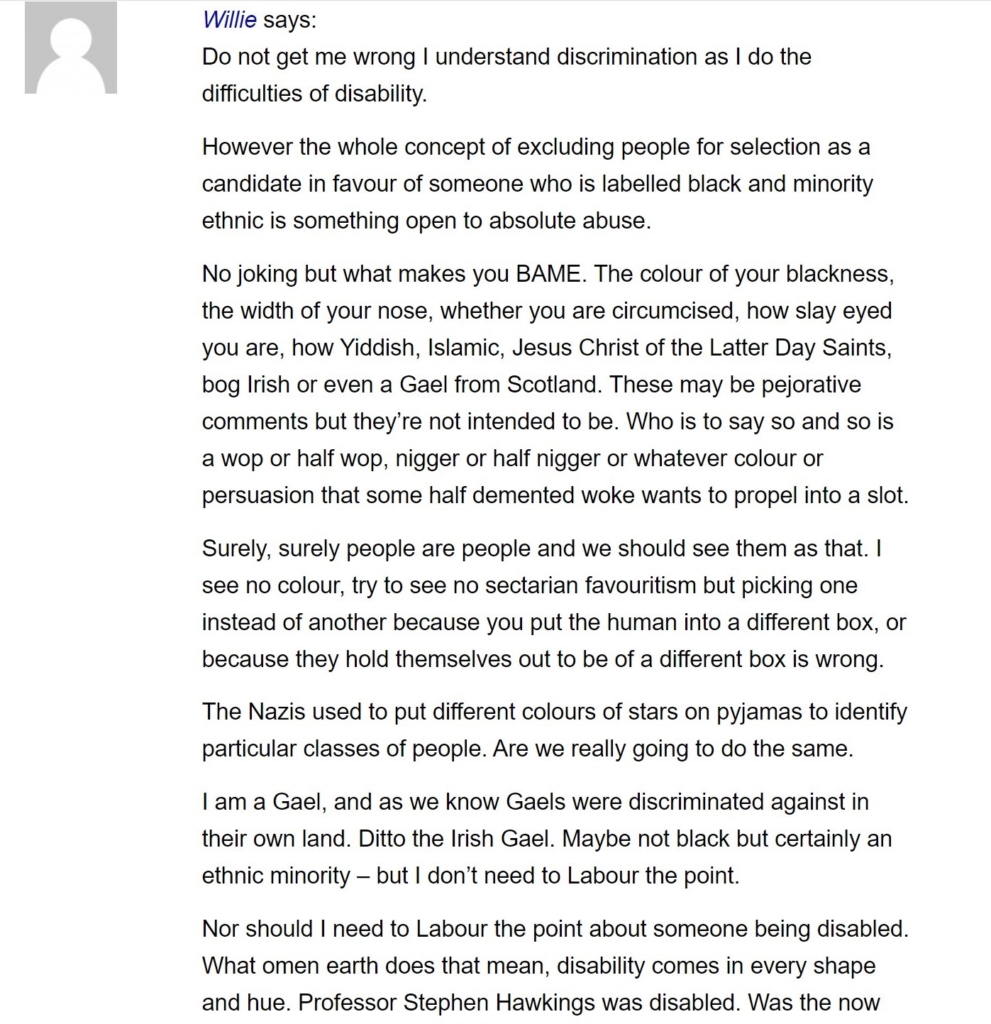 Nobody is off limits, not even an autistic child: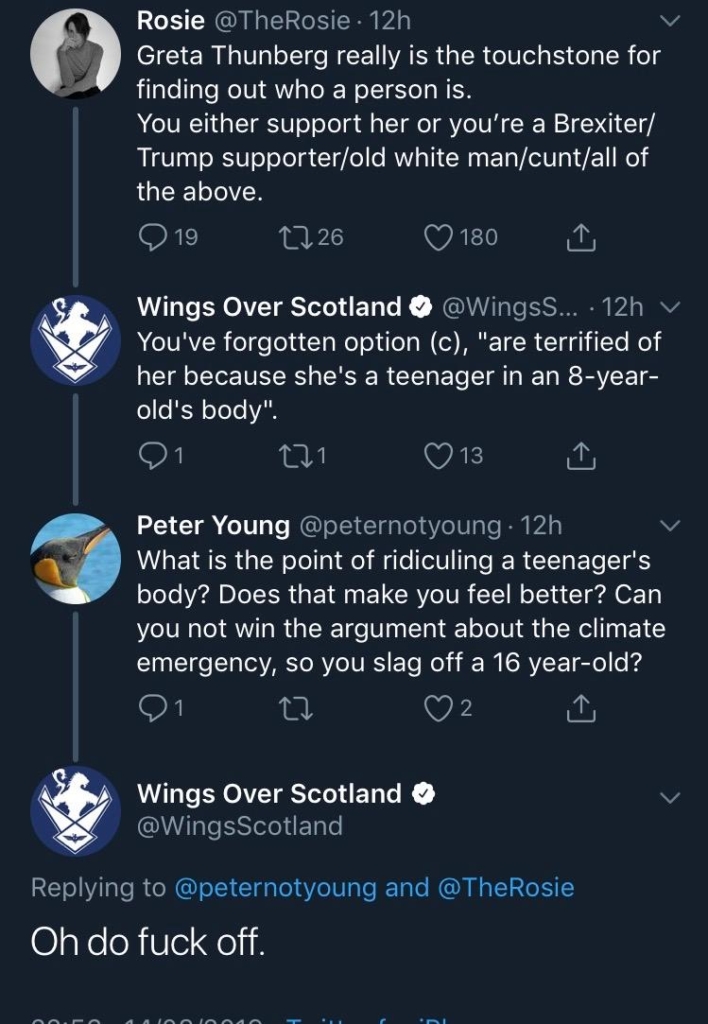 This is endless and maybe pointless. For the remnants of the cult these examples will mean nothing because there is no threshold to his or their behaviour. There is no such thing as thinking about ends and means, and no language or tactics are beyond the pale in the pursuit of … whatever it is they are in pursuit of now.
Another aspect of this is that because the 2014 election was lost because of black ops / missing ballot boxes / M15 (* insert your own Alt-Nat excuse here *), and because anyone advocating a Section 30 Order is a 'Yoon traitor" there is actually no need to be persuasive, to win people over, to think about how you behave, to reflect on your own behaviour or your own movement or to be self-critical.
Why would you?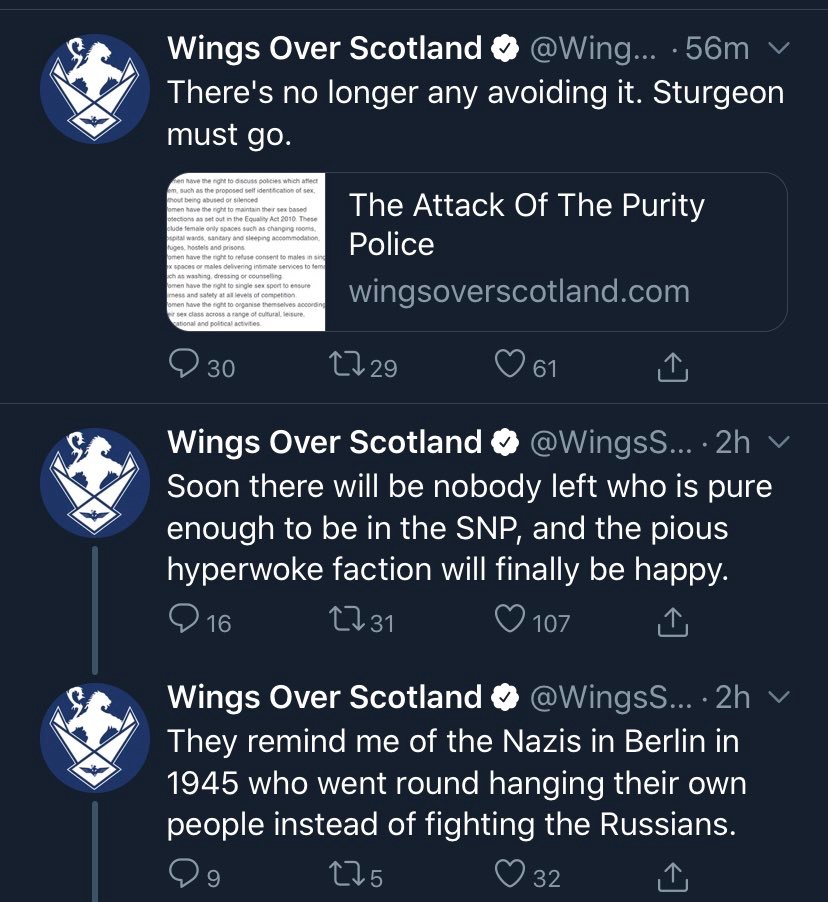 But if the independence movement is to have integrity and to coalesce around a set of values that are meaningful and progressive, if the independence movement is to gain further traction and momentum towards the goal of establishing a democratic country it must separate itself from the voices of hate that are personified by Stuart Campbell. This is so obvious it shouldn't need stating. It is so long overdue.
Thanks to the dozens of people who sent examples of Wings abusive behaviour and posts, only a tiny fraction of which are published here.