The Hasél protests and Spain's crackdown on dissent
The youth are revolting. Four nights of protests, starting in Catalonia and spreading across Spain, has brought the wrath of Prime Minister Pedro Sánchez: "The government will act forcefully against any form of violence," he declared on Friday. Spain's press has hyped up the damage caused by the "riots", but it is one of the protestors who has lost an eye, hit by a rubber bullet of the Catalan police. It's the youth of the Spanish state who bleed.
Last night protesters in Barcelona, Lleida, Iruñea, Valencia & 70 other cities around Spain took to the streets to call for the release of rapper Pablo Hasel! ❤️ pic.twitter.com/OLdvMqTzoc

— Voices in Movement (@VIM_Media) February 18, 2021
During yesterday's protests in Barcelona in support of rapper Pablo Hasél,* a girl was hit by a plastic bullet. She's lost one eye.

*Jailed because of his lyrics and tweets.

Picture by @angelgarciafoto via @centre_IRIDIA pic.twitter.com/KGjZE2mPA5

— Llapis Llopis (@llapisllopis) February 17, 2021
Take a step back from the fray, and why would one be surprised? Youth unemployment stands at over 40%, the highest in the EU. For those young people lucky enough to be in work, two out of three have precarious temporary contracts. Add in to the mix a year of chaotic lockdown, and one should be relieved to see the youthful vitality of dissent on the streets. Better the pulse of resistance, is it not, than a generation unseen, lost in their parents' homes to nihilistic despair?
Neither is it to be unexpected that the motivation for revolt has come from artistic repression. If young people have little future to look forward too, at least they can find solace in cultural expressions which give flavour to their frustrations. When the state tells them that not only is musical dissent impermissible, but that some of their favourite musicians will be locked up for taking aim at such institutional figures as the country's self-exiled former King, it's more than reason enough to take to the streets.
"There is an accumulated rage among young people," Núria Araüna Baro, activist and trade unionist in Barcelona, tells Bella Caledonia. "The social situation, judicial repression, police brutality – all of this interacts together."
Hasél was a "trigger"
Pablo Hasél (real name Pablo Rivadulla Duró), a Catalan radical leftist rapper, was arrested on Tuesday [16 February] after barricading himself in the University of Lleida. Hasél had refused to go to jail after being sentenced in March 2018 to two years in prison relating to his tweets and songs, which were deemed to be "glorification of terrorism", slander and libel against the Crown and against the institutions of the State. With additional sentences now added on for alleged threats to witnesses, obstruction of justice and non-payment of fines, Hasél is now set for six and a half years behind bars.
Pep Tarradas i Dulcet, a member of the Music Union of Catalonia (SMAC) and the 'No Callarem' ('we will not be silent') platform, tells Bella Caledonia that Hasél's imprisonment was a "trigger" for resistance to "the repression of artists".
Pep highlights "the case of the rapper Valtònyc, the tweeter Cassandra, Elgio from "la Insurgencia", the puppeteers who went to prison for a work that denounced police brutality".
Indeed, a 2020 study on the state of artistic freedom by the NGO Freemuse found that Spain was number one in the world for repressing musicians, with 14 given prison sentences, ahead of Iran on 13, Turkey on nine and Myanmar on eight.
Asked if the Catalan artistic community felt under pressure from the state, including to self-censor artistic work, Pep says: "Yes, of course. Self-censorship is one of the main dangers we face as artists, but that is why in this context there have been movements such as "No Callarem".
"We understand that it is necessary to say things by its name. Pablo Hasél does not go to prison for 'injuries to the Crown' or for 'exaltation of terrorism', he goes to prison for freely expressing truths and realities of this demophobic state that condemns dissent."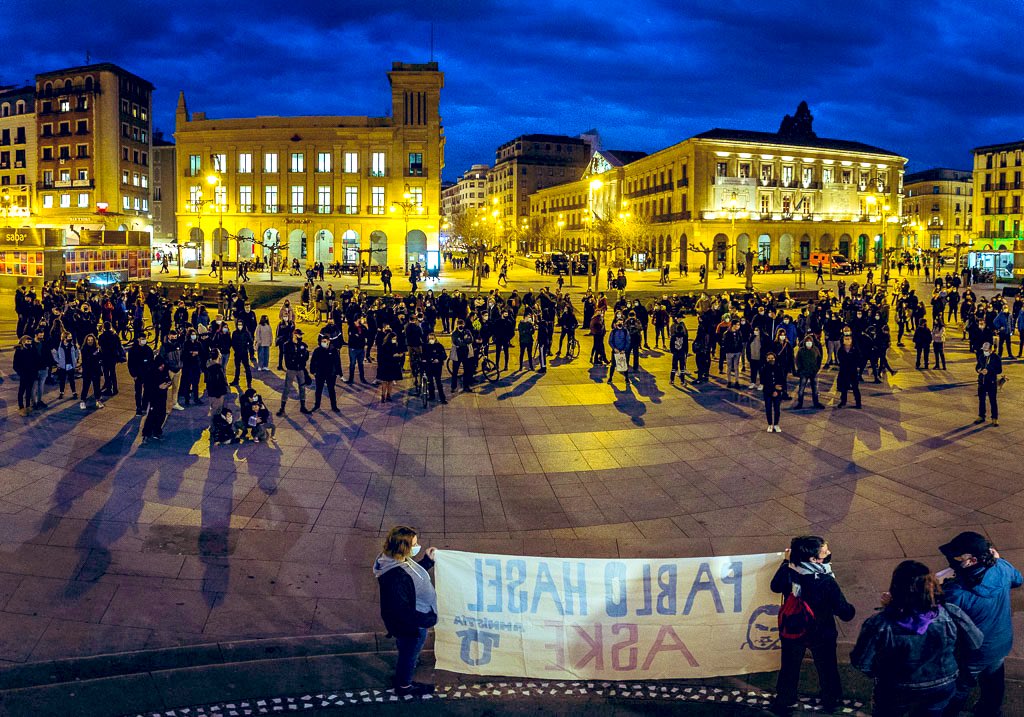 Hasél's "crimes"
While Hasél's sentencing is by no means an isolated case in Spain, it does set a precedent, being the first time someone has gone to prison specifically for their lyrics since the end of General Franco's dictatorship.
The court found that the song "Juan Carlos el Bobón", about the former King Juan Carlos, who is being investigated for alleged corruption, "exceed[s] the right to freedom of expression or opinion" and goes past "the line that separates expressions that can hurt or bother", because Hasél's words are a "clear and serious attacks on the honour of the royal family".
In the song, Hasél raps about "the millions plundered" by the monarchy, and adds: "Then the psychopaths who govern us say that there is no money for basic necessities".
Sixty-four tweets of Hasél's were also judged by the court to "appear as a suitable means to arouse violent reactions, undermine confidence in democratic institutions, feed the feeling of contempt and hatred against institutions and denigrate the dignity of people".
EMBED TWEET: https://twitter.com/PabloHasel/status/1361531490572582915/photo/2
Shortly before his arrest, Hasél posted some of the tweets that the court had cast their judgement on, stating: "The tweets for which I am going to be imprisoned in a few minutes or hours. Literally for explaining reality. Tomorrow it could be you".
Here's a flavour of some of the 64 tweets:
"50 policemen injured? These fucking mercenaries bite their tongues beating up people and say they are wounded";
"Nazi-onal police torturing even in front of the cameras",
"Because of Saudi Arabia the children in Yemen suffered like this. This is the work of the democrat friends of the mafioso Borbóns." [includes a picture of a malnourished child]
"You kill a policeman? They're looking for you under every stone. The police kill? It's not even investigated properly"
"they try to hide the fact that many people have come out today to demand the end of the fascist monarchy and they even beat up journalists."
"Joseba Arregi (ex-military chief of ETA) assassinated by the police by torturing him."
Esteban Beltrán, Director of Amnesty International Spain, said of Hasél's case: "No one should face criminal prosecution only for expressing themselves on social media or for singing something that may be distasteful or shocking. Expressions that do not clearly and directly incite violence cannot be criminalised."
The Spanish state's repressive apparatus
Hasél has fallen foul of Spain's Penal Code, but his sentence comes in the context of a wider crackdown on dissent, especially emerging from the 'law on Citizen Security', more widely known as 'The Gag Law', introduced in 2015 by the right-wing Popular Party (PP).
The Gag Law hands out fines ranging between €100 to €600,000 for such misdeeds as protesting without permission or in the wrong place, taking pictures of police officers at demonstrations, or seeking to prevent law enforcement from evicting people from their homes. Even promoting a protest on social media can incur a penalty. Indeed, the use of the gag law has multiplied many-fold during Spain's lockdown, as the police use their new found powers to exercise petty lockdown control-freakery.
The left-of-centre PSOE-Podemos coalition government in Madrid has said it wants to get rid of most parts of the gag law, just as it's said it wants to reform the penal code so the likes of Hasél won't go to prison, but under it's watch the criminalisation of dissent has worsened.
While the gag law was the PP's creation, PSOE's hands are not clean. Indeed, we only have to go back a year and a half to remember PSOE's use of the dark arts in 'The Scotland Papers', as reported in Bella Caledonia. More recently, Reporters Without Borders have criticised the Spanish Government for introducing a law supposedly aimed at combating "disinformation" but "which, in reality, are designed to erode press freedom by means of a deliberate ambiguity," according to RSF. In July, it was revealed that the Catalan Parliamentary speaker, Roger Torrent, had his WhatsApp hacked in to by an Israeli Spyware company, NSO, which only sells its services to governments.
Pedro Sánchez may talk a good game about liberal democracy, but his state's actions are a reminder that PSOE has always been a key party in the Spanish establishment since the weak transition from dictatorship to democracy began following Franco's death. Governing for more years than any other party since then, PSOE's fingerprints are all over the repressive characteristics on display today that have always been a hallmark of the '78 regime.
Spain's authoritarian right-wing
Behind Sánchez's hard-line on the protestors is pressure from Spain's right-wing, who sense an opportunity to open up divisions within the PSOE-Podemos government. The far-right Vox, as well as the PP, are the last defenders of the penal code which has put Hasél in prison, a reminder if it was needed that behind thinly veiled 'free speech' advocacy, the far-right will happily lock its enemies behind bars at any given opportunity.
The Spanish right-wing are not so quick to condemn Spain's neo-Francoist street movement, who have regularly held rallies with fascist salutes and anti-semitic and Islamophobic rhetoric on show, including in the same week of Hasél's arrest. Indeed, Vox has emerged as a major political force through whipping up hatred against immigrants and refugees.
Anyone attempting to draw a lazy and false equivalence between 'two extremes of left and right' should consider the power dynamics: no one in the Spanish monarchy is going to be physically assaulted by racist thugs, whereas that is exactly what has happened to child refugees in Spain on multiple occasions. Genuine anti-fascism defends the freedom of expression of artists and musicians and the right to protest and challenge institutional power, while taking not one step back in being tribunes of the oppressed.
Dissent and independence
As for the Catalan independence movement, which Hasél is a supporter of, his arrest by the Mossos d'Esquadra police force has raised questions for the Catalan Government, just as it tries to put together a new pro-independence coalition. Dolores Sabater, spokesperson for the Catalan radical left party CUP, said Mossos d'Esquadra had not acted like a "democratic police", and must be reformed as a condition for CUP's entry into a coalition after the 14 February election.
The independence parties would do well to stay allied to Catalonia's dissident youth. As Pep explains, the Catalan independence crisis "put a mirror on the Spanish state and revealed its true nature, which is none other than the repression of dissent by all means."
For a movement seeking to break the hegemonic state, independentists should never lose sight of the value of dissent. As the late, great American historian Howard Zinn put it: "Protest beyond the law is not a departure from democracy; it is absolutely essential to it. It is a corrective to the sluggishness of 'the proper channels', a way of breaking through passages blocked by tradition and prejudice. It is disruptive and troublesome, but it is a necessary disruption, a healthy troublesomeness."