Perseverance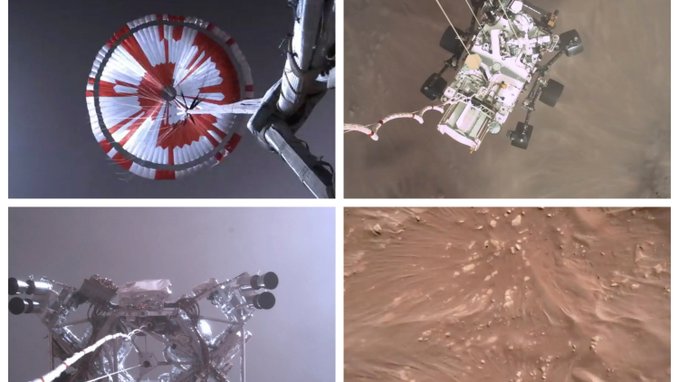 Watching the Mars Perseverance Rover landing is awe-inspiring.
NASA releases stunning new video from Perseverance rover's audacious landing on Mars. https://t.co/2AalKKPp0F pic.twitter.com/klovxp4EmI

— ABC News (@ABC) February 23, 2021
The scale of professionalism, precision and ambition are unfathomable to many of us, they certainly are to me anyway. I was inspired long enough to suppress my usual harrumphing "What are we doing on Mars when we can't fix things on Earth" line. I know there's claims that the research that goes into the space industry always has some spin-off benefits back on Planet Earth, though it always seems a bit sketchy. My favourite space story is that at the height of the Cold War/Space Race the Americans spent millions developing a high-tech pen with specialist ink that would work in anti-gravity conditions, whilst the Soviets brought pencils.
Whatever the truth there was something uplifting about human ingenuity seeing the Perseverance Rover land successfully. Hope too in the good news about vaccine rollout and its impact (a study shows vaccine rollout linked to 85% and 94% drop in coronavirus hospital admissions in Scotland). Some faith restored in science, reason, medicine, nursing staff and frontline staff and … 'Thank god  for the pharmaceutical industry' … a sentence that you doesn't hear roll off my tongue very often.
So why am I not more jubilant? Well my soul having being crushed and my mind turned into custard during the last year may have something to do with it, but there's something else.
The profound insights that we've witnessed are all at risk. The insights into how we organise cities, the benefits (and absence) of community, the importance (and fragility) of mental health, our relationship to nature and the extent of exploitation in late capitalist society have all been exposed, magnified and laid out in the past year.
They're all going to be thrown away.
Now, as we rush like overweight penned-up farm stock into the daylight of the post-covid world, with the UK media talking about "Freedom Day" we are back to the same weird impulses and convulsion.
The Conservatives – fresh from a year of gorging themselves on chumocracy and nepotism (in plain sight) will now frame this as salvation from the dreaded Lockdown and anyone acting like Adults in the Room as left-wing Doom and Gloom Merchants. But their rush for 'release' is just a different manifestation of their malignant populism – trading in peoples vulnerability in the same way  as they did with Brexit.
No doubt now we'll have talk of a classic British 'public inquiry' of the sort we've seen for decades. You know the routine?
High heidyin appointed – massive cost – lengthy inquiry – insipid findings – nothing really happens. You've read the script.
Back in reality …
WE don't know what the effect of releasing 10 million children into English schools will have (though we can guess).
WE don't know what new variants are emerging.
The idea of staged cautious release would seem obvious, but is politically difficult for Johnson.
His predecessor, the Member for Easyjet has been lobbying hard for the aviation industry …
Former PM Theresa May calls on government to look again at timetable for restrictions on international air travel to "make sure that Britain is open for business"

Boris Johnson says "there is every chance of an aviation recovery later on this year"https://t.co/P36paF93R6 pic.twitter.com/MFCMXWe4RW

— BBC Politics (@BBCPolitics) February 22, 2021
Where we're now at is the rush back.
Capitalism only functions with the promise to offset the hell.
It's no surprise that cheap flights and booze is the carrot dangled.
I'm delighted the vaccine is working, I'm delighted there's the prospect of a way out. I'm amazed and inspired by our health service and our vaccines. But I wouldn't trust the Tories as far as I could throw them. Covid populism is a disgrace layered upon a scandal the likes of which we've never seen.
Can you imagine a world where the scientific genius and human ingenuity wasn't despoiled by political corruption and avarice?