Mission Creep
The committee investigating the handling of complaints against Alex Salmond reaches a crescendo not today, but next week. Predictable sections of the press and broadcast media can hardly contain themselves. The media elite: Andrew Neil, Fraser Nelson, Alex Massie, senior voices within the BBC, and others are straining at the bit to see Nicola Sturgeon destroyed. Their message is echoed in the House of Commons and at Holyrood. They have managed to shift the agenda from the handling of the complaints to a far wider remit: trashing the entire governance of Scotland and painting them all as corrupt and broken in every sense. That such a shift should be echoed by elements of the new media that previously supported Scottish independence isn't surprising at all if you have followed their trajectory. Individuals contorted by multiple phobias that have consumed and possessed them and fantasists that are now reduced to bribing civil servants are a disgrace to the movement.
Presenting an astonishing brass neck the disgraced Tory minister Liam Fox took to his feet in the House of Commons this week to pronounce that: "Following yesterday's accusations by Alex Salmond against Nicola Sturgeon's govt, I asked in the House of Commons what mechanisms we have to ensure that the conduct of the Scottish Government does not bring politics in the whole of the United Kingdom into international disrepute."
Magnus Llewellin at The Times thundered with glee: "Alex Salmond's testimony could end any hopes of second referendum" – and he was one of the more restrained editors. At the beginning of the week the media erupted in ecstasy about Salmond's "explosive revelations", yet these were exactly the same "revelations" that had been shunted about the fetid backwaters of blogs and opinion columns for six months and more. Absolutely nothing was new. Revelations there were none. Today we await on tenterhooks. I predict the same nothingness to be hyped beyond recognition.
But if the triumphalism of the media might seem like all is in peril and the end is nigh, it hides a sharper truth.
They are utterly desperate.
This. Is. All. They've. Got.
This week also saw polling revealing a majority backed Scottish independence for the 22nd survey in a row.

This week also saw the much vaunted Union Unit binned after a year of farce sackings and debacle.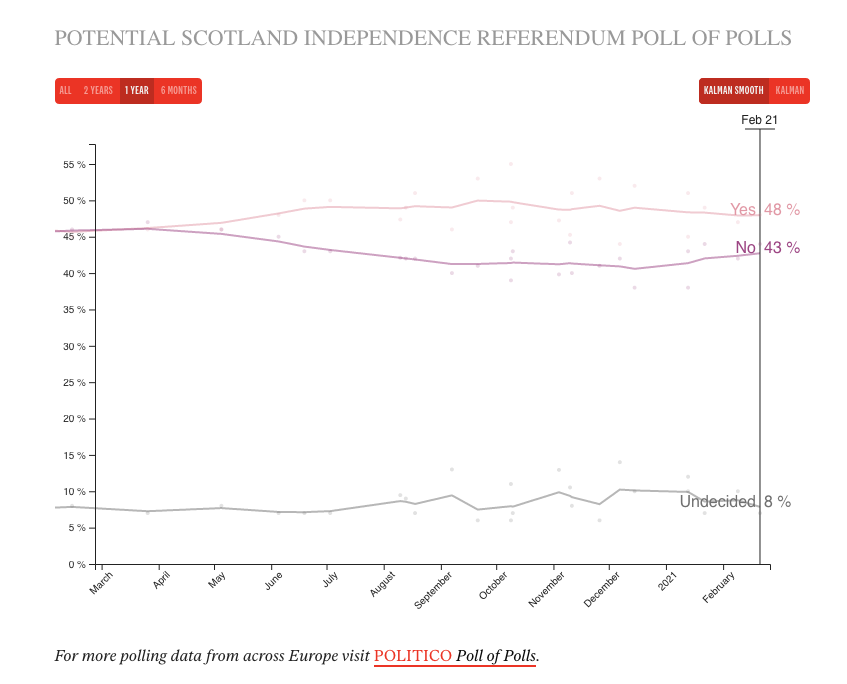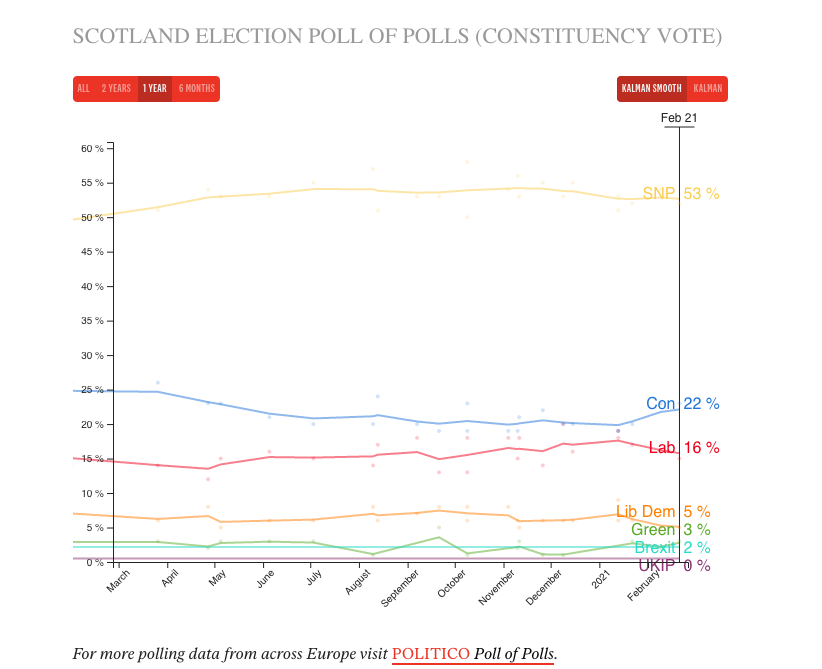 What the polling really shows us is that – despite relentless and surround-sound attacks on the SNP and the First Minister, very little of a dent has been made on either the case for independence or the probability of. a huge pro-indy majority at Holyrood. But on it goes. Despite the fact that Jim Sillars has been "unable" to vote SNP since 2016, Baroness Davidson joins the hunt:
Some piece by former SNP deputy leader, Jim Sillars, in today's press. pic.twitter.com/NqPELqXJHA

— Ruth Davidson (@RuthDavidsonMSP) February 26, 2021
The media frenzy is not completely uniform. Kenny Farquharson remarked on Tuesday ('Alex Salmond inquiry: Forget talk of a conspiracy, this is about revenge. The former first minister's submission to Holyrood is full of slippery phrases and no evidence') that "There is no evidence of a conspiracy. There is only assertion and bluster. There is only dudgeon and petulance. There is only Salmond's barely containable lust for revenge."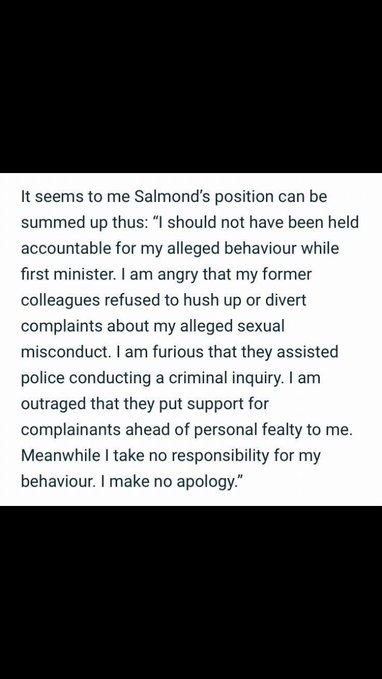 He concluded: "It seems to me Salmond's position can be summed up thus: "I should not have been held accountable for my alleged behaviour while first minister. I am angry that my former colleagues refused to hush up or divert complaints about my alleged sexual misconduct. I am furious that they assisted police conducting a criminal inquiry. I am outraged that they put support for complainants ahead of personal fealty to me. Meanwhile I take no responsibility for my behaviour. I make no apology."
But if there is mission creep from the salivating unionist press and the Tories in Holyrood and Westminster, there is too from the alt-nats and hate bloggers who have shifted from a line about "Justice for Salmond" to "destroy the SNP and Sturgeon". They are now engaging in wild hagiography and revisionism. Salmond must not just be saved he must be resurrected (and before Easter too).
Some of this is deeply embarrassing. In a post titled "What would Alex Do?" Paul Kavanagh writes (with apparent seriousness):
" … some of Alex Salmond's supporters are taking to social media to declare that because of the treatment of the former first Minister they will not be voting SNP in the May elections. I believe that this is premature, and an attempt to prejudge what Alex would himself advise his supporters to do. Alex Salmond has not yet made any public statement about how he would prefer his supporters to vote in May, and until such time as he does I believe that his supporters should err on the side of caution and not do anything which may prove prejudicial to the cause and the party …".
He continues: "Alex Salmond loves the SNP, his beef is with the party's current leader and those close to her, not with the party as a whole. Alex Salmond knows that the SNP is a whole lot bigger than him, and a whole lot bigger than Nicola Sturgeon. He does not want to bring the entire SNP down just before a crucial election which could prove to hold the key to independence because he has a dispute with its current leader, all the more so because this would be severely prejudicial to any hopes he might harbour of returning to a senior role within the party should the present leadership stand down."
This idea – denied by some and cherished by others – that Alex Salmond is going to walk out of this and take up "a senior role within the party" speaks only to the fact that such people operate within a sealed sub-culture and are permanently detached from reality.
Among all this frenzy reality continues for the rest of society. Polling from Professor John Curtice said that the Salmond affair was unlikely to affect the May elections, in fact most people outwith the media cliques and Twittersphere seem remarkably bored by the whole affair which has now stretched on interminably. Two simple facts emerge out of this morass: one that the unionist case and strategy lies broken and exposed and they are now 100% reliant only on trashing Sturgeon (and the institutions of Scotland too if they can); two that the mass of people are focused on our own lockdown hell than the shenanigans and maneuvering of desperate political groupings and players.

Such is the hypocrisy of the media pack even Alasdair Campbell noted it:
I hold no candle for the @theSNP and the Salmond-Sturgeon story is clearly important and newsworthy. But my God compare and contrast the right wing media and @BBCNews coverage with the comparative lack thereof of @SuellaBraverman re Cummings, @pritipatel breach min code … 1/2

— ALASTAIR CAMPBELL (@campbellclaret) February 26, 2021
Jackie Baillie has joined the baying mob, this week claiming that the feud between Salmond and Sturgeon was "destroying public trust", saying: "We have seen this week that there is something rotten at the core of the SNP, and it's poisoning our democratic institutions." This rhetoric is part of a narrative being played out that every institution in Scotland is broken and corrupt. It's a bleak nihilism that is a fig-leaf for parties that are looking at annihilation in May 's elections. Their only hope is that they can somehow prevent these elections proceeding or they can find a way to destroy Nicola Sturgeon. While that might seem like a bleak prospectus, it is only a sign of their own weakness.