COP 26 and the Interim Union Connectivity Review
As Miriam Brett and Katie Gallogly-Swan remind us: "In February 2021, the United Nations released an analysis showing that countries are collectively making miniscule progress towards cutting emissions. It found that if countries' current pledges were fulfilled, global emissions would reduce by only one per cent by 2030 compared to 2010 levels when we need a 45 per cent reduction to keep heating below 1.5C."
That's disastrous on an unimaginable scale.
To put this in perspective the global lockdowns last year saw emissions fall by the largest ever: 2.6 billion tonnes of carbon dioxide. To remain within the Paris 2C temperature target we need emissions to fall between 1-2 billion tonnes *every year* for the next decade.
So our (inadequate) lockdown gains are going to be thrown away.
So what are the UK government doing in this year of COP 26 being held (possibly) in Glasgow in November?
Well David Mundell and others are focusing on expanding roads in a nakedly opportunist attempt to undermine devolution.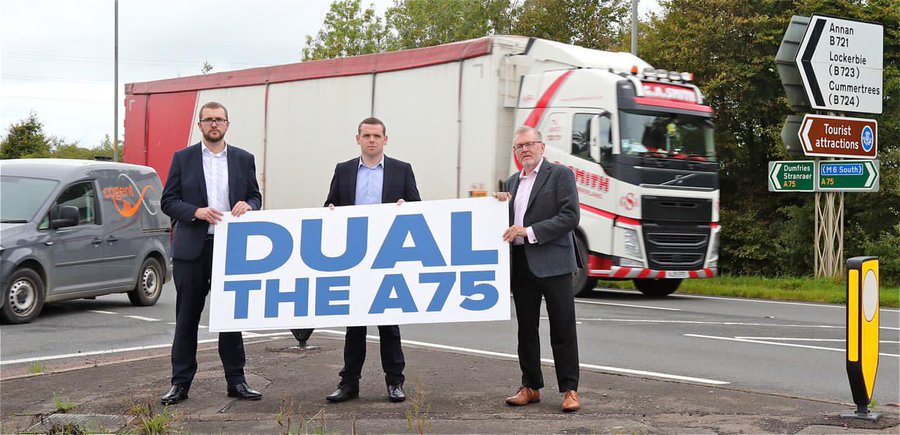 Mundell is claiming: "The Interim Union Connectivity Review is right to focus on the urgent need to dual the A75." The sharp-eyed reader will notice it's not just the Holyrood election that has started it's the Referendum that Will Never Happen too.
It's road and planes too.
Treasury Minister Jesse Norman has hinted that air passenger duty could be slashed on domestic flights so 'Brits' are encouraged to catch a plane within the UK. So if you fancy popping down to Manchester for some shopping you can!
Carbon Brief reports: "UK prime minister Boris Johnson intends to authorise a cut in air passenger duty, a levy paid by airlines for domestic flights, to provide the industry with a boost after the Covid-19 pandemic, according to the Financial Times. The proposal will form part of a wider "union connectivity review" of national transport links which will also include funding for train lines and motorways."
Stating the obvious Doug Parr from Greenpeace UK described the plan as "nonsensical", saying: "The government needs to face up to the unavoidable reality that the aviation industry has to be smaller than it was before the pandemic."
People can't imagine flying less – or not at all – and the alternatives are expensive or non-existent.
There's no zero-carbon route out of Scotland. In fact there's virtually no non-aviation connectivity to Europe at all.
The idea of cheap flights has become a sort of panacea for late capitalism. People are given rewards for drudgery, and one of the principle ones is fun in the sun. To point this out is to be labelled a dreary ecologist.
Union Highways
The Connectivity Craze has taken hold in Wales too.
There Welsh Conservative leader Andrew RT Davies has proposed 'Union Highways' to 'extinguish dangerous flame' of Welsh independence.
In an article for ConserativeHome he recommends "large scale projects" to "unblock" the M4, A40 and A55 east-west routes into Wales and tie the country closer to the rest of the UK.
It's all a bit Casey Jones meets Adam Ant. The intrepid Davies is quoted saying:
"The patriotic fightback has started and, as the leader of the Welsh Conservatives, these are some of the steps I want to see us take to extinguish the dangerous flame of separatism."
Later he added: "It's important UK government spending is effectively targeted and given the PM's ambition for large-scale projects, I'd like to see the designation of 'Union Highways' that would unblock Wales's arterial routes on the M4, A40 and A55 and boost important cross-border growth."
So far so General Wade. Build roads through enemy territory and make the natives grateful.
As John McTernan last month advised subtly: "The union flag in Scotland should be stuck on every piece of government spending".  "We love bomb them or we go to war with them".
This thing about "large-scale" projects is important.
Road to Nowhere
But the pièce de résistance of bungling Unionist carbon-heavy opportunism must be the 'Scotland-Northern Ireland' bridge project.
The project was dreamed up by the Democratic Unionist Party (DUP) in its 2015 general election manifesto and Prime Minister Boris Johnson has jumped on it.
It seems very very heavy on "ambition" and very very low on facts. It could be a bridge, it could be a tunnel, nobody really knows. Nobody really seems to know why it would be embarked on or what it would achieve but a feasibility study is being proposed despite opposition from – you know – the governments of Northern Ireland and Scotland, to which transport is a devolved matter.
SDLP MP Colum Eastwood says Boris Johnson's "fantasy bridge" to Northern Ireland could cost £33bn "while our road and rail networks have been decimated from decades of under investment".
The concept is redolent of Gigantic projects dreamed up by authoritarian leaders to project their grandiose self-belief, but there are problems.
I first wrote about Beaufort's Dyke back in 1999.
Beaufort's Dyke is a deep trench 5okm long, 5km wide and about 250 meters deep on the sea-bed between Northern Ireland and Scotland, where an estimated 1.17 million tonnes of conventional and chemical weapons were dumped between the 1920s and 1976, along with a further 2 tonnes of radioactive waste.Among the munitions which have been washed up are around 4,500 phosphorous incendiaries and 7000 antitank grenades,
It's been estimated that there have been around 450 unexplained explosions in the area over the past decades.
After flares and munitions were washed ashore on the Ayrshire coast in 1995, the Scottish office were eventually forced to admit that two tonnes of contaminated radioactive waste were secretly dropped into the Second World War dump during the 1950s and 1960s.
Along with the Depleted Uranium fired into the Solway Firth, Beaufort's Dyke constitutes a significant contribution to the Toxic Legacy of the British State.
Ploughing a tunnel (or a bridge) through this for no discernible reason is one of the craziest ideas I've ever heard, and seem to include a giant roundabout under the Isle of Man.
All of which makes the bridge/tunnel thing just a wee bit far-fetched, to be generous, even if it didn't all just represent a 20-30 billion investment in massive road-building during our climate crisis – remember that?)
New Coal for the COP
Even where we've made progress we're regressing.
It's not just in transport that the UK govt is putting political opportunism before carbon and climate crisis. It's not just that the UK govt is investing massively in roads and encouraging people to fly more not less and it's not just that it's doing all this to undermine devolved elected governments, it's worse than that.
Back in 2016, on 9 May, Great Britain's electricity system ran without coal-fired power stations for the first time since 1882. That was a historic moment and surely the time when Britain would end coal forever and move forward seriously with the climate emergency. Just under a year later, the grid ran coal-free for a full 24-hour period that ended on 21 April 2017.
But this year, this year of COP 26, the British government have approved a new coal plant in Cumbria, a move condemned around the world as disastrous and "humiliating".
Chris Whiteside – Deputy chairman of North West England region of the Conservative party (writing on Conservative Home in favour of the project) went so far as to suggest the new coal plant was somehow payback for the Miner's Strike and somehow 'green' (follow the logic) because it would make coke that would make steel that would make wind turbines.

In the year of the COP 26 Britain is failing to show leadership in carbon reduction. But it is not doing so because it can't or because it can't take the general public along with it. It is failing because it is using tricks and high-carbon intensive projects to prop up its failing Union. The Interim Union Connectivity Review is blatant propaganda which purports to bring us all together, but all it is doing is driving us further away from our climate goals and a viable future.