Three Arguments for the Union
The principles arguments for remaining in this Union have traditionally gone in a cycle rotating through these three phases:
You Don't Exist
We Love You
We May Destroy You
The first assumes that there are no discernible cultural features or languages or institutions to Scotland, and that there are no real differences of opinions, no social differences, no marked distinction in attitude outlook or worldview. Britain is One. An example was Jackson Carlaw's covid-hysteria when he claimed (prior to his unseemly exit): "It is ridiculous to suggest Nicola Sturgeon could close the border. There is no border – we are one United Kingdom."
No amount of evidence can counteract this argument.
The second is often rolled out in a custodial or possessive manner, but essentially implies that the relations between constituent nations of the Union are one big happy family.
The third might seem in contradicton with the first, but it's really not. When used by some Scots it's an expression of cultural self-hatred. Since Brexit and the inevitable undermining of devolution it is the dominant narrative.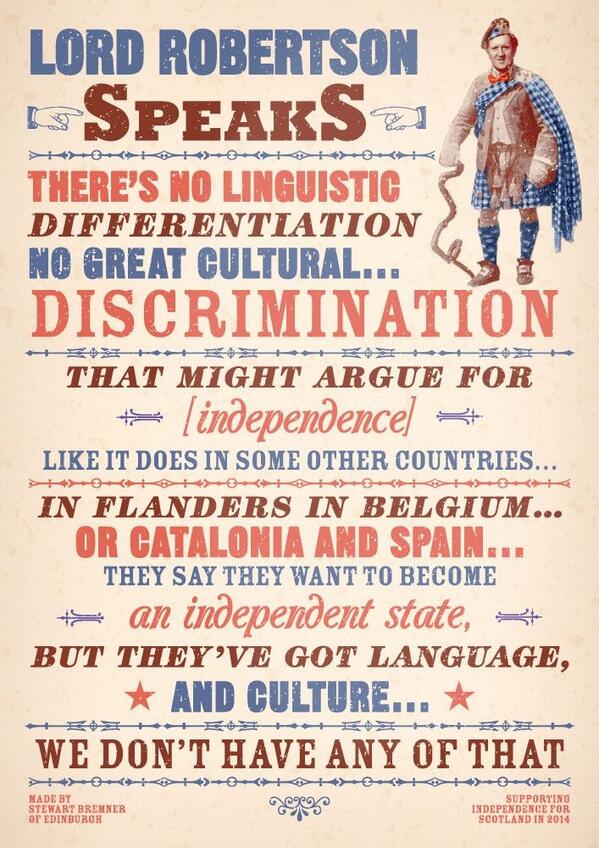 At present we are led to believe that Anas Sarwar is a populist genius about to depose the First Minister, and in a new hallucinogenic statement by Michael Gove pretend that Douglas Ross is on the verge of a historic victory. The pro-independence movement is supposed to be on the rocks and in perpetual gloom, but that's not how I see it at all. The problems for the Conservatives and Unionist's are mounting.
At least the Conservatives latest strategy to prevent a vote has become much clearer. They will use the Brexit Playbook: outsource to front-groups; shovel out propaganda about generous funding and try and undermine the confidence of people in their own competence. It's kind of like Brexit in reverse in which the Unionists will argue both that sovereignty is worthless, and that national independence is something impossible to define or achieve.
It must argue that in contrast to the almost unimaginable potential of Global Britain and Britannia Unleashed – Scotland has virtually no potential at all. The great potential about to be unleashed on the world peters out at Carlisle.
This makes sense if you follow the unionist logic:
The Union is the most precious thing in the world. It is almost mystical. It is unique in the world.
It's been hugely successful for all nations.
Scotland couldn't survive on its own because – after 300 years of this precious union it is impoverished and dependent on the benevolence of one of the other nations in the Union.
The argument is incomprehensible.
But there are a number of other real contradictions and problems facing the Conservatives and Unionists in the coming months that should be understood.
First, as Michael Keating, professor of politics at the University of Aberdeen writes:
"The union, rather than being a multiform creature, is now presented as a single thing in need of definition and codification. The nebulous concept of Britishness is pressed as a common foundation, and higher values such as democracy, freedom and fair play are appropriated as "British values". Michael Gove defines unionism as being about liberty, institutions and the rule of law, and says it is based on individuals, in contrast to "identity politics" of left and right and the peripheral nationalisms. However, these are universal rather than distinctively British values; more tellingly, they underpin the modern Irish, Scottish and Welsh nationalisms. Only in England do these common values feature in the school curriculum as being distinctly British."
Gove has to make these arguments whilst simultaneously introducing the Police and Crime Bill – a dangerous attack on people's fundamental rights, which includes provision to allow for:
• Gypsy & Traveller vehicles to be seized
• 3 months jail or £2.5k fine for a nomadic life without a travellers passport
• Banning of "disruptive" protests
• Up to 10 years jail for damage to a statue
So 'Unionism' is about liberty but also about repression of basic democratic rights.
It's all meaningless.
A second conundrum the Conservatives have got to indulge us in is the very idea of British democracy. The idea that Scotland is still – somehow – basically a Labour country – and that a Labour victory might be just around the corner.
Yet as John Harris explains, this is highly unlikely:
"Labour may still dominate all of the big English cities, but across the rest of the country such enduring Tory themes as law and order and patriotism, and the party's apparent embodiment of optimism and opportunity, seem to have fused with Brexit to make the Conservatives even more immovable. The party has won more English votes than Labour in every general election since 2005. In 2019, its vote share in England was 47.2%. From UK-wide statistics, we also know that Labour was backed by 30.6% of low-income voters, but 45.4% supported the Tories."
England is deeply held by the Conservatives. Despite widespread examples of nepotism and corruption by Johnson's regime as James O'Brien states: "Their complete failure to protect us from huge, real, fatal problems seems not to matter."
Added to this is the problem of Brexit. Brexit was driven by a culture of racism and a crisis of English self-identity, but it manifests itself as British Nationalism. So the driver can't be satisfied and the internal dynamic can't find expression. English nationalist fervour creates British nationalist outcomes yet drives away the other constituent nations.
Third and not last: they know they can delay a referendum but they also know they can't do this forever. The language has changed. This gives the Tory Party in Scotland a difficult tightrope to walk. They can garner support only on the basis of creating a Great Fear about the prospect of a referendum. Yet they also have to pretend that the Prime Minister will never grant a Section 30 Order. At the same time they know that that stance is a fundamentally undemocratic and a wildly unpopular one.
Their argument is "You must Vote Tory to stop a referendum" but also "there never will be another referendum."
Finally there are real problems with trying to replay the Brexit strategy. The front groups that played black ops with dark money in Brexit were playing to a rich background noise of anti-immigration and racism loudly supported by the wealthy tabloids. The groups that the Tories will rely on are not fit for purpose and are packed with dense Scottish aristocracy not 'charismatic' Farages' or 'cunning' Cummings'. Added to this the independence movement has been alive and building for eight years or so, and the arguments for the union have been fundamentally picked over and destroyed. If the Scotland in Union brigade (A Parcel of Brogues?) are a semi-detached crew, so too are the Conservatives, as Sarah Vine's 'Ubiquitous Fish' gag revealed.
The three phases we started with are now redundant:
You Don't Exist – we clearly do.

We Love You – you clearly don't.

We May Destroy You – I don't think so.

Despite all of this, on the day of the Police, Crime, Sentencing and Courts Bill – a 'staggering assault on right to protest' – the need for Yes supporters is to both press for our own independence but also to show solidarity with the people of England and Wales. This must be done despite the fact that we are being asked to be tethered to a fundamentally reactionary and malignant political entity.