The Shipping Forecast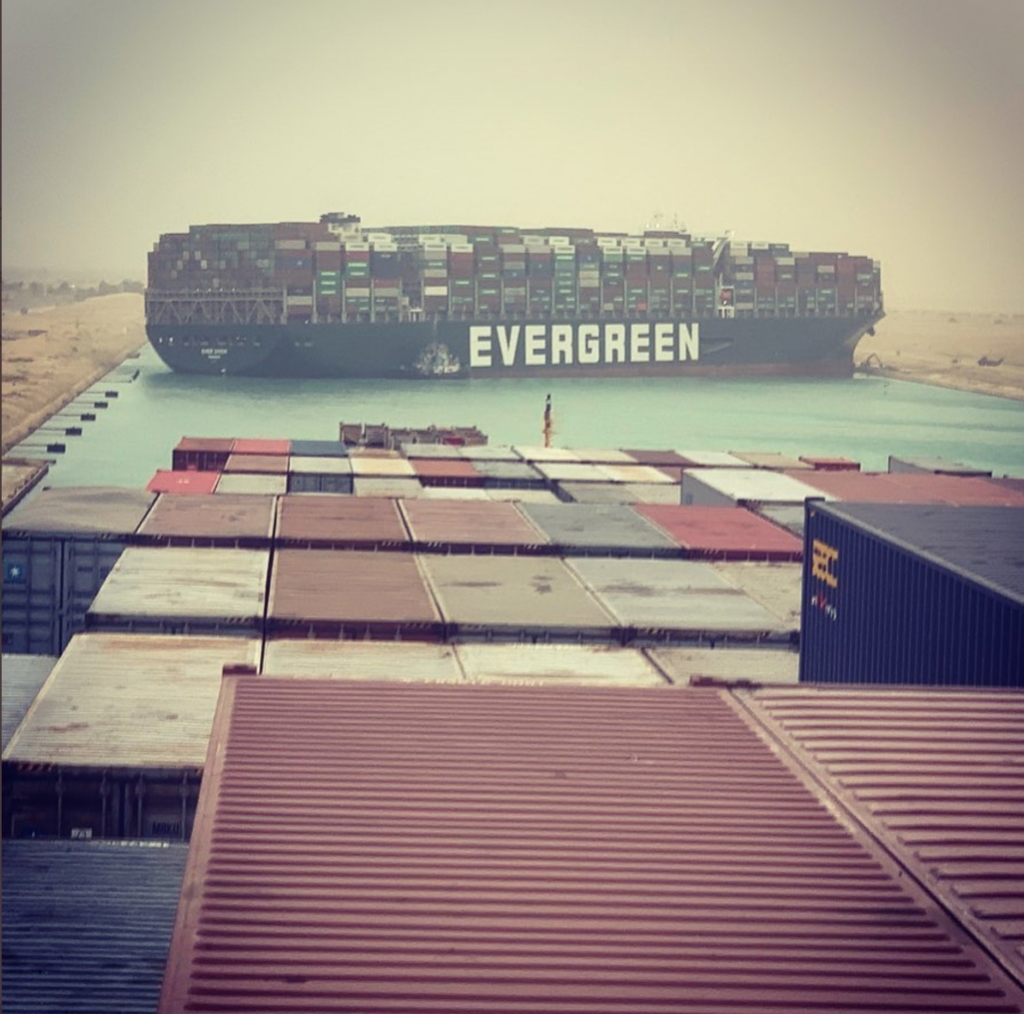 The image of the Ever Given, the giant cargo ship stuck in the Suez Canal has fueled a rash of memes and acts as a perfect symbol of a broken system; global capitalism stuck in a single point of failure.
The giant cargo ship could take weeks to remove according to salvage experts, triggering a crisis for international shipping and a potential shortage of essential goods and fuel.
It is not clear what caused the grounding. Initial reports suggested that Ever Given had experienced engine trouble, but a spokesman for the vessel's managers, confirmed that an initial investigation has ruled out any suggestion of mechanical failure. Local officials
said the ship ran aground amid poor visibility and high winds from a sandstorm in Egypt.
The 220,000-tonne, 400m-long container ship got stuck last Tuesday and over-optimistic rumours that it was re-floated were quashed by Lloyd's List who issued a statement saying: "THE SUEZ Canal remains closed following the grounding of a fully laden Evergreen-operated 20,000 teu containership on Tuesday, blocking traffic on one of the world's most important waterways. Despite reports that the 2018-built, Panama-flagged Ever Given had been partially refloated, the vessel's technical managers BSM have confirmed that the vessel remains grounded." Lloyd's List Intelligence AIS tracking also confirms that Ever Given has not moved since it ran aground 151 km north in the Suez Canal on Tuesday, turning sideways and causing a backup of many hundreds of other ships.
The Ever Given mega-container ship is holding up an estimated $9.6bn (£7bn) of goods each day, and now experts say that only the moon
can save global capitalism by floating it off in a high tide. The Suez has been described as "a river of electronics, clothing and every other gadget imaginable on Earth, all traveling silently in the dark interior of their metal containers." On either side of the canal, impatient consumers wait to receive their daily doses, just as we browse for the next items to order. 
It's interesting that it takes a single iconic image to cut through the torrent of information, disinformation and misinformation that flashes before us every minute. It's one of these revelatory moments. It reveals the fragility of the systems that operate our 'magical world' where goods arrive from the other side of the planet and place and season and locality are disappeared. As we struggle out of lockdown and try to 'recover' (itself a problematic word to use) from the pandemic  – the relation between the local and the global is exposed like never before.
Some people are beginning to awaken to the grand-scale possibility of this moment as well as the global tragedy.
Writing for the Enough Collective's journal 'LESS" Adrián Almazán and Luis González Reyes write:

We have a small favour to ask. We hope you enjoy Bella's output. Tens of thousands of people rely on Bella for independent journalism with a critical edge.  We have no big-backers, remain ad-free and don't hide behind a paywall. We set our own agenda and provide  analysis that's free from commercial and political influence. Support us here to defend indy media for the future. Thanks.
Go here to donate: https://www.crowdfunder.co.uk/backing-bella-2021