Tories and the CoronaBrexit- Exposed: the real scandal at our borders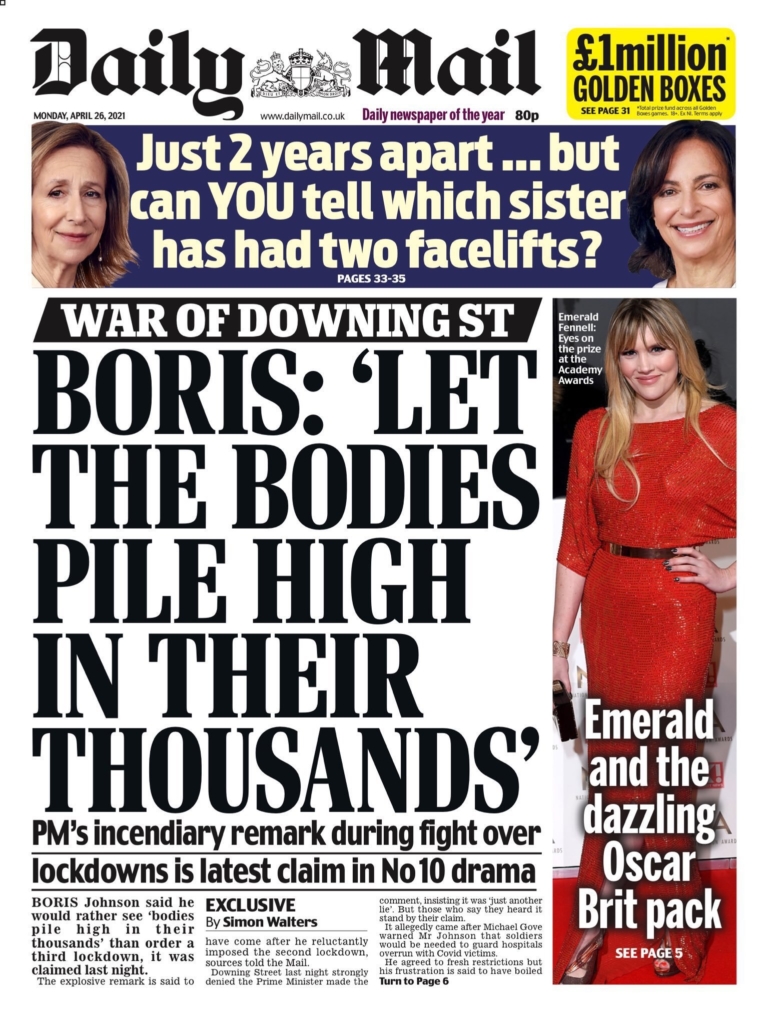 The Daily Mail's front page is going viral but the truth about Boris Johnson has been in plain sight for over a year.

We're about to witness once again
how fickle the British tabloid press is. Having spent years cultivating the idea of Johnson as a loveable rogue, now they're telling their readers that he's a sociopath. But as the right-wing press turns on the leader they've promoted – it's very clear that his enemies are on maneuvers. But beware anyone suggesting that Michael Gove or Dominic Cummings are somehow preferable to Boris Johnson, and beware anyone suggesting the Daily Mail is a credible newspaper. Johnson's problems are piling high, with the Jennifer Arcuri scandal, the flat renovations issue, the stories of Tory sleaze everywhere, the £2.6 m media suite, and the impending wipeout of the Scottish Tories.

Do watch and share this film about how the energy of Johnson and Patel was focused on the "threat" of immigrants and asylum seekers while ignoring the true threat of the virus. We now know that this wasn't incompetence or just prioritizing business over people, it was a deliberate strategy. This death spiral was part political expediency, part lobbying pressure from the airline industry, and part the ridiculous entitled populism of libertarian narcissism that can't imagine not being able to fly anywhere anytime – all brought together by a sociopathic leader who imagined himself as Superman.
What Johnson calls "freedom of exchange" here allows him to see himself as "the super-charged champion" that will defend the "right of populations of the earth to buy and sell freely among each other". This is a potent mixture of Etonian narcissism, Anglo-exceptionalism and Brexit mania boasted by a man who has presided over one of the worst handling of corona virus in the world. It is capitalism as a death cult. The speech below is from Greenwich in February 2020 and it shows the framing and attitude with which Johnson sees the world:
This report by Hassan Akkad is brilliant at exposing the relationship between the British government's hypocrisy on border control. As the revelations about Johnson's true attitude to the public spill out in to the open and other forces govern from the shadows, the relationship between the racist polices and culture emboldened by Brexit and the inability of government to restrict peoples behavior for the collective good is revealed. Profit above people at all times.
Exposed: the real scandal at our borders. A report from @Hassan_Akkad pic.twitter.com/Mgf0o8mBHi

— Led By Donkeys (@ByDonkeys) April 26, 2021