Abla Cadabra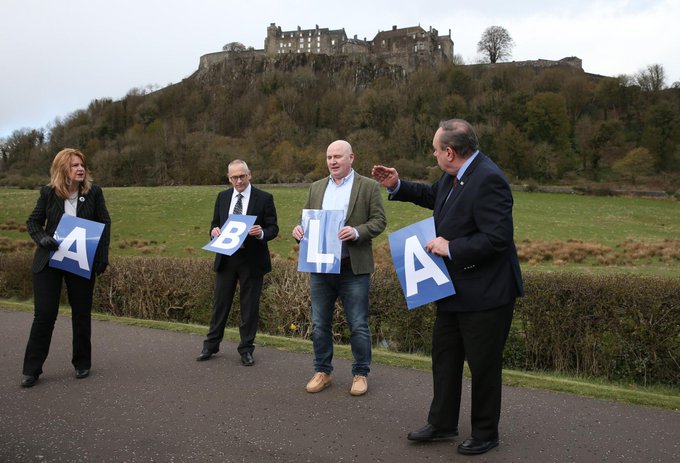 Much of the magic of Scottish politics is wearing thin. Either Alex Salmond and his new cohorts will make a miraculous breakthrough or there will be a disappearing act. Apparently. But there are other options.

Trying to make sense of this dire election campaign is really difficult: with it's shuffling memes, weird messaging, panicking unionist propaganda, plethora of new micro-parties and covid-culture precluding face to face interaction all being faced by an exhausted and dispirited electorate. We have people festooned with flags castigating other people festooned with flags. The fast-improving New Statesman regularly publishes analysis beyond the mundane, and so we have Scott Hames recent 'Who speaks for Scotland?' sliding his eye over the current chaos.
Writing in the journal Hames points out one of the contradictions of Salmond's career, as he moves seamlessly from 70s radical to 20c slick mainstream gradualist and then back to the tub-thumping fundamentalist of today:
"Retribution for Alex Salmond, in league with the sort of people he expunged from the mainstream of Scottish nationalism in the 1990s: zoomers, magical thinkers and conspiracy theorists. Having outfoxed the SNP's romantic "fundamentalists" as a young party leader, Salmond's comeback has turbo-charged their digital rebirth, from neo-Celtic symbols to Bannockburn cosplay. He made his name as a slick "gradualist" tactician and media operator, but today Salmond depends on the reach of troubled bloggers to spread the Alba message. A rocky LBC interview last week was dominated by questions about his behaviour towards women, his ties to Russian state media, and claims by another Alba candidate that Scottish LGBTQ organisations are in thrall to a secretive global movement to legalise sex with ten-year-olds."
Enema of the People
This, for Hames is a complex matter with no obvious beneficiaries:
"With its huge polling lead, the SNP leadership seem relaxed about losing these peevish factions – the commentator David Leask likens the process to a "political enema" – and their exit improves the SNP's standing with younger progressive voters and Middle Scotland liberals."
But such analysis posits a liberalism against a radicalism that is a bit simplistic.
Some of the younger 'progressive' voters are engaged in a performative act about identity politics and much of the 'radical' voices are just a visceral reaction against them. Neither have either strategy theory or praxis to take them beyond shouting into their own micro-bubbles as the British state and late capitalism lay waste to our society (and our environment).
For Hames the 'crisis' of the Yes movement is the conundrum of leading both a party and a movement.
How do you keep pragmatic "gradualists" and traditional "fundamentalists" onside a unifying project?
He asks: "There will be no Team Scotland triangulation to mask the enmity on both sides, and this very fact casts doubt on all the other kinds of Team Scotland triangulation that keep nationalism moving forward."
But I think this is lightly confused because it speaks to the movement as the subject at play here – the same problem the movement suffers from – rather than the society or the electorate or the class of people being exploited – being the subject of focus.
I don't agree with Hame's idea of this producing a binary outcome:
"…. ideologically, the very existence of one is kryptonite to the other. Acknowledging the reality of two different and bitterly opposed nationalisms, with distinct social visions and priorities, does more than spoil the SNP's reputation for internal unity (not to say conformity). The Alba split means that for the first time since devolution, we have open conflict between competing visions of what Scottish nationalism is about, who it's for, and which elements of the modern world it understands itself to be struggling against."
Another view of this is that distinct visions are healthy and false unity is unhealthy. The problem, confounded by inter-generational incomprehension is that the people within Alba think they are progressive and the people outwith them think they are reactionary. It's difficult to have dialogue in such crossed wires and amid a fusion of trans and gender 'debates' and constitutional fracas in which 'good faith' is rarer than alchemy.
Team Scotland
Hames argues that the divide and the consequences are deeper writing:
"Sturgeon and her circle have gained space to reassert the party's liberal and progressive vision of independence, but lost the opportunity to present this vision as simply and universally "Scottish". It's not just that one flavour of nationalism must now be measured against another, but that the underlying premise of "standing up for Scotland" loses its supra-political character."
I think this is a good thing.
'Team Scotland' – the idea of reducing or ignoring conflicts of interest within a nation, wishing them away or pretending they could be delayed forever, was always a magical act.  If "Team Scotland triangulation kept nationalism moving forward", maybe we need to do something different now?
Indeed what is wrong with having "competing visions of what Scottish nationalism is about, who it's for, and which elements of the modern world it understands itself to be struggling against."
Sounds great to me.
The latest polling shows support for indy down, and perhaps this reflects the various magical thinking that have been going on: that you could abandon attempting to convince a majority of people that 'Yes' was the answer and instead produce independence like a rabbit out a hat; that, from the Unionist view you can just eternally repress democracy; or that movement and party could be – or should be – one joyous triangulated unity. They couldn't, nor should they be.
A much messier rougher, less polished movement will be far healthier; one that admits all of its faults and future struggles will be much more potent than one that attempts to sugar-coat the truth. Our debates about currency, European future, borders (!) and geopolitics needed to have started about five years ago, but they didn't, so lets start them now. There's a space between cosplay and tepid centralism and it's a dynamic and chaotic discourse of radical uncertainty that is much more vital for all that than the current pantomime of parliamentary posturing and faux radicalism.
Embracing that and accepting independence as the rupture and transformation and self-determination we need and it will emerge; just like that.