Passing Through – review of Tom Leonard's poetry and prose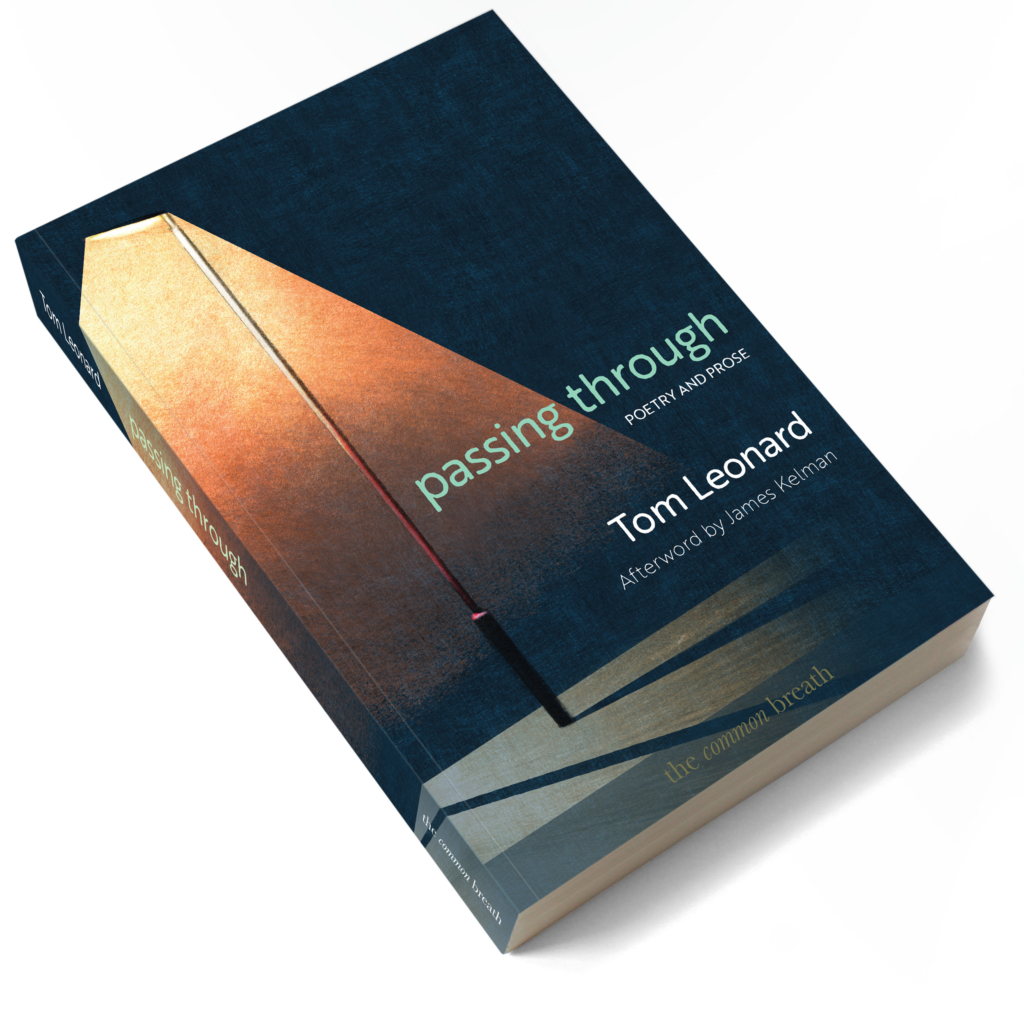 & what there is of poetry
Review of passing through by Tom Leonard
The recent announcement of a new collection of work by Tom Leonard was met with considerable excitement and anticipation. Perhaps some, possibly including myself, were initially hesitant. Posthumous publications can be problematic in a number of ways; not least in their gathering of material a writer, for reasons that often become apparent, might not have wanted to enter the public domain. The care and precision that has been put into the publication of this volume elides any such worries. Much of the work has previously appeared elsewhere (on his web journal at tomleonard.co.uk, for example, and in various magazines and journals) and writing that reaches the reader for the first time has been carefully selected from his personal archive. Working alongside Leonard's family, and with the support of his friend and comrade James Kelman, The Common Breath have brought together a hefty book of poetry and prose that prioritises Leonard's aesthetic, the importance of the visual and materiality of the text, and that illuminates his thinking throughout his creative lifetime: from the language of his most well-known Six Glasgow Poems through to his assessments of Scottishness, nationalism and the political arena.
At the heart of the works within, though, is his concern for the primacy of radical literary art – and most specifically the mode of poetry, evident in the poems themselves and in his typically polemical essays on the art form. At the beginning, 'Poetry Please!' takes its title from the genteel Radio 4 programme, where poetry is little more than a middle-class cultural comfort. In Leonard's own words, those
for whom poetry is
a warm cup of cocoa
held to their bosoms
& who go hmmm…. hmmmm….
at public readings[.]
A similar crowd, undoubtedly averse to writers like Leonard, bears itself a couple of poems later in 'at a poetry reading':
alone with the potted plants
and the polite audience
and Life which is a hoot
it's fandabbydozy[.]
The wry sense of humour that permeates these poems is familiar to anyone who has encountered Leonard's writing before, but his mockery should not overshadow the works' rigour. They are marked by their engagement with class politics and cultural capital, in the acceptability of tradition and as a result the alienation of those that exist, to paraphrase Leonard, outside of such a narrative.
With its characteristic existentialist leanings, the sequence 'from a remote place' stands amongst his most puzzling. Across fourteen poems, it is an experiment of language, text and page – again appearing familiar to seasoned readers whilst offering a fresh approach. Its visual presentation alone would be enough to upset those aforementioned, "who want poets to show a sense of 'basic form' and are forever quoting Yeats's 'Under Ben Bulben'" ('The Elect'). In each word the individual communicates the act of being and in each space locates the silence of thought, capturing the immediate present, or "being-who-I-am": "the taking shape/is/the becoming". As the moving repetitions and strikethroughs predict, like much of Leonard's work, the sequence is in the process of recognition: "discovering/the self" through the act of writing.
Beyond his own poems, a survey of the range of poets Leonard writes on in the essays and reviews included gives an indication of the breadth of his reading and interest. As one might imagine, it extends far beyond the English literary tradition to the various places where Leonard found influence. The importance of William Carlos Williams to his work is of course widely noted, but most compelling here are examinations of Caribbean poetry and his exploration through the STUC's William Gallagher Memorial Library in 'Keeping the Red Flag Flying'. Perhaps there was much Leonard could affiliate with: these engage the works of marginalised radicals, both creatively and politically. Yet they also espouse the international solidarity encapsulated by Leonard's oft-quoted mantra "The local is the international. The national is parochial."  In his assessment of Rudolph Kizerman's 'Ta Stray from the Tribe', for example, he writes:
Kizerman's poem is about the political nature of language, and the inauthenticity that can result from a person's being unaware of this political nature. It's also about the political nature of education, and this again is why it should seem more relevant to many Scottish writers than the ubiquitous MacDiarmid-versus-Muir warhorse wheeled out every "Whither Scottish Literature?" sleep-in.
Much of what Leonard writes on Kizerman here could be said of his own writing, particularly the working-class dialect poems of the 1960s that made him an "instant hero" (Kelman, Afterword).
It would be impossible to capture the scope of this book in any review. The work collected in passing through stretches across a period of nearly forty years, with Leonard writing in different genres and of differing interests. As I attempt to draw to a conclusion, I am aware of what I have been unable to mention: admirable poems for his Glaswegian contemporaries Edwin Morgan and Eddie Linden, studies of James Thomson, musings on Western mainstream media, and so on. That a lot of the work has been previously published does not diminish the significance of its event. Indeed, it continues Leonard's convention of republishing work throughout his career; a convention that says much about his thoughts on the timelessness of art: "…creativity is process, that is the point. A commodity driven society will hold that creativity is measured in outcomes. Creativity is on the side of being, not having." ('Autumn Leaves') It is always in this sense of 'being' that Leonard's writing is rooted – in his belief in the individual as universal. As Kelman writes in the Afterword, originally given as eulogy at Leonard's funeral, it is "what makes his work so radical, so dangerous; anathema to authority. That is Tom Leonard's tradition." Every piece of writing in this book – each poem, playscript, essay, and review – is demonstrative of that and altogether serves as a fitting conclusion to his inimitable contribution to literature.
For more details go here: http://thecommonbreath.com/passingthrough.html