Light At The End of The Tunnel – Playlist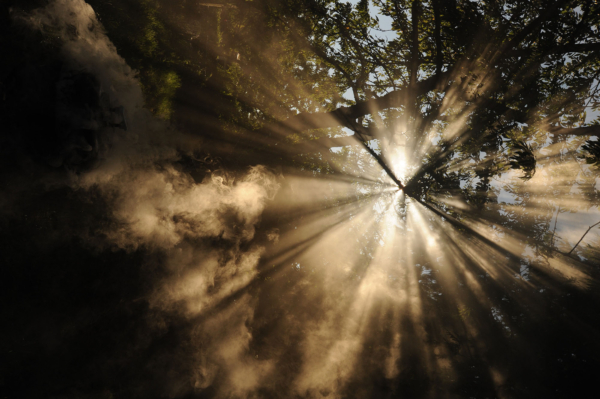 Every day, I take a silly little walk. Its for my silly little brain. Serotonin and inspiration have been hard to come by during the tunnel visioned winter we are only now extricating ourselves from. So, I chase my tales around town, head down, mood relatively low to the ground, and stomp some arbitrary distance until its time to return to my hole.
I don't need to tell you its been bleak. We all deserve a big pat on the back, and an even bigger banquet. We have a way to go still, I'm sure, but on my little walks I have been watching as the world slowly opens its eyes. May is the year's hinge, and her efflorescence has been giving me a sense of hope. Everything is so much nicer when its lit up green and golden.
I am writing this sat in a cafe, surrounded by people. Amazing! Later, I am going out for dinner. Incredible! Everybody's granny has been vaccinated. The sun is popping up here and there. Bella Caledonia smashed its crowdfunding target. At time of writing, the Scottish parliament elections appear to be going in a positive direction (namely, the opposite direction from Westminster), and it doesn't look like the 'Abla' party are going to win any seats (fingers crossed). So, here is a playlist of hope-fuelled and happy music, songs that tell you there are better days to come – just over the horizon…
Let's get into it with 'All Around You', from The Brian Jonestown Massacre's retrospective, 'Tepid Peppermint Wonderland'. A satisfyingly thick LP, its psychedelic opening track acts as a sort of adult 'we're going on a bear hunt', to be sung from a VW camper van as you set off on your own personal coming of age movie. 'The Staunton Lick' by electronic duo Lemon Jelly, is a confidently optimistic song which I have taken to singing The Bonnie Banks of Loch Lomond along to. It fits weirdly well. 
If there is a piece of music that sounds more like a light at the end of a tunnel than 'Islands' by composer and multi-instrumentalist Cosmo Sheldrake, then I am yet to find it. 'Islands' opens Sheldrake's magical album 'Galàpagos', a soundtrack for a documentary on the wildlife of the islands. He is a composer whose work is rooted in nature, the son of parapsychologist Rupert Sheldrake, who proposed that memory is inherent in nature, and brother to Merlin Sheldrake, mycologist and author of recent BBC Radio 4 book of the week, 'Entangled Life'. I'd bet that there was a lot of herbal tea in their childhoods.
The idyllic 'Last Sunbeams of Childhood' next, a deeply cinematic masterpiece by Dundee musician Andrew Wasylyk (with whom an interview can be found here.) Then 'Ragged Wood' from Fleet Foxes self-titled debut album. The soundtrack to my teenage soul. This is music to chop wood to. 'Golden Years' by our lord and saviour, David Bowie, is a surprisingly peppy lead single from perhaps his darkest, and certainly his most cocaine-addled album, 'Station to Station'.
The pleasant and peaceful 'Asc. Scorpio' by Oracle Sisters comes from their first EP, 'Paris I', which features music from a world in which humanity has well and truly sorted everything out. Sounds bloody lovely. The particularly well-tailored trio feature one Chris Willat, a much loved ex-pat of Edinburgh's underground music scene. A song in a little more existential turmoil next, 'Nah It Aint the Same' by psychedelic R&B singer Greentea Peng remains hopeful, with a gorgeous arrangement and rhythmic lyricism. New release from winner of Best Vocalist at the Scottish Jazz Awards, 'Wonderful World' by Kitti is a reminder to appreciate the little things.
'Dark Side Riddim' by UK new-wave jazz pioneers Ezra Collective simply sounds like a really good time, 'Nissim' by Gaslamp Killer is the tune I play when I wish to incite euphoria, and I love 'Summer Sun' by Matt Berry's (yes, that one off of IT Crowd) delirious, dizzy, golden quality. 'Mellow Yellow' by Scotland's-own Donovan, (who, incidentally, I recently discovered has a daughter called Ione Lee) is rumoured to be about either smoking dried banana skins, or a vibrator. Either way, its a song you can really twirl a cane to. Another Scot, known affectionately as The Bard of Dundee Michael Marra's song 'When My Eyes Grow Accustomed to the Light' is pure joy.
'Lovely Day' by folk-soul legend Bill Withers, with its mammoth 18-second-long sustained note (!) is a magic, absolutely timeless tune. 'Take It Easy My Brother Charles' by Brazilian jazz ensemble Som Três, is a reimagining of a similarly fabulous song of the same name by Jorge Ben Jor. Next, British-Indian band Cornershop with 'Natch'. Best known for 'Brimful of Asha', they have been going for thirty years, creating wonderfully eclectic fusions of indie rock, electronica and Indian music. I think its important that I play 'Daft Punk is Playing At My House' by LCD Soundsystem at least once at the first house party we're allowed. "The neighbours can't call the police" being a lyric that really resonates.
Art Feynman, a moniker of Luke Temple from Here We Go Magic, is a quirky songcrafter, and 'Feeling Good About Feeling Good' has been described as 'coked-out-dub-kraut'… whatever that means. Ghanaian-English Afro rock band Osibisa have been going since the late 60s, and I'm sure they'll feel blessed to know that they're my dad's favourite gig he's ever been to. Emote to 'Sunshine Day' and you'll immediately feel happy. Another Ghanaian musician next, with Ebo Taylor's warm and squelchy 'Heaven'. And 'Sunny' by Marvin Gaye, a song I love and fear might be at risk of being ruined by shampoo adverts.
'Give Up The Funk (Tear The Roof Off)' by the outlandish Parliament opens with the deepest voice ever picked up by a decibel meter. I once saw Parliament, Funkadelic and Sly and the Family Stone live – and that was probably the best gig that I ever went to. Next, 'Ray of Light' from Madonna's Hinduism phase, and then a brand, shiny new release from Edinburgh synth-pop duo Maranta. 'Miss Dupé', which gets its name from an interestingly incorrect autocorrect, is a cheerful banger about letting go of a relationship, wishing your lover well, and looking forward. The band's charismatic and exquisitely-voiced singer, Gloria Black's percipient lyrics are supported by the extremely skilful knob twiddling and electronic compositions of Callum Govan, and I predict wonderful things in their sky horizon.
Playing 'Miracle' by Caravan Palace on a constant loop got me through the stress of my final weeks at art school. The French band originally rose to prominence as an electro swing group, but I feel like electro swing's moment is over, really. DjeuhDjoah is also French, and his song 'El Niño', made in collaboration with Lieutenant Nicholson, is a bop. I implore you to watch the music video for 'Like Sugar' by the one and only Chaka Khan. A genius polymath, songwriter, musician, and poet, Labi Siffre's music has been extensively sampled in hip-hop, and you might recognise the brilliantly simple bass line of 'I Got The..' from a certain Eminem song. It goes without saying that Siffre's song is the  superior. I'm ending this playlist on 'The Big Rock Candy Mountain', by Harry McLintock, and, hopefully, I'll see you all this coming fall, in a somewhere that is better than today.