Being a Shetlander and a Scot: Some Reflections on the Election
The SNP came closer than anyone expected to victory in Shetland. 806 votes separated Beatrice Wishart, of Shetland's traditionally preferred Liberal Democrats, and Tom Wills. As surprising as the result is in terms of the numbers, the biggest shock is more fundamental: Shetlanders were willing to vote for the party of Scottish identity. This remarkable among a community who famously reject that nationality: 'I'm Shetland, not Scottish' is a familiar theme for someone raised in the isles. This begs a few questions I've been reflecting on. Why does Shetland resist Scottishness, what is changing, and what can be done to include Shetland in Scotland's progressive nationalism? 
Shetland's history contributes much to its difficulty with Scotland. Any Shetlander you ask could tell you how Scotland only gained Shetland (and Orkney) by reneging on a deal with Denmark-Norway, setting the tone of Scottish dirty tricks. This is supplemented by Shetland's long and painful history of feudal-tenure crofting. Like much of the highlands and islands, Shetland was a deeply impoverished community under the thumb of the lairds. There is one key difference: Shetland's lairds were exclusively of lowland Scottish stock, the result of favoured families being granted huge estates in Shetland by the Scottish crown no matter the actual ownership of the land. Thus, Shetland's narrative is one of being oppressed by a foreign people called the Scots, including the ministers and other hangers-on of the laird, who formed the ruling class. Unfortunately, the Shetland lairds were noted for their brutality, trapping the people in inescapable debt bondage. This is also living as opposed to ancient history. I am 26, a latte-drinking millennial. My grandfather was born in a But and Ben, one of eleven surviving children in a family who rented their croft from an absentee laird and scraped a meagre existence from Shetland's bare hills. It was a life which had barely changed since medieval times.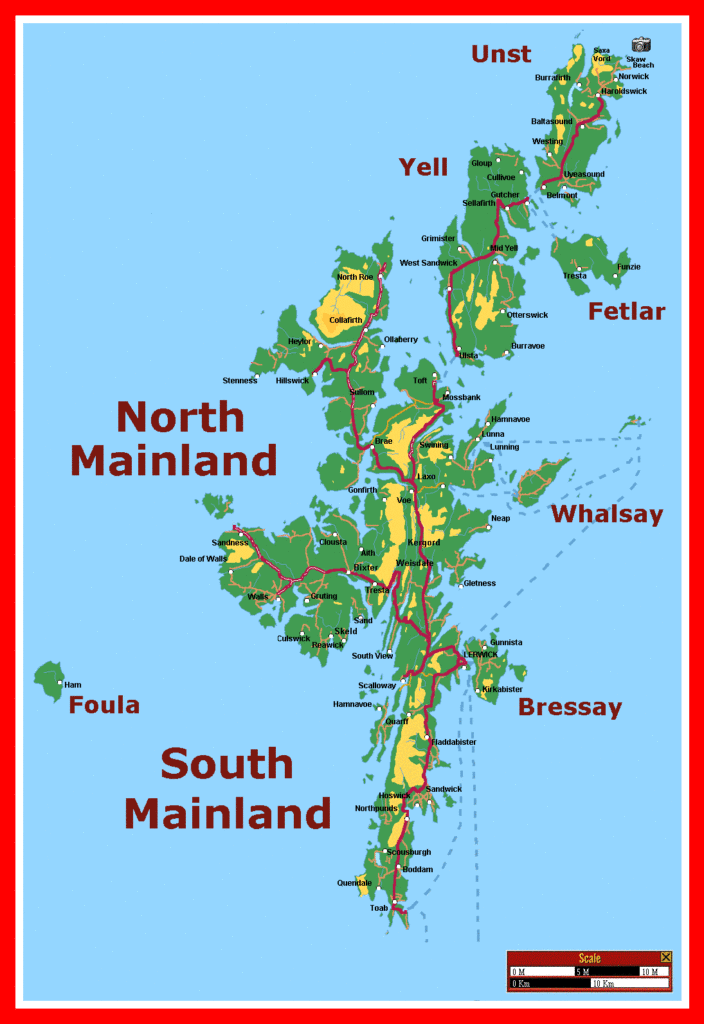 This is, of course, a vastly simplified picture – it inaccurately makes Shetland out as parochial, ignoring Hanseatic trade, German merchants and the Dutch-established town of Lerwick, among other things. However, the narrative strand of oppression remains relevant for a lot of Shetlanders. It also contributes to a general casting of Scotland as the other, no matter that modern Shetlanders are descended from the Nordic, Scottish and many other peoples who made Shetland home. To put it very crudely, if England is the baddy in Scotland's story, then Scotland is the baddy in Shetland's. 
The oil boom of the 60s and 70s substantially changed the islands. For one thing, Shetland became wealthy. Shetland also underwent demographic changes as workers and their families were attracted north from the mainland. Statements from some of the incomers of this era are illuminating:
Like a lot of south folk coming to Shetland, I didn't realise I was coming abroad—that I'd suddenly become a foreigner. I thought Shetland was just another corner of Scotland… The defining moments were Norse-linked: the arrival of the Vikings, the pledging of Shetland. Glencoe and Culloden, those two Scottish moments, were irrelevant here.
Shetland is changing. While I am doubtful that Shetlanders will ever root their identity in Culloden, nor get over calling all non-Shetlanders soothmoothers (the catch-all term for anyone from the south), Shetlanders increasingly identify with Scotland. Younger Shetlanders, myself included, have few qualms about calling themselves Scottish, recognising that Scotland has that familiar feel of home unlike further abroad. This can be contrasted with the fantasies of Shetland secession promoted on the mainland. 
Shetland is supposedly considering its own independence, we're told. In fact, there are countless clumsy and inaccurate pieces about Shetland, clearly written by people who don't understand the place (using the term 'the Shetlands' should also be an instant disqualification for writing about the topic). These writers and politicians cynically use Shetland's complex identity as a political stick to beat up Scottish nationalism. The idea that London rule would be any better is also laughable and another example of ill-informed meddling from the mainland: Shetlanders do not operate under the illusion that Westminster cares. In addition, reading a traditional discomfort with Scottish identity as an endorsement of British identity is tone deaf and inaccurate. Shetlanders see themselves as Shetlanders, not the British of the north.  
The pro-independence side would also be wrong, however, in entirely dismissing the role or extent of difference in Shetland. Certain markers of Scottishness simply do not apply in Shetland: beyond the tartan and bagpipes, the use of Gaelic is unhelpful. It is doubly problematic: first, Gaelic has never been spoken in Shetland, raising the suspicion that mainlanders don't know that, and second, its promotion highlights the lack of attention paid to Shetland's own native dialect. If mainlanders do know of it, then, they've decided that Shetland's own language tradition is not worthy of a similar place in the isles. I don't want to join the chorus of hostility about the Gaelic language, nor join the romantic types in reviving the long-dead Norn language. Instead, surely Shetland's way of speaking now, whether it's a language or a Norse-inflected dialect of scots, is worthy of respect. Scotland's civic nationalism is rightly welcoming to all, but also takes note of Gaelic and to a lesser extent Scots. Why can Scottish identity not do the same in Shetland?
This sense that Scotland just doesn't get Shetland is pervasive, and every complaint is filtered through that lens. When Shetland's ferry route was tendered out to Serco, who must surely rival Abellio for shittest provision of vital services by a private business, people asked why other Scottish islanders got publicly owned CalMac ferries. The ever-present feeling is that Shetland is ignored and unwanted. Scotland does not care, if it even remembers that Shetland exists.
Unionists do worse with Shetland, though. The racial aspects of Shetland identity are the root of too many mainland talking points. Shetlanders are not Vikings. While Shetland does possess higher percentages of Scandinavian DNA than the wider UK, Shetland's modern Viking character is the result of 19th century romanticism. The idea that Shetland's identity is the result of some ethnic difference with Scotland is frankly ridiculous. Flirting with Wir Shetland, a right-wing anti-SNP and Eurosceptic group cosplaying as a grassroots autonomy movement, reveals much about unionist politicians and their level of care for the Shetland community. A more convincing case for Shetland's cultural distinction is the fact that it's just very far away: Orkney and Na h-Eileanan Siar can be reached by ferry from mainland Scotland in under 3 hours. Getting to Shetland takes at least 12. Shetland is like a remote, tiny mirror of Scotland, with both defined by diverse waves of migration and a much larger 'other' to the south. Links with Scandinavia are, of course, very important in Shetland – but it's not a zero-sum game of Nordic identity cancelling out Scottish, nor does it make Shetland want to leave Scotland and become independent. Instead, it forms a part of the blend of Shetland culture, which should not exist in tension with Scottishness.
In terms of politics, then, many SNP policies are clangers in Shetland. English and Gaelic as the languages on official signs, buildings, and vehicles, for example, just seems to highlight that the party doesn't get Shetland. Why not add the Shaetlan words in Shetland? Some cultural fine-tuning would go a long way for the SNP's prospects. Over-centralization in the central belt is also a concern, but not one which will to drive Shetland to secede from the nation. Shetland's unique reliance on single ferry and air services is important, too. Many Shetlanders feel cut off by the eye-watering costs of visiting Scotland and vice versa. Shaetlan road signs and better ferries may sound a farcical approach to accommodating Shetland. But cosmetic changes that recognise Shetland's difference, accompanied by an understanding of Shetland's sheer remoteness, I believe, are all that is needed to make Shetland as Scottish as any other corner of the country. 
In sum, then, there is a simple to-do list: the SNP should engage with Shetland Islands Council in their exploration of greater autonomy – but be wary of how much the SIC's aspirations are shared by other Shetlanders. They should look at Shetland's precarious travel links. They should also be sensitive to cultural difference. Tom Wills is an excellent candidate and I believe that he will win the next election in Shetland, should he choose to stand. However, the SNP have an opportunity to make themselves the party of both a progressive Shetland and Scottish identity, eliminating the barrier between the two. It's a chance that should not be ignored.
See also The Shetland Card: https://bellacaledonia.org.uk/2013/12/12/the-shetland-card/