The Power Grab of the Queen's Speech
At the State Opening of Parliament today the full-farce of Britain's Ruritanian institutions were on display. The Queen's Crown arrived in its own Rolls Royce. The state broadcaster dutifully covered the procession of the 'Imperial State Crown' being carried up a staircase:
The Imperial State Crown is carried up the stairs into the Robing Room in the House of Lords

It is the crown worn by the Queen on her coronation day in 1953

Follow #QueensSpeech live: https://t.co/WWC4auVGvH pic.twitter.com/JyZgLnmsG3

— BBC News (UK) (@BBCNews) May 11, 2021
The annual Queen's Speech combines the pantomime of Britain's Royalty with the Prime Minister's programme for government. This year's speech constituted a full-scale attack on democracy, making it possible for the Prime Minister to control when a general election takes place, voter suppression, making it harder to challenge government decisions, and making it harder for anyone to protest about any of this –  as well as putting in place an explicit power grab against Scotland's devolution.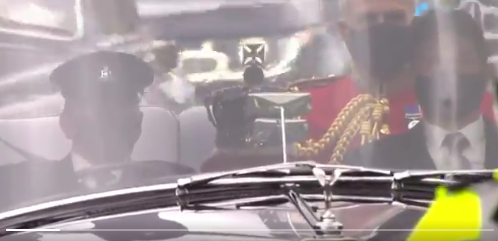 George Monbiot likened the trajectory the speech represented as taking us nearer Orbán's Hungary. He outlined ten areas of concern:
1. The ruling class, wallowing in corruption, enjoys total impunity. Meanwhile, peaceful protest and other freedoms are criminalised.
2. No political scandal is a sacking offence.
3. A complicit media so distorts the reporting of government action that it becomes almost impossible to distinguish truth from lies.
4. Apparently endless rule is sustained by voter suppression and gerrymandering.
5. Politics proceeds by means of the grand gesture. Billions are spent on major infrastructure, while basic services are allowed to wither and die.
6. Public agencies are repurposed to direct money into the hands of chums.
7. People trying to defend minority rights and liberal values are bated and provoked, as the government seeks new enemies and revels in its illiberalism.
8. Policies that would once have made you gasp are normalised, as the frontier of acceptable outrage is constantly extended.
9. Immigrants are demonised and blamed for problems for which they bear no responsibility, even as their numbers fall.
10. The government inventively discovers endless scapegoats for its own failures.
It shouldn't be a surprise that a programme read out by an unelected head of state should be anti-democratic, but Johnson's plans are naked and brutal. Jess Garland points out: "Proposals to introduce mandatory voter ID, as unveiled in today's Queen's speech, are a dangerous attack on our democratic rights that could lead to millions of legitimate voters being locked out of the polling station on election day. It is estimated that implementing the proposals could cost up to £20m per election, a hefty price tag for an unnecessary policy, and an expensive distraction from the real issues that affect our democracy and our country more widely."
But also it is a phantom problem, she continues:
"Of the 595 alleged cases of electoral fraud investigated by the police in 2019 only 33 related to voter impersonation at a polling station – that is just 0.000057% of the over 58m votes cast in all the elections that took place that year."
While specifically anti-democratic legislation were spelt out in some detail, other ideas like "leveling up" were characterised by being vague and meaningless. The attack on democracy was relentless, all paraphrased in carefully weighed words: "Restore the balance of power between the executive (government), legislature (Parliament), and the courts."
The impression was very clear, this government shut down Parliament to get their own way, but got stopped by the courts. This was their moment of revenge.
The speech was littered with Tory attacks on democratic rights including: reducing the rights of asylum seekers; attacking people's right to protest; attacking traveler communities; making it harder for people to vote and attacking the judiciary.
On the day when the reality of the Ballymurphy massacre was laid bare and the Greenshill scandal spilled out again into the public domain – the full set of Britain's Dressing Up Box was on display, a potent combination of feudal cosplay and toxic Tory legislation to disempower people and undermine democracy.