The Inbetween Times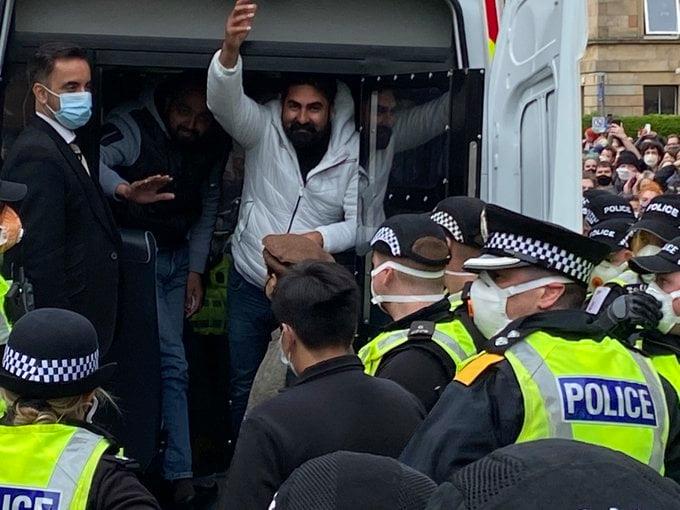 The inspirational peaceful protest of Kenmure Street shows not just a model for resisting the racist British Home Office, but a template for self-determination. For a Scotland stuck in perpetual limbo between the democracy it aspires to be and the Scotland stuck in the British State run by Priti Patel and Boris Johnson, the massive victory by direct action from the communities of the Southside & Pollokshields shows a way forward. The victory after an eight hour stand off anti-racist protestors forced the racist UK Home Office & UK Border Agency to backtrack on their deportation of two men and release them has lessons for us all.
The idea of spontaneous peaceful direct action as an example of radical self-organisation as a model for a new second-phase of the independence movement is now being raised. The Kenmure Street resistance was a brilliant example of leaderless grassroots action that directly struck against the British State by expressing humanity and solidarity. There's no better example for a renewed radical independence movement, characterised by community action as the very essence of self-determination.
In contrast the politicians seemed leaden and unresponsive. Reversing the understood power dynamic the elected Scottish government looked powerless while the community looked powerful and emboldened. As Voices for Scotland put it: "People make Glasgow. People make Scotland, but Westminster makes Scotland's Immigration policy."
The power relationships at play here are complex: the relationship between the Scottish Government and their (our?) police force; the relationship between the Home Office & UK Border Agency and the Scottish Police, the relationship between the devolved administration and the British state, and finally the relationship between the people being threatened and the wider community they are members of. When people say that "immigration should be devolved" this seems tempting,  but devolved administrations could just become inadvertent conduits of British foreign policy and immigration policy. The solution is not to devolve the same policies but to create new ones, new ones that could only be carried out by a new democratic state. This was not just a flex of power and intimidation by the Home Office but an insult and a return to dawn raids.
The role of the Scottish Police in all of this is ambiguous on multiple levels.
A spokesperson from them said on Thursday: "Police Scotland does not assist in the removal of asylum seekers. Officers are at the scene to police the protest and to ensure public safety."
This seems disingenuous.
As the protesters escorted the men to the local mosque, Pinar Aksu, of Maryhill Integration Network said:  "This is a revolution of people coming together in solidarity for those who others have turned away from," she said. Aksu described how hundreds more supporters had arrived at the scene as the afternoon progressed. "This is just the start. When there is another dawn raid in Glasgow, the same thing will happen."
Aksu added: "For this to happen on Eid, which is meant to be a time of peaceful celebration, is horrifying. It is no coincidence that it is taking place when a new immigration bill is being prepared.
"We also need answers from Police Scotland about their involvement. We have already written to the home secretary asking urgently to clarify whether the decisions to carry out immigration enforcement raids, including dawn raids, represents a change in the policy by the UK government."
This was, it should be remembered an unsuccessful dawn raid and as much a failure as a victory.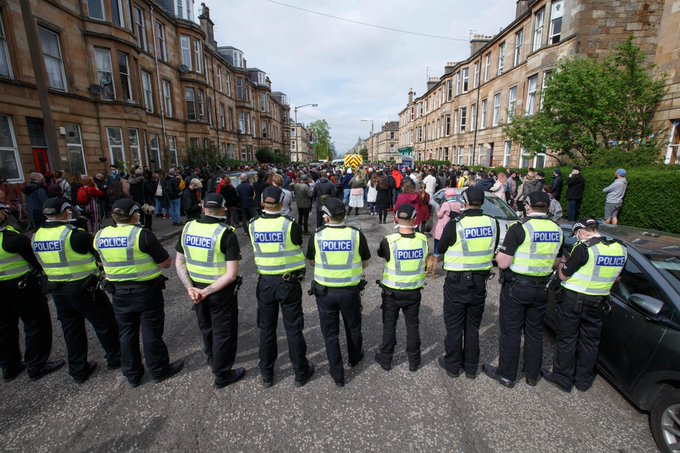 Robina Qureshi, Director of refugee and migrant homelessness charity Positive Action in Housing based in Glasgow said:
"The unsuccessful dawn raid instructed by the U.K. Home Office today happened on the holy day of Eid (like Christmas) in a large Muslim community. Is nothing sacred?
"It cost tens of thousands of pounds for the police operation when the community resisted this barbaric action, never mind the Covid risks which is on the rise in the Southside of Glasgow.
"Scotland stopped dawn raids in 16 years ago and our charity led those campaigns when the (devolved) Scottish police and Scottish government condemned it outright and prepared a protocol and refused to devote resources to facilitating dawn raids or cooperate with Westminster in doing so.
"Be under no illusion that without that cooperation these dawn raids would disappear tomorrow and the Home Secretary would have no chance of reintroducing them here as part of her barbaric "new plan of immigration" which will see refugees left on the streets as soon as they reach our shores, and human rights abuses hidden away from public gaze within asylum reception centres and the prospect of ever more drownings because of a lack of safe and legal routes."
"I'm in no doubt that this is the Home Secretary simply using Glasgow and the rest of Scotland to grandstand her barbaric "new plan for immigration" by publicly intimidating vulnerable people who we know first hand have already been through so much. This will only inflict more suffering upon already beleaguered refugee communities. Well Scotland has a tradition of not putting up with this sort of nonsense, and let me say this, we are categorically not putting up with it."
Questions remain about everyone's role in the chain that makes this possible or impossible.
How can the independence hard-wire into its prospectus for the future and its operating mentality for the everday-now an anti-racist, decolonial outlook? How can we build the case for a radically different approach to immigration, free movement and asylum seeking?
Are Scottish authorities cooperating with dawn raids?
What is the level of collusion and potential resistance that the Scottish authorities can hold? How can we empower our representatives to demand better policing and to enable obstruction to the hostile environment?
Can Scottish democracy movement re-imagine itself as a far more radical entity that puts solidarity at the very heart of its thinking and actions?
Reactionary elements within the Scottish independence movement – the "populists" who it turns out weren't very popular at all were recently heavily defeated. Now it's the turn of wider forces to come together, move beyond factionalism and learn the lessons from Kenmure Street. They would seem to be: resist the British State; direct action is vital; radical solidarity is essential; spontaneity is powerful. Beyond this the lessons are I think, to stop looking upwards for leadership from those who are already fatally compromised, and second that leadership comes from below and can have spectacular success.
It's worth remembering that this is not about Scottish exceptionalism it is about humanity in the face of inhumanity and it is confronting the British state, as the people demanded (and won): "These are our neighbours let them go".