The Pandemic and the City: urban overhaul, or 'back to normal'?
Bella's European Feature Writer Ben Wray looks at Barcelona, Paris, London and Berlin to find out how different European cities are responding in the wake of the pandemic crisis. 
For a moment, everything about the city changed. At the peak of pandemic lockdown, the car no longer dominated the roads. Large swathes of commercial property were suddenly completely redundant. Tourist flats lay empty. We could breath easier in the street and did not have to shout to be heard over the traffic. Crowded areas became open spaces.
Lockdown gave us a unique insight into just how malleable the urban environment is, and that the one we have accepted for so long as 'just the way of things' is in fact just one city regime, one we can overthrow permanently if we want to. Radical urbanism seems less utopian today than it was before covid-19; we've glimpsed a different city.
The drift back to the pre-pandemic city regime – designed to maximise the interests of rentier capitalists at the expense of our collective social and environmental future – was inevitable out-with an active political agent pressing for permanent structural change. The strong gravitational pull towards 'back to normal' has had its effect. Despite this, across Europe there are important examples – good and bad – of where the drift is being confronted by those seeking permanent reconstruction of the city post-pandemic.
Barcelona and the "superblock programme"
Barcelona's mayor Ada Colau was an anti-evictions activist before winning election to the top job in the Catalan capital in the 2015 municipal elections. Her citizen platform 'Barcelona En Comu' are committed to a politics of radical municipalism, and responded to the pandemic by accelerating their policy agenda, including:
Stepping up the fining and expropriation of properties left empty by landlords in the city and using them for emergency housing accommodation;
Pedestrianising public space, creating new cycle lanes and allowing restaurants and bars to set-up tables in space that was previously for cars to aid social distancing in hospitality;
Supporting the "grassroots cultural sector" through a voucher scheme providing citizens with a 25% subsidy on all purchases at local bookshops, theatres, concert halls and cinemas;
Supporting community organisations to stay in contact with one another by providing safe municipal spaces to meet and free videoconferencing facilities.
In November 2020, Barcelona City Council launched it's 10 year vision for the "superblock programme", a plan to turn the central district of Eixample from a concrete jungle with dangerously high levels of air pollution into an urban paradise, with homes never more than 200 metres from a public square or green hub; local spaces where people can relax, exercise, socialise, play, and community can start to develop where previously there was only traffic.
In combination with the rent controls introduced by the Catalan Parliament last year, the superblocks should make urban space more liveable without further gentrifying the city in the process. However, superblocks will have to be extended well beyond the Eixample district, which is relatively wealthy, to make the concept truly egalitarian.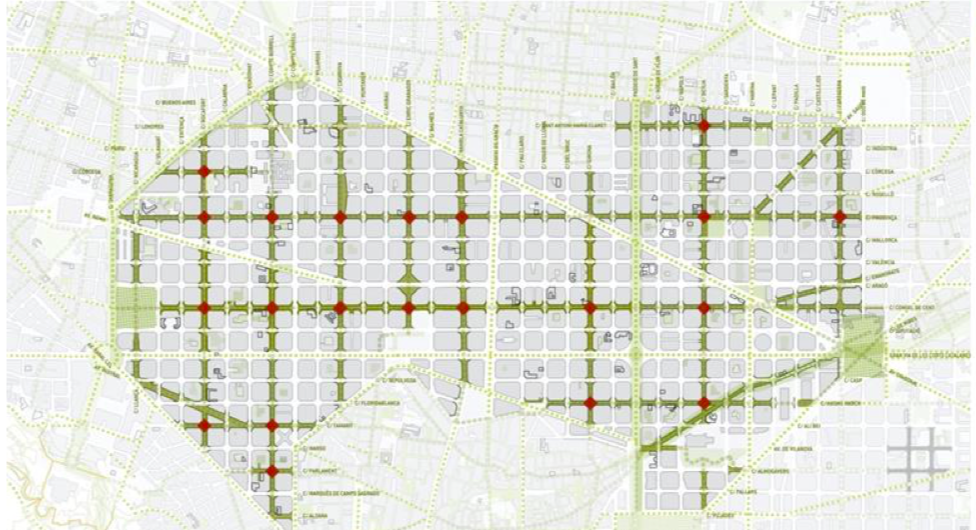 There are currently six green hubs, with 11 more being introduced over the next three years, and if the plan is fully implemented one out of every three streets in Eixample will be a green hub. And what are currently congested crossroads will become 21 new public squares.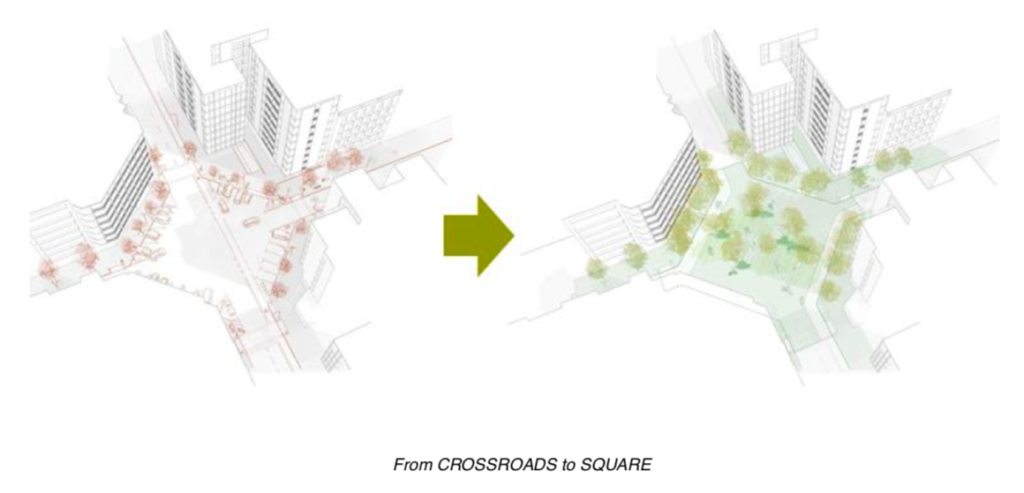 Inevitably, the superblock programme has incurred the wrath of the motor lobby, but council leaders don't seem too concerned, as the response from citizens has been overwhelmingly positive.
"People think they have a right to go where they like in a private vehicle, but it's not a right, it's a privilege," Janet Sanz, deputy mayor of Barcelona, told the Guardian. "What is a right is the right to breathe clean air. Individual rights shouldn't be allowed to take precedence over the rights of the collective."
The health impact of housing inequalities was acutely felt when lockdowns hit Europe, with those in small flats trapped while the fortunate in houses with big gardens were free to go outside and exercise. One route to addressing this problem is by making urban public space accessible and green.
"In a Mediterranean city, the street is an extension of our homes," Sanz adds. "The health crisis has shown that many people live in small flats and for them the street is very important."
Barcelona has also been one of the cities to suffer most from over-tourism over the past decade, with only Edinburgh having more AirBNBs per resident out of European cities. A licensing regime for short-term lets, which requires listings to display an ID number to show they are licensed, has seen the number of short-term lets fall significantly.
Rather than the disappearance of tourists during the pandemic leading the city council to take its foot off the gas when it comes to controlling short-term lets, Colau announced in February new proposals whereby people can rent rooms in their own homes only for 30 days or more. This is to adjust to AirBNB's new strategy in the city, which is to encourage short-term lets in houses which, officially at least, are also lived in by their owners. The problem for the council is that to police whether owners really are staying in the homes while AirBNB guests are there would be expensive, so this reform seeks to cut-off that route for short-term letting altogether.
According to the council, the reform would "guarantee the social function of housing and avoid a saturation of tourist rooms that would cause problems of coexistence, impact the housing market and harm neighbourhood trade."
Paris and the "ville du quart d'heure"
Parisian mayor Anne Hidalgo's embrace of the "15-minute city" concept as a key plank of her 2020 re-election campaign was just the start of the idea's popularity, which has since become the new big thing in urban planning circles following the pandemic.
The relationship between time, space and quality of life is at the heart of Professor Carlos Moreno of the Sorbonne University in Paris' idea. With home-working a now realistic prospect for potentially hundreds of millions of workers in Europe, the idea that you could actually have everything you need within a 15-minute diameter from your home suddenly appears realistic for many.
"It is time to move from city planning to urban life planning," Moreno writes. "This means transforming the urban space, which is still highly mono-functional, with central city and its various specialised areas, into polycentric city, based on four major components: proximity, diversity, density and ubiquity, in order to offer this quality of life within short distances, across the six essential urban social functions: living, working, supplying, caring, learning and enjoying."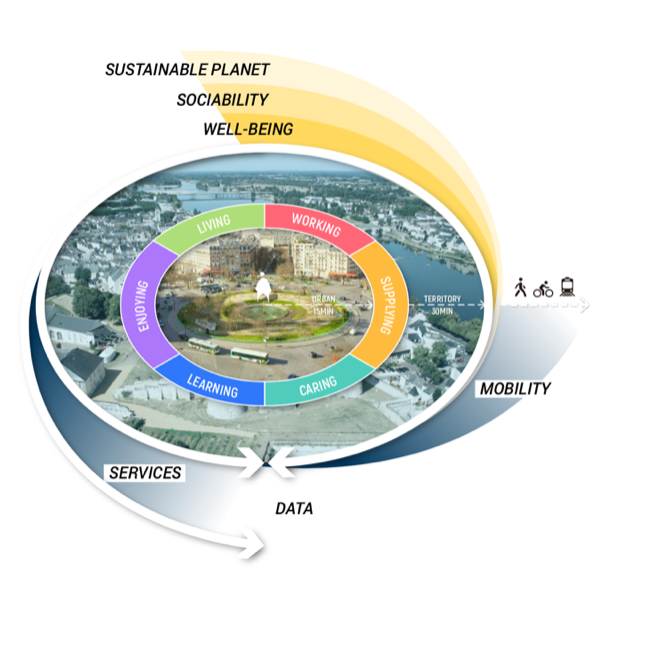 Hidalgo, who won her re-election campaign, has begun to implement some of her manifesto commitments connected to the "ville du quart d'heure" concept, most recently announcing plans for a "Limited Traffic Zone", which will give priority on the roads to cyclists and pedestrians.
"Through traffic, that is, vehicles crossing the area without stopping there, will be generally prohibited," the proposal, which is out for consultation, states.
The 15-minute city idea is not exactly new – Copenhagen in Denmark and Utrecht in the Netherlands have long since introduced the idea of hyper proximity into urban planning. But the triple combination of climate breakdown, the pandemic and the mental health crisis has breathed new life into the notion that public and environmental health are deeply interconnected with place.
The question that remains is whether the 15-minute city is really just a concept for the middle classes?  One academic study of Hidalgo's 15-minute city plan praised many of its features, but found that there was a risk "of creating a socially polarised city".
"Paris en Commun is a plan concerning the inner ring area, only a part of the Greater Paris Metropolis, inhabited mainly by affluent Parisians and with property prices that rose even during the pandemic," the study finds. "Greening and pedestrianising large parts of Paris may impose great challenges in providing inclusive and diverse housing and make the city of Paris inaccessible to lower-income suburban commuters."
The test of concept's like the 15-minute city, and indeed the Superblock programme, is not whether it can work in areas with a boutique grocery selling fresh fruit & veg on every corner, but in districts of the city where affordability trumps proximity every time.
London's class-divided office-to-flats conversions
At the other end of the spectrum from the 15-minute city is the displacement city, where those in need of housing in Central London end up shifted to the outskirts, where they know no one and often are a long distance away from jobs and amenities. Increasingly, displaced Londoners end up in out-of-town offices which have been converted into homes.
Office-to-flats conversions took off after David Cameron's Tory Government changed planning laws in England in 2013, so that offices could be converted to flats without full planning permission. In 2019 deregulation was expanded so that old offices could be knocked down and replaced by new build housing without full planning permission. The lack of planning permission meant good house design went out of the window – room sizes were shrunk, daylight in homes was reduced (there was even cases of flats without windows) and the need for access to green space utterly ignored.
In the context of the pandemic crisis, where many more offices are now lying dormant and with little prospect of them suddenly being filled up with workers again, many of whom can do all the same tasks from home, the potential for an avalanche of new horror stories of office to flat conversions is real. A rule change in August last year means that the same could become true of empty retail lots on high streets, which can now also be converted into flats without planning permission in England.
"They will offer very little privacy and risk overheating in summer and excess cold in winter," Julia Park, the head of housing research at the architects Levitt Bernstein, told the Guardian.
Conversions of offices and high street lots into housing is not a bad concept in and of itself. We should be seeking to move away from ever-more out-of-town, poor quality new build estates. But if they are replaced by even poorer quality conversions nothing has been gained. What is required is a proper local planning policy to examine where office and retail lot conversions can be done in a way which produces good quality homes and in places where residents can be part of thriving communities.
There is of course plenty of examples of high-quality conversions, but they tend to be found in the upper end of London's property market. The most high-profile is the City of London's recent announcement that it would be converting office space into 1,500 flats. The Square Mile financial district only has 7,850 houses currently. The pitch to potential buyers includes 'traffic-free weekends' and 'all-night celebrations', something that definitely was not offered to residents moving into Shield House in Harlow.
Berlin's movement to cap the rent
One of the curious questions of the pandemic is: why did it not disrupt the housing market more? One would expect with sharply declining incomes and rising unemployment that the knock-on effect would be declining house prices and private rents. But in the EU in 2020, house prices rose 5.5%, while in just three EU countries that year did private rents fall: Estonia, Latvia and Slovenia.
What this highlights is the importance of politics as much as economics in understanding the present housing market. A regulatory system and monetary policy designed to ensure ever-rising asset price inflation won't be easily derailed, not even by a pandemic. But something has to give in a crisis, and that something in this case is an even greater share of household income going to landlords. As the World Economic Forum admits, "covid-19 has resulted in many Europeans paying a greater share of their earnings on rent".
One of the most important rental markets in Europe is the German one, since it is much larger than the European average, making up almost 55% of the total housing stock. Germany's rental market was also, for many years, very cheap compared to much of Europe, but rents have been rising at 5% a year since 2016, and 6% in the biggest cities, including Berlin, where rents rose 27% from 2013 to 2019.
The response has been a movement which pressured the city-state government to introduce a rent cap, which came into effect in February 2020. Prices were frozen at their June 2019 level on nearly all apartments for five years, new rental contracts could not exceed that rate and some landlords were forced to reduce their rates. Tenants were even empowered to sue their landlord for reduced rents, in what was one of the most ambitious rent caps anywhere in Europe.
However, in April the Constitutional Court overturned the Berlin rent cap, ruling that since there was already a law regulating rents nation-wide, the Berlin Government didn't have the power to introduce its own controls. Some landlords included "shadow rents" into contracts if the court found the Cap to be unconstitutional, and are now demanding back-dated rent and preparing big increases.
Berliners are taking to the streets in protest, with organisers stating 10,000 demonstrated at the end of May to "stop the rent madness!". Demonstrators and tenants' unions are also demanding that the Berlin Government expropriate private-sector rental housing from major-property owning companies.
Conclusion
There is a mixed picture across Europe when it comes to where cities are going in wake of the pandemic crisis. On the one hand there are signs that, as the growth engine begins to pick up steam again again, all the prior trends in the urban environment towards greater inequality and alienation may be little changed by the pandemic. On the other hand, there are examples of a new energy developing behind the simple idea that cities should be sustainable and liveable for all. The future of Europe's cities remains in the balance, with everything to fight for.