The G7 Summit is Boosting Cornish Nationalism. Here's Why.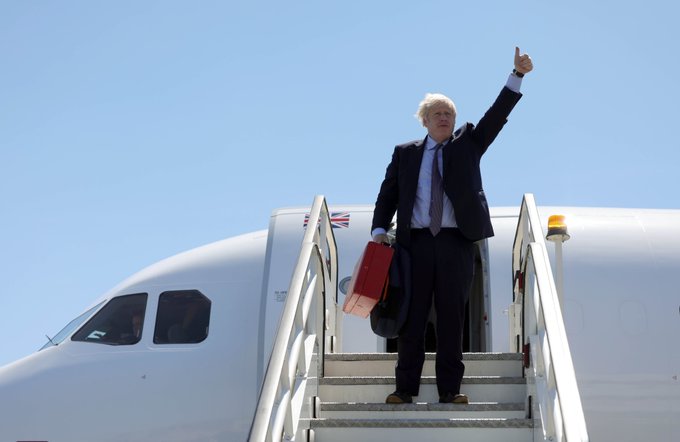 There has been a big clean up operation to get Cornwall looking picture postcard perfect for this week's G7 Summit in Carbis Bay, near St Ives. From builders to caterers and gardeners, it's been all hands on deck for the arrival of the global leaders, staffers and media.
For weeks, we've seen a vastly increased police presence, with the local plod urging the young county lines lads to leave the town centre, so they're out of global sight. It's surprising how eerily quiet the deserted alleys and streets have become without the familiar nightly shouts and brawls.
Cornwall Council – always keen to do Westminster's bidding – has forcibly removed over 130 homeless people from St Ives B&Bs to make room for visiting G7 guests. And up the road in the seaside resort of Newquay, five vulnerable women were told to leave their emergency accommodation, so that English police officers had somewhere to stay during the summit preparations.
A local woman with schizophrenia was left at the side of the road with her belongings in black bin liners, while another lady in her fifties is sleeping in her car as she refuses to drive the hour and a half across the border to England for the duration of the big event – she said she's never left Cornwall before.
Infuriatingly, many St Ives and Carbis Bay locals are losing work due to the summit. Mini bus and taxi drivers are finding it impossible to get in and out of town, with many simply resorting to taking an extra week of annual leave for no pay.
The landlords of the Bean Inn, at the top of Carbis Bay, say that they're usually fully-booked at this time of year. Yet they have just one reservation for this Thursday and Friday, as visitors are avoiding the area because they fear there will be big traffic delays.
And with half of St Ives fenced off from locals, the G7 Summit is serving as a painful visual reminder that the Cornish are often left on the outside, looking in at our wealthier English neighbours.
One in three kids from the town's harbourfront live in poverty, as the Duchy of Cornwall has a lower GDP per capita than Lithuania and Hungary. And most Cornish teens don't see our sandy beaches in summer because they're too busy working in the backs of restaurants for long hours and low wages.
Successive Westminster governments have abandoned coastal towns at the periphery of our supposedly United Kingdom for decades, with visiting city drug dealers investing more cash in local enterprise than the politicians.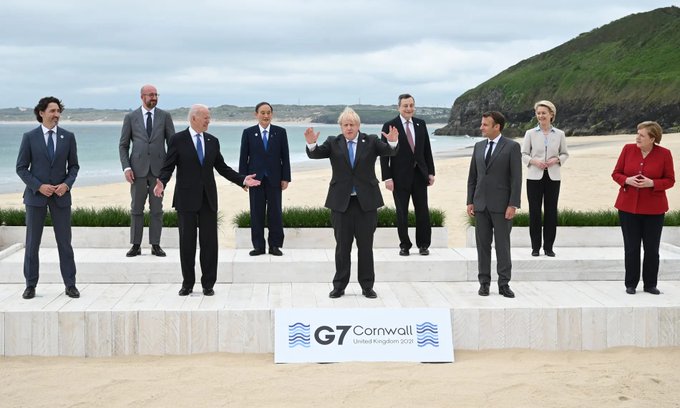 Unfortunately, our rural Duchy has been a net loser from globalisation, with traditional industries such as tin and clay mining; fishing and farming declining to the point of near-extinction, but our politicians consistently failing to develop policies and fund infrastructure for innovative replacements.
From a shared Celtic heritage to a seasonal economy, often dominated by low-paid, insecure employment, rural Cornwall has more in common with Scotland and Wales, than with the ruling metropolitan elite. It seems that being on the periphery of the country has placed us on the periphery of the economy, battling to secure a zero hours contract in a service or retail job, with our desires for independence simply a longstanding English joke.
But energised by the strong independence movement in Scotland, long-time Cornish nationalists are encouraging fellow citizens to join the campaign for independence from England. We've even revived Kernewek – our Southwestern Brittonic language – to the stage where it's no longer at risk of extinction.
The G7 Summit has inadvertently highlighted that an English government is never going to create a Cornwall that works for everyone and not just the few. We've always been told there's no money to regenerate the boarded-up town centre shops and create year round employment, so it's galling that there's a spare £70 million to cover the policing costs of this event that's been foisted on us.
Falmouth's G7 temporary accommodation village is an insult to every Cornwall resident who has suffered due to the area's housing crisis, where there are up to 70 applications for each rental property. And waiting for global media attention before addressing St Ives' decades-long heroin and crack problem is offensive to everyone who's travelled for miles to access our poorly funded drug treatment services.
So it's unsurprising that Cornwall's residents are getting together to send a clear message to England's politicians that we need our independence. Over the next week, there will be huge protests against both the G7 and Westminster's ongoing desire to treat the Duchy as a playground for the elite, whether it's global leaders or wealthy second home owners.
The next month is sure to bring a seemingly endless stream of well-known politicians posing for the obligatory photo, whereby they thoughtlessly reduce our culture to a pasty or cream tea. But Cornish nationalists will be carrying banners, flying St Piran's flags and spreading the word that there's an alternative to English rule, with a future that doesn't render us dependent on the scraps from the Westminster table.