Gerrymandering Britain, Again
Brits who have spent decades moaning about the "Blood and Soil" Nats have launched another bewilderingly stupid attempt to gerrymander a referendum they say MUST never and WILL never happen by a) excluding people who live and work in Scotland and b) suggesting that the basis of a new franchise should be, er, blood and soil.
Confused?
Look, let's re-cap:
"Borders shouldn't exist and certainly don't in Britain, which is one glorious entity, and if they do exist, like that bastard one in the Irish Sea which NO-ONE knows how it got there, but it really isn't there. Got it? Separatism and Nationalism are vile and terrible – but also "get the foreigners out of Britain". Also: "we love you but you are a bit shit and we will need to subsidise you for eternity BECAUSE the Union is so good." If you leave we will feel bereft because some of us own quite alot of Perthshire AND this is the most successful Union in the World ever."
Are you following?
It's an easily and often regurgitated Unionist trope that Jocks everywhere should resist the vile separatists. I'm not sure how seriously it should be taken.
Adam Tomkins,  a sort of ex-person today pleaded: "Scots who left home to move to England or Wales did not think they were emigrating. Why shouldn't they be given a vote before an international border is erected between where they live and where they were born?"
The wildly contradictory and flatly hypocritical stance of the Unionists is stark. A Tory cabinet minister: "One thing is to open up eligibility of the vote to all Scots in the UK, not just those living in Scotland."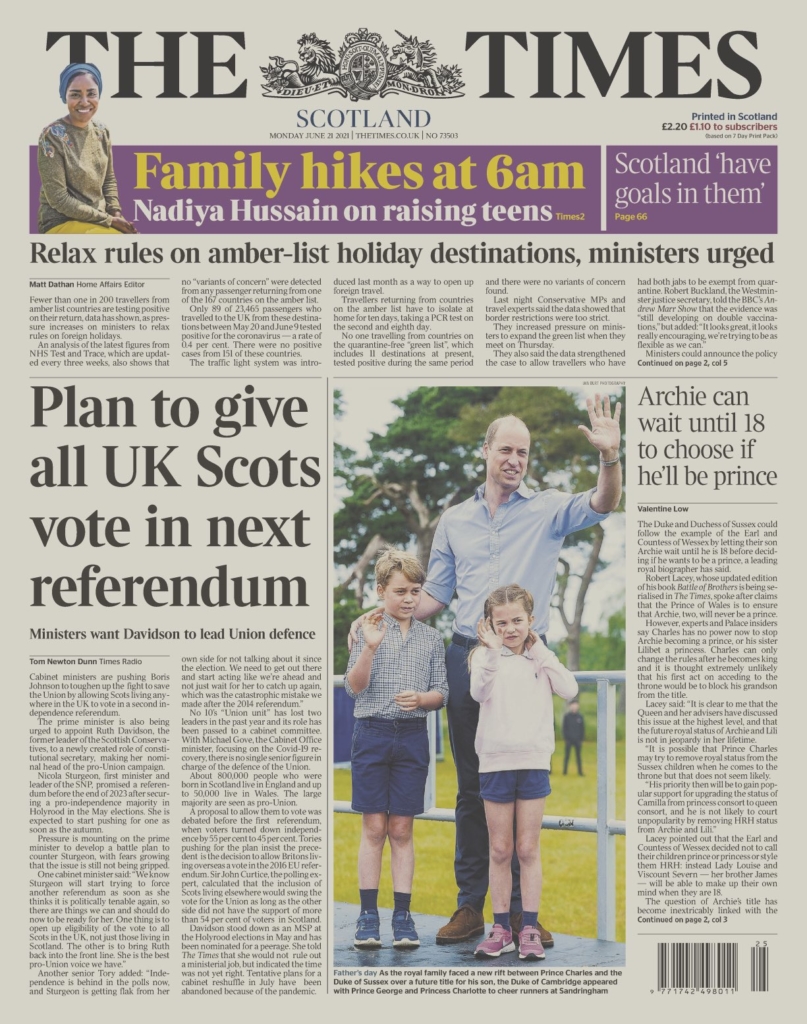 Why?
Presumably because people who don't live and work here, don't pay tax here and and don't have a commitment to the country – have left many many years ago for whatever reason, will vote No. And they have little faith that a proper democratic – already established electoral franchise  – will support their indefensible political arrangement.
Meanwhile as Sir Keir Starmer looks about as comfortable as Matt Le Blanc at the Friend's Reunion, Tony Blair and Andy Burnham and Alistair Campbell hover on the sidelines like co-creators, Kevin S Bright, Marta Kauffman and David Crane waiting for an unlikely re-boot of past-it 90s has-beens.
The vultures are circling over the corpse of the long-dead Britannia.
But they have been for a while. Back in pre-Deltan September Lord Finkelstein was at it flying the Gerrymandered Kite in September 2020: "There are lots of people who engaged with the question of whether the United Kingdom continues, and obviously the people of Scotland are one of the largest groups in that decision" – how touching – "but they're not the only group. It's right that actually the UK Parliament has some sort of – has the power over the decision about whether we have a referendum."
You may think it distasteful that an unelected Lord from the Motherfucker of All Parliaments ™ preach about what is democratic, but the attack-line was accompanied by a piece in The Spectator by James Forsyth ('To save the Union, negotiate Scotland's independence').
It won't work and it's a sure-sign of desperation.