Poem of the week : The Viaduct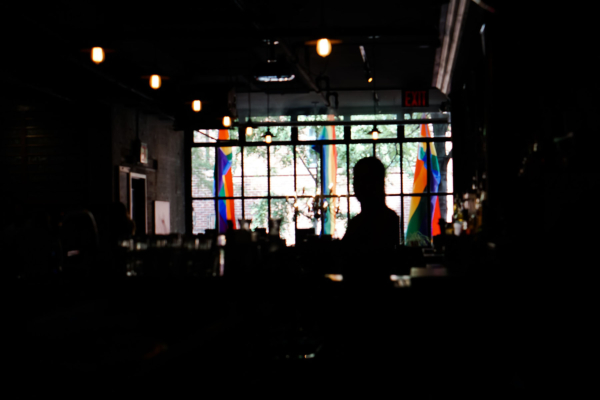 The Viaduct
and you walk in here,
and just know.
you don't hover.
and the punters,
they won't tell you.
you've to ask yourself.
bodies make collisions.
songs beat conversations.
you either know the words to this one,
or you don't…
the wallpaper would sweat.
now it's sequinned.
Dressers from Hugo Boss
to cross.
bald patch
to blonde wig.
swaying in the strut.
scars are exhibited,
one way or another.
on crimson hands
that looked as though
they'd just been breaking bricks,
on glittered hands
that've just been painting nails.
DIY tattoos
showed swastikas.
calligraphy initials:
a victim of the '80s.
pints pirouetted.
dregs tossed like seeds.
flutes fly in encores.
shots come as standard.
nod, sip, scowl, smoke:
stood firmly where you could.
wave, sway, smile, sing:
dance freely where you choose.
square inch territory.
Stone Island jumpers.
square foot slut drops.
size 11 heels.
uninvited eye contact
could shift you straight to Jimmy's.
nowadays,
it could shift you on the spectrum.
busting noses,
saving face,
snorting keys,
and breaking bans.
who the fuck are Leeds United?
the Whites go marching on.
lip syncs
and hen dos.
double dates
and double stubble.
who the fuck are Leeds United?
the queens go marching on.
the Fred Perry wreath.
the Stone Island compass.
the AIDS epidemic.
the Stonewall riots.
the cross of George,
the Yorkshire rose,
the Union Flag.
the rainbow flag,
the rainbow flag,
the rainbow flag…
patches sewn on jumpers.
stories told with craft.
tits made from silicone.
egos like balloons.
hip flasks with absinthe
to weed out all the 'boys.'
hip flasks with absinthe:
unlearn the bullied boy.
an altar.
a hideout.
a belonging.
an outlet.
a training course.
an answer.
from men who had to
broadcast bollocks,
to those who choose to tuck.
funny,
where some folk
feel threatened.
In the mid-2000s, The Viaduct Pub
was a common haunt for Leeds United
football hooligans on match-days,
including the Leeds Service Crew.
The Viaduct Show Bar is now a
popular LGBTQ+ venue which
regularly hosts drag shows
and drag cabaret nights.
Matt Abbott is a poet, educator and activist from Wakefield. His début solo show Two Little Ducks earned 5* reviews at the Edinburgh Fringe. The show's poems were published by Verve in 2018. His début kids' poetry collection A Hurricane in my Head was published by Bloomsbury in 2019. He was a patron of the 2020 Foyle Young Poets of the Year award and runs spoken word label Nymphs & Thugs.