Three Lions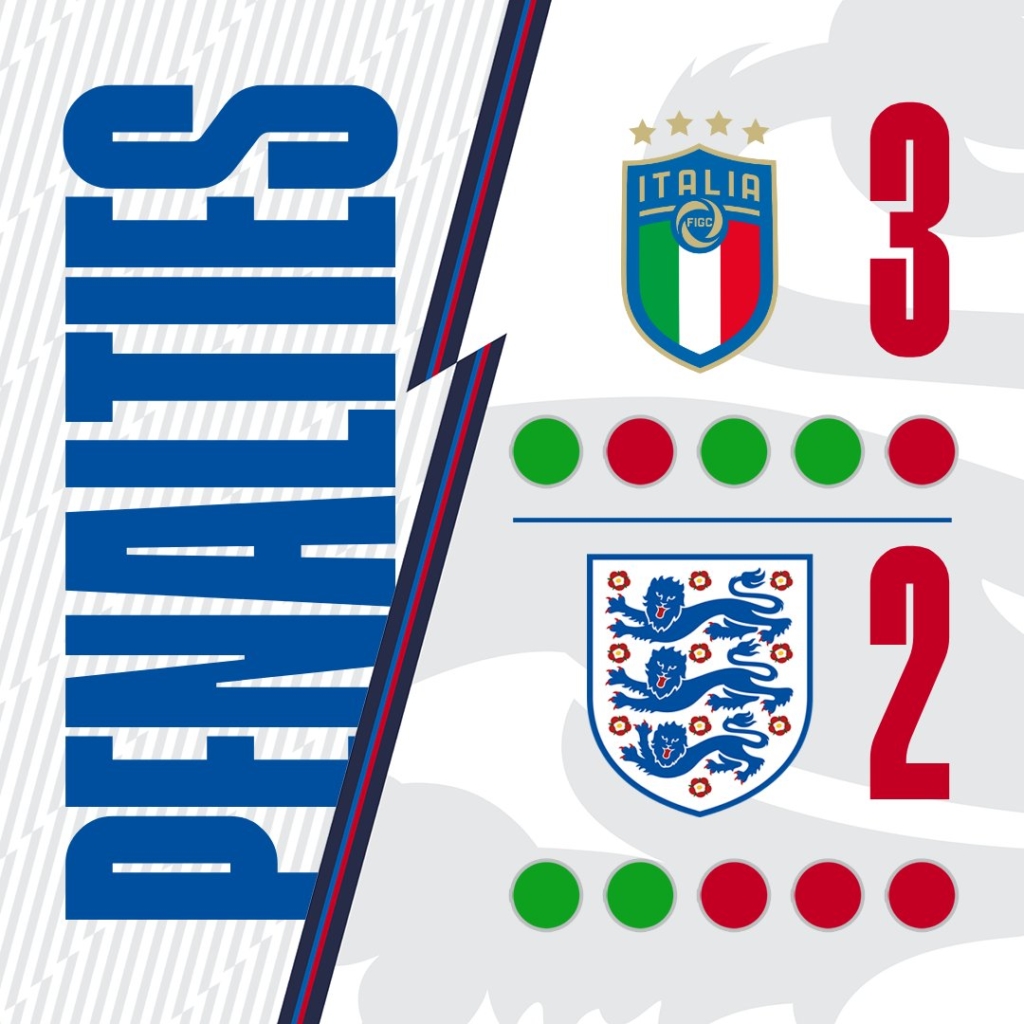 England lose on penalties. Niente cambia.
The crushing hype and massive over-concentration of a nation's fragile broken psyche onto a post (ish) covid experience was too much for a talented young team. The swirling mass of post Brexit nationalism and a media un-restrained by editorial guidelines combined for a spectacular crash-and-burn for Gareth Southgate's young team. In the unlikely scenario of Scotland reaching a tournament final would we have been burnt by such ridiculous over-expectations? Undoubtedly.  Would we have got wildly over-excited and piled our entire national hopes onto a singular event? Without a shadow of a doubt. The only difference is we wouldn't have beamed the entire experience into our neighbour's national broadcasting.
The spectacle had many forms, but here's just three, we can call them the Three Lions. First the bruising weight of expectation, the regurgitation of the Baddiel-Skinner chat and the tragi-comic myth of "thirty years of hurt"; second the narrative that This England represent a kinder more progressive England; and third the outburst of 'togetherness' of a national stadium full despite covid raging harder than England fans in Leicester Square attacking each other with bottles like some kind of contemporary dance performance subtitled: take back control.
Leicester Square has become an unofficial fan zone for high-spirited supporters. Mounted police have been seen in nearby Trafalgar Square.#ENG #ITA #Euro2020pic.twitter.com/xyodp0H2q8

— talkRADIO (@talkRADIO) July 11, 2021
Taking each of these, the cringe of the thirty years of hurt gets routinely trundled out now but rarely examined. It's based on a bizarre sense of entitlement that cradles much of English expectation and leads to such inevitable crashing disappointment. This exceptionalism is rampant and rich fodder for Boris Johnson and an English nationalism that, while loud and crazed never seems to fulfill it's own levels of emotional angst and rage. It always seems to dissipate into a sort of nothingness. The thirty years of hurt myth is based on the notion that England lost in 1970 to (then) West Germany, failed to qualify for 1974, failed to qualify for 1978, and then lost penalty shoot-outs so many times it's a bit of a blur. The idea is based on some notion that they somehow deserved to do much better, they somehow just deserve to win international tournaments despite, well, despite not really being very good. This myth also neatly side-steps the extraordinary situation of England being given home advantage both in 1966 and in 2021.
The second myth is that of the Southgate's England team representing a new and different England. It's partly true. The antipathy of Scotland fans to the England team has been altered by the nature and tone of Southgate's management style, his messaging and the sheer talent of his team littered with talented young black players. It's also true that there are many 'England's' – and we should resist crude singular caricature. It's also true that this English team feels different to the England team of ten years ago. As Ian Dunt has written: "…10 years ago, England was still recovering from losing 4-1 to Germany in the last 16 of the 2010 World Cup. John Terry was captain. He'd previously been stripped of the position after reports of an affair with team-mate Wayne Bridge's girlfriend, then had it reinstated, then lost it again after shouting racist abuse to Queens Park Rangers' Anton Ferdinand. Even five years ago, it still felt like Terry's England team: macho, brutal and hopeless. At the 2016 Euros, fans chanted "Fuck off Europe, we all voted out".
Southgate's team are anything but 'macho, brutal and hopeless', they are, strangely, full of hope. But they are weighed down by the wildly unrealistic expectation of a nation both broken by and emboldened by their self-inflicted Brexit experience, a sort of national hallucination. But there's a new element to England's tortuous ongoing football pantomime. Now, the English team is not just to be the carrier of the nation's hope and expectations, it's also to be the recipient of the projected hopes of the Not Brexit England, the carrier of the England that hates Boris and Patel and all. Like a hunchback with two humps the English team is now to be both the Right and the Left back, the progressive and the regressive England.
This is difficult. In a context where the government pop-up to say it's ok to boo our own players it's difficult to then control the routine outbursts of thuggery and racism that have plagued English football culture for decades. It's not just that the government's response to racism is inadequate, they cultivate it for their own political advantage in the petri-dish that is Anglo Populist Nationalism.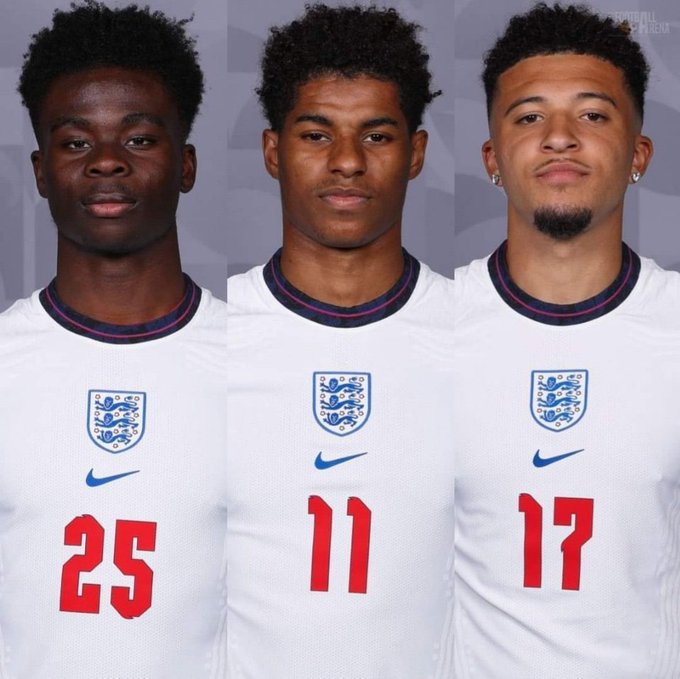 The need to overstate the progressive element of Southgate's England is overwhelming, Andrew Rawnsley has written : "Marcus Rashford is a powerful campaigner for an end to child hunger and has twice forced a retreat on the government over free school meals. Raheem Sterling has displayed moral leadership in the fight against racism. Harry Kane wore a rainbow-coloured armband to mark Pride month during the match against Germany. Their manager, Gareth Southgate, published a superbly crafted "Dear England" letter just before the tournament began. He gave eloquent expression to his belief in an England united not in an angry and ugly nativism, but a positive patriotism at ease with and enriched by the country's diversity."
All of which is true but completely misses the point.
Marcus Rashford earns over £9 million a year. His conduct and his campaign have been exemplary and inspiring but they are nevertheless a sign of political failure, not of success. To live in a country where a few hundred men get paid astonishing amounts of money while others suffer disfiguring poverty and hunger isn't something to celebrate. Kane wearing a rainbow-coloured armband to mark Pride month is such a low-bar of performative celebrity 'activism' it's hilarious. Welcome to the world of 'social activism' and celebrity-led endorsements, here Coca-Cola, there a rainbow armband.
Notional millionaire celebrity actions and social media moments are not agents of change. This is not radical. An obsession with celebrity is a sign of a broken political system and a failure of the left.
The second problem about mythologising Southgate's progressive England is that it dissolves under examination. The immediate aftermath of England's loss saw Marcus Rashford, Jadon Sancho and Bukayo Saka, who failed to score their spot-kicks in the penalty shootout, being targeted for racist abuse. The FA were forced to issues the following statement:
We're disgusted that some of our squad – who have given everything for the shirt this summer – have been subjected to discriminatory abuse online after tonight's game.

We stand with our players ❤️ https://t.co/1Ce48XRHEl

— England (@England) July 12, 2021
The mural of Marcus Rashford in Withington was vandalised last night, apparently within an hour of the penalty shootout ending.
The Third Lion is the one we've all been asked to wish-away. Wembley was packed to the rafters. If we have narrowly escaped the perfect storm of national liberation (sic), Freedom Day and footballing glory – we have entered a new moment of anger humiliation and racism. Britain is 'led' by a grubby escapologist who has declared an end to all restrictions and is surrounded by ministers declaring they won't wear masks any longer.  They have neatly abandoned a collective endeavor and transferred responsibility from them to us framing the response to a global pandemic and national health emergency as 'personal responsibility'. This is a warm-up for what's coming next: the end of furlough and an Everyone for Themself 'post'-corona society. If you want a glimpse of what this will feel like – check the scenes of the 'high-spirited' supporters in Leicester Square. Politicians are wishing-away the virus because it's politically convenient to. We're complicit in this and what comes next will be brutal.
For all the talk of "leveling up" and "building back better" the reality is a society coming out of lockdown already disfigured by poverty and years of austerity led by a political elite characterized by opportunism and contempt. As Rafael Behr has written: "There is something of the mafia protection racket about this dynamic. The Tories break things up and then saunter around the vandalised site, full of feigned sympathy and slippery charm steeped in menace, announcing that the way to avoid such distress in the future is to pay tribute to the Johnson syndicate."
As English fans attack each other and the normalised post-apocalyptic scenes of violence and mayhem ensued it's difficult to square this with the quietly desperate projection of Southgate's progressive force.
The obsession with footballing success is an excuse and cradle for male violence and a crude displacement activity. It is the Hunger Games that allows the government we didn't elect to continue with 'our' gaze diverted and our minds transfixed.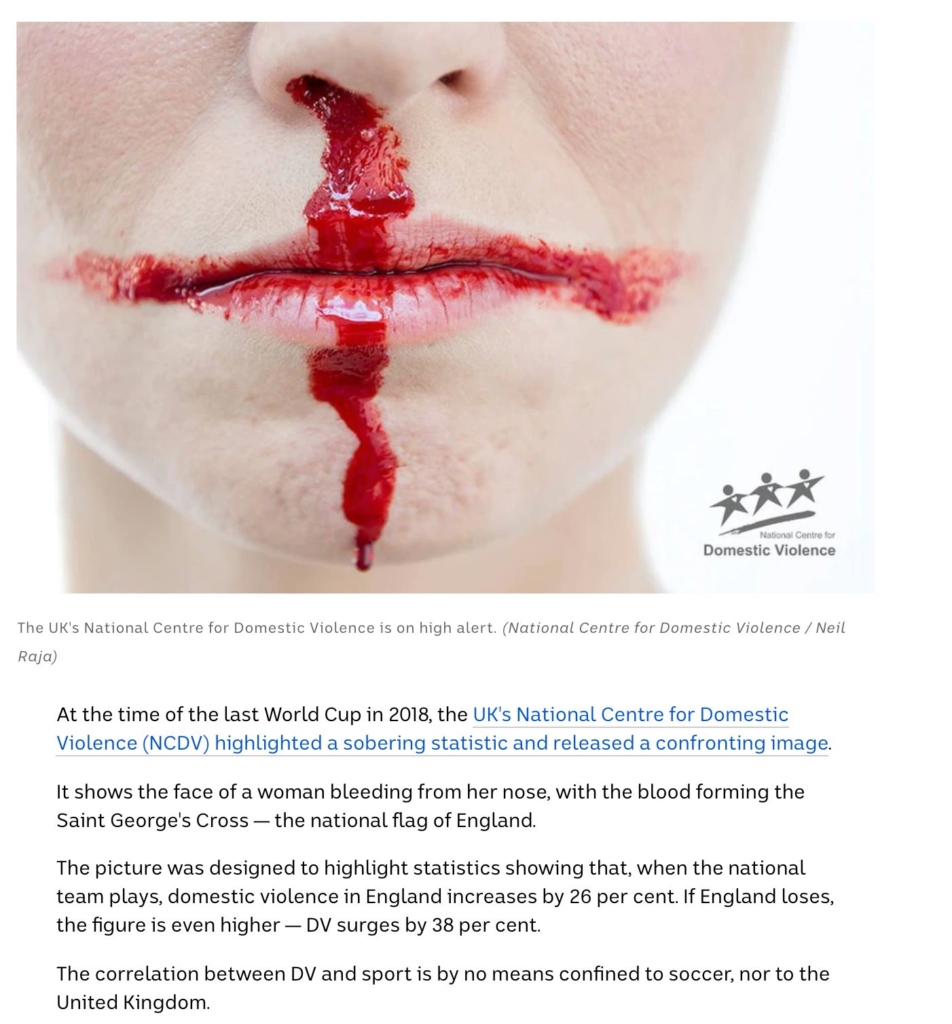 The BBC's Chris Hollins told us on the state broadcaster that this was "a moment the whole nation has been waiting for since 1966". It's a manifestation of spectacular levels of self-delusion and the ongoing Corona Brexit phenomenon that seems to have no end.