The Amazon Destruction Zones of Brazil and Dunfermline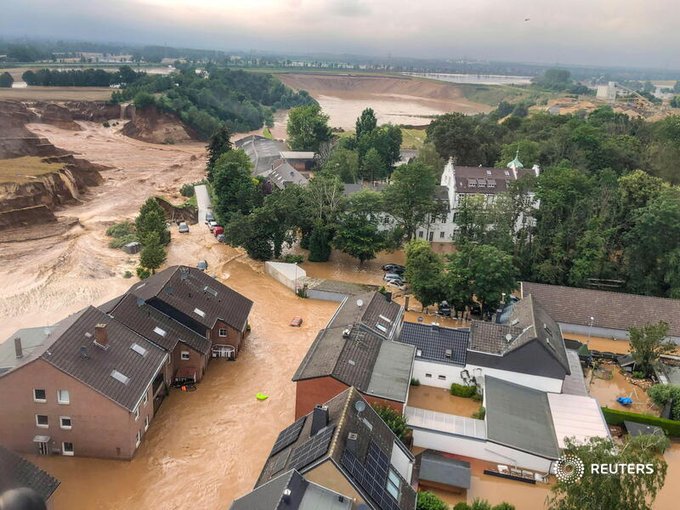 I get my lockdown hairdo and the hairdresser explains to she's going to Thailand for her holidays. Phucket? Pun intended.
"I mean who wants to be in Scotland?"
Neither the thought of a global pandemic nor the climate crisis seems to have given her pause for thought.
I mean, why should it if no-one in any position of leadership anywhere is suggesting she – or any of us should? The golden rule of responses to climate change is 'nothing must change'. Even as parts of Europe see infrastructure collapse the level of self-delusion and commitment to shopping and holidays is mesmerising. Hyper-consumerism must be paramount until the actual malls collapse, at which point online delivery will be available (by RIB if you're flooded).
This was the week that the realities of climate change burst into European capitals, including Edinburgh which saw Princes Street Gardens flooded with sewage. On July 4, the equivalent of two thirds of the average monthly rainfall fell in parts of Edinburgh in just one hour, putting immense pressure on the city's drainage and sewerage systems. A spokeswoman for Scottish Water confirmed crews were investigating damage caused by surcharges from the sewer network, adding: "At times of severe heavy rainfall the network can be overwhelmed and anything in that sewer could be contained in the localised flooding."
As SKY news interviewed the mayor of Pepinster in Belgium he was interrupted by the sight of a flooded building collapsing and people escaping on the roof. The world is literally collapsing before our eyes, live on TV. In other scenes a stream of water rages down a street in the Belgian town of Pepinster as the death toll from floods across Germany and Belgium rises to more than 110. Water burst through a drain in the unfortunately-named Belgian town of Spa, a caravan is carried away in Rech, Germany, and in the Rhineland towns of Bad Neuenahr and Dernau in Germany lie submerged in these photographs shared on social media.
9/ 📍 Pepinster, Belgium

An interview with the mayor of Pepinster was interrupted by the sight of a flooded building collapsing and people escaping on the roofpic.twitter.com/EgN1CNAe7r

— Sky News (@SkyNews) July 16, 2021
The freak weather caused by climate change is killing people in Europe, right now. 125 in the last few days.
What do we do? Mostly nothing.
Will the arrival of climate chaos into the heart of the developed north, into the heart of Europe change minds and provoke action?
Maybe. But even if it does it's twenty or thirty or forty years too late. The reality is that no G20 country is on track to meet climate goals.
According to a major new report released this week by "risk intelligence company" Verisk Maplecroft, which warned there is "no longer any realistic chance" for an orderly transition for global financial markets because political leaders will be forced to rely on "handbrake" policy interventions to cut emissions. The report stated that investors will face the "increasingly disruptive" impact of severe weather events – made worse by the global climate crisis – which are expected to take a heavier toll on the global economy in the years ahead.
Will Nichols, the head of environments and climate change at Verisk Maplecroft, said: "Major economies like the US, China, the UK, Germany and Japan will need to yank the handbrake on emissions to meet agreed climate goals – at the same time as dangerous rises in extreme weather events play an increasingly disruptive role in the global economy.
"These conditions will leave businesses in carbon-intense sectors facing the most disorderly of transitions to a low-carbon economy, with measures – such as restrictive emissions limits for factories, mandates for buying clean energy, and high levies on carbon – imposed with little warning."
The intensity and scale of the floods in Germany this week apparently shocked even climate scientists, who did not expect records to be broken this much, or this soon. After the deadly heatwave in the US and Canada, the deluge in central Europe has raised fears that human-caused climate disruption is making extreme weather far worse than predicted.
This drone footage shows the extent of damage caused by record rainfall in areas of Belgium and Germany. The torrential rain has caused river banks to burst and flood entire neighborhoods of certain cities. At least 42 people have died in Germany and dozens are still missing. pic.twitter.com/PXu8Xee1ay

— NowThis (@nowthisnews) July 16, 2021
In Brazil academics and activists warned that the Amazon rainforest 'will collapse if Bolsonaro remains president'. That would be hiccup. Since Bolsonaro took power in 2019, deforestation and fire in the Amazon have risen to their highest levels in more than a decade.  Given conditions in many parts of the Amazon, there are fears that the usual peak of the fire season in July and August could be worse than usual. "The main thing this government has done is to undermine the capacity of the state to tackle illegal deforestation," said Marcio Astrini, executive secretary of the Brazilian Climate Observatory, a network of 50 civil society organisations.
According to Astrini, Bolsonaro is so exclusively focused on domestic politics that he is indifferent to international reputation or global markets. "He is the first Brazilian president who has an overt agenda of destroying environmental protections for political gain. He is not concerned about the country, only his re-election. It's all about the electoral base," Astrini says.
But Astrini sees Bolsonaro as a catalyst for change. Since he took power, the Amazon rainforest has moved to the centre of debate. Several candidates in next year's presidential election now have zero-deforestation commitments in their manifestos.
"Even Lula is saying deforestation in the Amazon can no longer be supported by any Brazilian government. He never said this before," said Astrini. "It is now clear that a solution for the Amazon can only be possible if we change government. There is no hope if Bolsonaro is re-elected president. It is either the Amazon or Bolsonaro. There is no space for both."
In India Narendra Modi's plans to fell ancient forest to create 40 new coalfields.
40 new coalfields in some of India's most ecologically sensitive forests are to be opened up for commercial mining. Among them are four huge blocks of Hasdeo Arand's 420,000 acres of forest in the central Indian state of Chhattisgarh, which sit above an estimated 5bn tonnes of coal. And, yes this is the plot to Avatar.
The lesson from Verisk Maplecroft is "your too late", the change is happening now, it's here right now. The "just transition' timeline is gone.
What are we going to do about to?
Mostly nothing.
But to even frame the problem as a question of individual action is absurdist.
But to give ourselves a glimpse of how deluded we are and how inadequate our response is the SQA, up until just a few days ago was issuing students in Scotland with an exam paper for its National 5 Geography which asked them to outline the benefits of climate change such as "increased tourism to more northerly latitudes" and "improved crop yields".
The delusion is wide and deep and nurtured by those who are making themselves rich on omnicide (the death of everything).
This week saw Richard Branson jet off into space, like a sort of beardy 80s James Bond. Branson, follows fellow billionaires Jeff Bezos and Elon Musk off to the stars. It's hard to fathom their motivations but each spells it out. Musk, argues rather vaguely that in becoming "multiplanetary", humans might gain "failsafe" protection from the risks of extinction or planetary collapse, while Amazon's Jeff Bezos speaks of "saving the Earth" (whilst also presiding over the destruction zones of Amazon warehouses), neat eh?

If civilisation perishes on one planet, these billionaires seem to think we have a backup elsewhere. I don't think they've thought this through. But whether the Amazon destruction is overseen by Bolsonaro or Bezos doesn't really matter now does it? The billionaires are like my hairdresser, "I mean who wants to be on Earth?"
I don't blame her I blame them.