Here comes the Nice: Glasgow's Sweaty Palms have got the right stuff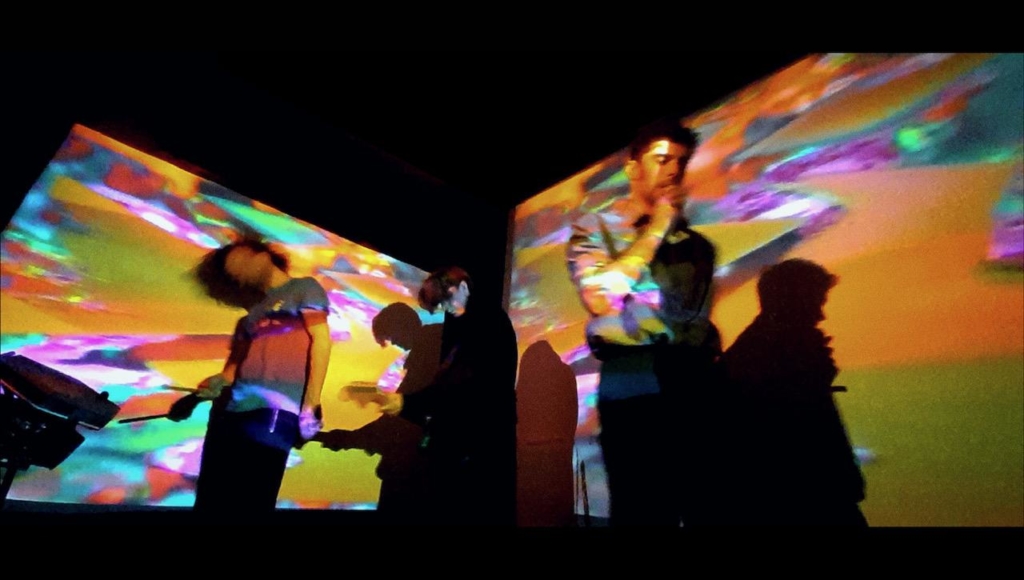 Sweaty Palms frontman Robbie Houston opens up to Hugo Fluendy about their new single Nice to be Nice and how he's not making a scene about it
Robbie Houston is a quietly courteous, young working class Glaswegian, shy almost. Just don't take his good manners for granted, as his band's Sweaty Palms explosive new single Nice to be Nice reveals. It's no joke. As Richey Manic notoriously advertised by carving '4 Real' on his arm with a razor blade during a gig, Houston means it man. Beneath his somewhat diffident persona, the rage born of navigating the shallows of today's bankrupt precarity is being channeled into some of the most powerful independent music being made in Scotland today. Nice to be Nice is a venomous takedown of passive aggressive Glaswegian anti-patter, condensed into a furious five-minute picaresque tale of hypocritical modern manners building to an air-punching crescendo of glorious clanging abstract noise. Make no mistake, the creative dynamo driving ragged-trousered art rockers Sweaty Palms and his other band Fall-favourites Objectified doesn't have a choice about making music. You'll certainly never look at Lynx deodorant the same way again.
"Lyrically it has to be the most cathartic song I've ever put words to. I've spent a fair amount of my life in a state of anxiety and rage, both in equal measures. It took me a long time to realise that this was due to a lack of assertion in my day to day life. I'm a people pleaser which all too often proves detrimental to myself. Sweaty Palms has always been an outlet for this without me being fully aware of it. This song came about at a time when my niceties were yet again taken advantage of by two very good friends. I was consumed by the betrayal and was just walking about in a blind rage, which this song got me out of. Music is the most constructive way I've managed my anger."
Houston's intense vocal performance is framed by a motorik backdrop of live drums, guitars and bass synth. "Musically we took a lot of inspiration from a cult Glasgow band called Big Ned. Craig [Clarke] used to play in them so we can get away with it. They had a song called Ding Dong, which is just droning on the same note with psychotic Glaswegian dialogue over the top. I feel bad because they never released it so no one can call us out on ripping them off, I hope the rest of the band don't come for us when we start making our riches," admits Houston.
This kind of concentrated creative angst doesn't come cheap. Born 28 years ago in Glasgow's Kinning Park, Houston is unashamed of his modest background. There's no paradox to his pride as he reveals, "I was brought up by a single mother, a warrior of a woman. She used to get six buses a day to manage a pub, deliver and collect both my sister and I from nursery and after care. The mind boggles – thick blood!" And where other lesser souls might settle for whatever scraps the gig economy might leave from its uneven table, Houston was always going to transmute his frustration at social injustice and the base culture of the capitalist imperative into artistic gold. A rare alchemy indeed. "My mum recently pulled out a scrap of my first ever rap from when I was about nine or ten. I can't remember all of it but the first line is 'put the screwdriver in ma bellybutton, ma bum goes boom, all the jobbies start flying round the room'. I have always been a natural – I started playing guitar probably the week that Sweaty Palms started," Houston confides wryly.
His earliest influences expose a restlessly creative mind and discriminating iconoclasm. "The first single I ever bought was It's Like That by Run DMC vs Jason Nevins… My little sister's dad was a roadie, he used to try to get me into guitar music but I was having none of it, couldn't fucking stand it, I became a bit of a hip hop nut. I always remember being fascinated by This Nation's Saving Grace though, it was like being in a dream listening to that, though I never went back to The Fall until my late teens. Like most guys of my generation, I started off wanting to be Slim Shady and then Pete Doherty. I'm glad I grew out of that, I still see guys doing that Pete Doherty shit, tragic," he says.
Like his hero Mark E. Smith, Houston is another Prole Art Threat, a proudly working class intellectual and autodidact. Articulate yet without bravado, Houston namechecks a roll call of avant-garde cinema influences – Fellini, Yorgos Lathinos and David Lynch are all on his watchlist. "When I'm not making art, I'm consuming it. I'm a bookworm, Michelle Houllebecq is a new favourite of mine. He says writing is like 'cultivating parasites in your brain', you've got to love that. I'm interested in writing and interested in the blend of literature and music so of course The Fall are a major influence of mine, but I'm into all sorts of shit really: Nancy Sinatra, Lee Hazlewood, Leonard Cohen, Wu Tang, Nina Simone. If it's real, I don't care what it sounds like." 
Despite Objectified's shifting line-up boasting a member of fellow Glaswegian art-rockers Kaspar Hauser, Houston is quick to reject the notion his bands are part of some kind of scene in the city, that mythical realm so beloved of the music inkies. Although he's careful to acknowledge the centrality of Glasgow's Green Door Studios which has long been a fertile breeding ground for musical talent in the city. "I don't say that with malice or whatever… we just do our own thing. The closest we get to that sort of thing would probably be our affiliation with Green Door, a studio Ronan [Fay] runs. There's always fantastic stuff coming out of there. I'm compiling music for a Sweaty Palms radio show just now but most of the bands on there have disappeared into obscurity. I really like Comfort, that's some powerful stuff. I want to see someone unravel their soul on stage. The Rotations always hit the mark in that regard… Laura St Jude, WomenSaid… There's other good stuff too but they're the main ones that come to mind, that seem the most authentic to me. Callum Easter is doing great stuff."
Formed in 2015, Sweaty Palms released their debut album Quit Now in 2018. The buzz surrounding the band's post-punk meets electronica sound was cemented with a string of sell-out shows including festival dates such as All Points East, Portsmouth Psych, The End of the Road and Lisbon's Super Bock Em Stock. It's worth repeating: this is not a drill. Houston is no dilettante and not everyone has the coin for the ferryman. "Sweaty Palms has had a fluid member policy from the get go. It's just become part of the band. It became a little disheartening but we're used to it now. Me and Ronan have always been the ones driving the thing, and we're the only two left from the original line-up. We've had 20 plus members easy… You know how it is, people can't commit, people grow up, have families etc. With me and Ronan, it's never been a half-arsed pursuit, we've always taken it very seriously, it feels like a duty. We are from similar upbringings and I think that's a big part of it too, we're workaholics and are hardwired to handle he endurance of a band like this. Monty [Shaun Montgomery] , the bass player, was the same, there was a big hole to fill when he left, he was there from the start. Thankfully Craig Clarke stepped up to the mark. He's another lifer and the band has strangely never felt more like a unit, despite being two members short. Our dear friend Dan Caldwell [formerly of fellow indie racketeers Mold] is moving up from Manchester and joining the band in some capacity or other. We've already done some recording with him and he's survived a tour so it's looking to be a good fit."
The new material was developed over a few months spent living in a disused church in Mallaig on the West Coast last seen on cinema screens in Scottish flic Local Hero. Houston is still enthused by the experience. "It was fucking incredible! We just set up and kept coming up with stuff. The place was inspiring and we were all absolutely in the moment, three days of total bliss. We were all buzzing off one another and it kept ramping up. I remember the last night feeling completely high from the music and the landscape. I'd like to have gone back but they're turning it into a house now."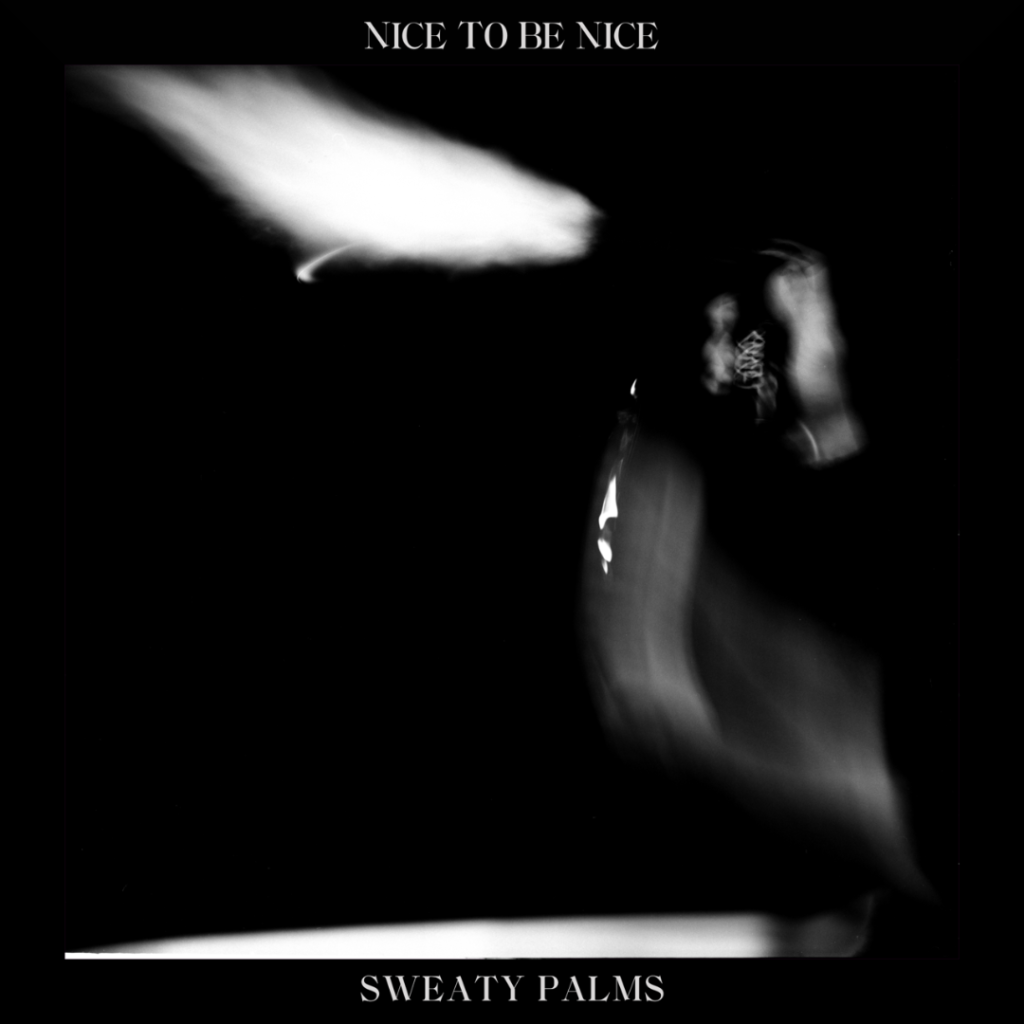 Nice to be Nice is the first Sweaty Palms release in three years. In the interim self-professed workaholic and all-round zeitgeist conductor Houston struck sleazy rockabilly gold with another band Objectified. As well as opening for legendary underground auteur and former Male Nurse frontman The Rebel and hip US act LA Witch, Objectified supported The Fall on their last ever Glasgow show prior to Mark E Smith's inevitable demise. "Objectified is its own entity. It started off from songs I was making as I was learning to produce with Robert Anderson [incendiary Rotations frontman and bat-eared soundsmith] and it morphed into a whole new beast. I got Andy Brown [Divorce/Kaspar Hauser] on drums and my good friend Ferg Voigt on bass and a few hand-picked people doing all manner of things. I remember how it clicked immediately, it was too easy. There's an Objectified album ready to go, I'll go back to it when the time is right."
Keen to dispense with industry cliché wherever they find it, Nice to be Nice is the first installment in a monthly series of twelve tracks from Sweaty Palms set to climax next June. "The new stuff is really happening. I can say with confidence this is the best work we've made. It's an exciting way to work, we haven't finished all the songs yet and we're not sticking to any plan, we could record a song the night before and put it out. Maybe we're adjusting to the millennials and their tech-induced hedonism, but rock and roll has always been about immediacy hasn't it?
Tech-induced or not, Sweaty Palms are pumping sonic ecstasy straight to the mainline. While future live dates are at the mercy of the pandemic pop famine, and like Objectified are currently on hold, you don't get much more immediate than new single Nice to be Nice. Make sure you score some soon.
Follow then on Bandcamp here: https://sweaty-palmsband.bandcamp.com/