For the Sake of Freedom
The convergence of the Unionist right and covid-libertarianism is a strange phenomenon. Unionism (either the Muscular variant or its weak lilly-livered predecessors) used to be a quietly bitterly paternalistic affair with its sense of benevolent ownership. Neil's style is different if wonderfully contradictory. From the studios of GB news he speaks a stilted script of grand themes he barely understands:
Neil Oliver: 'For the sake of freedom – yours and mine together – I will cheerfully risk catching Covid.'

Subscribe to our YouTube https://t.co/GXXuPQejoZ pic.twitter.com/gS9jyrcYKR

— GB News (@GBNEWS) July 31, 2021
"A caged bird is alive."
"What matters is to live in freedom."
He goes on – in full-flight now: "This is why ex-cons re-offend".
Now, reaching a crescendo of stupidity he declares:  "Here's the thing … If your freedom means I might catch covid from you, then so be it, if my freedom means you might catch covid from me, then so be it …"
"For the sake of freedom  – yours and mine together (cheers Neil! – Ed) – I will cheerfully risk catching covid."
Of course while he talks of freedom and "life not being safe" in a sort of macho-patriotic Spitfire Nationalism, in reality he is terrified of change and terrified of risk. While he offers to kill you with his freedom his offer doesn't extend to your right to a vote or your right to a democracy.
There's a bunch of these people floating around social media and marginal tabloid fodder to sell papers and entertain the excitable. One such is James Melville who has consistently downplayed covid and misrepresented the issue for many months.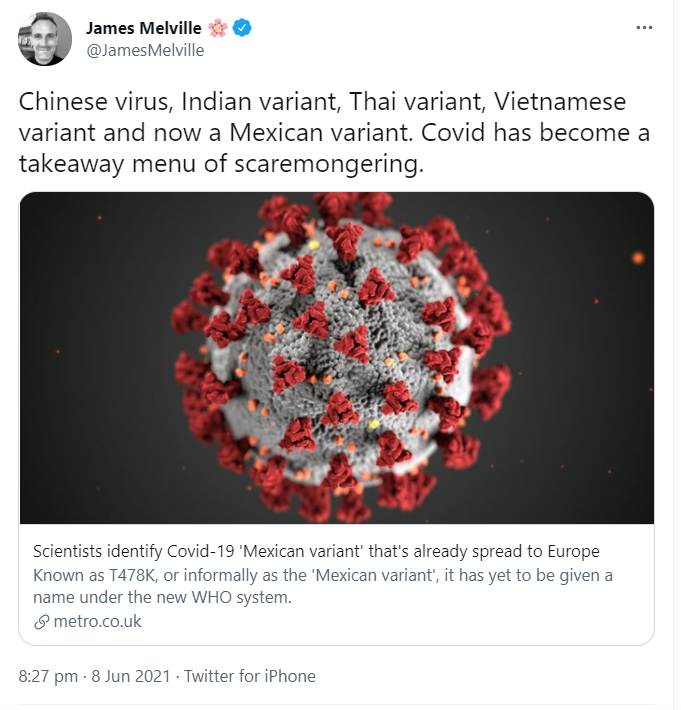 Some people think you should just ignore these people and let them drift into the margins, but the more you look at these alliances and convergences – and the more you think back about the extraordinary sado-populism of Brexit – the more these ideas need to be challenged and fought against. While we have looked across the Atlantic and sneered at the stupidity of Trump supporters for years we have ignored the very same tendencies emerging over here.
Melville's framing is worth noting:
*
"It's not about left v right anymore. It's about authoritarianism v liberalism. And as you probably know, I'm an old school liberal left winger that absolutely hates illiberal authoritarianism. #NoVaccinePassports"
*
Of course he is no such thing, he's a completely reactionary figure but whether it's Oliver's theatrical hyper-British sentimentality or Melville's posturing the new libertarianism is so wide and wooly it allows anyone in. Anti-Vaxxer? Farage-supporting Brexiteer? Part-time chemtrail researcher? Reddit dopehead? Stroppy Tory mum? Bored businessman railing against Sturgeon? 5G activist? Come right in.
*
What unites them is not a sense of freedom but a sense of narcissism. What they rail against is not 'the state' it is the collective. They represent the triumph of the private against the public and the triumph of selfishness over solidarity. It is not 'authoritarian' to have a collective public health response to the current crisis. These notions being thrown about about "freedom" are context-free and one-dimensional. I think it was Bakunin who argued: "Freedom without socialism is privilege and injustice; socialism without freedom is slavery and brutality".