Keir Starmer visits Scotland to unveil go it-alone strategy recipe for defeat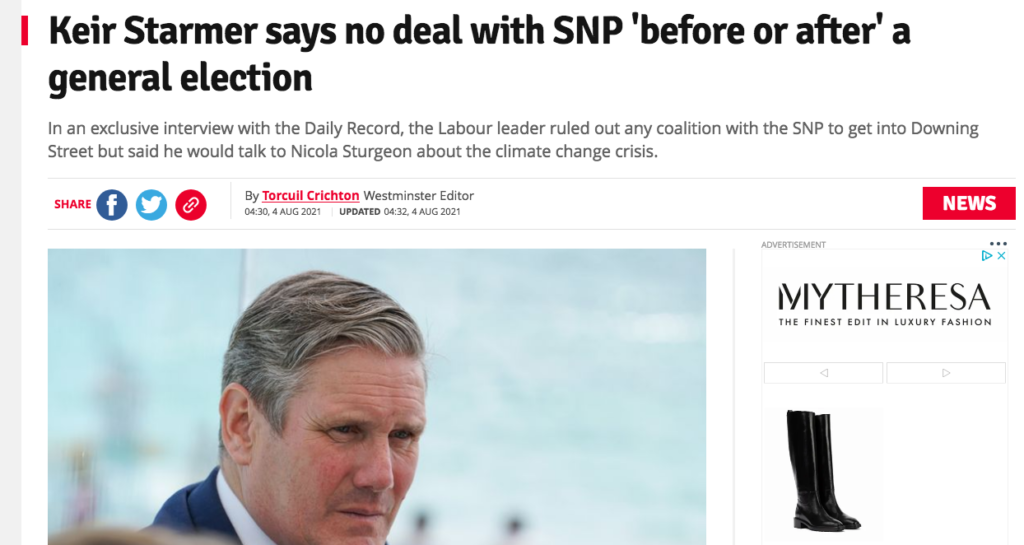 No co-operation with other opposition parties is Labour's General Election promise. Mark Perryman argues this will only have one result.
There's no doubt Keir Starmer is a bright bloke, he didn't get to be Director of Public Prosecutions, and a knighthood for his troubles, without the ability to analyse a case. Some even call his analysis of a problem positively forensic.  Yet the arguments for Labour's General Election strategy Keir made in a widely reported Daily Record interview during his recent visit to Scotland are patently absurd.
"You can't vote for another party and get a Labour government in Westminster." Keir Starmer
There are umpteen seats across England where voting for another opposition party, the Lib Dems, is the only way to defeat the incumbent Tory.  Vote Labour out of loyalty, because this is what we believe in,  to contribute towards a better result the next time, sure, there's a certain sense of honour in such a deed, but to get a Labour Government , fat chance. Keir knows that but cannot countenance any kind of admission this is the situation Labour faces.
I live in Lewes, East Sussex. Never elected a Labour MP but home to Tom Paine, the Bloomsbury Group too, it has never been, and isn't now, true blue.  Until 1970 Labour would come a decent second but after the '74 Jeremy Thorpe bounce fell to third behind the Liberal Party and various successors, Labour has never recovered.   In the '97 Landslide the Lib Dems won the seat, like many of their targets Labour voters exhausted with 18 years of defeat in Lewes and many other such Tory/Lib Dem marginals voted tactically and the result, a Labour victory .
Maintaining the pretense that this is precisely the situation in so many seats does nothing to persuade Lib-Dem or Green  voters  in the English Tory/Labour marginals a vote for  their candidate can only ensure a Tory victory. Keir's substation of the forensic with the gung-ho is both dishonest and bad politics.  It is the product of a Labourism that refuses to recognise an increasingly plural politics.  Across England a three, often four party line up on the ballot paper. Not sufficient to be reflected by our unrepresentative  electoral system but more than enough to deny the  best-placed opposition party victory over a minority Tory vote in these seats.  Scotland, of course, is different, a four, sometimes five party system, the product first of a representative electoral system for the Scottish Parliament, then providing the platform for the SNP 2015 wipeout of Scottish Labour  at Westminster following the Gordon Brown's starring role as the Tories little helper defending the Union in the referendum a year previously.
"There'll be no coalition going into those elections and no coalition coming out of it." Keir Starmer
Keir knows it, Boris Johnson certainly knows it, Nicola Sturgeon too, in the likely event Labour fails to achieve an overall majority but manages to outscore the Tories as the   single largest party the only option is coalition government.   And short of a successful independence referendum before the next General Election, which precisely for this reason Johnson will ensure one isn't held before then, the SNP will almost certainly be the second largest opposition party at Westminster not the Lib Dems , as the are now something the English left too often absent-mindedly forgets. If Keir is ruling out a coalition in any circumstances he's ruling himself out of Number Ten short of the kind of surge in the polls there is absolutely no evidence of his leadership attracting. A surge in support that would need to be even bigger than Blair's 1994-1997 because of the 40 Labour seats lost in 2015 and after as small recovery in 2017 lost all over again in 2019. So more patent absurdity, more dishonesty in Keir's outright rejection of coalition government even if it's the only way he'll get into Number Ten.
"A test of how progressive you are is what you're doing on climate change and they've manifestly failed on that. The SNP has failed to live up to the promises it made the people of Scotland." Keir Starmer
After some cos-playing about how he'd be happy to meet Nicola Sturgeon on his visit, he didn't, but it would be him who'd set the agenda not the elected First Minister of Scotland, Keir made some well-chosen criticism of the SNP record on tackling the climate emergency. On the vexed issue of the proposed Cambo North Sea oilfield development admirably Keir on his visit, with Anas Sarwar nodding sagely beside him, came out resolutely against it, advocating the need for  a "hard-edged timetable"before refusing in what has become an unwelcome habit of vagueness in place of commitment to say what that timetable might be.
It's not only easy to criticise the SNP on climate emergency action it's correct too. And it's good that Keir sees this as a cardinal test for progressivism as well.  So we should look forward to Labour implacably opposing airport expansion, ending its support for the nuclear power industry, providing the policies to make a dramatic shift in our agricultural system to feed a non-meat diet and more. Yes, Labour has the basis of some excellent policies on the Climate Emergency but as a test for progressivism its commitment to productivism leaves it fatally compromised, will Keir face this head on?
His assault on the SNP's climate record on the basis of what constitutes progressive according to his Daily Record interview is part and parcel of an overall, approach; "Starmer said it was a mistake to see the SNP government as a progressive force, as many on Labour's left still do." Labour is Labour, the SNP, Lib-Dems, Greens, in Wales Plaid, each have strengths and weaknesses. Voters, all but the most ardent party loyalist, recognise this. Few vote for, or join, a party as a model of perfection. Some choose to stand outside this party system entirely preferring a social movementist politics.  Others mix and match, the party, whichever one, co-existing, complementing, the movements, and vice versa.
Surely it is the role of leadership to encourage dialogue between different parties, and none, who broadly share the same values while maintaining important differences.  Can't leaders both stick up for their own party and politics while sparking co-operation on the terrain of a common cause for the greater good?  Keir's visit to Scotland seems to have had the sole ambition of ruling out both, perhaps next time he'll find a better reason for making the trip.
Mark Perryman is a member of the Labour Party in Lewes East Sussex. His latest book is Corbynism from Below.